Disney Plus November 2022 Schedule: All the Movies and TV Series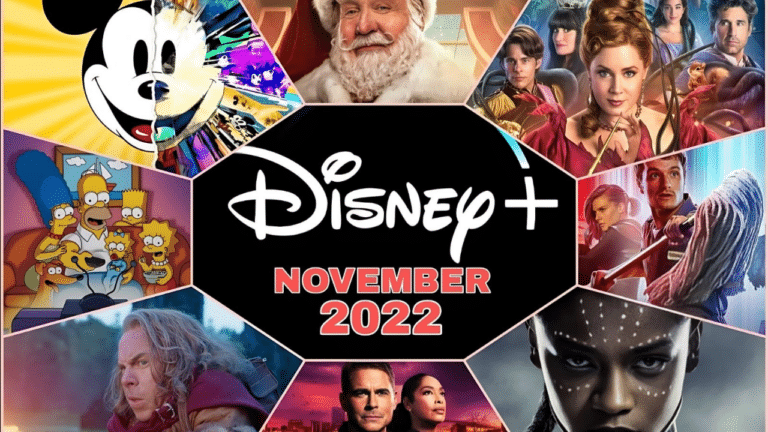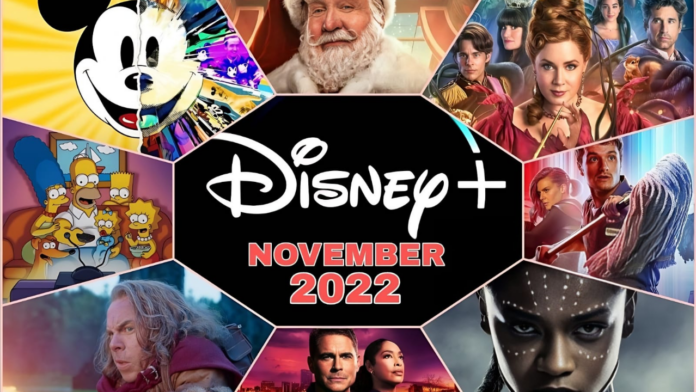 Listen Podcast
In November 2022, Disney+ will release highly anticipated sequels, documentaries about celebrities, and more family-friendly TV shows and movies. So, you can find the Disney Plus November 2022 Schedule with all TV series and movies. 
It will be hard to beat movies with the original witches like Werewolf by Night, Andor, and Hocus Pocus 2, but Disney tries with great titles and new content for everyone.
The big movie of the month is Disenchanted, in which Amy Adams goes back to the world of Disney princesses, but this time with a dark and macabre twist that could put an end to happy endings and fairy tales for good. Also, David Beckham is making a series of documentaries in which he tries to help a kids' soccer team get better and win a tournament.
Chris Hemsworth, for his part, is putting on the first episode of a documentary series made by Darren Aronofsky, and Tim Allen is putting on his Santa Claus suit again.
All the premiers of Disney Plus November 2022 Schedule:
Disenchanted (November 18)
Robert (Patrick Dempsey) and Giselle (Amy Adams) have been married for 15 years, but Giselle is tired of living in the city. In search of a fairy tale life, she and her family decide to move to a quiet suburb called Monroeville. But that doesn't make all of her problems go away. Malvina Monroe (Maya Rudolph), the queen of the suburbs, makes Giselle feel even more out of place. She is angry that it hasn't been easy to be happy forever, so she tries to use Andalasia's magic to solve her problems. Instead, she turns the city into a real fairy tale and puts her family's happiness at risk. Now, Giselle has to race against time to break the spell and find out what "happily ever after" means to her and her family.
The Montaners (November 9)
Los Montaner follows this famous family of musicians, which has become a social media phenomenon and is led by one of the most important people in Latin music. Throughout the episodes, viewers will see how hard it is for the group's members to balance their private lives and their careers, which are always in the public eye. They will also see the big moments in their musical careers, as well as the challenges, conflicts, and feelings that come with the group getting bigger when new marriages happen.
Save Our Team (November 9)
Beckham: Save Our Crew is an emotional docuseries about David Beckham's return to his Eastern roots. It was made by the BAFTA- and RTS-winning production company Twenty Twenty and David Beckham's content and production studio Studio 99. from London to coach the Westward Boys, a kids' soccer team that was last in their league and was about to be kicked out. But it's not just any football league; it's the same one Beckham played in as a kid. The soccer star will try to change the team's luck by working with the coaches who are already there.
The Santa Clauses (November 16)
Scott Calvin has returned. Scott has been Santa Claus for almost 30 years, and he is still as happy as ever. But as Christmas gets less popular, its magic goes away, too. Scott tries to do his job well and be there for his family at the same time. After finding out there is a way to stop being Santa Claus, Scott thinks about stepping down and finding a good replacement so he can be a better father and husband.
Limitless (November 16)
The Oscar-nominated director Darren Aronofsky (The Whale, Black Swan) and his production company Protozoa, as well as Jane Root's production company Nutopia and Chris Hemsworth and Ben Grayson's new production company Wild State, are behind the docuseries. Limitless, starring Chris Hemsworth, puts scientific research on aging to the test. Part scientific adventure around the world and part personal journey, each episode follows Hemsworth as he goes through a series of physical and mental challenges designed by world-famous specialists, scientists, and doctors to find out more about the world and investigate certain parts of it. Each challenge is made with great care and is based on both new scientific research and old customs. Chris's goal is to learn more about the limits of the human body and find ways to keep people healthy and happy as they age.
The Bass Club (November 30)
The Bass Club was made entirely in Latin America. It tells the story of Amaranto Molina, played by Carlos Vives, an unusual music teacher who gets a job at a school that specializes in music education but is run by formulas that leave out students who don't meet the standards for commercial success in music. Eduardo Kramer, who is played by Julián Arango, is the director of the institute. Each year, he chooses five students, who are called "Los Agudos," to join the school's prestigious Teen Band. So, Molina is put in charge of "Los Graves," the group of students who didn't make the cut because Molina's talent isn't up to market standards. The strange professor will take charge of "Los Graves" and lead them on a life-changing musical journey. This will help him heal his wounds and encourage each of the young people to show off their own talents, leading them all to a hopeful path. At the same time, they will find out about the professor's strange past.
Willow (November 30)
Willow is a new live-action fantasy adventure series from Lucasfilm and Imagine Entertainment. It is based on the classic 1988 movie of the same name. The story begins with an aspiring wizard from a town in Nelwyn and a girl destined to unite the kingdoms, who together they helped destroy an evil queen and banish the forces of darkness. Now, the adventure continues in a magical world where brownies, wizards, trolls, and other magical creatures live. Meanwhile, an unlikely group of heroes goes on a dangerous quest beyond their home, where they must face their inner demons and work together to save their world.
Mickey Mouse (November 18)
Mickey Mouse is known around the world as a sign of happiness and childlike wonder. When he was in Steamboat Willie, the first animated short with synchronized sound, he became a big star right away. Over the years, it changed into different versions that showed both the great work of the man who made it and the big changes in society that it came to represent.
Disney Plus November 2022 Schedule of the TV series you will find below: 
November 2
Donna Hay Christmas (Limited Series)
Andor (Season 1, Episode 9)
The Mighty Ducks: Game Changers (Season 2, Episode 6)
The Mysterious Benedict Society (Season 2, Episode 3)
Sumo Do, Sumo Don't! (Season 1, Episode 3)
Airport Security (Seasons 1-3)
Cesar Millan: Better Human Better Dog (Season 2)
Critter Fixers: Country Vets (Season 4)
Dino Ranch (Season 2 – 6 episodes)
Locked Up Abroad (Season 3, 9 episodes; Season 4, three episodes, Seasons 5-9, 10 episodes, Season 10, 10 episodes, Season 11)
To Catch a Smuggler (Seasons 1-3)
November 3
Marvel Studios' Assembled (Season 1, Episode 13 – The Making of She-Hulk: Attorney at Law)
November 4
Director by Night (Special)
Marvel Studios: Legends (Season 1, Episodes 22-24)
The Gift
Ocean's Breath
Saving Notre Dame
Shortsgiving
November 7
Dancing with the Stars (Season 31, Episode 9)
November 9
The Montaners (Season 1, five episodes)
Save Our Squad with David Beckham (Season 1)
Zootopia+ (Shorts)
Andor (Season 1, Episode 10)
The Mighty Ducks: Game Changers (Season 2, Episode 7)
The Mysterious Benedict Society (Season 2, Episode 4)
Sumo Do, Sumo Don't! (Season 1, Episode 4)
Breakthrough (Seasons 1-2)
Gordon Ramsay: Uncharted Showdown (Season 1)
The Incredible Dr. Pol (Season 21)
The Lion Ranger (Season 1)
World's Deadliest (Season 3)
November 11
Eyewitness: D-Day
Fire of Love
Mary Poppins Returns (Sing-Along Version)
Port Security: Hamburg
Sea of Shadows
November 14
Dancing with the Stars (Season 31, Episode 10)
November 16
Limitless with Chris Hemsworth (Season 1)
The Santa Clauses (Limited Series, Episodes 1-2)
Andor (Season 1, Episode 11)
The Mighty Ducks: Game Changers (Season 2, Episode 8)
The Mysterious Benedict Society (Season 2, Episode 5)
Sumo Do, Sumo Don't! (Season 1, Episode 5)
Atlas of Cursed Places (Season 1)
Ice Road Rescue (Season 6)
Minnie's Bow-Toons: Party Palace Pals (Season 2, 11 episodes)
Ultimate Survival WWII (Season 1)
World's Deadliest Snakes (Season 1)
November 18
Best in Snow (Holiday Special)
Disenchanted
Mickey: The Story of a Mouse
The Wonderful Autumn of Mickey Mouse
Game of Sharks
Genoa Bridge Disaster
Me & Mickey (Shorts, 20 episodes)
Mickey and the Roadster Racers: Diggity Dog (Season 1)
Mickey Mousekersize (Season 1)
Virus Hunters
November 20
Elton John Live: Farewell from Dodger Stadium (Live Concert)
November 21
Dancing with the Stars (Season 31, Episode 11 – season finale)
November 23
Andor (Season 1, Episode 12 – season finale)
Daddies On Request (Season 1)
The Mighty Ducks: Game Changers (Season 2, Episode 9)
The Mysterious Benedict Society (Season 2, Episode 6)
The Santa Clauses (Limited Series, Episode 3)
Sumo Do, Sumo Don't! (Season 1, Episode 6)
Egypt with the World's Greatest Explorer (Season 1)
Last of the Giants: Wild Fish (Season 1)
Puppy Dog Pals (Season 5, two episodes)
The Villains of Valley View (Season 1, four episodes)
Witness to Disaster (Season 1)
World's Deadliest: Jaws and Sins (Season 1)
November 25
The Hip Hop Nutcracker (Holiday Special)
Heroes of the Sky: The Mighty Eighth Air Force (Special)
Life and Death in Paradise: Crocs of the Caribbean (Special)
November 28
November 30
Willow (Season 1, Episode 1)
The Mighty Ducks: Game Changers (Season 2, Episode 10)
The Mysterious Benedict Society (Season 2, Episode 7)
The Santa Clauses (Limited Series, Episode 4)
Sumo Do, Sumo Don't! (Season 1, Episode 7)
Buried Secrets of WWII (Season 1)
Firebuds (Season 1, three episodes)
Spidey and His Amazing Friends (Season 2, four episodes)
The Witch Doctor Will See You Now (Season 1)


If you are interested

You can also read Entertainment, Numerology, Tech, and Health-related articles here: Red Bali Kratom, Holding season 2, Halloween 2022, iOS 16.1 Features, Netflix November 2022 Schedule, Virat Kohli Net Worth, Reaper 2 Trello, JoinPD, Seasonal Holidays, SQM Club, The Crown Season 5, Motorola Moto Edge 30 Ultra Review, Mismatched Season 2 Netflix Release Date, Solar Eclipse 2022, Best Movies on Star Plus, Best Free VR Games in 2022, Xbox Game Pass October 2022, Riverdale Season 7, NASA to Create a 3D Printed Moon Base, Optimus human robot, Andrew Tate Net Worth, Dua Lipa net worth, Disney Plus October 2022 Schedule, Google 24th Birthday, OnePlus 10R Review, OnePlus 9RT Review, Netflix October 2022 Schedule,

 Summer Podcasts on Movistar, Best Cycling Simulator Games, MyShopify, Ben Affleck Net Worth, Filmymeet, 5Movies, September 8 Zodiac, Kengan Ashura Season 3, iPhone 14 Plus Release Date, High School DxD Season 5, How Gautam Adani Emerged World's Third Richest Man, Jeezy Net Worth, Historical Series on HBO Max, F2Movies, Best Travel Movies of All Time, Vikings Season 7, How to Watch Artemis I Launch Attempt, Best Kitchen Gadgets for Home Cooks, September 2 Zodiac, Hubble's Law and Age of Universe, New Movies on Disney Plus September 2022, Amazon Prime Release Date September 2022, Steps for Casual Look, Daredevil Season 4, Tinyzone, Elon Musk Mother sleeps in Garage, Lady Gaga All movies, Virgo,

Does TikTok Spy on You

, 

Thank You in Spanish

, 

Openload

, 

Invention of Antibiotics

,  

Subnautica

, 

Knives Out 2

, 

Best Basketball Anime

, 

13 Regions for Astronauts to Land on the Moon

, 

Red Bottom Shoes

, 

StoriesDown

, 

Meaningful Learning

, 

E-learning 2022

, 

She-Hulk release date

, 

Overlord Season 5

, 

Samsung Galaxy Z Fold 4 Review

, 

Feogi

, 

Laal Singh Chaddha Review

, 

Baki Season 5

, 

Bflix

, 

Leonardo DiCaprio Sneakers

, 

Hurawatch

, 

Salman Rushdie

,

Apart from the above articles, you can read more

Accessibility Apps for Android, Best Jobs in the Metaverse, QueenslandMax, Shower Standing Handle, August 11 Zodiac, How to pass a drug test, How to Roll a Joint, iFun, Emerald Chat, How to Play Mancala, August 8 Zodiac, OnePlus 10T Review, Jilo Virals, August 4 Zodiac, Findsnap, Tomb Raider Anime, Netflix August 2022 Schedule, Animixplay, Upcoming Marvel Movies 2022, July 31 Zodiac, Best Lily Collins Movies, Notepadqq, Flaxseeds with Milk Benefits, Imginn, Snaptik, Picuki, Alexis Clark Net Worth, Black Panther 2,

Marvel Echo Release Date, Frozen Fruit Recipes, Black Tourmaline, Webtoon XYZ, Fastest VPN for Android, IFVOD, XXXX Dry Review, Highest Grossing Indian Movies of all Time, Highest Grossing Movies of All Time, Rush Limbaugh net worth. Gotham Season 7, Parag Agrawal Net Worth, Tara Reid Net Worth, Blonde Trailer, Fastest VPN for PC, Highest Paid CEO in India 2022, Highest paid athletes 2022, My5 TV Activate, Kissmanga, Highest Paid CEO 2022, Grey's Anatomy Season 19, Alexa.com Alternatives, The Resident Season 6, Kraven The Hunter, One Punch Man season 3, The Resident Season 5, Yellowstone season 5, Ozark season 4 part 2, How to Remove Bookmarks on Mac, 

Outer Banks Season 4, How to watch NFL games for free, DesireMovies, 6streams, 4Anime, Moviesflix, 123MKV, MasterAnime, Buffstreams, GoMovies, VIPLeague, How to Play Music in Discord,  Vampires Diaries Season 9, Homeland Season 9, Brent Rivera Net Worth,  PDFDrive, SmallPDF, Knightfall Season 3, Crackstream, Kung Fu Panda 4, 1616 Angel Number, 333 Angel Number, 666 Angel Number, 777 Angel Number, 444 angel number,  Bruno Mars net worth, KissAnime, Jim Carrey net worth, Bollyshare,  Afdah, Prabhas Wife Name, Project Free TV, Kissasian, Kickassanime, Moviezwap, Jio Rockers,  Dramacool,  M4uHD, Hip Dips, M4ufree, Fiverr English Test Answers, Fiverr SEO Skill Test,  NBAstreamsXYZ, Highest Paid CEO, The 100 season 8, and F95Zone. 

Thanks for reading. Stay tuned!
Recommended Deals
[content-egg module=AmazonNoApi template=list]
Subscribe to Our Latest Newsletter
To Read Our Exclusive Content, Sign up Now.
$5/Monthly, $50/Yearly