How to Remove Bookmarks on Mac: A Step-by-Step Guide for Users
Do you know how to remove bookmarks on Mac for all browsers? In this article, we will explain everything step-by-step easily. Bookmarking is a simple approach to creating your own virtual world. People save news articles, blogs they read, music videos they wish to view, and even documents they need to work on in their bookmarks. You won't have to remember URLs or domain names, much less input a long path into your browser's address box. After a while, you need to bookmark it but didn't know how to remove bookmarks on Mac. Let's find the way.
On a Mac, there are a few standard chores that everyone should be able to accomplish. The more you know about how to handle your MacBook, from fundamental functions to more in-depth operations, the more abilities you'll have to simplify your workflow and also you know how to remove bookmarks on Mac.
I propose that everyone learn the fundamental skills and popular commands on their MacBook. How to remove bookmarks on  Mac is a process you should be familiar with.
We'll go over what a bookmark is and how to use it in more detail later, but they're a common computer function that most of you are already aware of.
Bookmarks are simple to create, but not everyone knows how to erase them, so let's look at how to remove bookmarks on Mac from popular browsers.
The internet is a large space with an almost infinite number of fantastic websites and interesting content. Saving a webpage as a bookmark in your browser is the greatest way to ensure you don't forget about it when you find something new online that you want to return to later.
Knowing how to erase a bookmark on a Mac comes in helpful in this situation. So let's have a look at that problem in a step-by-step manner.
What is a Bookmark?
This appears to be a basic question. Isn't a bookmark a small piece of paper or other material that marks the spot in a book where you stopped reading? A bookmark is essentially what it says on the tin, but it has a different connotation in the digital world.
A bookmark on your Mac is similar to a physical bookmark, but instead of keeping track of your location in a book, it saves a link to a webpage so you may return to it later.
You can use bookmarks to quickly retrieve any type of information you find on the internet. This is beneficial if you're exploring the web and come across a website you really like or a link to a great deal on a product you want to buy.
When you don't remember the web address, it can be difficult to access a site again. Creating a bookmark for the page helps you to quickly discover it again during a fresh browsing session.
Bookmarks can also help you organize a variety of websites that you visit frequently in a way that is convenient for you. Let's say you enjoy looking for recipes online and keeping up with basketball news.
You can organize your bookmarks into multiple folders based on your preferences. In the example above, you could have a folder with all of your culinary bookmarks and another with all of your basketball links. You must first save the bookmarks.
On a Mac, you can save new bookmarks in lots of ways:
Select Add Bookmark from the Share menu.

Open the Bookmarks menu and select Add Bookmark from the drop-down menu.

Hover your cursor over the Smart Search area (where the URL is) until the Plus (+) button appears, then move your cursor over it and tap and hold it. After that, you'll be able to save the URL to a Bookmarks folder of your choice.

If you've discovered that you can change those tools by hitting Control while clicking on the bar and choosing Customize Toolbar, use the Add Bookmark menu in your Safari toolbar.

On iOS, simply tap the Share symbol and select Add Bookmark.
How to Remove Bookmarks on Mac From any browser?
Bookmarks are tied to the browser you're using. As a result, Safari and Firefox, for example, can have completely distinct sets of bookmarks.
To organize your bookmarks, start by grouping them into folders (e.g. recipes). This is a procedure that comes highly recommended. Even so, after a month or so, your bookmarks manager is likely to be overflowing with items you no longer require. Fortunately, eliminating them is a simple operation; all you have to do is remember to do so on a semi-regular basis to keep things neat.
Most browsers also include Favorites, which are the highlights of the highlights and are often even more accessible than bookmarks. We'll also go through how to Remove Bookmarks on MacBook.
Because bookmarks are browser-specific, the procedures for removing them differ slightly, therefore it's worth looking at the procedures for Safari, Google Chrome, and Firefox separately. Just keep in mind that deleting bookmarks in one program does not necessarily mean they will be erased in another. In each browser, you must go through the same procedure.
Before we get into How to Remove Bookmarks on Mac, there's one more technique to keep all of your small notes and files organized – Unclutter.
Unclutter is a fantastic tool that makes arranging things much easier and your job a lot more productive right away. This program keeps various clipboard copies, notes, and files in one easy-to-find location, and you can simply drag and drop anything you want to use later into it.
With Unclutter, you'll quickly discover that you don't need to use your browser bookmarks as frequently to remember things because they're now stored in a more convenient location. Unclutter can also sync and back up all of your notes to Dropbox, allowing you to access them from any device.
Why Need to know How to Remove Bookmarks on Mac?
Given the importance of bookmarks, you might be wondering why you should learn how to remove bookmarks on Mac. What's the point of deleting your bookmarked pages? The key is to stay organized and make bookmarks work for you in the most efficient way possible.
If you save hundreds or even thousands of pages, you're unlikely to need them all in the future. As a result, such lengthy lists may make it difficult to locate a specific relevant bookmark.
When you're rushed for time or working on something important, this can be really annoying. After all, scrolling through a big list or a plethora of folders in search of a single URL is a difficult effort. As a result, just as you should know how to delete unwanted files from your computer, you should also know how to remove Bookmarks on Mac.
How to Manage Bookmarks on Mac?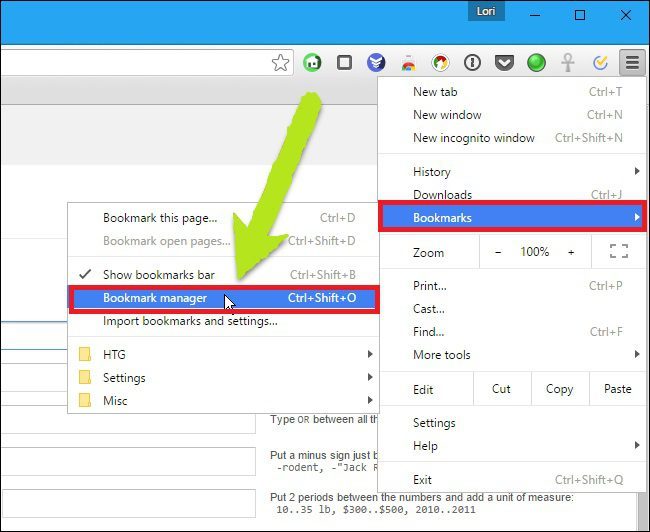 Without sorting the bookmarks, it's a massive mountain to keep them. It is strongly advised that you do not tolerate it on a regular basis. The browser offers a number of useful features that make managing saved bookmarks a breeze. The following easy-to-use features will help you organize your bookmarks in terms of sorting, retrieving, and viewing crucial information. Collecting bookmarks is a good idea.
Before learning how to remove bookmarks on Mac, you can build and manage your bookmarks in a variety of ways. Select the edit bookmark option from the bookmark menu. Alternatively, you might follow these instructions:
Open up your Mac's Safari browser. Then go to the bookmark button by clicking on the sidebar button under the toolbar.

Select the bookmark with the right-click menu.

From the shortcut menu, choose the following.
Rename or change the name of a bookmark folder. Alternatively, you can force-click the name, highlight it, and then move on to the next one.

Change the bookmark's URL or site.

You can copy or delete a bookmark.

Go over the topic in depth.

You may also select a bookmark and change it to make it easier to manage your bookmarks. Bookmarks make the internet easier to use. Whether you want to watch movies, download files, gather critical information, articles, emails, and other help from the internet, or use the internet to solve a problem, you'll need an organized browser. It's also a way to keep your Mac safe.
Part 2: How Do I Get Rid of Bookmarks on Mac?
Cleaning up your bookmarks by going through the settings and removing, restoring, and resetting isn't enough. Some people aren't aware that they're storing it all over the place. While browsing the internet and saving a large number of bookmarks, your device's storage space begins to fill up.

This article will teach you how to entirely how to remove bookmarks on  Mac. To erase and remove bookmarks on  Mac, follow these steps. To totally delete it, use the browser on your Mac machine.
How to Remove Bookmarks on MacFrom Safari?
In Safari, here's how to remove a bookmark.
Open Safari by double-clicking its icon.
Go to the far left corner of the screen and select Sidebar. The sidebar gives you one-click access to the items you use most frequently.
Shared with you, Bookmarks and Reading List are all accessible from the Sidebar.
Double-check that you've selected Bookmarks. This displays a list of all bookmarks that you have previously saved.
Control-click on the bookmark you want to delete to select it.
Select Delete. You've now successfully removed a bookmark.
Alternative Way How to Remove Bookmarks on Mac From Safari
On your Macbook, open Safari.

On the screen, you'll notice a row of shortcuts to bookmarks put under Favorites.

Control To remove a bookmark, simply click on it.

Select Delete.
How to Remove bookmarks on Mac From Google Chrome?
Chrome is the most widely used web browser on the planet. It's feature-rich, strong, and has a big ecosystem of extensions. Chrome has mobile versions for iOS and Android that sync all of your bookmarks automatically.
Chrome's bookmark management is also a little more advanced – the browser includes a Bookmark Manager where you can search, create folders, and add new favorites, among other things.
The best way to remove bookmarks from Chrome is to open its Bookmark Manager by clicking Bookmarks in the menu bar and then selecting Bookmark Manager, or by pressing Option + + B on a keyboard shortcut, and then right-clicking on items, or clicking on the three-dot menu and selecting Delete, or by pressing the Delete key.
How to Remove bookmarks on Mac From Firefox?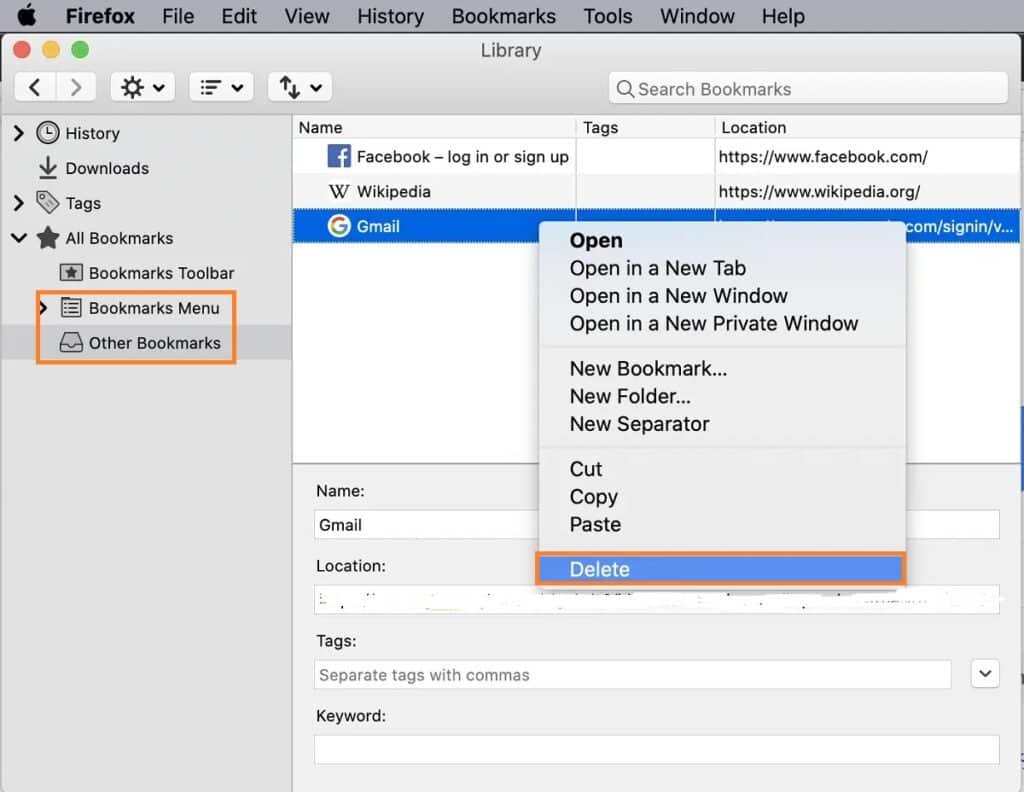 Firefox is a cross-platform browser that is lauded for its privacy, speed, and usefulness. It combines the greatest features of both Chrome and Safari, as well as mobile apps that sync all of your data, including bookmarks.
Firefox, unlike Chrome and Safari, has its own bookmark manager called Library. Simply go to Bookmarks in the menu bar and select Show All Bookmarks (Shift + + O) to access the Library.
Select any bookmarks in the Library, then right-click and select Remove Bookmark or press the Erase key to delete them.
How to Remove all Bookmarks on Mac?
Knowing how to remove bookmarks on Mac isn't enough if you want to keep your browsers clean and private – you'll need a full solution that will clear your browsing history, cookies, download history, tabs, and more. Manually doing it for each browser would take a long time and be impractical in the long run. That's why you'll need a program like CleanMyMac X to help you.
CleanMyMac X is an all-in-one optimizer that can eliminate all of the rubbish from your Mac in a single click, including old files, unnecessary system logs, harmful spyware, and more. You can also keep your surfing activity private and delete any programs completely.
To clear your Mac's web browsing history, follow these steps:
Open CleanMyMac X.

Select the Privacy tab.

Select Scan.

Choose your browsers

Make a list of everything you wish to get rid of.

Press the Remove button.
How to Organize Bookmarks in Your Macbook?
If you have a lot of bookmarks, you can organize them into different folders to make them easier to find. Organizing your bookmarks saves you the time and effort of hunting them down from a long list. Following a few simple steps, you may divide your Work Bookmarks, Leisure Bookmarks, Inspirations, and much more.
Open Safari and select the Sidebar icon. When the slide opens, press Bookmark.
Control under Favorites Select New Folder from the available space by clicking on it. Control-clicking is also an option just below any saved bookmark.
Drag your previous bookmarks into the new folder after renaming them with your personalized title. Simply drag and drop a bookmark into your new folder.

You can now organize your bookmarks into different folders.
Final Thoughts on How to Remove Bookmarks on Mac:
Whether you're using Safari, Chrome, or Firefox on your Mac, you now know how to erase bookmarks.
If you care about the information and links stored in your system, this is a simple chore that will help you stay organized.
Remember that each internet browser has its own set of bookmarks, so if you use more than one, you'll have to erase bookmarks from each one. Without deleting them, bookmarks will live indefinitely, so you may choose whether or not to remove them.
Frequently Asked Questions (FAQs) on How to Remove Bookmarks on Mac:
How do I clean up bookmarks in Safari?
On your iPhone, hit the Bookmark button at the bottom of the Safari screen, tap "Edit," and then tap the Erase button to delete a bookmark you no longer require. You may also rename and reorder your bookmarks to make changes.
How Do I Stop Bookmarks from Popping Up In Safari Mac?
Slide to the right when the (Safari) banner displays. Select "Bookmarks" from the drop-down menu. Select "Hide Bookmarks," and the problem is solved! At the far left of the bookmarks bar, click the bookmark symbol.
In Chrome, how to remove several bookmarks?
Open Chrome first to erase a bookmark from your computer.

To the far right of the bookmark, click More.

You can erase several bookmarks by pressing shift-click or ctrl+A instead.
How Do I Remove Bookmarks from Chrome After Signing Out?
To swiftly delete bookmarks from Chrome, select all folders and bookmarks with the keyboard shortcut Ctrl + A, then hit Delete in the right upper corner. There is no way to erase this information. The reset option expressly states that the data on this device will not be erased.
How do I close Safari bookmarks?
1) Use the Command () – Shift () – B key combo to show or hide the Favorites bar, or select Safari View Hide Favorites Bar to remove a bar with your favorite websites from the Safari toolbar.
How Do I Delete Bookmarks?
Select "Delete" from the context menu when you right-click on any bookmark. You may erase a bookmark permanently by right-clicking it and selecting "Delete" in Chrome. This works for bookmarks in your bookmarks bar, the bookmarks manager, and the list in the Chrome menu's "Bookmarks" section.
Where Are My Bookmarks On Macbook?
Then, on the Bookmarks tab, click the Sidebar button or pick ViewShow Sidebar. The Favorites Bar and Bookmarks Menu folders are fixed in the first and second 
positions in the Bookmarks list, respectively, in the Sidebar's Bookmarks section.
How do I select multiple favorites to delete?
While single-clicking each bookmark or folder you want to delete, press and hold the "Ctrl" key on your keyboard. Release the "Ctrl" key and press the "Del" key on your keyboard once you've picked several favorites.
How do you delete Bookmarks on a Macbook?
At the top of this sidebar, select Bookmarks. Find the bookmark you wish to remove and delete it. Control To use the bookmark, simply click it. Choose Delete.
How do I delete multiple Bookmarks in Safari on iPad?
Hold the shift key while selecting the necessary amount of bookmarks in the Safari bookmark sidebar, then move your cursor to the top menu bar > edit and click on delete to erase them all at once.
How do I hide Bookmarks?
On your PC, open Chrome and select the "More" icon (the three vertical dots) in the top right corner;

Hover your cursor over "Bookmarks." The menu is been extended to the left.

Uncheck the "Show bookmarks bar" option in the menu options. The Bookmarks will be hidden from view.
How do I delete Bookmarks and history?
Launch Chrome on your machine.

Click More in the top right corner.

Select History from the drop-down menu.

Select Clear browsing data from the left-hand menu.

Choose how much history you wish to remove from the drop-down menu.

Check the boxes next to the data you want Chrome to delete, such as 'browsing history.'

Select Clear data from the menu.
How do I delete Google Bookmarks?
Launch Chrome on your machine.

Click More Bookmarks in the top right corner. Bookmark Manager is a program that allows you to manage your bookmark

Click the Down arrow to the right of a bookmark. Delete.
How do I delete other bookmarks?
To delete a Bookmark from Other Bookmarks, left-click on Other Bookmarks, locate the Bookmark you want to delete, right-click, and select Delete.
Why Did My Bookmarks Disappear In Safari?
If your iPhone is no longer synchronized with your Mac, your Safari bookmarks may vanish. Go to Settings > Your Apple ID > iCloud to see if you've mistakenly switched off iCloud synchronization. To enable synchronization, swipe the Safari slider to the right.
How Do I Bookmark A Tab On Macbook?
To bookmark a single website, click the "+" button to the left of the Web URL in the address bar. Select "Add Bookmarks for These Tabs" from the "Bookmarks" menu to bookmark a set of tabs.
How Do I Delete Synced Data From Chrome?
You can encrypt your data under Chrome's settings, but you'll have to go to your Google Dashboard to clear it. Scroll down to the Chrome sync area of the Google Dashboard and click the link to "Stop sync and remove data from Google." After that, you'll be asked to confirm the deletion.
How do I get rid of all of my bookmarks?
Go to chrome:/bookmarks/ > to the right of the bookmark you wish to delete > Delete to utilize the bookmark manager. Go to the bookmark manager, select all, then click Delete to delete all bookmarks.
Apart from this, if you are interested; you can also read Entertainment, Numerology, Tech, and Health-related articles here: 
Outer Banks Season 4, How to block a website on Chrome, How to watch NFL games for free, DesireMovies, How to watch NFL games without cable, How to unlock iPhone, How to cancel ESPN+, How to turn on Bluetooth on Windows 10, Outer Banks Season 3, 6streams, 4Anime, Moviesflix, 123MKV, MasterAnime, Buffstreams, GoMovies, VIPLeague, How to Play Music in Discord, Vampires Diaries Season 9, Homeland Season 9, Brent Rivera Net Worth, PDFDrive, SmallPDF, Dramacool, Squid Game Season 2, Knightfall Season 3, Crackstream, Kung Fu Panda 4, 1616 Angel Number, 333 Angel Number, 666 Angel Number, 888 Angel Number, 777 Angel Number, 444 angel number, Bruno Mars net worth, KissAnime, Jim Carrey net worth, Bollyshare, Afdah, Moviezwap, Jalshamoviez, Prabhas Wife Name, Project Free TV, Kissasian, Mangago, Kickassanime, Moviezwap, Jio Rockers, Dramacool, M4uHD, Hip Dips, M4ufree, Fiverr English Test Answers, NBAstreamsXYZ, Highest Paid CEO, The 100 season 8, and F95Zone. 
Thanks for your time. Keep reading!