How to Roll a Joint Easily [A Step-by-Step Guide in 2023]
Do you know how to roll a joint? The classic and most common way to smoke weed is with a joint. It's simple and beautiful, and whether you're going to smoke weed for the first time. Or you've been smoking devil's lettuce since people called it devil's lettuce without irony, knowing how to roll a perfect joint is an art form worth admiring. No matter why you need one, knowing how to roll one like a pro is not just important, it's a critical life skill.
The joint is one of the most famous ways to smoke marijuana, and it's a great way to enjoy the taste of flowers. Every person who smokes marijuana should be able to roll a joint.
People have a lot of different ideas about how to roll one up, but no matter what you do, make sure it burns smoothly and evenly. Here we are going to talk about how to roll a joint easily and what type of ingredients you need. 
What is a Joint?
A joint is a marijuana cigarette that is usually rolled by hand. Some dispensaries sell prerolls, which are joints that have already been rolled. This saves the customer a few steps. A joint that has both cannabis and tobacco in it call a spliff. A blunt, on the other hand, is a cigar that has been hollowed out and filled with cannabis. Blunts can also be made by rolling marijuana in the thick, dark tobacco papers that are used to make cigars.
How much Weed Goes in a Joint?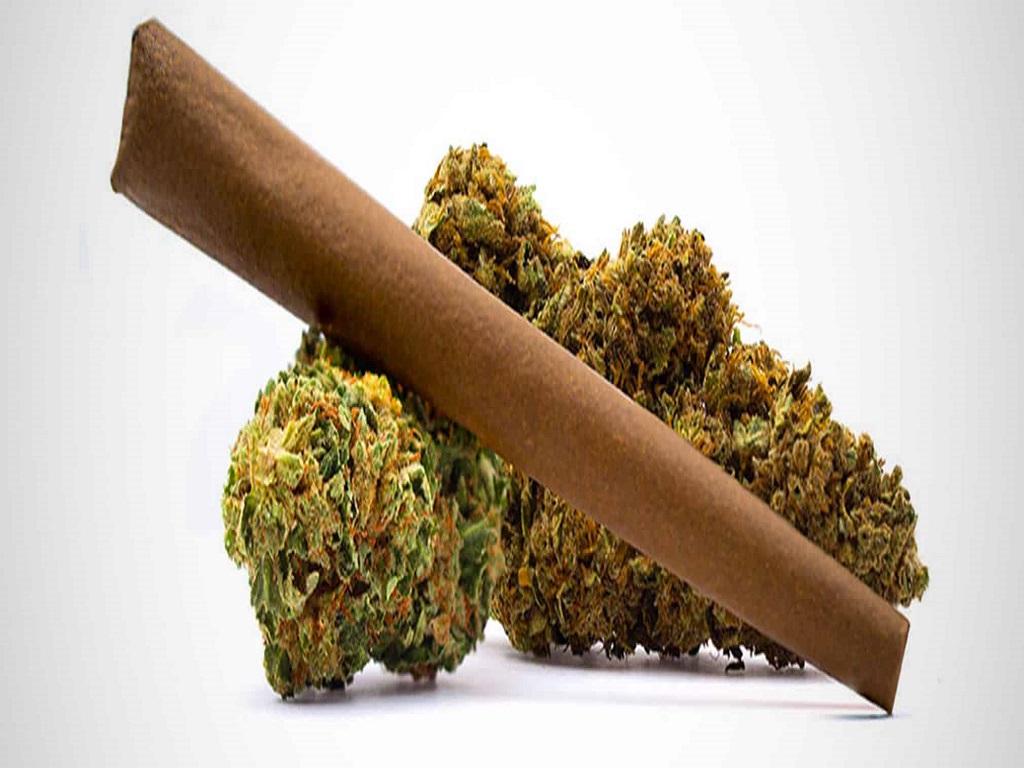 The first time, try using a "crutch," which is a rolled-up tube of thin cardboard that keeps the weed away from the smoker's lips. This is similar to how some people use a cigarette filter when smoking combustible weed. Filters and aids aren't needed to roll a good joint, but they can help people who are just starting out how to roll a joint. These are already built into cones that have already been made.
Next comes the weed itself, which goes inside the paper. Even though joints can hold a lot of weed,.3 of a gram is a good amount for someone who is just starting to roll and smoke. It's up to you how you want to grind your flower. Some people like it chunky, while others like it very finely ground. As long as it rolls up when you twist it in the paper, it's probably going to work. Most of the time, a medium grind works best. A finer grind can burn too quickly or shoot into your mouth when you inhale, and a chunkier grind can fizzle out or start "canoeing," which means that one side of the joint burns too quickly.
Here are the Ingredients and Gear You Need
5 grams of cannabis flower
Depending on which strain you like, about one big bud or a few smaller ones.
Grinder
You can cut up your bud in a shot glass with scissors or a knife if you have to, but a grinder is a better way to make sure it burns evenly.
Rolling Papers
There are many different sizes and types of rolling papers, but for a basic, clean-tasting one, choose ones made from rice or hemp.
Filter Material
Most packs of rolling paper will have a perforated section with thicker rectangles of paper that can be rolled up to make a filter, also called a "crutch" or "tip." You can also use a thin piece of cardboard, an index card, or a business card.
Rolling Tray (optional)
The best place to roll is on a clean, flat surface. When you spread the ground-up bits beyond the paper, a rolling tray, Time magazine, or clean countertop can help.
Packing Tool (optional)
You'll be pressing the ground-up weed into the roll of paper, so a chopstick, pen, or makeup pencil will come in handy.
How to Choose the Right Rolling Paper?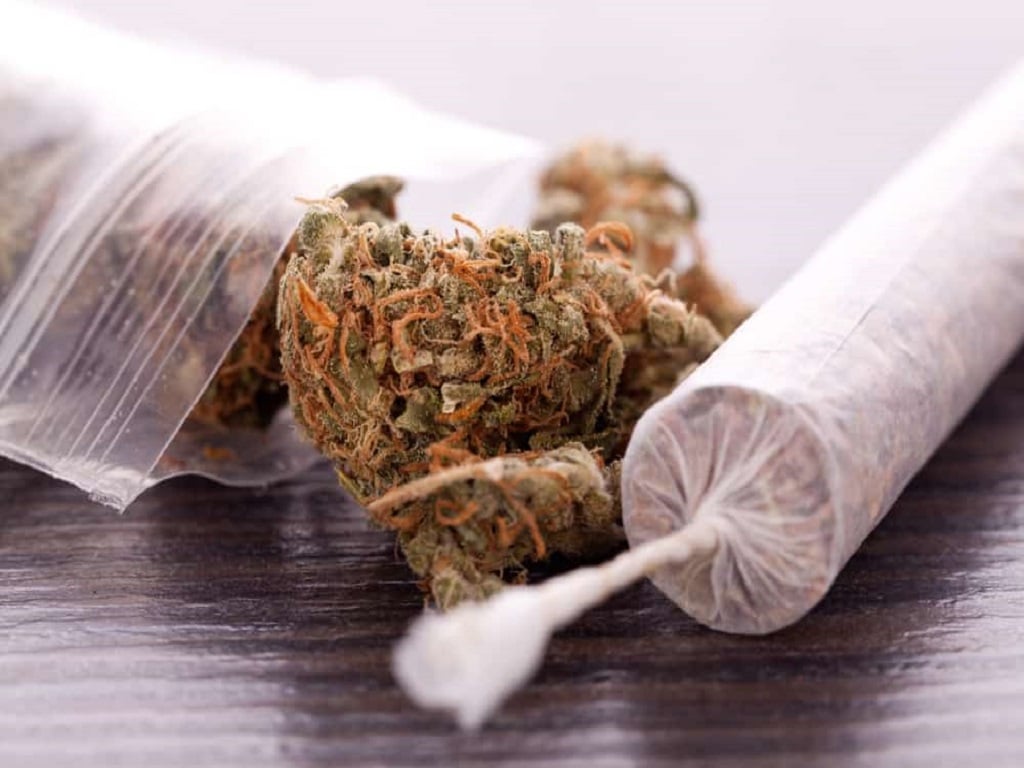 There are hundreds of different kinds of rolling papers, each with its own size, material, and even taste. After choosing rolling paper you can start with how to roll a joint. Here are a few important things you need to follow:
Size
1¼ papers are the standard for rolling joints because they're easy to roll and can fit a crutch or filter. They are 1¼ inches wide and 3 inches long. Common 1¼ papers are Orange Zig-Zags.
Single wides are slightly smaller than 1¼'s at 1 inch wide and are often used as standard cigarette rolling papers. Common single-wide papers are White Zig-Zags.
1½ papers are slightly wider than 1¼'s, allowing for fatter joints.
King-size papers, which are usually wider and longer than all of the above, are also popular. They are great for rolling a big circle of cigarettes.
You can also buy rolls of paper that can be any of the above lengths up to 16 feet long. Just tear off a piece that is the right length for the joint you want to make.
All of the above sizes are available in regular and slim (or thin) versions. Slims are more fragile and easier to tear, but they taste less like paper.
Material
Traditionally, rolling papers were made out of tree pulp, but now they can be made out of a number of different things, such as:
White papers are often bleached, and some papers, but not always, have things like charcoal added to them to make them burn faster. Most brown papers are natural and haven't been breached. Check the package to see what the rolling papers are made of and if they have any extra ingredients.
Some unusual things that can be used to roll cigarettes are gold leaf, rose petals, goji berries, cellulose, and many more.
Flavored Papers
Also, rolling papers can have different tastes. These are not natural because they have been changed or flavored.
Cones
If you've never rolled joints before, you might want to buy a cone. These are rolling papers that have already been folded into joints in the shape of a cone.
Just grind up some weed, put it in the cone, and pack it down with a tamping rod, a pen, or a chopstick, which is usually included.
How to Roll a Joint Step-by-Step? 
Here are the 5 easiest ways how to roll a joint. By doing this step you can make a roll joint like a pro.
The time needed: 5 minutes.
1. Grind the Cannabis
Use a grinder to separate the flower and break it up into small pieces. A grinder makes the size and texture of the herbs the same, which makes the smoke smoother and more even. If you don't have a grinder, use your fingers to break up the bud. As you remove any stems or seeds and make the pieces about the same small size, be careful not to hurt the trichomes on the cannabis.
2. Make a Crutch
Many smoke shops sell ready-made crutches that can be used as a joint's mouthpiece. Even though crunches aren't necessary, they strengthen the mouthpiece and make it easier to hold a joint. Crutches also improve the flow of air through a joint, making it less likely that you'll burn your lips or breathe in tiny bits of marijuana when you take a hit.
To make a crutch, take a thick piece of paper or cardstock and tear off a rectangle-shaped strip about half an inch (34 of an inch if you're using king-size papers) wide. Fold most of the paper into an accordion shape, and then wrap the last bit of paper around the accordion part. The truth is that business cards make great crutches. You can find glass and wooden crutches at tobacco shops, head shops, and some dispensaries. These are great alternatives to paper crutches.
People also call crutches filters or tips. Some people call them "roaches," but a "roach" is just the last bit of a smoked joint that is burned.
3. Load the Joint
Put the rolling paper on the tray so that the side with the glue is facing away from you. Place the crutch where you want the mouthpiece to be, and then sprinkle the marijuana in a column along with the crutch. Spread the flower out evenly in the joint, and don't pack it too full.
To roll a cone joint, start with less weed near the mouthpiece and add more as you move toward the end.
4. Roll the Joint
We can finally get started on how to roll a joint. Make sure the sticky side of the paper is facing away from you, then pick up the paper with the cannabis on it. Use your thumbs and index fingers to pinch the paper into a taco shape. Sift the paper back and forth to spread the bud out evenly and pack it down a bit. If a flower falls out, it's okay. You can put it back in later. Work the weed into a cylinder shape. It shouldn't be too loose or it won't burn evenly, and it shouldn't be too tight or it won't let enough air in.
Put the weed on the side of the rolling paper that doesn't stick, and then slowly roll the paper towards the side that does stick, tucking the bud in as you go. Roll it with your thumbs and hold the outside with your index fingers. Start at the mouthpiece end and slowly seal the joint by licking or wetting the glue.
Once it's closed, use a chopstick, a pen, or something else long and cylindrical to pack the marijuana down toward the mouthpiece. Here is where you can put back any weed you lost while rolling.
5. Seal the Deal
Twist the extra piece of paper at the joint's tip to close everything.
6. Enjoy!
Now you can light up your joint and smoke through the mouthpiece. Enjoy!
The Right Way to Fill a Cone
Filling a cone is usually easier than rolling. As long as the weed is well-ground and you have something to gently push down on the flower, you can make a great cone.
Doan's advice is to pack the base of the cone semi-tightly and, most importantly, to turn the cone as you fill and pack it so that one side doesn't get all the pressure. Halfway through filling, check the draw to make sure it's going well.
Cones can hold a lot of weed and are good for sharing, but rolling joints by hand is better for smaller, more private joints. Cones don't work well with chunky grinds because they can burn unevenly. No matter how it's rolled, how you light the joint is a very important step.
She says, "Make sure to light the joint evenly from the start." "The burn line on the crown should be even from the start."
Where to Put the Roach?
If you don't know how to roll a joint roach, click here to see our guide on how to make the best roach.
People who put the roach on the left side of the rolling paper are said to "roll from the left," while people who put the roach on the right side of the rolling paper are said to "roll from the right." It doesn't matter if you're left-handed or right-handed; just do what feels right.
Depending on which side you roll from, put the roach at the end of the rolling paper that is farthest from you. Try to leave about 5–10% of the roach sticking out of the end of the rolling paper. You'll see why this is important in a minute.
Tips for How to Roll a Joint Easily
Choose the right paper size. Even though it might be tempting to start with king-size because it sounds easy, it's too much. Single-wide is the same problem at the other end of the spectrum. Most experts say to start with 114-inch paper until you get the hang of it.
Think thick. Fans of rolling joints can use any kind of paper to roll the perfect doobie. But if you are just getting started, choose thicker paper. Hemp is a great alternative. After you've done it a few times, you can move on to something so thin that it's almost impossible to see.
Start at the crutch. Hold the end of the filter firmly with your index finger and thumb. This keeps everything stable, puts your hand in the right place, and gives you a good place to start wrapping around.
Slow your roll. Take a moment to look at the row of marijuana on the paper before you roll. Does it cover everything? Did you shake the paper back and forth to help it stick together? If not, take a minute to fix it before you start rolling.
Don't commit too soon. After you roll, you don't have to lick and seal right away. If you roll a joint and don't like it, you can unroll it and try again. Even if you waste the paper and need another one, that's better than having the whole thing fall apart while you're quitting smoking or passing it.
Lick lightly. When you're ready to close your joint, you don't have to slobber all over it or, god forbid, put the whole thing in your mouth. With just a little water along the glue strip, the joint will be fine.
Twist and push. After you've packed your joint with marijuana and rolled it up tightly, twist and push the paper at the open end. This will seal the bud and make sure it's packed right so that when you light it, it will burn well.
Practice. To learn how to roll the perfect joint, you have to do it a few times. Don't be afraid to sit down with a few papers and roll until it feels easier. Try it out on your own for a while before you offer to roll for a group. If you're patient, you'll soon be making art together.
Extra Credit: Adding Concentrates
If one joint isn't enough, you might want to try adding concentrates to your roll-up. This means that any of your favorite forms of concentrate, like hash, wax, budder, oil, sugar, kief, etc., can be sprinkled, spatulated, or dolloped into (or onto) your joint for a super potent hit.
Hoppa said, "The best place is inside the paper. Try not to put the concentrates too close to the smoking end of the cone, as the oils could clog up a tight cone."
Start small unless you're a heavy smoker. Concentrates are very potent, so beginners probably shouldn't mess with them too much until they get the hang of smoking and the benefits of weed.
Conclusion
Wow, did you have to remember all of that? Well, the good news is that you are now an expert at some of the best ways to roll a joint, whether you do it without a filter or with one. You also know how to roll a joint without having any doubts. Then You can be proud to show off to your friends how good you are at pearls.
You can choose how to roll a joint quickly without making or rolling a filter if you're feeling lazy or in a hurry. But if you have time to sit down and relax, it's clear that rolling a filtered joint would be the best way to smoke for the best experience. Choose the right tools and papers for rolling with your head. When you are learning how to roll a joint, they are especially important.
Give yourself a round of applause because you can now roll the perfect joint thanks to your joint rolling skills. If you follow our guide, rolling joints shouldn't take you more than five minutes.
Frequently Asked Questions (FAQs) about How to Roll a Joint

 
Does honey make roll joints burn slower?
Because honey is thick and sticky, it can help a regular joint burn slower. Many people also say that it can give your joint a sweet, pleasant taste.
How do you roll a joint hack?
Take a cigarette and roll it carefully between your fingers until you can get all the tobacco out. This is another easy way to roll a joint when you don't have much time. Then, hold the now-empty cigarette over a plate and drop some ground weed into the hole. Press it down with a pen or something else with a similar shape.
How to Roll a Joint for the first time?
Joint Rolling Pro: Learn How to Roll in 5 Easy Steps
Break it up nice and evenly.

Fold up your paper filter tightly.

Lay it out evenly on hemp paper or rice paper.

Hold the paper or glass filter tip steady.

Twist slowly from the top to bottom and seal the paper.
How do you roll a raw joint step by step?
So, let's cut to the chase and get right into how to roll a joint without a filter:
Break up your bud.

Fill up your joint.

Roll Joint Without Squeezing Too Tightly.

Lick and Seal Joint.

Pack Joint Evenly Without Stuffing.

Now Twist the End of the Joint Paper.

Light up and Enjoy Your Joint Without Filter.
How do you make a Roll joint last?
After you've rolled the perfect joint, you need to make sure to light it right. Keep in mind that joints don't burn like cigarettes. Hold the joint over the flame of the lighter and turn it as you light it. Also, when smoking, take small, even puffs, and don't inhale the first draw.
You can also read
If you are interested, you can also read Entertainment, Numerology, Tech, and Health-related articles here: iFun, Emerald Chat, How to Play Mancala, August 8 Zodiac, OnePlus 10T Review, Jilo Virals, August 4 Zodiac, Findsnap, Tomb Raider Anime, Netflix August 2022 Schedule, Animixplay, Upcoming Marvel Movies 2022, July 31 Zodiac, Best Lily Collins Movies, Notepadqq, Flaxseeds with Milk Benefits, Imginn, Snaptik, Picuki, Alexis Clark Net Worth, Black Panther 2, Marvel Echo Release Date, Frozen Fruit Recipes, Black Tourmaline, Webtoon XYZ, Fastest VPN for Android, IFVOD, XXXX Dry Review, Highest Grossing Indian Movies of all Time, Highest Grossing Movies of All Time, Rush Limbaugh net worth
Gotham Season 7, Parag Agrawal Net Worth, Tara Reid Net Worth, Blonde Trailer, Fastest VPN for PC, Highest Paid CEO in India 2022, Highest paid athletes 2022, My5 TV Activate, Kissmanga, Highest Paid CEO 2022, Grey's Anatomy Season 19, Alexa.com Alternatives, 
The Resident Season 6, Kraven The Hunter, One Punch Man season 3, The Resident Season 5, Yellowstone season 5, Ozark season 4 part 2, How to Remove Bookmarks on Mac, Outer Banks Season 4, How to watch NFL games for free, DesireMovies
Apart from the above articles, you can read more
6streams, 4Anime, Moviesflix, 123MKV, MasterAnime, Buffstreams, GoMovies, VIPLeague, How to Play Music in Discord, Vampires Diaries Season 9, Homeland Season 9, Brent Rivera Net Worth, PDFDrive, SmallPDF, Knightfall Season 3, Crackstream, Kung Fu Panda 4, 1616 Angel Number, 333 Angel Number, 666 Angel Number, 777 Angel Number, 444 angel number, 
Bruno Mars net worth, KissAnime, Jim Carrey net worth, Bollyshare, Afdah, Prabhas Wife Name, Project Free TV, Kissasian, Kickassanime, Moviezwap, Jio Rockers, Dramacool, M4uHD, Hip Dips, M4ufree, Fiverr English Test Answers, Fiverr SEO Skill Test, NBAstreamsXYZ, Highest Paid CEO, The 100 season 8, and F95Zone. 
Thanks for reading. Stay tuned!
Subscribe to Our Latest Newsletter
To Read Our Exclusive Content, Sign up Now.
$5/Monthly, $50/Yearly