Everything You Need to Know Before Buying Shower Standing Handle
Listen to the Podcast:
A shower standing handle can make it safer for people who need help standing up or moving around in the shower or tub. With a handle to help with balance and to pull or push on to move around, you may be less likely to fall or slip in a shower, where the floor is wet and dangerous. These are helpful tools for people with disabilities or older people who are getting weaker and losing their balance.
As we get older, small tasks we used to do without thinking about them become harder. As we get older, some of these tasks can become downright dangerous. One of these tasks is taking a bath or shower. According to a study done by the CDC, of the non-fatal bathroom injuries that were reported in 2008, 81.1% were caused by falls in the bathroom, and older adults were more likely to get hurt than younger people.
37.3% of injuries happened while people were taking a bath, showering, or getting out of the tub or shower. There are a lot of things you can do to keep from getting hurt or falling in the bathroom. Bath mats that don't slip are a good start. Installing grab rails or shower standing handle rails to keep people from slipping is another very useful thing you can do to your bathroom Maintenance.
In this article, we'll talk about how to choose the right shower standing handle or grab bar, and with the help of YouTube, we'll show you how to put them in.
How can Shower Standing Handles Help?
People who are more likely to fall, like older people, can use shower standing handles to help them stand up. The Centers for Disease Control and Prevention (CDC) says that about 3 million older people fall and go to the emergency room each year because of it.
The CDC suggests, among other things, that people who are more likely to fall install grab bars around the toilet and shower.
Also, a report from the CDC from a few years ago said that most falls and injuries around the house happened in or near the shower or bathtub. About 37% of the falls happened while the person was taking a bath, showering, or getting out of the tub or shower.
Also, this report said that older people had a higher risk of falling overall than younger people.
When grab shower standing handle is put in the right way, they can help people who are:
Getting into and out of the tub or shower
Bathing
Changing positions, such as bending or standing from sitting
How to Choose Shower Standing Handles?
When choosing a shower standing handle, people have different needs.
When deciding which bar is right for them, a person might want to think about the following:
Size of the shower or bath: Some companies make bars that are small enough to fit in small spaces, while others make bars that are big enough to fit in standard or large tubs and showers. People can think about a shower standing handle that will work in their space.
Weight: Before buying, a person might want to check the bar's recommended weight limit to make sure it can hold its weight.
Permanence: Some bars stick to the wall with suction cups, which makes it easier to take them off and move them around the room. Others have to be set up with hardware. People who might need to move the bar or who can't make any changes to their bathroom might want to think about grabbing a shower standing handle that is easier to remove.
Needs: Everyone has different needs. Some people may only need a bar to help them get in and out of the shower or bath, while others may need one to hold onto for support while showering or bathing.
Materials: Companies make their bars out of many different things, like hard plastics and metal. A person might want to think about bars made from a certain material for style or other reasons.
12 Shower Standing Handles Reviews
1. Moen Home 24-Inch Stainless Shower Standing Handle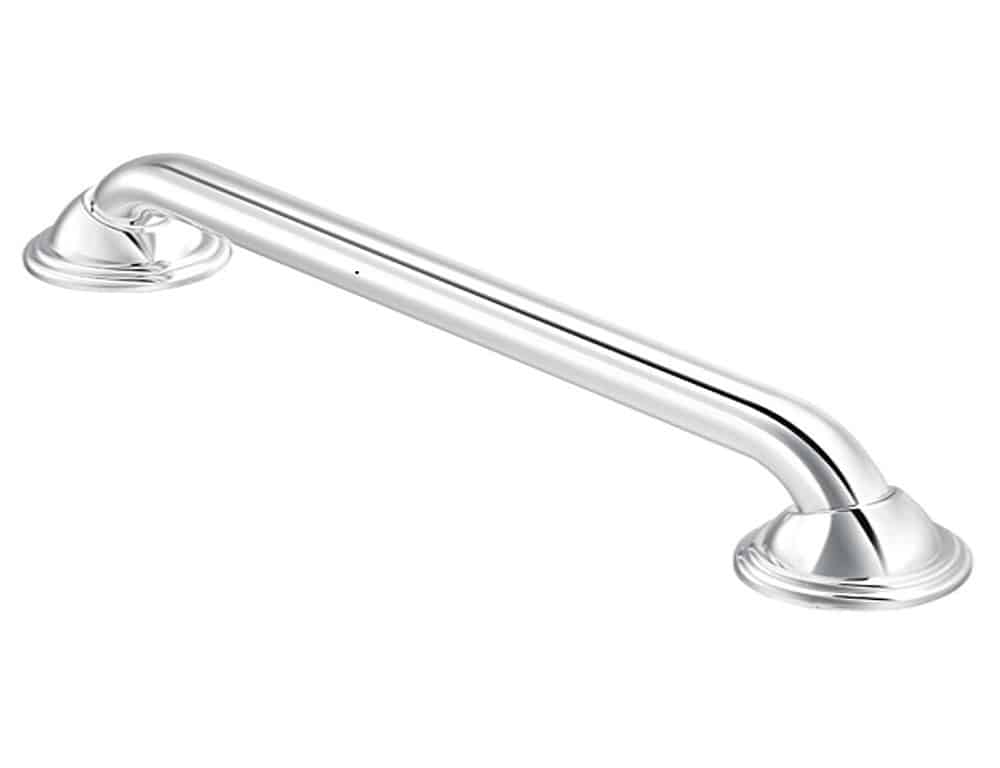 This Moen shower standing handle is a great shower grab bar. Whether you make it for older people or for kids, it will give people a lot of room to hold onto when they get in or out of the shower. This bathroom grab bar is made of high-quality stainless steel, so it can hold up to 500 lbs. In terms of how it looks, the standing shower handle can go with the style of most bathrooms.
Plus, the Stainless finish gives it a warm grey metallic look that is lightly brushed, and the hidden screws give it a stylish look. This Moen shower standing handle was made to be easy to install, so it's great for any bathroom and can be used in many different ways. People who buy this bar on Amazon are very proud of it, and more than 80% of reviews give it 5 stars.
2. Gotega 2 Pack Shower Standing Handle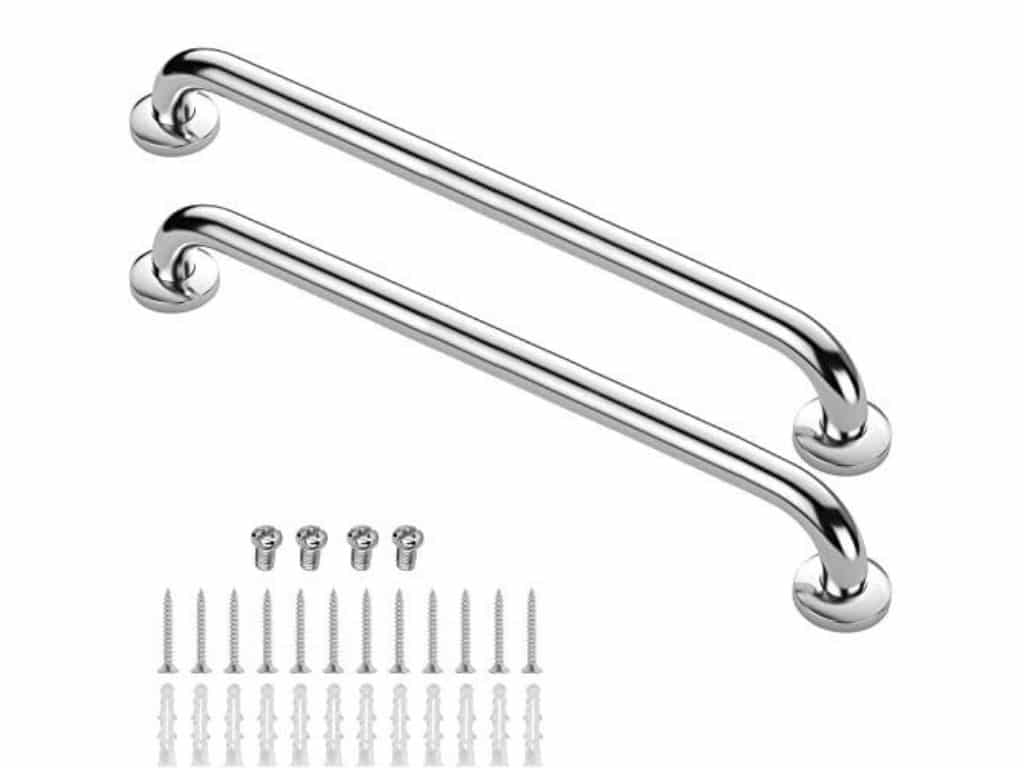 Gotega's 2-pair shower support bars are a cheap choice for people who need grab bars for the elderly, shower standing handle for seniors, kids, and regular people, or handicap shower bars. For the price of one bar, you can get two. When you have two bathroom safety bars, you can put them anywhere in your bathroom. You can choose from bars that are 12-48 inches long, depending on what you need.
More than that, these 304 stainless steel shower handles are reliable and can hold up to 500 pounds. So, you can keep older people, children, and others from slipping, falling, and getting hurt in other ways.
3. Changing Lifestyles Safe-er-Grip Bathtub and Shower Standing Handle

How People Live Is Changing The Safe-er-Grip bathtub and shower standing handle is made to help a person get into and out of the shower. Because the bar has suction cups, a person doesn't need any tools to put it upright. The suction cups will stick to any smooth, non-porous flat surface, like glass or tiles.
The bar is about 11.5 inches long, so it can be used in both small and regular tubs. It comes in a few different colors, like white and chrome, to make it easier for people to match it to their other bathroom fixtures.
In the bar's instructions, it says that it can help a person keep their balance and support them, but it can't hold their full weight. So, when standing, sitting, or moving, a person shouldn't put all of their weight on the bar.
4. LEVERLOC Shower Safety Shower Standing Handle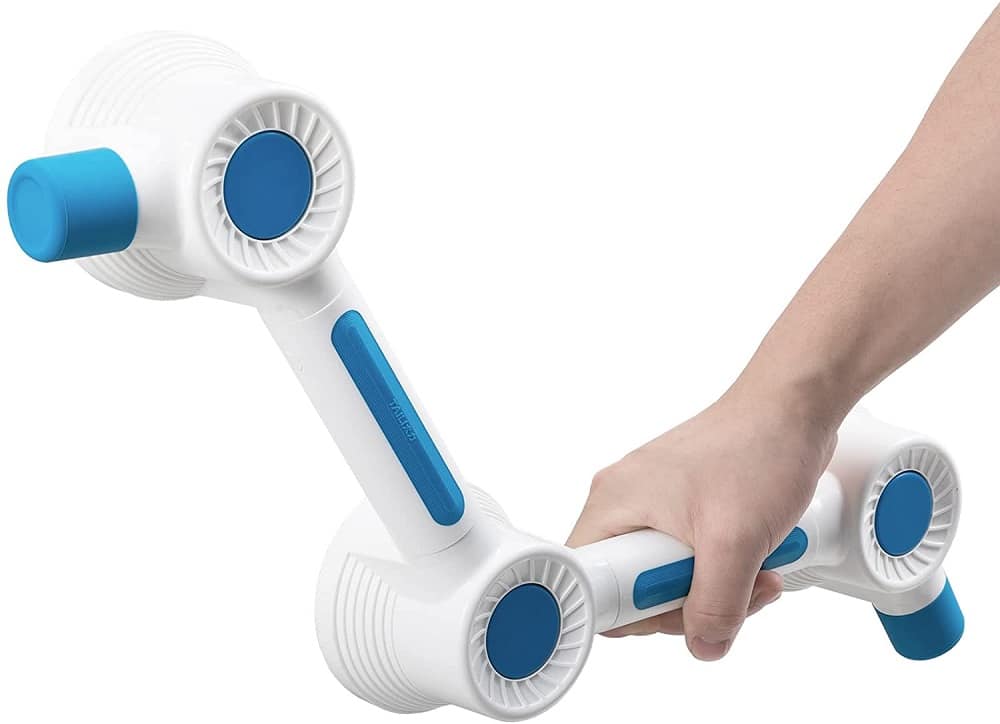 The LEVERLOC shower safety grab bar sticks to walls, glass, and tiles with the help of suction cups.
Up to 240 lb. of weight can be put on the bar. But the company says that you shouldn't put your full weight on the handle and that you should only put it on surfaces that don't have pores.
The shower standing handle is in the shape of a U and sticks out farther from the wall than most other shower bars. This gives you more room to grab it.
The bar's surface is made of rubber, which the maker says makes it easier to hold on to.
5. Budding Joy 2 Pack Strong Shower Grab Bars Suction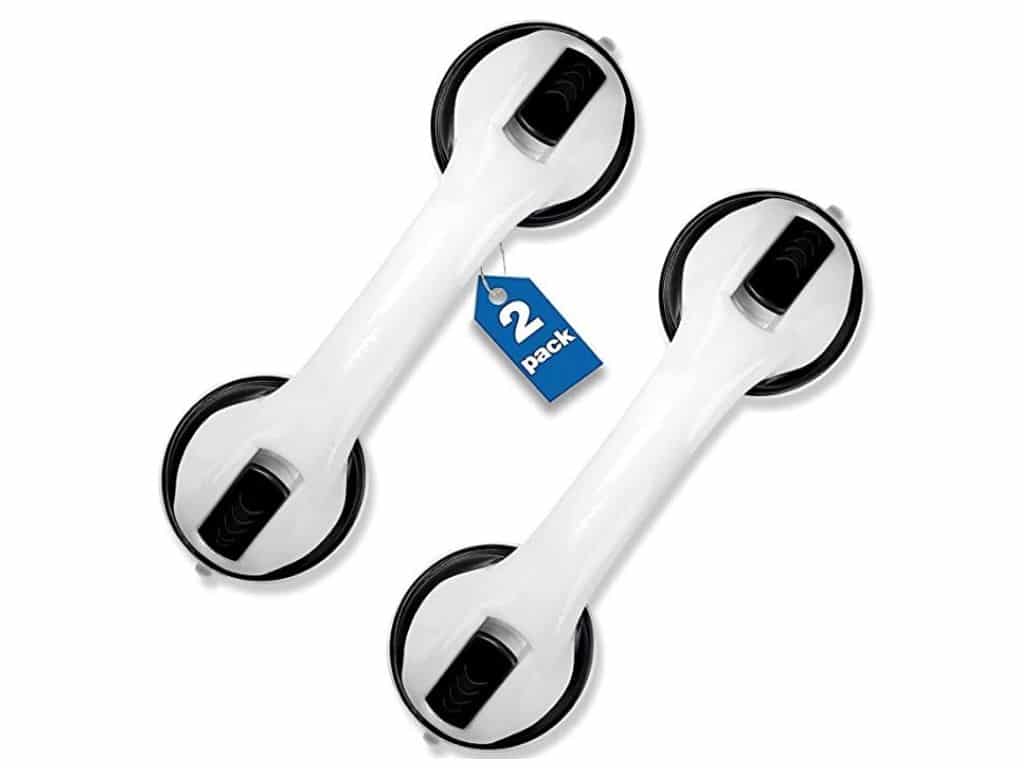 This shower grab bars suction is the perfect bath safety item for anyone who needs a little extra confidence and helps to keep their balance when getting in or out of the tub or shower. Unlike fixed shower standing handles, these suction grab bars can only be attached to smooth, clean walls. This means that these suction cup grab bars for the shower can't hold the full weight of a person. Because the grips on the suction grab bars are easy to hold, they can be put on walls that are easy to reach. The fact that shower grab bars suction is portable and can be taken off makes them very popular.
You can use the placement as an attachment, and taking it off is easy and doesn't require any tools. Because of this, you need to check it before every use because the suction will weaken over time.
6. AquaChase 2-Pack 17-in Suction Shower Standing Handle with Indicators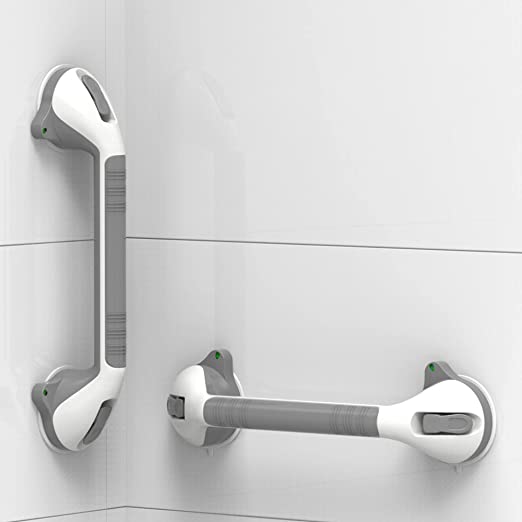 AquaChase sells a two-pack of 17-inch grab bars that stick to the shower wall. Like other suction cup bars, they need to be put on a flat, non-porous surface.
This set of bars has an extra safety feature that may make them appealing to some users: Each suction cup has a color that shows if it is holding on to the wall well. The company that makes the bars says that they are only meant to help people keep their balance. This means that a person can't put their full weight on the bar.
7. DIWANGUS 16-inch Stainless Steel Chrome Shower Grab Bar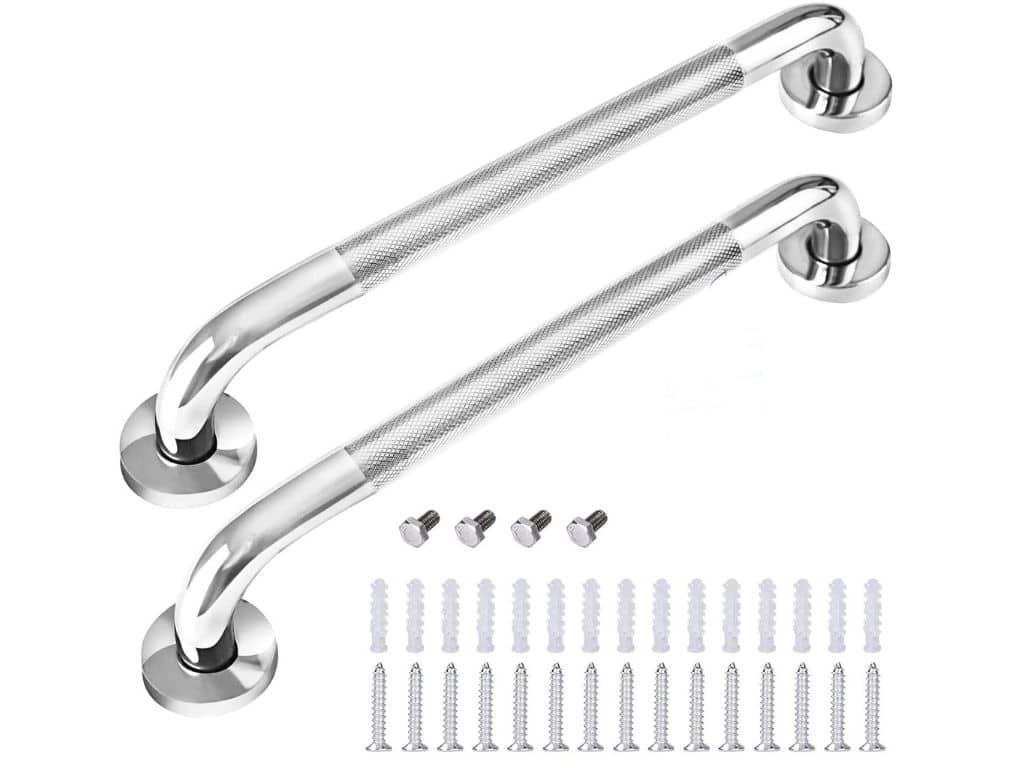 DIWANGUS has a two-pack of screw-mounted 16-inch shower bars for sale. The company that makes the bars says that they come with everything you need to safely mount them on any wall.
In the product description, it says that when installed correctly, each bar can hold up to 500 lb of pressure. The surface of the bars is rough so that people can get a good hold of them.
8. Amazon Basics Bathroom Handicap Safety Grab Bar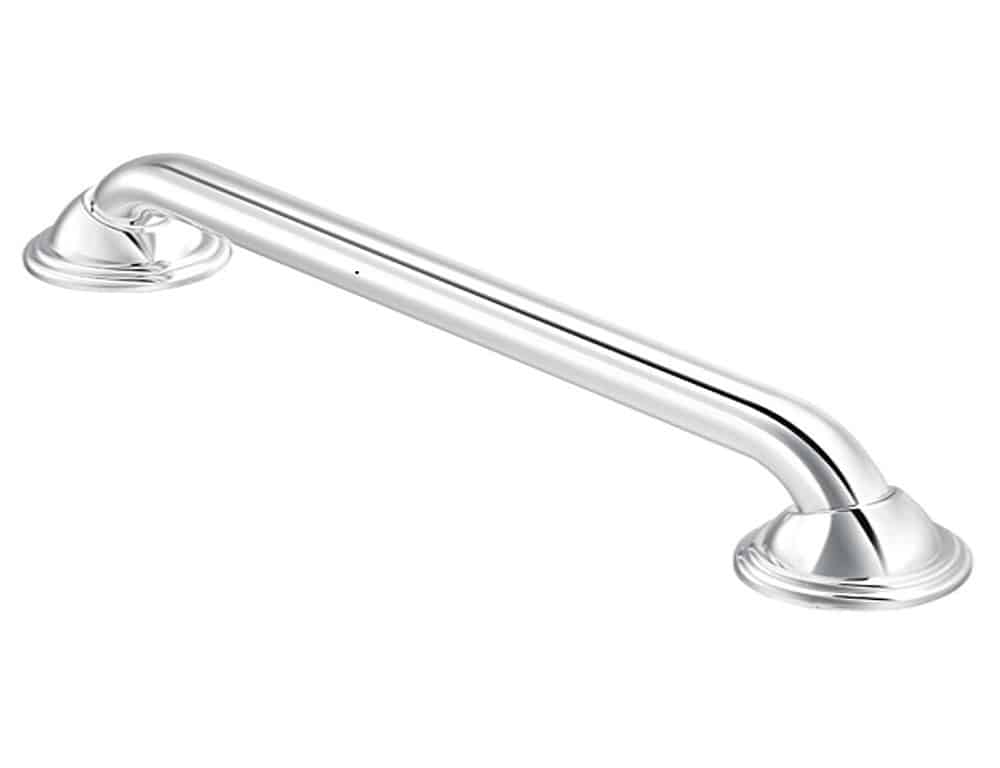 The Amazon Basics Bathroom Handicap Safety shower standing handle is 24 inches long and screws into a wall. It can hold up to 500 pounds, and it also meets ADA safety standards.
This bar is made of stainless steel and comes with all the tools and instructions you need to install it safely. Users have mostly good things to say about the bar on Amazon. More than 80% of the reviews give a rating of 5 stars.
9. Flip-Up Safety Grab Bar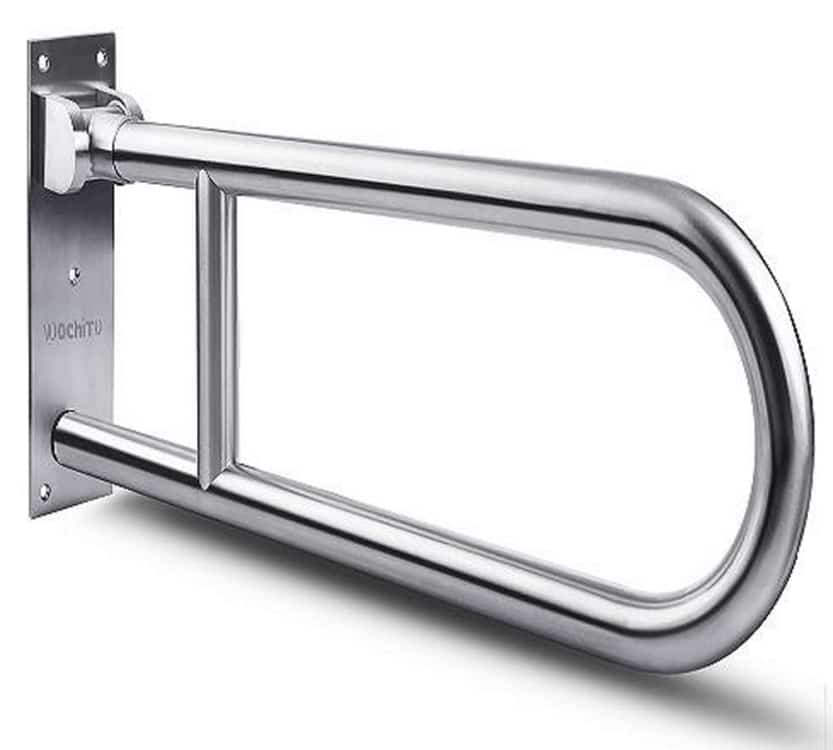 The Flip-Up Safety Grab Bar is a safety bar that is attached to the wall with screws and can be flipped up to rest against the wall when not in use. In a small bathroom, this could help save space.
The manufacturer says that the bar can hold up to 300 pounds of weight and can be mounted in a shower or near a toilet for extra support. The bar is made of chrome, gold, or brass.
10. Moen 30-Inch Flip-Up Shower Standing Handle
This is a strong shower handle that you can flip up and use in the bathroom. It can give you a safe, steady grip while taking up less room. Because of the way it is made, it can go up or down as needed. When it's not needed, the bar can be flipped away, and it's ready in a flash for anyone who does need it. So it's more adaptable and takes up less space. The shower standing handle is easy to reach because it is 30 inches long. Even better, the bathroom handlebars can hold up to 300lbs of weight because they are made well and are of good quality.
Still, you can choose between two finishes: glacier or stainless. Both finishes will look stylish in your bathroom and won't look out of place. Lastly, it's an ADA shower grab bar with a warranty that lasts a lifetime.
11. Vive Grab Bar for Bathtubs and Showers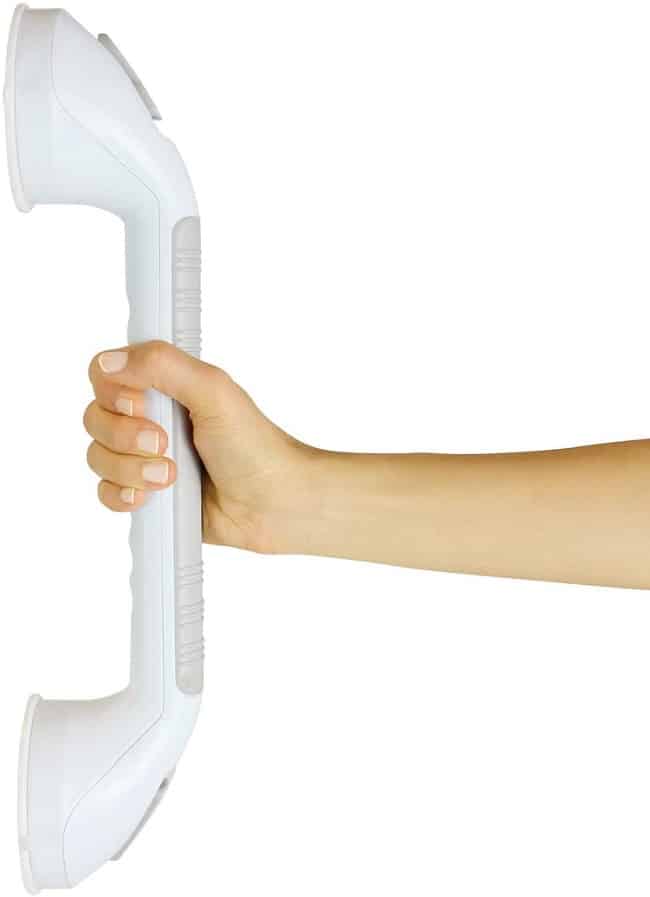 If you want a simple grab bar for the wall of your bathtub, this vibe grab bar is a great choice for the bathroom, the toilet, and the kitchen makeover.
This standing handle for a Vive shower is made of strong metal that can hold up to 500 lbs. Installing a shower bar is easy, no matter if your shower is made of fiberglass or drywall. Vive comes with all the screws and anchors customers need, so they don't have to buy anything else.
More, you can choose from 5 colors and 3 lengths, so you can easily find one that matches your room and home decor. I think this vive shower standing handle is a great choice for people who need help in the bathroom.
12. Moen 16-Inch Screw-in Curved Grab Bar with Built-in Shelf
This curved grab bar with a shelf will make your bathroom safer. This safety bar is made to save space in a small bathroom, and the built-in rack keeps bath products close at hand. The tray is also removable, so it can be taken out and cleaned. The Moen shower standing handle is 16 inches long and 1 inch wide, so it can fit hands of all sizes and can hold up to 250 pounds.
The shower safety handle also has a convenient SecureMount that makes it easy to put in place. I think this is a good idea for a small bathroom that needs more storage space.
How to Install Shower Standing Handles?
Only handles that stay in place need these bars and handles to be put in. Handles that use suction are easy to understand. With the suction cup, you just make a seal, make sure it's secure, and you're ready to use it.
To make handles and bars that stay in place, you need tools and at least a little bit of carpentry skill. Depending on the situation, the tools used could be:
Power drill

Level

Stud finder

Possibly a tile-cutting device
This is on top of the screws and brackets for mounting that come with the handle.
Hiring Help
If you are not good with your hands or don't have the right tools, it would be best accessories to hire a handyman or builder to put the shower standing handle on for you.
In some places, churches and other groups help the elderly with these kinds of jobs for free. Before the money for the program ran out, the Area Agency on Aging where I worked hired a handyman to help low-income older people with small home repair and improvement projects. You could check with the Area Agency on Aging in your area to see if they offer such a significant service or if they know of someone who does.
Do It Yourself
Most weight limit specifications are made with bars installed in studs or using SecureMounts. If the rails aren't set up right, they won't be able to hold the weight they say they can.
So, if you are putting up the rail yourself, it is important to follow the instructions very carefully. Most rails come with everything you need to install them, like screws and flanges, but you should read the fine print because some do not.
Most of the time, to install a shower standing handle, you need to:
locate studs in the wall

marking on the wall where to drill

pre-drill holes into the stud where the handle will be mounted

attach a SecureMount (or similar mount)

secure the handle as directed
Removable Shower Handle Vs Fixed Shower Handle
Here are two different kinds of shower standing handles for sale: one that can be taken off and one that stays in place.
The removable shower handle wins because it can be used in many ways. It's easy to replace and can be taken on trips. But the one that can be moved isn't as safe as the one that stays in place because it doesn't support the body as well. So it's not safe for people who are too heavy.
The fixed shower standing handle, on the other hand, is more stable. Once it's in place, it's hard to move if it's not in the right place. After they are taken out, the holes need to be fixed.
Which Shower Bar Size is Better
Since the sizes of shower bars range from 9 inches to 42 inches, it may be hard to choose one. Just remember these words: "The longer, the better."
When it comes to bathroom grab bars for the elderly, the longer bars are much more useful than the short ones. This is because the longer shower standing handle can give more support and security. We recommend at least 12 inches for the shower handle and 24 inches for the handles that go in and out of the bathroom. A shower chair for a disabled person is also available.
Shower Grab Bar Height
Once you've chosen the right shower standing handle, you'll need to figure out the right height for the shower grab bar. Although it depends on who uses it. The idea that you can choose your own height is comfortable. It's a good idea to put the shower standing handle at the same height as the tap. People who use it should be able to try it out at different heights. As long as they are easy to get to, it will do.
Whether you have a tub or a shower will determine the standard height of a grab bar. If you take a bath, the height will be much lower because you need the height of the faucet. So the average height of a bath is about 28 inches. While it's much easier for a shower handle that can be taken off. You can change the heights until you find one that is easy to grab.
Check the Weight Limit
There are different kinds of bathroom handlebars for people of different sizes. So make sure it can hold the weight by checking the weight limit. Your heavy-set father might need the heavy-duty shower bar, but your slim mother might not. So, in case of danger, it's important to check the weight limit.
Vertical or Horizontal
Which handrails in the shower are safer? Or is it the horizon? The South Canterbury District Health Board says that the handrail should be vertical for safety and to make it easier to get in and out of the bathroom. And the bottom should come up to your elbow when your arms are at your sides.
For balance and safety in the shower, horizontal rails should be installed on the wall side of the shower at belly button height. So, you can use the horizontal handrails to both stands in the shower and step into it.
Where Should I Place My Shower Standing Handles?
You can put the shower standing handle anywhere there's room and it's safe to use. It needs to be attached to wall studs to be strong, and the user should be able to see it and grab it when they need to. To get the most out of it, you should think about both adults and children. Here are the details about how to put bars in different parts of the bathroom.
Toilets: Put two handles on the wall of the toilet. One should be about 5 to 6 inches above the seat and parallel to the floor. This handle should be at least 32 inches long at the very least. At the end of this bar, there is another bar that goes up and down. These handles should be at least 16 inches long and screwed firmly into the stud.
Stall Showers: For horizontal installation, the handles should be placed along the side wall and a bit above waist height (about 34 inches). So the user should be able to get in with one hand on the enter bar. The other bar should be attached near the faucet handle and vertically to the end wall of the faucet so that the user can steadily adjust the water flow and shower head.
Bathtub combos: The place has Combos that have the same needs as stall showers, but they have different bar needs. The bar at the entrance is the same height, but it is on the other side of the faucet wall. The horizontal bar attached to the side wall should be as long as possible and set up about 30 inches from the floor of the tub.
Health Considerations
Even though groups like the CDCTrusted Source recommend grab bars in showers, a 2011 articleTrusted Source says there isn't much research on how to use them.
If the bar is not set up correctly, a person could hurt themselves or fall. When putting up a bar, it's important to follow the directions carefully. If they can't put the bar up themselves, they might want to think about getting a professional to do it.
The National Institute on Aging (NIA) recommends the following steps in case of a fall:
A person should avoid panicking.

To do this, they may take one or more deep breaths to help calm the mind.

Then, they should self-assess to determine if an injury has occurred.

If possible, a person should roll onto their side, pause for a moment, and then slowly move to their hands and knees.

Once on their hands and knees, a person should use a sturdy surface for support while putting one foot firmly on the floor.

Then, a person may raise themselves to a sitting position and progress to shower standing handle once they feel comfortable doing so.
If someone can't move, they should call for help or dial 911 if they have a phone nearby. A person might want to wear a medical alert device in case they fall and need help.
Final Thoughts
Even though anyone can use the shower standing handles, they are most helpful for older people o[td_smart_list_end]r people who have trouble moving around. It can give the support and stability of your loved ones and keep them safe when they get in or out of the shower. All of that depends on how well you put the shower bar in. 
So a standing shower handle will make your bathroom much safer and less likely to cause you to slip. This blog will help you find the best shower grab bar so you can get the most support and avoid getting hurt.
Frequently Asked Questions (FAQs) about Shower Standing Handle
What Size Shower Bar Should I Get?
Actually, a grab bar can be any size as long as it is easy to use. We recommend putting in a longer grab bar for safety if you have a big bathroom. Some showers come with one, and you can add a second one if you want to use it more.
Is It Safe to Attach Shower Handles to Tiled Wall?
Shower handles can be put on the tiled wall, but the standing shower handle should be put on the studs inside the wall for safety.
Attaching something to the tiled wall is a good idea because the surface is smooth and doesn't have any holes. But you should check the removable shower standing handle often to make sure it is securely attached to the wall.
Do suction grab bars work on tile?
Suction grab bars can be put on any surface that is smooth and doesn't have holes. Tile, glass, fiberglass, and some metals are all examples of this.
What size grab bar is best for a shower?
Choose a grab bar that is 24 inches long to put on the wall of the shower or next to the toilet. If you want to put a second one on the same wall as the shower head wigs, it should be at least 12 inches long.
What is the best location for grab bars in the shower?
Here are some general guidelines for putting grab bars in your shower. The vertical door handle should be close to the door jamb. Along the side wall, 34–36 inches above the floor, there should be a horizontal bar. Near the faucet handles, there should be a vertical bar on the end wall of the faucet.
Are our suction cup grab bars safe to use?
Suction grab rails have a lot of good things going for them. When it comes to safety, I would say that, like most mobility aids, they are safe as long as they fit well and are used the right way.
Can you install grab bars on tile?
Grab bars can be put up on wallboard, tile, fiberglass, stone, concrete, and wood paneling, among other things. Grab bars should be put up directly on the studs inside a wall for the most support.
How much weight can grab bars hold?
When installed in a public place, a grab bar must be able to hold up to 250 lbs (114 kgs) of weight, according to ADA rules. This is because a grab bar is meant to hold the full body weight of the person using it.
What are the best anchors for grab bars?
The SNAPTOGGLE Heavy Duty Toggle Bolt is not only the easiest way to install grab bars, but it is also the strongest anchor for the job. Most building codes say that grab bars can only hold up to 250 pounds of dead weight. SNAPTOGGLE holds over 100 pounds more.
You can also read
If you are interested, you can also read Entertainment, Numerology, Tech, and Health-related articles here: August 11 Zodiac, How to pass a drug test, How to Roll a Joint, iFun, Emerald Chat, How to Play Mancala, August 8 Zodiac, OnePlus 10T Review, Jilo Virals, August 4 Zodiac, Findsnap, Tomb Raider Anime, Netflix August 2022 Schedule, Animixplay, Upcoming Marvel Movies 2022, July 31 Zodiac, Best Lily Collins Movies, Notepadqq, Flaxseeds with Milk Benefits, Imginn, Snaptik, Picuki, Alexis Clark Net Worth, Black Panther 2, Marvel Echo Release Date, Frozen Fruit Recipes, Black Tourmaline, Webtoon XYZ, Fastest VPN for Android, IFVOD, XXXX Dry Review, Highest Grossing Indian Movies of all Time, Highest Grossing Movies of All Time, Rush Limbaugh net worth
Gotham Season 7, Parag Agrawal Net Worth, Tara Reid Net Worth, Blonde Trailer, Fastest VPN for PC, Highest Paid CEO in India 2022, Highest paid athletes 2022, My5 TV Activate, Kissmanga, Highest Paid CEO 2022, Grey's Anatomy Season 19, Alexa.com Alternatives, 
The Resident Season 6, Kraven The Hunter, One Punch Man season 3, The Resident Season 5, Yellowstone season 5, Ozark season 4 part 2, How to Remove Bookmarks on Mac, Outer Banks Season 4, How to watch NFL games for free, DesireMovies
Apart from the above articles, you can read more
6streams, 4Anime, Moviesflix, 123MKV, MasterAnime, Buffstreams, GoMovies, VIPLeague, How to Play Music in Discord, Vampires Diaries Season 9, Homeland Season 9, Brent Rivera Net Worth, PDFDrive, SmallPDF, Knightfall Season 3, Crackstream, Kung Fu Panda 4, 1616 Angel Number, 333 Angel Number, 666 Angel Number, 777 Angel Number, 444 angel number, 
Bruno Mars net worth, KissAnime, Jim Carrey net worth, Bollyshare, Afdah, Prabhas Wife Name, Project Free TV, Kissasian, Kickassanime, Moviezwap, Jio Rockers, Dramacool, M4uHD, Hip Dips, M4ufree, Fiverr English Test Answers, Fiverr SEO Skill Test, NBAstreamsXYZ, Highest Paid CEO, The 100 season 8, and F95Zone. 
Thanks for reading. Stay tuned!
Subscribe to Our Latest Newsletter
To Read Our Exclusive Content, Sign up Now.
$5/Monthly, $50/Yearly