What We Know so Far About Shoresy Season 2? [With All New Updates]
Listen to Podcast:
Shoresy season 2 is a Canadian sitcom that aired on the Canadian channel Crave. The show is a follow-up to Letterkenny, which has been on for a long time in Canada. Both shows are interesting in that they have the same director, writer, and main character. In the show, Shoresy leaves Letterkenny and joins a hockey team in a nearby town. In the series, you will see Shoresy play different hockey games and learn about his life. This series will be all about Shoresy, a small character in Letterkenny, and his life. In this series, people also saw Shoresy's face for the first time.
Now that the mini-TV series with six episodes has become popular, its fans want more seasons like Letterkenny. Based on how long Letterkenny ran, it is likely that Shoresy will also have more than one season. People want more than just 6 episodes of shows like Shoresy because it gave them their first look at one of their favorite characters from Letterkenny. But I don't know if the people who make the show have plans for a Shoresy season 2 or not.
Here is everything you need to know about Shoresy season 2.
Shoresy Season 2: Is It Renewed Yet?
Sad to say, Hulu hasn't decided what will happen to Shoresy yet. Well, Shoresy season 1 aired on May 27, 2022, and fans have been waiting to hear about Shoresy season 2 ever since. Most of the time, it takes the streaming platform a couple of months to decide what will happen to a show. But Hulu hasn't said anything yet, which is a shame. But Letterkenny has been on for ten years. So, fans can expect that its spinoff will also last at least a few more seasons. Aside from this, people all over the world love the show. On IMDb, it has a score of 8.5 out of 10 and on Rotten Tomatoes, it has a score of 100%. So there is a good chance there will have Shoresy season 2.
Shoresy Season 2 Quick Info
| | |
| --- | --- |
| Season:  | Shoresy |
| No. of Seasons: | 1 |
| No Of Episode: | 6 (season 1) |
| Status: | Pending |
| Writer:  | Jared Keeso |
| Director: | Jacob Tierney |
| Genre:  | Comedy, Action, Sports |
| Cast: | Brandon Nolan Jared Keeso Keegan Long Terry Ryan |
| Production:  | New Metric Media, Bell Media |
| Producer: | Brendan Brady, Tiio Horn |
| Country of Origin: | Canada |
| Origin Language:  | English |
| Available Languages:  | English |
| Next Season Release Date: | Not Yet Confirmed |
| Available On: | Crave, Hulu |
Are There Plans for Shoresy Season 2?
The show's director, Jacob Tierney, recently talked to Movie Web about how Shoresy is different from Letterkenny. He said, "They're two different animals." "Shoresy is making up a story… Letterkenny, on the other hand, is meant to be the opposite of that. We want it to be a place where you can keep coming back even though there isn't a big storyline. I don't think they are the same and don't want the same things."
Tierney says that Shoresy is trying to tell a story that is a little bit more ambitious than its predecessor. "Unlike Letterkenny, there's a story that keeps you going. Tierney said, "That's why I'm so excited for people to see all six episodes and watch them in order as we tell the story." The director also said that Shoresy season 2 hasn't been confirmed, but that hasn't stopped him from making plans: "We're not done. We'd like to do more."
Shoresy Season 2 Release Date: Prediction
Shoresy season 1 aired on Crave from May 13 to May 27. It had six episodes. On Crave, two episodes used to come out on the same day. On May 27, 2022, the show was also put up on Hulu. People liked all six episodes, but those who wanted to know more about Shoresy's character in the different seasons of Letterkenny liked them the most.
Shoresy's creators haven't said anything official about Shoresy season 2. But both Letterkenny and Shoresy were written, directed, and starred by the same people. Letterkenny is a Canadian sitcom that has been on for a long time. So, people expect Shoresy to have at least a few more seasons. If it gets Shoresy season 2, we shouldn't see it until the spring of 2023 at the earliest.
Shoresy Season 2 Possible Cast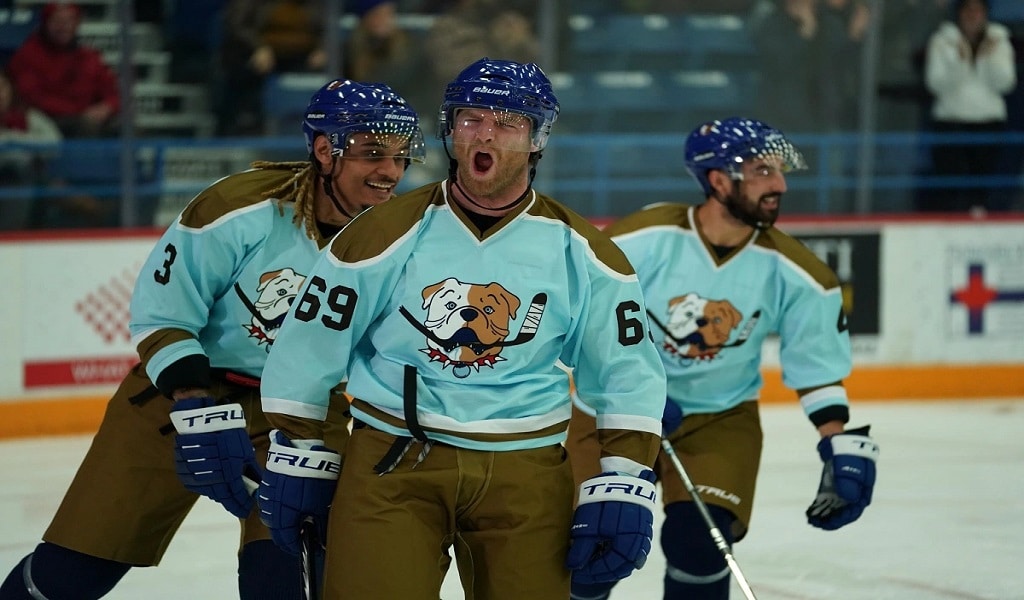 The creator of the show, Jared Kesso, also plays the show's namesake. Nat, who is played by Tasya Teles, is the team manager, and she is right there with him in this performance. The show has a large ensemble cast. Blair Lmaora, Keilana Elizabeth Rose, Ryan McDonell, Camille Sullivan, and Laurence, among others, play recurring characters. Brandon Nolan, Jordan Nolan, and Jon Mirasty, all of whom used to play in the National League, also made appearances in the Shoresy season 1.
Many of the cast members from the Shoresy season 1 are likely to come back, and new cast members will also be added. The showrunner for Shoresy, Jacob Tierney, is excited about the prospect of directing Shoresy season 2 of the show. Tierney told a reputable magazine in an interview that the original and the spin-off are two completely different things and that she prefers the original.
And he really wants people to watch the six episodes of the spin-off and realize that the show has a more ambitious plot than Letterkenny, which has no major plot but still gets people to watch it again and again. He also wants people to know that the show is a bit more ambitious than Letterkenny in terms of its plot.
What will Happen in Shoresy Season 2?
At the end of Shoresy season 1, the Soo Cyclones beat the Sudbury Blueberry Bulldogs in the championship game. Nat changes her mind, though, after seeing how well her team does, and she decides to pay for them for another season. Shoresy wants to get even more violent in the playoffs, and the last scene shows how the team is getting ready for the upcoming hockey season.
Shoresy season 2 could easily be about the next hockey season and how well the team does at reaching its lofty goals. We can expect more of the show's signature humor and Shoresy's crudely graphic one-liners. In season 1, there are also hints of a possible romance between the main character and a reporter, which could go further in a possible Shoresy season 2.
Why Shoresy Season 2 Has not Been Confirmed?
We don't know for sure, but a possible reason why Shoresy season 2 hasn't been announced yet could have to do with the original show that led to Letterkenny.
In September 2022, Letterkenny co-creator and star Jacob Tierney posted on Instagram to say that the show's cast and crew were starting to film a new season.
Since Jared Keeso stars in and writes for both shows, it's possible that he and the rest of the team want to finish the new season of Letterkenny before making any plans for the next one.
Where Can I Watch Shoresy Season 2?
Shoresy season 1 first six episodes were first shown on Crave. In the end, Hulu also got the show. Now, Canadians can watch Shoresy on Crave, and people from all over the world can watch the same show watch on Hulu.
Shoresy season 2 will be on Crave and Hulu. This is because Shoresy season 1 did well on these services. But there is no proof that Shoresy season 2 will be made, released, or streamed. If there are any official updates about Shoresy season 2, we will put them on our site.
Shoresy Season 1 Recap
The last episode of the Shoresy season 1 started with a talk show in which the main character was called the worst offense on the ice. After the Sudbury Bulldogs lost two games, the owner, Nat, was so upset that he decided to break up the team. Shoresy came up with a plan to stop this threat and hired a group of tough ex-hockey players. Three prison guards defended the prison. But the team won two games and had one match called off before the end. In the championship finals, the Bulldogs lost five more points, which hurt a lot.
Nat felt bad that Soo Cyclones beat her team. Even Shoresy saw that, and he was ready for the team to be broken up. When he joined the Soo Cyclones, he started playing rough and gave up a few goals. Nat decided to keep running her team because of this. Shoresy was alone in the locker room at the end of the Shoresy season 1, thinking about the big game. Even though they lost the championship game, the mood after the game showed who had won the hearts.
Where is Shoresy Season 2 Filmed?
"Shoresy" is shot all over Canada, but mostly in Ontario and Quebec. Shoresy season 1 started in November 2021 and was done in early 2022. Canada's production landscape is perfect for any level of production for a number of reasons. All year long, the weather is nice, the landscapes range from coastal horizons to dense forests and mountains, and the production facilities are up-to-date and know all the ins and outs of modern production.
The Canadian Film or Video Production Tax Credit says that productions that film in the country can get a tax credit worth 25% of the qualified production costs that can be paid back in full. Canada has more fertile land than its southern neighbors when the exchange rate is taken into account. So, over the past few decades, the country has become a major player in the movie business around the world. Now, let's take you to the places where the show is actually filmed.
Is Shoresy the Same as Letterkenny?
Jared Keeso, a Canadian actor, writer, and producer of movies and TV shows, made, wrote, and fronts Shoresy. Letterkenny, the show that was the inspiration for Shoresy, is also made, written, and starred in by Keeso.
But the shows are not the same. The only thing they have in common is that they are set in Canada. Letterkenny is not based on a story. Instead, it's about interesting characters, how they interact with each other, and how they live in a small town. Shoresy, on the other hand, is based on a story about a man named Shoresy who joined the senior AAA hockey team in Sudbury so that he would never lose again.
Frequently Asked Questions (FAQs) about Shoresy Season 2
Is there Gonna be a Shoresy season 2?
Shoresy season 2 hasn't been confirmed yet, which doesn't come as a surprise since the show has only been on Hulu for about 4 months. Shoresy debuted on Hulu in May 2022, almost two years after the spin-off series of the popular Canadian comedy Letterkenny was announced.
What is Shoresy's full name?
Shoresy. Shore (Jared Keeso), who goes by the nickname "Shoresy," is a hockey player with a foul mouth and a high-pitched voice.
Is Shoresy as good as Letterkenny?
Shoresy is not only better than Letterkenny, but it also shows that Jared Keeso is one of the best actors working on TV. Every once in a while, a show seems to come out of nowhere and take over the world and the internet. Letterkenny on Hulu is that show.
Can kids watch Shoresy?
Parents should know that Shoresy is a spin-off of the Canadian comedy Letterkenny, which was a cult favorite. Shoresy is just like its predecessor in that it is full of swearing (this show swears more per minute than even Deadwood) and crude humor that often talks about body parts and sexual situations.
Is Shoresy a comedy?
Shoresy is a Canadian comedy show that started on Crave on May 13, 2022. It was created by and stars Jared Keeso.
Is Shoresy good at hockey?
Anyone in Letterkenny who played hockey knew they had to deal with Shoresy. He was a good player, but he was also very dirty on the ice and talked trash at a level that was almost beyond human.
If you feel interested
You can also read Entertainment, Numerology, Tech, and Health-related articles here: Snowfall season 6, The Magicians Season 6, World Cup Golden Boot Winners, New Shows on Disney Plus in December 2022, New shows on Amazon Prime in December 2022, DI Ray Season 2, Homewyse, YBA Trello, Quiet BPD, Messi's Goal Changed Argentina's Fate, Final Match for Argentina, Netflix December 2022 Schedule, Unknown Facts about FIFA World Cup 2022, Qatar vs. Ecuador, Most Unbreakable Record in Football History, November 18 Zodiac, World Cup 2022 Golden Boot Winner Predictions, November 15 Zodiac, Bayonetta 3, Hamraaz App, The Flash Season 9, 
Scariest Video Games Ever, November 6 Zodiac, New Shows on Amazon Prime in November 2022, Au Reborn Codes, Best DC Series on HBO Max, Richest Rapper in the World 2022, Disney Plus November 2022 Schedule, Hannah Kepple net worth, Red Bali Kratom, Holding season 2, Halloween 2022, iOS 16.1 Features, Netflix November 2022 Schedule, Virat Kohli Net Worth, 
Reaper 2 Trello
, 
JoinPD
, 
Seasonal Holidays
, 
SQM Club
, 
The Crown Season 5
, 
Motorola Moto Edge 30 Ultra Review
, 
Mismatched Season 2 Netflix Release Date
, 
Solar Eclipse 2022
, 
Best Movies on Star Plus
, 
Best Free VR Games in 2022
, 
Xbox Game Pass October 2022
, 
Riverdale Season 7
, 
NASA to Create a 3D Printed Moon Base
, 
Optimus human robot
, 
Andrew Tate Net Worth
, 
Dua Lipa net worth
, 
Disney Plus October 2022 Schedule
, 
Google 24th Birthday
, 
OnePlus 10R Review
, 
OnePlus 9RT Review
, 
Netflix October 2022 Schedule
,
You can read more
Summer Podcasts on Movistar, Best Cycling Simulator Games, MyShopify, Ben Affleck Net Worth, Filmymeet, 5Movies, September 8 Zodiac, Kengan Ashura Season 3, iPhone 14 Plus Release Date, High School DxD Season 5, How Gautam Adani Emerged World's Third Richest Man, Jeezy Net Worth, Historical Series on HBO Max, F2Movies, Best Travel Movies of All Time, Vikings Season 7, How to Watch Artemis I Launch Attempt, Best Kitchen Gadgets for Home Cooks, September 2 Zodiac, Hubble's Law and Age of Universe, New Movies on Disney Plus September 2022, Amazon Prime Release Date September 2022, Steps for Casual Look, Daredevil Season 4, Tinyzone, Elon Musk Mother sleeps in Garage, Lady Gaga All movies, Virgo.
Does TikTok Spy on You
, 
Thank You in Spanish
, 
Openload
, 
Invention of Antibiotics
,  
Subnautica
, 
Knives Out 2
, 
Best Basketball Anime
, 
13 Regions for Astronauts to Land on the Moon
, 
Red Bottom Shoes
, 
StoriesDown
, 
Meaningful Learning
, 
E-learning 2022
, 
She-Hulk release date
, 
Overlord Season 5
, 
Samsung Galaxy Z Fold 4 Review
, 
Feogi
, 
Laal Singh Chaddha Review
, 
Baki Season 5
, 
Bflix
, 
Leonardo DiCaprio Sneakers
, 
Hurawatch
, 
Salman Rushdie
,
Apart from the above articles
Accessibility Apps for Android, Best Jobs in the Metaverse, QueenslandMax, Shower Standing Handle, August 11 Zodiac, How to pass a drug test, How to Roll a Joint, iFun, Emerald Chat, How to Play Mancala, August 8 Zodiac, OnePlus 10T Review, Jilo Virals, August 4 Zodiac, Findsnap, Tomb Raider Anime, Netflix August 2022 Schedule, Animixplay, Upcoming Marvel Movies 2022, July 31 Zodiac, Best Lily Collins Movies, Notepadqq, Flaxseeds with Milk Benefits, Imginn, Snaptik, Picuki, Alexis Clark Net Worth, Black Panther 2,
Marvel Echo Release Date, Frozen Fruit Recipes, Black Tourmaline, Webtoon XYZ, Fastest VPN for Android, IFVOD, XXXX Dry Review, Highest Grossing Indian Movies of all Time, Highest Grossing Movies of All Time, Rush Limbaugh net worth. Gotham Season 7, Parag Agrawal Net Worth, Tara Reid Net Worth, Blonde Trailer, Fastest VPN for PC, Highest Paid CEO in India 2022, Highest paid athletes 2022, My5 TV Activate, Kissmanga, Highest Paid CEO 2022, Grey's Anatomy Season 19, Alexa.com Alternatives, The Resident Season 6, Kraven The Hunter, One Punch Man season 3, The Resident Season 5, Yellowstone season 5, Ozark season 4 part 2, How to Remove Bookmarks on Mac, 
Outer Banks Season 4, How to watch NFL games for free, DesireMovies, 6streams, 4Anime, Moviesflix, 123MKV, MasterAnime, Buffstreams, GoMovies, VIPLeague, How to Play Music in Discord,  Vampires Diaries Season 9, Homeland Season 9, Brent Rivera Net Worth,  PDFDrive, SmallPDF, Knightfall Season 3, Crackstream, Kung Fu Panda 4, 1616 Angel Number, 333 Angel Number, 666 Angel Number, 777 Angel Number, 444 angel number,  Bruno Mars net worth, KissAnime, Jim Carrey net worth, Bollyshare,  Afdah, Prabhas Wife Name, Project Free TV, Kissasian, Kickassanime, Moviezwap, Jio Rockers,  Dramacool,  M4uHD, Hip Dips, M4ufree, Fiverr English Test Answers, Fiverr SEO Skill Test,  NBAstreamsXYZ, Highest Paid CEO, The 100 season 8, and F95Zone. 
Thanks for reading. Stay tuned!
Subscribe to Our Latest Newsletter
To Read Our Exclusive Content, Sign up Now.
$5/Monthly, $50/Yearly