Top 20 First Date Outfit Ideas that will Obviously Make a Lasting Impression
Are you Looking for first date outfit ideas? In this article, we are sharing the top 20 outfit ideas for first date. Stay tuned with us. 
If it's hard to find a casual dress style that works for us, figure out how to incorporate the season's trends into our "looks," and decide what to wear to work every day, it's even harder to choose an outfit for a special event. Weddings, baptisms, and communions are good challenges. It's hard to be the perfect guest while still being young and modern, especially if the "dress code" says you have to wear a long dress or the wedding is in a church. Another time when it's hard to decide what to wear is when we have a job interview or an important meeting at the office. Matching suits are always a popular wild card that we like to use, even though it can be a bit predictable at times. But happy first dates always make us want to take everything out of the closet.
Don't get us wrong, we love meeting the new "crush" of the month, going on Tinder dates every now and then, or giving love a chance with that little person who won't stop writing to us on Instagram, but we have to admit that the first date makes us a little nervous. We want to make a good impression, so we don't think twice about putting on our most fashionable dresses, good platform sandals (if the boy is tall), and a jacket. We could also wear "wide leg" pants, a striped shirt, and ankle boots. That way, it wouldn't look like we were trying too hard, right? 
If it's true that this is one of the first things you see, you might have a lot of doubts. Here, you can get help from "fashion experts" who can give you ideas for very unique "outfits" that will leave him "freaking out." So, if you weren't sure what to wear on a first date, we'll help you out: here are 20 first date outfit ideas for romantic and "sexy" "looks" that will help you do well that day. Promise, we've got the perfect outfit, whether she's taking you to a park, out to dinner, or bowling.
Here are the Top 20 First Date Outfit Ideas:
1. Come with me to Walk the Dog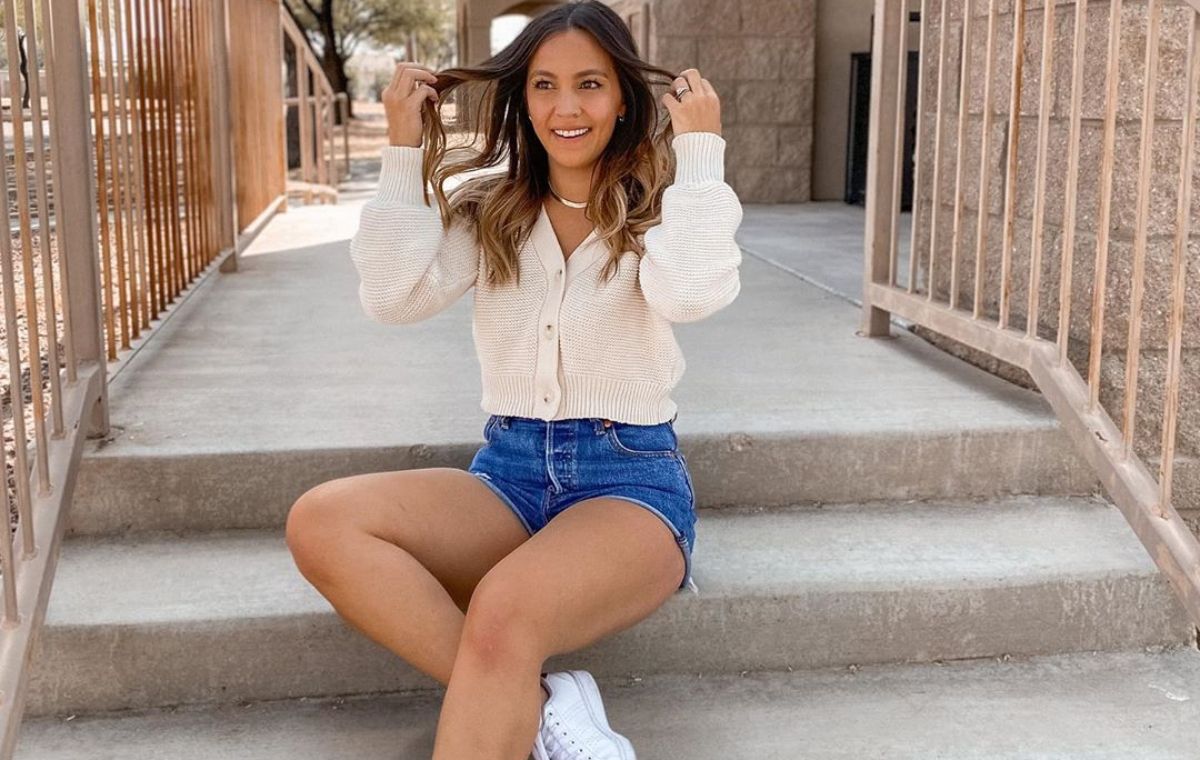 Before you say, "What a churro plan!" let's talk about the pros. It's a laid-back plan that takes place outside and doesn't have high expectations. It's also a great way to talk about how cute his or her furry friend is. You can wear whatever is most comfortable to walk in the park, like boxing shorts, an "oversize" cardigan, and white sneakers.
2. Let's hang out at a 'Pool Party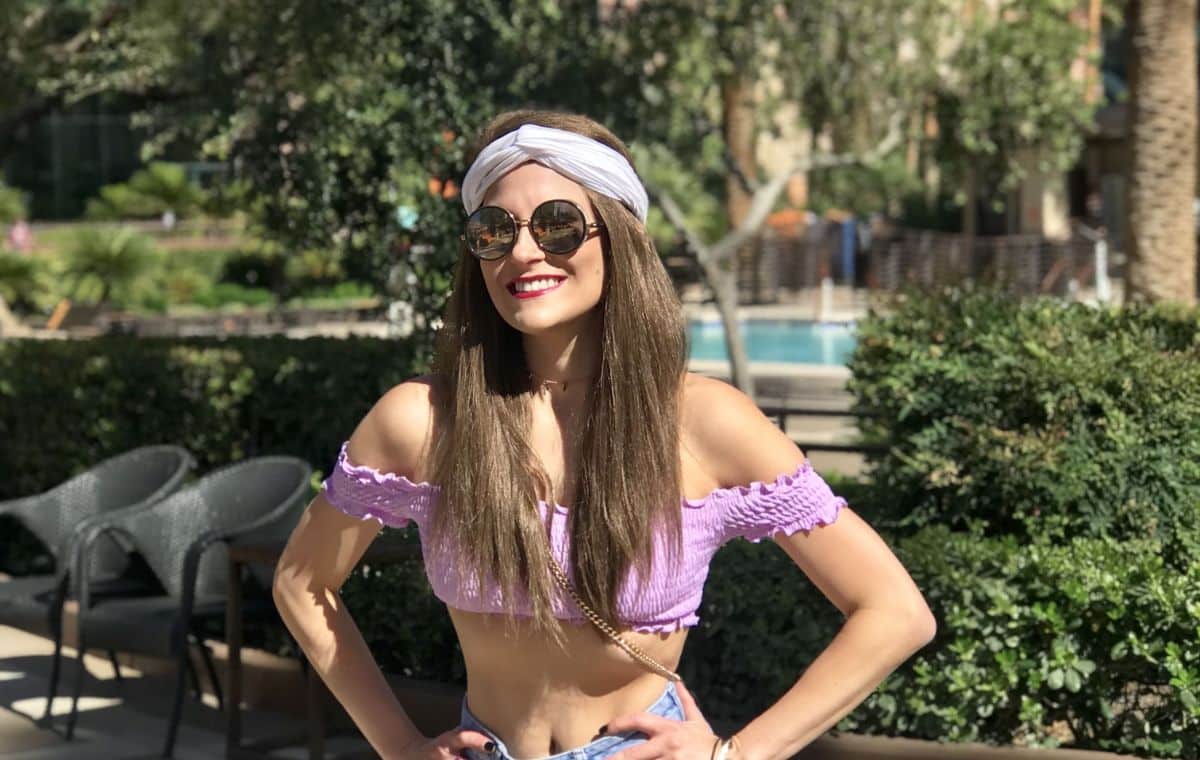 One of our favorite things to do in the city during the summer is going to the pool parties of those who are lucky enough to have one. If your "crush" or one of his friends invited you, don't hesitate to wear your most diva outfit, with "boho" necklaces, bikini tops, sequined skirts, etc. All or nothing. Why are you trying to shine like a mermaid?
3. Come to my Friends' House
Even though it's a big deal that he wants to introduce you to his friends on the first date, there's no need to get dressed up. The best part is choosing a casual "outfit" that you would wear to a friend's house. Wide jeans, a white t-shirt, cute shoes, and a nice summer sweater for a terrace or garden are the perfect pieces. Adding some gold earrings, chain necklaces, and "statement" rings is always a good idea.
4. I was invited to the Opening of an Exhibition
No matter how much you know about art or how well you know the artist's life story, this outfit will make you look like the artist. Here, everything is important, from the shoes to the hairstyle (the "space buns" are the most unique). Our suggestion is that you wear black and add accessories in solid colors, like a green oval bag or orange sandals, which are in style this season.
5. Let's Spend a day at the Beach
During a heat wave, anyone who offers us a way to get out of the city has won our hearts. So don't think about it, say yes to the date, and put on your sexiest bikini. You can add a kaftan, a kimono, or a fishnet dress to cover up. Hey, it kind of looks like a dress, right? Don't forget to bring your best sandals and sunglasses so you can go to the beach bar.
6. A Cocktail in a 'Cool' Place
Having a drink in a bar is a good way to meet your Tinder date, especially if you met through an "app." Order a good cocktail to help you unwind, and wear your coolest top with cutouts. If you have one with a unique neckline like this, you can make your outfit look more fashionable. Add some black pants, ankle boots, and a small oval bag, which are "killing" this season.
7. I invite you to a 'Brunch'
We know it's not the most common way to go on a first date, but if you were out all night the night before and will be getting up late, it's a great idea. We suggest a trendy outfit, like this one with pink checks, since you probably don't have much time to think. If you still have a bit of a hangover, you can add some sunglasses with colored lenses.
8. What if we do 'Teleworking' Together?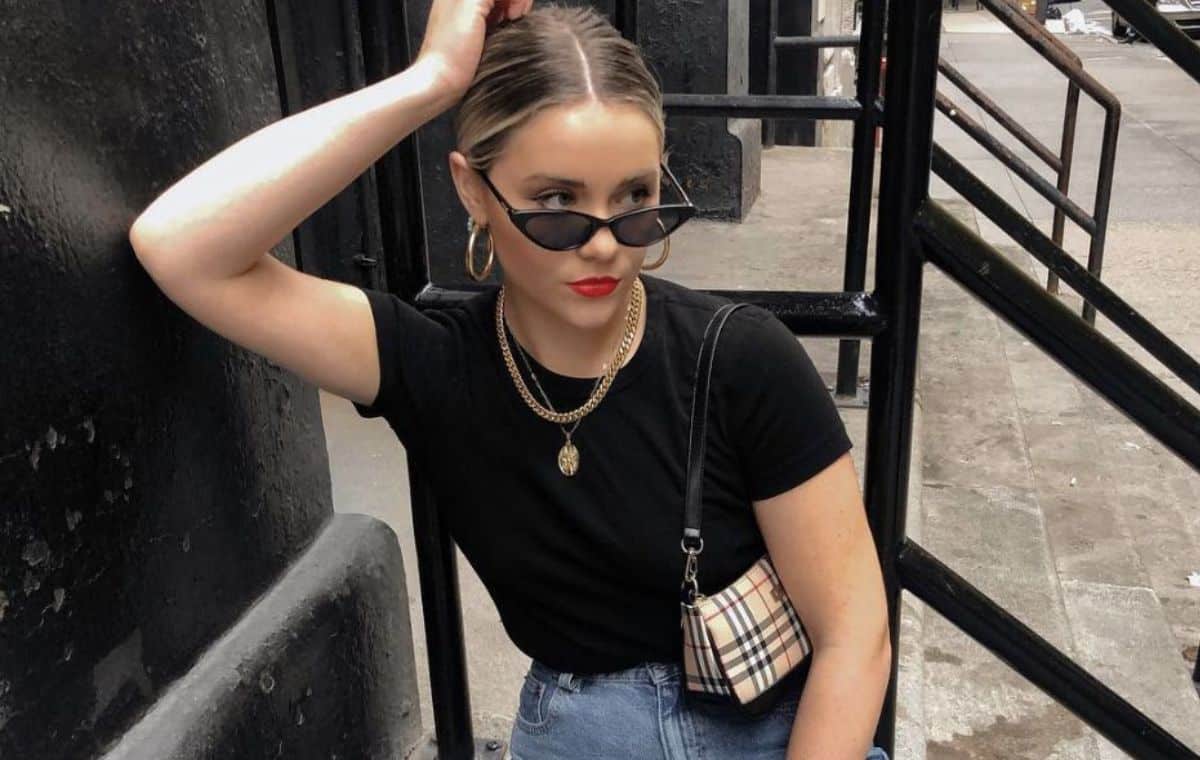 It's probably the lamest excuse ever, but we had to find a use for telecommuting. The most important thing is that you are comfortable, whether you are meeting in a cafeteria or at one of your homes. You should be going to work. Because of this, it's best to wear jeans or nice leggings and keep things simple. Add a black T-shirt, an overshirt, and a nice bag in case you want to go out later.
9. Visit the Museum
If you live in a big city, going to a museum or art show with your date is a great idea. So, you can spend time together without having to talk much. For this event, a green "total look" with a patent leather jacket and a miniskirt is a great idea. Mixing socks with ballerina shoes and a shiny one with a bag covered in "rhinestones" is a unique way to add a touch.
10. Let's go for some Beers
Now that it's nice out, it's the easiest plan and the one you want the most. If you're having a few beers on a terrace, you want to look nice without trying too hard. The best thing to wear in these situations is a good pair of "wide leg" jeans with a short top and a sweatshirt or sweater tied around the shoulders. You know, in case the date goes well and you want to go out for drinks.
11. Ready for a Coffee, a Tea, or Whatever Comes Up
On a first date, we often say we'll meet in a square or street, but we don't always have a plan. Don't worry, we've got the perfect outfit that will make him want to take you out for coffee, dinner, and drinks. Our motto is "more is more," so go for a Scandinavian look by putting together pastel colors like salmon pink pants with a green jacket and a lilac top.
12. Walk through the Park
If you live in the city, this is the plan you want most in the spring and summer. On a walk in the park, people always hold hands, sit on the grass, and sometimes sneak a kiss (hehe). So, you need a long dress and comfortable walking shoes so you don't have to worry about seeing something when you sit down. The crochet bag, which is very in style this spring, adds a "cute" touch.
13. We Meet in the Cinema
Skip the "Netflix and blanket" idea. As fashion addicts, we need a reason to get dressed up, and going to the movies is a good one. Put on a nice cardigan, button it up, and wear it as a top. Add ripped boyfriend jeans to make the outfit less sweet, and heeled sandals to bring it up a notch. You won't have to walk very far no matter where you go.
14. See you at the Concert?
The best place to go on a casual first date is to a concert outside. You'll both pretend to be surprised, but you'll be ready with your "great look" to leave him speechless. Mix and match a short "boho" dress with platform sandals and old-school sunglasses. Add a hat in the style of a "cannotier" and a shoulder bag to feel more at ease.
15. The 'After' of the 'After Work'
If you and your "crush" both work at the same office, the best way to meet up is at a "after work" event with your coworkers. Now, you have to make the most of that wine-filled afternoon and make plans to drink "the last one" by yourself later. In this case, you can bet on an orange shirt and skirt set, which is a popular color this season, or on an orange shirt dress. For a more professional look, add some "kitten heels" and a white bag.
16. Let's Party
Have fun and go on dates at the same time? "Being a crack" is what we call it. Dancing and drinking always bring people closer together, but if you don't like it, you can always go with your friends. We love the look of a corset top with low-rise jeans and black military ankle boots. This is very "milipili style."
17. Let's go Out to Eat
A real "foodie" always uses appointments to find and try out new places to eat. If your date is nice, he won't mind if you ask him to take a picture of you in the restaurant. Use this chance to get your most fashionable outfit: a fine-knit pink sweater, floral-print pants, and a handbag. Perfect for the mythical picture of a person eating sushi.
18. Let's go Festival
Festivals are the place to wear your most eye-catching clothes, but if you're meeting someone for the first time, you might want to tone it down a bit. So, a dress with boots that look like cowboy boots can be a very good choice. You can choose something more unique, like these silver ones, and add rhinestones that look like fantasy creatures to your makeup. You know, that touch that we love so much about Coachella.
19. Lunch on a Rooftop
Rooftop terraces of hotels are very trendy and make a great place for a first date. You can dress up, but you can show more skin than you would in a restaurant. So, we love this mix of a blazer, shorts, and a top in green and pink, which is a very trendy way to wear color blocks. Add a pair of sandals with a heel and don't forget your sunglasses, you'll need them.
20. Chiringuito 'chill out'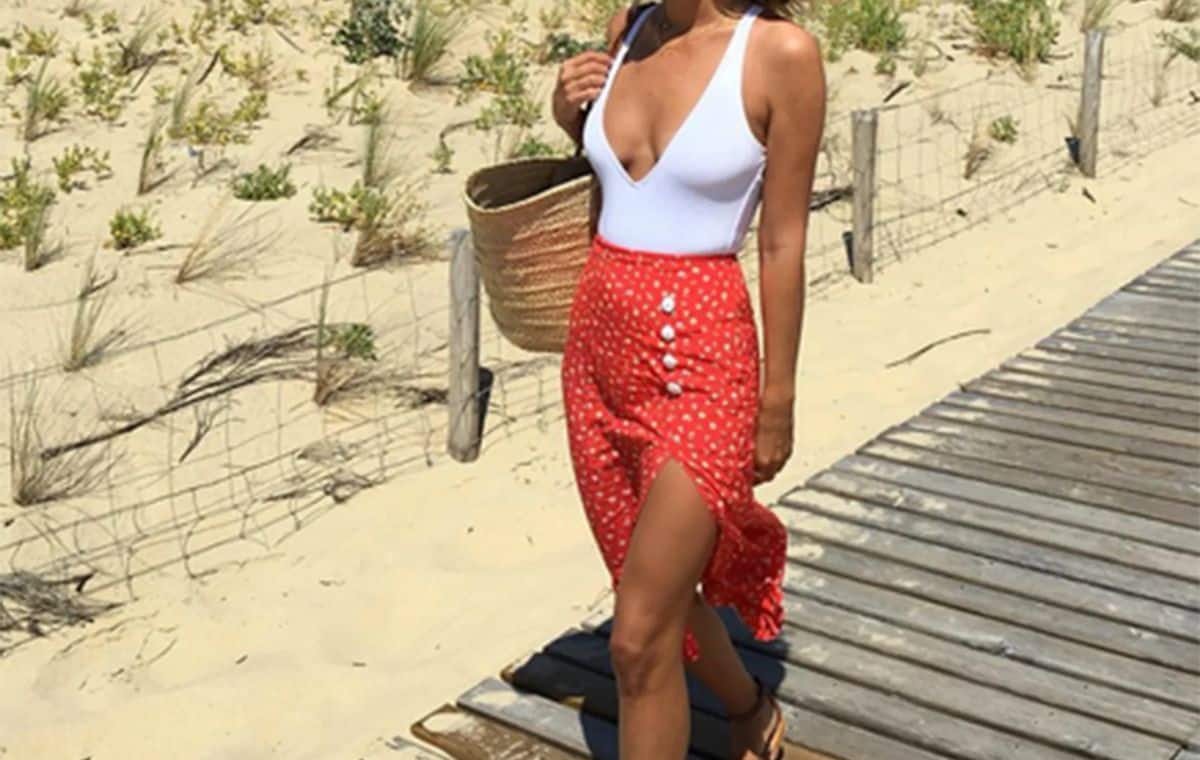 Summer is coming, and that means plans to go to the beach. If you live near the coast, don't be afraid to take it to a cute beach bar or a bar with a "chill out" area. We love the idea of wearing black with a long dress with openwork and sandals with a shovel heel. The belt, the bracelets, and the golden earrings add a touch of "glamour." Everything a diva needs to feel like one.
Conclusion: First Date Outfit Ideas
All women worry about how to look their best and what to wear on a first date, which can be stressful. There are some other things to think about when choosing one of the outfits above for a date. Know what kind of place you are in at all times. You also need to think about the weather. You can't just wear shorts and a shirt in January. But in some of these styles, you can wear shorts and a nice, loose sweater with boots or carry an overcoat. In the same way, if it's hot outside, don't wear a satin top because it can be uncomfortable. If it's raining, try not to wear a see-through top made of chiffon or georgette. Make sure that any of the date outfit ideas you choose fits you well. Before you decide on your first date outfit, try it on once and make sure it fits well. It shouldn't be too loose or too tight, and you should iron it well. You don't have to wear any of the shoes listed above. Because your comfort is important. If you don't like heels or don't wear them often, you can always wear mules or cute flats. YOU want to make a good first impression, which makes it harder to choose what to wear. Take a deep breath and make a decision.
You can Read More:
If you are interested, you can also read Entertainment, Numerology, Tech, and Health-related articles here: Upcoming Marvel Movies 2022, July 31 Zodiac, Notepadqq, Flaxseeds with Milk Benefits, Imginn, Snaptik, Picuki, Alexis Clark Net Worth, Black Panther 2, Marvel Echo Release Date, Frozen Fruit Recipes, Black Tourmaline, Webtoon XYZ, Fastest VPN for Android, IFVOD, XXXX Dry Review, Highest Grossing Indian Movies of all Time, Highest Grossing Movies of All Time, Rush Limbaugh net worth, 
Gotham Season 7, Parag Agrawal Net Worth, Tara Reid Net Worth, Blonde Trailer, Fastest VPN for PC, WPC18, Highest Paid CEO in India 2022, Highest paid athletes 2022, My5 TV Activate, Kissmanga, WPC16, Highest Paid CEO 2022, Grey's Anatomy Season 19, WPC15, Alexa.com Alternatives, 
The Resident Season 6, Kraven The Hunter, One Punch Man season 3, The Resident Season 5, Yellowstone season 5, Ozark season 4 part 2, How to Remove Bookmarks on Mac, Outer Banks Season 4, How to block a website on Chrome, How to watch NFL games for free, DesireMovies, How to watch NFL games without cable, How to unlock iPhone, How to cancel ESPN+, How to turn on Bluetooth on Windows 10, Outer Banks Season 3, 
6streams, 4Anime, Moviesflix, 123MKV, MasterAnime, Buffstreams, GoMovies, VIPLeague, How to Play Music in Discord, Vampires Diaries Season 9, Homeland Season 9, Brent Rivera Net Worth, PDFDrive, SmallPDF, Knightfall Season 3, Crackstream, Kung Fu Panda 4, 1616 Angel Number, 333 Angel Number, 
666 Angel Number, 777 Angel Number, 444 angel number, Bruno Mars net worth, KissAnime, Jim Carrey net worth, Bollyshare, Afdah, Prabhas Wife Name, Project Free TV, Kissasian, Mangago, Kickassanime, Moviezwap, Jio Rockers, Dramacool, M4uHD, Hip Dips, M4ufree, Fiverr English Test Answers, NBAstreamsXYZ, Highest Paid CEO, The 100 season 8, and F95Zone. 
Thanks for reading. Stay tuned with us. 
Subscribe to Our Latest Newsletter
To Read Our Exclusive Content, Sign up Now.
$5/Monthly, $50/Yearly