How to Watch NFL Games without Cable: A Step-by-Step Guide in 2023
As a sports lover, but have no idea how to watch NFL games, this guide is for you. Nothing further needs to be done. Streaming, cable, satellite, web feeds, and NFL RedZone is just some of the options available to fans this season for keeping up with the NFL.
Sling TV and DirecTV Now, two popular live streaming services, give you the most options when it comes to what you can watch.
Fans of the National Football League (NFL) can follow their favorite club on a multitude of platforms. There are a variety of ways to watch NFL games, including television providers like Comcast or DirecTV, streaming services like Hulu or Sling TV, and mobile apps. Prepare yourself for some high-octane excitement, regardless of how you choose to watch NFL games.
How to Watch NFL Games?
Many sports lovers don't know how to watch NFL games without cable using a VPN. Yahoo Sports' NFL Live service can be accessed via the Yahoo Sports app. Please follow the instructions below: 
Yahoo Sports app for Android or iOS (For the best screen reader experience, assistive technology users should download and use either the iOS or Android Yahoo Sports app)

Yahoo Sports and Yahoo.com mobile web for iOS (Safari only)

AOL app

AOL.com mobile web for iOS (Safari only)
Additional info:
Pixel and Pixel XL have not supported devices.

To get the Spanish language feed switch your device language to Spanish.

Please note that the apps listed above feature Nielsen's proprietary measurement software which allows you to contribute to market research, like Nielsen's TV Ratings. You may also visit 'Settings' in the app to opt out of Nielsen measurement.
How to watch NFL games without cable?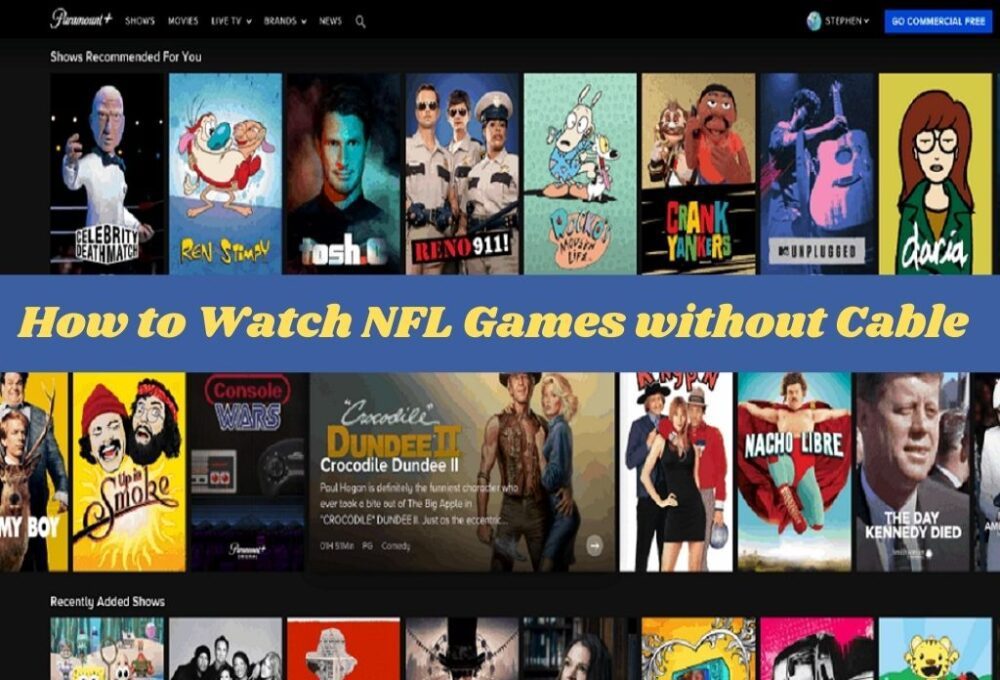 Many sports fans want to know how to watch NFL games without cable. It's possible to watch some NFL games online without a cable subscription if you use programs like Hulu + Live TV or Sling TV. Other options include FuboTV and YouTube TV. An HDTV antenna can also be used to watch local NFL games.
It was officially kick-off on September 9 of the 2021 NFL season. CBS and Fox traditionally broadcast regular-season Sunday afternoon games with an NFC home team, while Fox broadcasts regular-season games with an AFC home team.
Sunday Night Football is on NBC, and Thursday Night Football is on NFL Network for the whole season. In addition to Fox, Amazon Prime, and Twitch, some Thursday Night Football games are also broadcast on Fox. Finally, ESPN is carrying Monday Night Football.
Additionally, the Yahoo Sports app or the NFL app lets you watch all of your local in-market games live on your mobile device for free.
Here's a full roundup of all the services you can use to stream NFL games without cable.
HDTV Antenna
Adding an antenna to your TV, such as this Channel Master type, will give you access to local channels within a set distance for roughly $25. Check out our guide to the best digital antennas for more ideas.
What you get:
You can get local OTA (over-the-air) signals by connecting an HD antenna to your TV. As a result, major broadcast networks like Fox, CBS, and NBC will have their local affiliates available to you.
Because of this, it is possible to follow all of the regional games live, no matter where you happen to be. On top of that, NBC broadcasts the Sunday Night Football game. The one-time fee makes this a good alternative if you only want to watch the team in your area. No out-of-market games or games broadcast on ESPN or the NFL Network, however, are available to you through this subscription service.
Sling TV
While Hulu and FuboTV both offer live television streaming, Sling TV is an excellent budget alternative because it offers most of the channels you need for less money than either. 
Depending on whatever channels are most important to you, you can choose from three different plans. In contrast to the $50 monthly fee for the Sling Orange and Blue plans when purchased separately, the combined Sling Orange and Blue plans are $35 per month. In addition, you may add NFL RedZone to your subscription for $11 per month by purchasing the Sports Extra package.
What you get:
ESPN is available on Sling Orange, while Fox, NBC, and the NFL Network are available on Sling Blue in some locations. Sling does not currently carry CBS. There is a Sports Extra bundle, but it does not include any NFL channels.
Sling's Orange + Blue package, which includes a free antenna for local channels, is your best bet for watching most NFL games via Sling. Prepaying for two months of Sling subscription is required in order to receive the free antenna. In addition, for an additional $61 per month, the Sports Extra package can be added to the Orange + Blue Plan if you desire RedZone.
Sunday afternoon games on Fox and Sunday Night Football games on NBC are included in the Sling Blue and Sling Orange subscriptions, as well as the local services provided via the antenna. If you only want Monday Night games on ESPN, you can only sign up for Sling Orange. Blackouts are a common occurrence on all streaming providers.
In addition to local stations plus NFL Network, ESPN, and the NFL RedZone, you can watch the NFL without paying for cable with Sling's channel lists, add-ons, and the free antenna they supply.
Hulu with Live TV
Hulu + Live TV gives almost everything you need to watch NFL games for $65 a month, in addition to all of its other products.
What you get:

 
Hulu + Live TV gives you access to all of the local affiliates of Fox, CBS, and NBC, just like an HD antenna would. The games that are broadcast in your area, excluding blackouts, will be listed here. All Monday Night Football and Thursday Night Football games are available on ESPN, as well as NFL Network.
For an additional $10 a month, you can access NFL Redzone with the Sports add-on plan.
How to Watch NFL Games Online?
How to watch NFL games online, whether or not you have a TV subscription? When it comes to cord-cutting sports fans, there are a number of ways to watch their favorite teams. Without a typical cable or satellite TV subscription you may see every Monday, Thursday, and Sunday night game lives online via streaming services and video-on-demand platforms like the ones listed here.
How to watch NFL games without cable using a VPN?
NFL fans are seeking how to watch NFL games without cable using a VPN. No worries if you're in the United States; there are a plethora of free options accessible to stream NFL games live. There are some additional alternatives to consider if you're accessing from outside the United States, some of which necessitate the usage of a virtual private network (VPN).
Here's how to stream NFL games without cable from anywhere:
Sign up for a reputable virtual private network. While NordVPN is our top pick, other options like Surfshark and ExpressVPN are also good choices.
Install the VPN software on your device of choice, or add it to your web browser as an extension (mostly for Chrome users).
Open your VPN program and select the relevant server location. Connect to a US-based server, for example, if you want to use a US-based service.
It's a good idea to erase the cookies and cache data on your browser or device. Open a private browsing window if you wish (Incognito mode on Chrome). As a result, your current location is no longer visible.
Open the streaming app or website of your choice. Your favorite NFL broadcasts should now be accessible as long as the service does not aggressively restrict VPN connections. Are you having issues? The chat assistance of your VPN may be able to assist you in bypassing some streaming providers.
How to watch NFL live anywhere in the world?
Many sports fans are unaware of how to watch NFL games without cable by using a VPN. NFL Game Pass is the greatest way to watch live NFL games from anywhere in the world. There are several games that are blacked out in the UK and Ireland for NFL Game Pass in the United States. There are a number of nations where NFL Game Pass is able to broadcast all of the available NFL 2021-2022 games live and uninterrupted, including Germany, Switzerland, and Austria.
Here's how to live stream NFL games on NFL Game Pass with a VPN:
The NordVPN service or other recommended solutions are good places to start.
In countries where Game Pass provides full NFL live streaming, such as Germany, use a VPN to access the service.
Subscriptions can be obtained online at NFL Game Pass.
For the entire season, you'll be able to watch NFL games online (and with a 7-day free trial)
How to watch NFL games in the US?
NFL broadcasting rights are split among a number of companies in the United States. The NFL's broadcast rights are now split between:
The NFL Game Pass is a subscription service that provides access to (Live games available through VPN unblocking)
CBS (via Paramount+, AFC Sunday games)
fox (NFC games on Sunday, free through Tubi TV)
The NBC Broadcasting Company (Sunday Night Football, through Peacock)
ESPN is a good example of this (Monday Night Football)
The National Football League's television network (Selection of games)
Amazon's Prime Video service (Thursday Night Football)
App for Yahoo! Sports (local and primetime national broadcasts, mobile devices only)
You'll need a streaming service to enjoy several of these options if you don't have cable. FuboTV is now the greatest single-service choice in the United States for accessing most games. FuboTV offers CBS, FOX, NBC, NFL RedZone, NFL Network, and ESPN for $59.99 per month. You can expect to see games from the AFC, NFC, and on both Sunday and Monday nights. To watch the NFL without cable in 2021-2022, you'll need an Amazon Prime Video account (which costs $8.99 per month but is included in your regular Amazon account).
NFL Game Pass, on the other hand, may be a good option if you want to store everything in one place. This service has no blackouts, so you may watch any US game after it has aired. Sign up for NFL Game Pass and use a VPN in a location where the service broadcasts every game live if you prefer that method of watching everything in real-time (including Germany, Switzerland, Spain, and other Eurozone countries).
How to Watch NFL games in Canada?
Many sports fans are interested in learning how to watch NFL games without cable by using a VPN. Fans in Canada will be able to watch the NFL in 2021 through a variety of alternatives. The NFL Game Pass subscription costs $74.99, which includes access to all of the season's live and re-watched games. There are two alternative options for Canadian NFL fans who don't have cable to see their favorite team's games:
$20/month CAD for DAZN (with NFL Game Pass)
For $24.99 CAD a month, you can get TSN Direct (RDS Direct for French)
DAZN is a wonderful choice if it's available to you. Additionally, it offers a plethora of other sports, including NFL Game Pass. Fans of the National Football League in Europe will find it an affordable option.
NFL Game Pass is the best choice for European nations where DAZN is not accessible. After going onto the NFL Game Pass website from your nation, you'll want to see what the pricing is for your country's service. Despite the fact that NFL Game Pass is available in many countries, some countries may only be able to access replays.
Frequently Asked Questions (FAQs) on How to Watch NFL Games without Cable
Why can't I watch out-of-market games?
Using Yahoo Sports' NFL Live service, you can watch both local in-market games and nationally televised matches.
How do I resolve issues with the stream?
Are you having trouble following the game? Troubleshooting manuals are available for your convenience.
Can I watch it on a desktop or Connect TV?
On a smartphone or tablet, no. NFL Live on Yahoo Sports is only accessible via mobile devices. The games will not be streamed via screencasting or Connect TV.
Does using a VPN to watch NFL games while outside of the United States constitute legal activity?
Although it may be against the conditions of the streaming service, it is not illegal to watch an NFL game from outside the United States. Although it's possible that using a VPN could result in your streaming account being suspended or terminated, none of the NFL streaming providers have ever penalized VPN users before.
What internet speeds do I need to stream NFL online?
NFL fans are interested in learning how to watch NFL games without cable by using a VPN. You may need a different internet speed to watch NFL online depending on whatever streaming platform you choose to use. Another consideration is the video's overall quality. According to NFL Game Pass, the highest quality streaming is possible with an internet connection speed of at least 2 Mbps. Even if a VPN is used, this shouldn't be an issue for most individuals. The fastest virtual private networks deliver speeds significantly in excess of the 2 Mbps advertised.
Can I watch NFL games on YouTube TV?
Yes. All four major networks are available on YouTube TV: Fox, CBS, NBC, and ESPN. Users of YouTube TV will be able to access NFL Network-exclusive games using YouTube TV, as the service carries NFL Network.
Redzone is included in the NFL Redzone bundle on YouTube TV.
Can I watch NFL games on Hulu?
Yes. As a Hulu subscriber, you'll be able to watch all of the local and national games that are broadcast on Fox, CBS, NBC, and ESPN. As a result, Hulu has added NFL Network to its lineup, making it a more complete alternative for sports fans than YouTube TV.
Can I watch NFL games on Sling TV?
Not every one of them. Both Orange and Blue bundles of Sling TV feature channels like Fox, NBC, ESPN, and the NFL Network as part of their offerings. They do not, however, have access to CBS. So, if you're using Sling TV, know that you won't be able to watch CBS's local-market games.
Can I watch NFL games on AT&T TV Now?
Yes. Streamers may see nearly all nationally televised sporting events with AT&T TV Now, which offers Fox, CBS, NBC, and ESPN channels.
Can I watch NFL games on fuboTV?
Yes. At the same time as AT&T Now, FuboTV does not offer NFL Network. NFL Redzone, a live look at every Sunday afternoon game from 1-8 p.m. ET, is part of the fuboTV package.
The Bottom Line: Stream NFL Games Safely
If you can't get enough NFL football, there are plenty of options for watching it online. Whether you're trying to access an American platform from abroad or looking for free sports streaming options, you'll need a VPN.
A VPN unblocks geo-restrictions and allows you to access websites that you would not be able to access otherwise. At the same time, it safeguards your privacy by keeping you anonymous from potential third-party snoops. When you visit unsecured websites, a VPN acts as an extra line of defense against hackers who may be attempting to steal any sensitive information you're transmitting.
Can't get enough of online live streaming sports and other content? Take a look at some of our other guides and articles on the subject.
Apart from this, if you are interested; you can also read Entertainment, Numerology, Tech, and Health-related articles here: 
How to apply Eye Cream, How to unlock iPhone, How to cancel ESPN+, How to turn on Bluetooth on Windows 10, Outer Banks Season 3, 6streams, 4Anime, Moviesflix, 123MKV, MasterAnime, Buffstreams, GoMovies, VIPLeague, How to Play Music in Discord, Vampires Diaries Season 9, Homeland Season 9, Brent Rivera Net Worth, Grimes net worth, PDFDrive, SmallPDF, Dramacool, Squid Game Season 2, Knightfall Season 3, Crackstream, Kung Fu Panda 4, Angel Number 122, Angel Number 7, Angel Number 1022, 1616 Angel Number, 333 Angel Number, 666 Angel Number, 888 Angel Number, 777 Angel Number, 444 angel number, Sundar Pichai Net Worth, Bruno Mars net worth, KissAnime, Jim Carrey net worth, Bollyshare, Afdah, Moviezwap, Jalshamoviez, Prabhas Wife Name, Project Free TV, Kissasian, Mangago, Kickassanime, Moviezwap, Jio Rockers, Dramacool, M4uHD, Hip Dips, M4ufree, Fiverr English Test Answers, NBAstreamsXYZ, Highest Paid CEO, The 100 season 8, and F95Zone. 
Thanks for your time. Keep reading!
Subscribe to Our Latest Newsletter
To Read Our Exclusive Content, Sign up Now.
$5/Monthly, $50/Yearly