Building a Career in Salesforce: How much Salary can You Get in Chennai?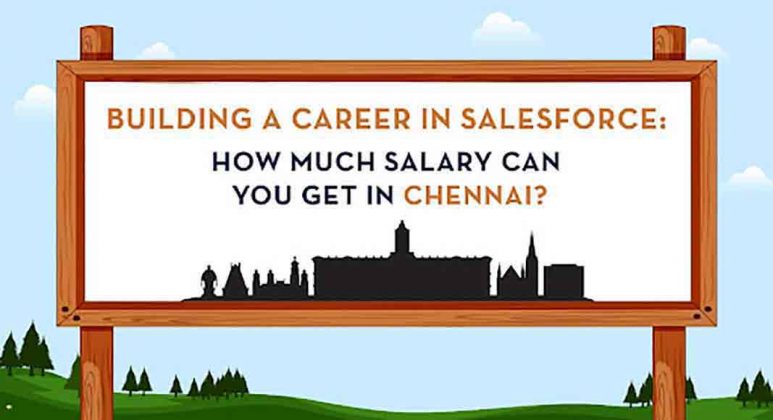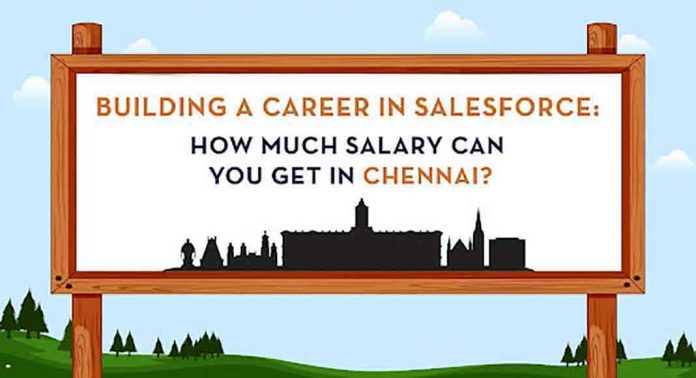 Salesforce salaries in Chennai
Salesforce is one of the widely used platforms, making it ideal for job seekers to learn and get trained. Salesforce certifications are something that adds value to your resume. Salesforce certified developers get a salary of around 9-11 Lakhs per annum in major cities in India, including Chennai. Students can start Salesforce admin developer training from CRS Info Solutions and get certified. 

What exactly is Salesforce? 
Salesforce by definition is a CRM. CRMs help businesses stay in touch with and organize their campaigns. Salesforce is one of the best CRMs on the planet and is being used by everyone from mid-sized companies to Fortune 500 companies. In simpler terms, Salesforce is used to engage with customers. Salesforce can be helpful to multiple departments inside a business such as the sales team, marketing team, customer service team, etc. These modules for each type of team are called a 'cloud'. For example, what the marketing team uses is the marketing cloud. Each 'cloud' has its own functionality and features, but they all help in serving the customer.
What to expect in Salesforce certification questions?
To get certified as a Salesforce admin developer, students will have to attend a certification exam. The candidate is expected to have practical experience as Salesforce Administrator. According to Salesforce, the exam will have questions from all modules inside Salesforce. The weightage is as follows.
Configuration and Setup: 20%
Object Manager and Lightning App Builder: 20%
Sales and Marketing Applications: 12%
Service and Support Applications: 11%
Productivity and Collaboration: 7%
Data and Analytics Management: 14%
Workflow/Process Automation: 16%
Source: Salesforce.com
What makes Salesforce important?
Salesforce can be called the number one CRM in the world. Since a large number of companies are using Salesforce's various clouds and they spend millions of dollars to configure and maintain Salesforce, it is really important and a priority for many companies around the world to have a Salesforce admin in the company to manage the platform. Salesforce is always expanding into various regions and industries across the world, which makes becoming a Salesforce certified developer a reliable and safe career choice. The salary for Salesforce developers is very attractive in cities like Chennai.
Prerequisites to learn Salesforce
To begin with Salesforce, newcomers will have to start learning it at the basic level. However, to learn Salesforce, you do not need prior experience in programming or any kind of coding experience. Even students from a non-technical background such as MBA, or business/finance can get started with the Salesforce training at CRS Info Solutions and start building a career. Working professionals can also consider Salesforce as their next career choice. 
Salesforce Interview questions
It is always best to be prepared with some of the interview questions that have been asked in the past. Even if these questions might not be repeated, students can understand and familiarize themselves with the pattern of questions. These are some sample questions and how to tackle them.
1. What can Salesforce do?
It is always important to have an understanding of what the platform you are learning can do. In the case of Salesforce, there are various clouds inside Salesforce for different purposes such as sales, marketing, customer service, IT, etc.
2. What are objects in Salesforce? 
Objects are nothing but a collection of fields
3. How many types of reports are available in Salesforce? What are they?
Salesforce contains a total of 4 reports and the purpose of these reports are different from each other. The 4 types of reports are Matrix, Summary, Tabular, and Joined.
Conclusion
Now that you have an idea of what is Salesforce and what does it take to build a career in Salesforce, the next question would be where to get trained. CRS Info Solutions is a pioneer in Salesforce training in Chennai that has helped hundreds of candidates get Salesforce certified and get a good-paying job. Various levels of training for beginners, intermediate and advanced users are available. The training will provide hands-on experience. For those who are still not sure if this is the right choice, a live demo session is available.
Apart from this, you can also read Entertainment, Tech, and Health related articles here: Kissassian, 333 Angel Number, Holiday Season, Samsung Galaxy Z Flip 3 review, PUBG Launch Date in India, Covaxin vs Covishield, Sears Credit Card, GoDaddy Email, Free Fire Redeem Code, Mangago, Project Free TV, Jio Rockers, Best Record Players, August 27 Zodiac, August 26 Zodiac, Best Hindi Movies on Amazon Prime, New iPhone 13, Vivo Y53s Review, Eye Shapes, M4uHD, Fever Dream, Moon water, Oppo Reno 6 Pro Review, iPhone Headphones, Best gaming desks, Spanish Movies, Hip dips,  M4ufree, NBAstreams XYZ, CCleaner Browser review, Avocado Calories, Bear Grylls net worth, Rihanna net worth 2021, Highest Paid CEO, The 100 season 8, Sundar Pichai net worth, Grimes net worth, F95Zone, Microsoft Office Suite, How to Share Netflix Account, how to change Twitch name, Sherlock Season 5, Homeland Season 9, Salvation season 3.