iPhone Headphones: Top 10 Earphones for Apple Device in 2021
It's only natural to listen to music, podcasts, or audiobooks on your iPhone; after all, your phone is essentially a modern-day iPod. If you have iPhone headphones for your iPhone, those are just more than AirPods. However, decent headphones or earphones are required to get the most out of your listening experience. The ones that come with your iPhone don't sound nearly as good as a dedicated set, plus they leak sound like crazy. 
If you're serious about your sound — and you should be — you'll need to look for something more suitable. However, not just any headphones will suffice. You'll need a pair that fits your iPhone's capabilities as well as your lifestyle. That's why you need the iPhone headphones for your handset. 
So, here we've gone ahead and done a lot of the research for you since we know how crucial it is to know about iPhone headphones.
Do you need wireless iPhone headphones for iPhone?
Yes, to put it plainly. It's probably time to go wireless if you have an iPhone. Apple has insisted on providing its phones with a Lightning connector for several years now, so you'll have to travel back several generations to locate an iPhone with a conventional 3.5mm audio jack input.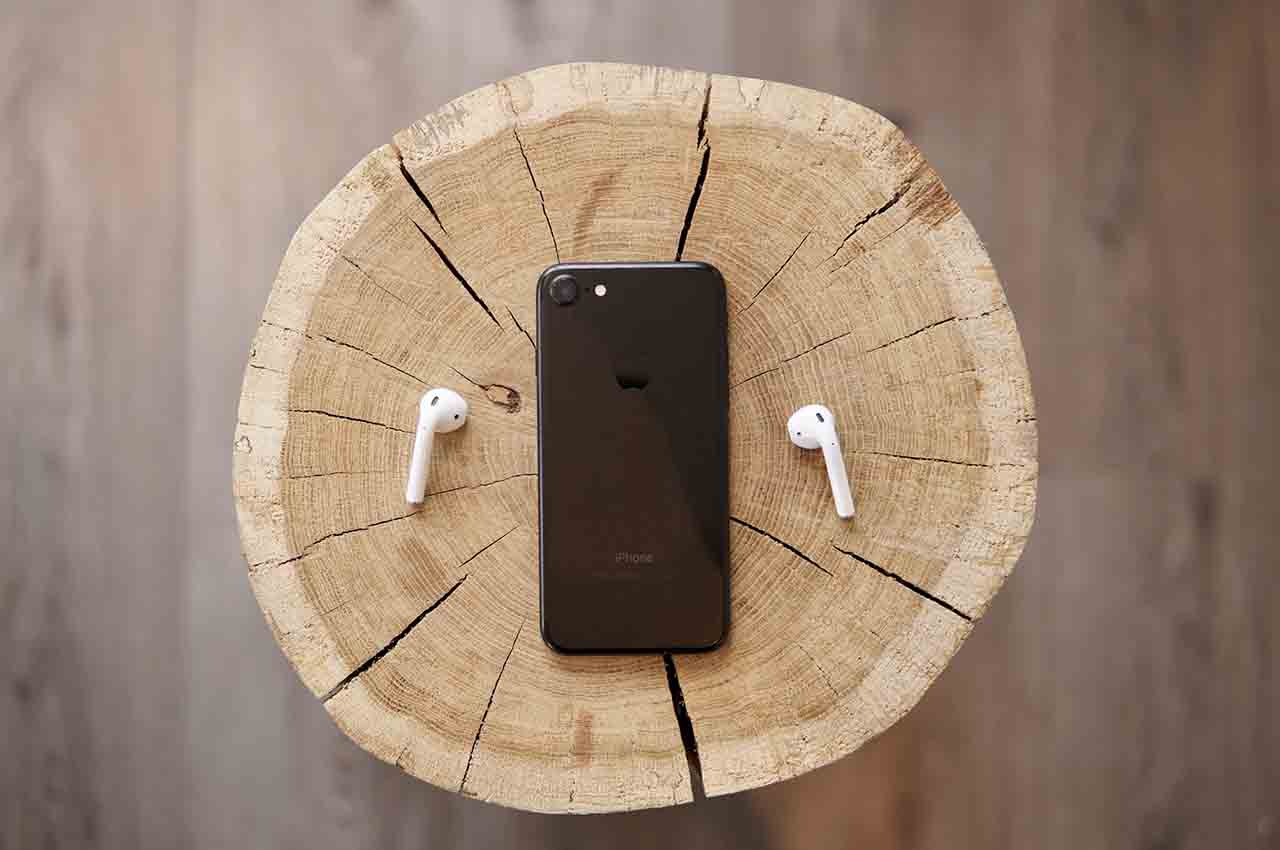 iPhone headphones have Lightning connectors, allowing you to plug them directly into your phone. If you have non-Apple wired headphones, Apple sells an adaptor that converts a standard audio jack to Lightning, however, these adaptors are unreliable and easily break. 
Wirelessly connecting your iPhone to headphones or earphones is the best solution. It's a lot more convenient, and you won't have to deal with as many cables. 
What is genuine wireless technology?
True wireless headphones, often known as "truly" wireless headphones, are headphones that don't have a connection connecting them to your phone or device. True wireless headphones can deliver sound into your ears using a variety of wireless technologies. Bluetooth is the most prevalent type.
Distance and obstructions between your headphones and device, as well as the codec software that your headphones support, can all affect wireless sound quality. Algorithms that encode and decode digital audio signals are known as codecs. Look for headphones with minimal latency that support Qualcomm's aptX codecs, which are widely regarded as the best codecs for streaming video content and keeping the picture and audio in sync.
Are Apple's AirPods the best iPhone headphones?
Both yes and no. AirPods are fantastic, especially the AirPods Pro and Pro Max (as you'll see below), but they're extremely pricey when compared to competitors.
They're a good one-stop solution because they're so easy to set up with your iPhone and they perfectly match the Apple style. There are better solutions out there if you're willing to look around and spend a bit more time setting things up.
Should you buy the cheapest iPhone headphones?
You can save a few pounds by purchasing the cheapest pair of headphones available, but this is no better than using the headphones that came with your iPhone. If you listen to music on a daily basis, it's worth spending a bit more on a pair of headphones since you'll be astonished at how much better the sound quality is. You can also take advantage of additional functions such as noise cancellation and choose iPhone headphones.
What is noise cancellation and how does it work?
Noise cancellation cancels all background noise, letting you fully immerse yourself in your music. It's a feature found on the greatest, most modern headphones and obviously, it would be the best iPhone headphones.
Noise cancellation is divided into two types: passive and active noise cancellation. The headphones' design and construction achieve passive noise cancellation by physically blocking out noise with big earcups that create a seal. Active noise cancellation (abbreviated as ANC) uses a set of small microphones to pick up incoming sounds and cancel them out with anti-noise sound waves.
Advanced ANC modes, such as transparency mode, should also be kept in mind. This lets in a certain amount of background noise, such as other people's voices, which is useful for hearing train platform announcements or conducting conversations.
Which are the best iPhone headphones for you?
Consider the primary reasons for your desire for new headphones. Will you be utilizing them a lot if you travel a lot? Listening to music at home? When you're working out? We examined a variety of scenarios to determine the finest headphones or earphones for you and your needs. In a nutshell, we've done the legwork for you.
This list of iPhone headphones should include something for everyone and every budget. We've put up a list of fantastic options, including popular headphones from Sony, Bose, and, yes, Apple. 
The top 10 headphones listed below are the best iPhone headphones in 2021. 
Apple AirPods Pro
Specs
Colors: White
Battery life: 5 hours
Active noise cancellation: Yes
True Wireless: Yes
For the past five years, AirPods have been the iPhone standard. If it's time to upgrade — and let's be honest, it is – the AirPods Pro increases noise cancellation by refining the sound and adding extra small microphones.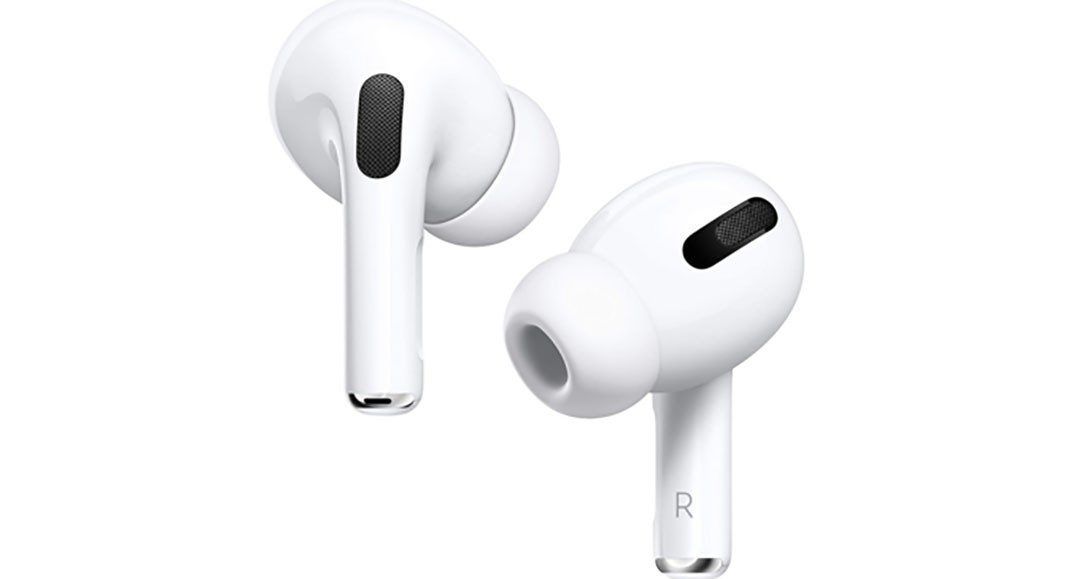 Those microphones are intelligent in more ways than one. They scan your ears right out of the box to make sure the AirPods fit properly (they come equipped with a selection of small, medium, and large tips). If you have trouble with earphones dislodging and falling out, as some listeners do, the AirPods Pro will solve your problem. They are well-fitting and secure. Even better, they live true to their name by being so light that you won't even notice they're on.
Simply press the stems to activate noise cancellation and playback features. There's one minor annoyance: you have to use your phone to control the volume.
Punchy bass and vocals characterize the music. They're wonderful for modern music, while no one expects Apple products to have the most nuanced, audiophile-friendly sound.
Other features include IPX4 water resistance (though don't get us wrong: these aren't the ideal choice for working out), ANC transparency mode, and a charging case that provides 24 hours of battery life for your AirPods.
Apple AirPods Max 
Specs
Colors: Space Grey, Silver, Sky Blue, Green, Pink
Battery life: Up to 20 hours
Noise cancellation: Yes
True wireless: No
If you prefer traditional headphones, Apple has you covered – literally, in the case of the Apple AirPods Max, with their plush, memory foam earpads. They're also jam-packed with features, including Apple-designed dynamic drivers, top-tier ANC, and iOS add-ons. There are also nice color options thanks to Apple's expanding diverse palette, which is frustratingly uncommon in high-end headphones.
There are only two control buttons on the Apple AirPods Max. There's a multi-functional dial that cycles through the volume and playback settings, as well as a button for adjusting the ANC, which includes a transparency mode. An eight-microphone setup is used by the ANC. Sensors, including an accelerometer and gyroscope, are packed within the ear cups. They also have dynamic head tracking and spatial audio.
20-hour average battery life is slightly less outstanding. Other headphones in this price bracket (or below) provide far more features. When you place the Apple AirPods Max in the carry case, they do go into a low-power mode. Be aware that even if you use them wired, they will need to be charged.
Aside from a few minor quibbles, iPhone users won't find a finer pair among iPhone headphones than the Apple AirPods Max.
Sony WH-1000XM4 
Specs
Colors: Black, Blue, Silver, White
Battery life: 30 hours with ANC
Noise cancellation: Yes
True wireless: No
Look no farther than the Sony WH-1000XM4 headphones if you're looking for over-ear headphones outside of the Apple store. In almost every other area, they're regarded as the best headphones.
Sony's QNe1 processor chip is a high-powered, cutting-edge piece of hardware. With Dual Sense microphones that can adjust 700 times per second to give real-time noise cancellation, this features outstanding ANC.
The Sony Headphones Connect app allows you to customize the noise cancellation — and even the amount of external noise you want to hear as your iPhone headphones. Noise suppression levels can be programmed to automatically adapt in different situations, such as at home, work, or the gym, thanks to geolocation technology.
Other features include an automated pause when you remove your iPhone headphones from your head, a power-saving auto-switch off, a voice assistant and a "Speak to Chat" function.
What do you expect from the world's most popular audio brand if the sound quality isn't great? — aided by cutting-edge LDAC Bluetooth and other audio-enhancement technology.
The battery life is very remarkable, peaking at 38 hours with ANC turned off. It also charges quickly, providing five hours of power after just ten minutes of charging.
Beats PowerBeats Pro
Specs
Colors: Black, Ivory, Cloud Pink, Glacier Blue, Lava Red, Moss, Navy, Spring Yellow
Battery life: Up to 9 hours
Noise cancellation: No
True wireless: Yes
Beats is one of the most well-known brands in the world of high-end audio equipment. Of course, since Apple purchased the brand in 2014, it's still officially an Apple product. That practically means that you get all of the Beats' bass magic plus Apple-specific innovation, like Apple's all-powerful H1 CPU, with the Beats PowerBeats Pro.
If you don't like the AirPods Profit, the Beats PowerBeats Pro wireless headphones are a fantastic option since you want to use them as iPhone headphones. The Powerbeats Pro includes a slimline silicone nozzle (available in various sizes) and over-ear hooks that ensure they never come loose, making them ideal for jogging.
They have playback and volume buttons, as well as easy controls. In fact, you can regulate the level with either earbud, which is a little but fantastic feature that other brands should emulate.
Hands-free Siri, micro-laser barometer venting holes that relieve in-ear pressure, and a bigger charging case are other great extras. They have a nine-hour listening time between charges, and the case can hold two complete charges before it needs to be recharged.
There are certain drawbacks, such being the fact that these are splash-proof rather than entirely waterproof, that there is no ANC, and that there is no EQ adjustment. However, given how good the Powerbeats Pro is in other areas, these minor quibbles can be overlooked.
Sennheiser Momentum True Wireless 2 
Specs
Colors: Black, White
Battery life: Up to 7 hours
Noise cancellation: Yes
True wireless: Yes
Sennheiser is a well-known brand among audiophiles. The German-based company has spent decades mastering the art — and it is an art — of producing outstanding sound.
The Sennheiser Momentum True Wireless 2 earbuds are no exception – they're the earbud version of the standard Sennheiser Momentum. If you prefer over-ear headphones, you couldn't do much worse than the regular Sennheiser Momentum's workmanship and precision.
Noise cancellation and a thin, lightweight design are included in these second-generation earphones. The sound, on the other hand, is where things really shine. It uses a single 7mm driver to provide a rich, extremely detailed sound that slams the lows, mids, and highs while also creating an enormous soundstage.
The noise cancellation is good, but not as good as other competitors' earphones. The battery life, on the other hand, is excellent, with seven hours of use and a further 21 hours from the carry case charger.
The Sennheiser Smart Control software allows you to customize noise cancellation and other features, such as touch control (totally compatible with iOS). Transparency mode lets in ambient sounds, among other advantages.
They are, of course, pricey, but sound connoisseurs understand that having the highest quality in your ears comes at a price.
JBL Tune 750BTNC 
Specs
Colour: Black, Navy, White
Battery life: Up to 30 hours
Noise cancellation: Yes
True wireless: No
Put your money in your wallet. Not every set of iPhone headphones has to be expensive. Check out the JBL Tune 750BTNC if you want one of the best iPhone headphones with dependable sound, noise cancellation, and connectivity but don't need the most cutting-edge technology.
The sound is strong and bass-heavy, and they feature a premium design constructed of hard-wearing plastic. External sound is blocked by the large, over-ear cups, which work in tandem with the highly effective ANC technology to shut out any unwanted noise. At this price, the noise canceling is as good as it gets.
They include multi-point pairing, which means they can connect to two devices at the same time, which is a really useful feature. With ear cups that fold and flip inwards, they're also highly portable. Simply toss them into your bag and go and use these as your iPhone headphones.
Some reviewers have reported issues with the Bluetooth connection (they do employ the now-relatively-basic Bluetooth 4.2), however, this listener has never experienced such an issue. The controls, which are located on the right ear cup, are a little clunky at first, but you get used to them soon.
Depending on which functions you use, you'll get anywhere from 15 to 30 hours of battery life in these iPhone headphones.
EarFun Air Pro 
Specs
Colors: Black, White
Battery life: Up to 31 hours
Noise cancellation: Yes
True wireless: Yes
Not every set of headphones has to be expensive. In fact, the EarFun Air Pro isn't just economical; you'll be blown away by what they can achieve for the money.
The EarFun Air Pro is a next-generation upgrade that has superior noise cancellation, enhanced sound, and other technological enhancements.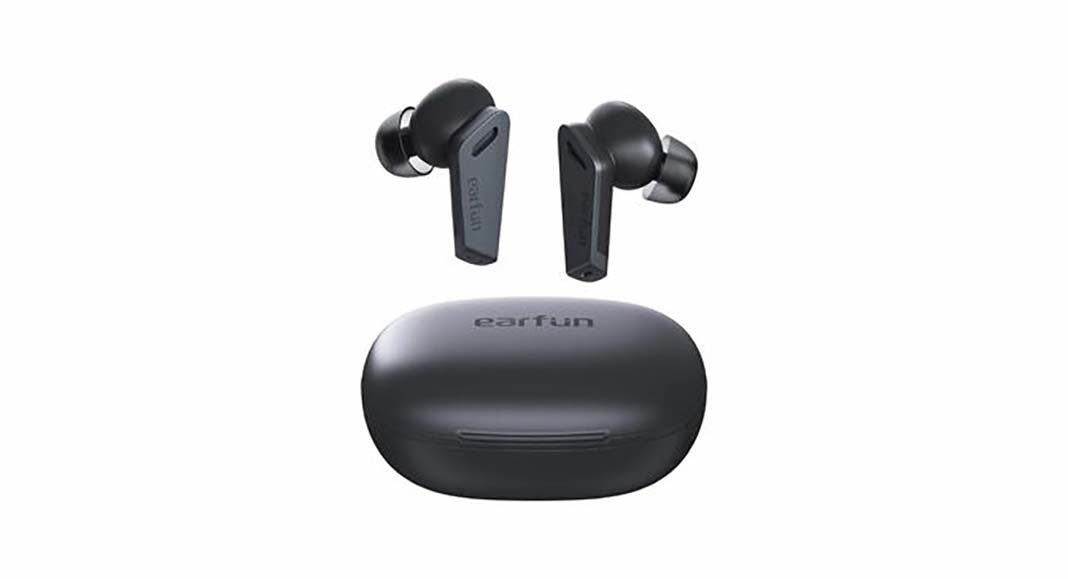 Because of the low price, you must moderate your expectations about what the noise canceling will accomplish – however unless you're picky about noise cancellation details and ambient noise levels, this ANC is really decent. There's even a transparency setting that lets some outside sounds in, which is useful for quick stops and chats.
The sound is provided by 10mm dynamic drivers and a tuning partnership with Edifier, a speaker manufacturer. These produce a fun, punchy sound profile, as you'd expect from the name, and are especially suited for contemporary tunes and driving pop. Serious audiophiles, on the other hand, will have to search elsewhere.
A single earbud mode, a six-microphone system for increased call quality, and infrared detection technology that pauses the music when you remove the buds are all pleasant touches. These are in it for the long haul, with 25-hour battery life, though the buds may become uncomfortable after long periods.
Bose SoundSport Wireless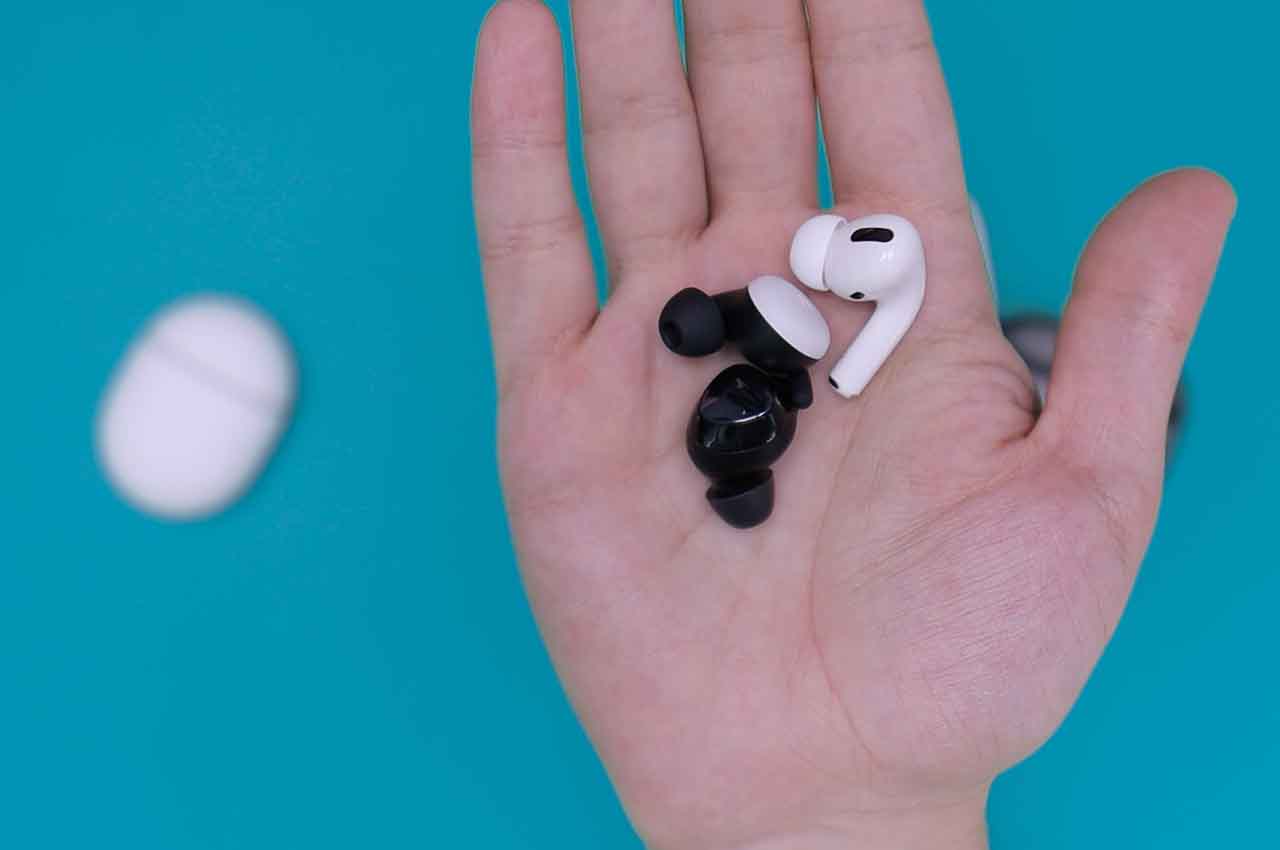 Specs
Colors: Aqua, Aqua Blue, Black, Citron Yellow
Battery life: 6 hours
Noise cancellation: No
True wireless: No
A prevalent difficulty will be well-known to fitness enthusiasts. True wireless earbuds are far too prone to falling out. The "Stay Hear+" tips of the Bose SoundSport Wireless earbuds solve this problem by tracing the shape of your ear and holding the buds firmly in place. Whatever activity you do, these will keep you firm and provide you the energy you need to get those reps done.
The Bose SoundSport Wireless earbuds combine functionality and style. The two earphones are connected by a cable, but they are otherwise wireless, so you don't have to physically connect them to your iPhone. A lightweight remote is included with the cable.
Thanks to Bose's typically superb audio, the earbuds — which are bigger than other branded in-ear phones — sound fantastic.
They also work with the Bose Connect app for limited features, and there's a built-in microphone for accepting calls in the middle of a rep.
However, there is one word of caution. These might not be for you if you're a marathon runner or an all-day gym goer. Six-hour battery life is adequate, but not exceptional – and certainly insufficient for ultra-long sessions. So, we can easily tell that this wireless technology is one of the iPhone headphones.
Souped-up Samsung buds
Samsung Galaxy Buds Plus
Specs
Water-resistant: Yes
IPX4 rating: splash-proof
The Buds Plus is one of the better values in true wireless earphones, with excellent sound, voice calling performance, and battery life. You wouldn't expect a set of Samsung earbuds to be on a list for iPhones. But the Buds Plus works just fine with iPhones if you want to use as iPhone headphones. This is one of the better values in true wireless earphones, with excellent sound, voice calling performance, and battery life (up to 11 hours).
True wifi is excellent all-around.
75t Jabra Elite
Specs
Water-resistant: Yes
IP55 rating: withstand heavy sprays of water
You can also choose 75t Jabra Elite for your iPhone, and despite the fact that it's been around for a while, it's gotten better over time thanks to a few firmware updates, the most recent of which added active noise cancellation. For $20 more, the Jabra Elite 75t offers better water resistance, while the new Elite 85t features a semi-open design with deeper bass and a stronger noise-canceling function.
Apart from this, you can also read entertainment and Tech articles here: best gaming desks, TheWiSpy Review, Spanish Movies, hip dips,  M4ufree, Xiaomi Mi 11 Ultra Review, Pulse Oximeter, Google Pixel 5a Review, NBA Stream XYZ, CCleaner Browser review, Avocado Calories, Bear Grylls net worth, Rihanna net worth 2021, Dry white wine, Highest Paid CEO, The 100 season 8, Sundar Pichai net worth, Legacies Season 2, Grimes net worth, Oscar Isaac height, Arnab Goswami Salary, Bhushan Kumar net worth, Prabhas wife name, Konosub season 3, Good Omens season 2, F95Zone, how to change MSI keyboard color, Microsoft Office Suite, how to block subreddits, How to Share Netflix Account, how to change Twitch name, The Last Airbender 2, Sherlock Season 5, Homeland cast, Now you see me, Love Alarm season 2, Young Justice season 4, Shield Hero season 2, Salvation season 3, the feed season 2, Taboo season 2, Jack Ryan season 3. 
Information Sources: Mashable and CNET
Subscribe to Our Latest Newsletter
To Read Our Exclusive Content, Sign up Now.
$5/Monthly, $50/Yearly