Samsung Galaxy Z Flip 3 Review: The First Foldable Smartphone
Samsung Galaxy Z Flip 3 review: the future Galaxy Note and Galaxy S series are the Samsung Galaxy Z Fold and Z Flip, and the journey to get there has already begun. The Note series is all but dead, and Samsung has already passed on the S Pen support to the Galaxy Z Fold.
Foldables are rather pricey and target a niche market. The Z Flip series, on the other hand, was created for a more mainstream audience, for those who just want a flagship, all-around smartphone without paying premium prices. This is where the Samsung Galaxy Z Flip 3 comes into play. Samsung has made things even more attractive by appropriately pricing the smartphone, which is even less expensive than the Ultras.
Samsung Galaxy Z Flip 3 review summary 
This Samsung Galaxy Z Flip 3 price is fixed at around Rs. 84,999, which makes it more impressive and inexpensive than the previous edition. Samsung has also achieved significant advancements in comparison to prior generations. On paper, it's faster, stronger, with enhanced durability and IPX8 rating, and introduces enhancements that matter to regular people, and it's significantly less expensive. To achieve that price, Samsung will have to develop a lower-end 128GB model, but that's fine.
Anyone looking for a flagship smartphone with the majority of Samsung's features can easily upgrade from the Galaxy S21 Plus to the Galaxy Z Flip 3. But should you go ahead and do it? Or, to put it another way, is the Galaxy Z Flip 3 a standard foldable smartphone that's ready to go?
That is precisely what Samsung Galaxy Z Flip 3 review will attempt to determine. So, continue reading.
Samsung Galaxy Z Flip 3 Features and specifications 
Display 
Of course, the Galaxy Z Flip 3 screams premium from every angle, but it's more than just the premium design, flawless fit and finish, and sturdy construction. It is the start of a new age for smartphones, and it is the transformation that the smartphone industry and the rest of the world have been waiting for.
It isn't the first, but it is the first for flagship purchasers. A smartphone with a foldable screen that is priced similarly to a standard flagship phone without any significant compromises. It's an accomplishment, and we'll have to give Samsung credit for it.
Take the foldable innovation out of the equation for a moment and consider the Galaxy Z Flip 3 as a conventional smartphone; that is the Z Flip 3's monopoly. It's a 'regular foldable smartphone' as the name implies. The word 'regular' is highlighted here. Because it's exactly like your everyday flagship smartphone, it can fold into a far more compact and practical form factor that fits effortlessly into anything, including skin-tight jeans, shirt pockets, back pockets, a small clutch, and anything else you can think of. That is the convenience that the Z Flip 3 provides while remaining your everyday smartphone.
Design
Moving on to the design, Samsung has chosen to give the Galaxy Z Flip 3 a total makeover. The new flattened-out design with flat and symmetrical housing appears to be a nice fit. The Flip's design rises beyond all other folding phones, including the Z Fold 3, thanks to a new dual-tone glossy surface covered by Gorilla Glass Victus.
The entire hinge mechanism has also been improved by Samsung. The redesigned hinge design is now in a better state of tune, making the entire opening and closing process feel plusher and instilling confidence. It is completely silent and makes no disturbing noises or streams. We put the phone to the test by opening and closing the hinge several times, and it never felt out of position. We might finally have an open-and-close smartphone, similar to earlier flip phones, because there's nothing quite like snapping the phone to end a call.
One notable improvement is that the hinge can now hold multiple orientations, which enhances the Flex mode concept. In addition, the phone's IPX8 water resistance grade adds to the comfort level of using a foldable smartphone on a regular basis.
When you flip the phone over, you'll see a Samsung smartphone that you're familiar with. It has a user-friendly design with a punch hole in the center of the screen, small symmetrical bezels, and rubber grips at the corners for extra display protection.
With the Z Flip 3, Samsung seemed to have thought of everything. The power button, which also serves as a fingerprint scanner, and the volume rocker have been relocated to the top fold of the phone, making them more accessible whether the phone is folded or unfolded.
AMOLED display with better functionality
The top half also has a dual-camera arrangement and a larger 1.9-inch AMOLED display with better functionality, which we will discuss later in the review. As previously said, the Galaxy Z Flip 3 is an incremental upgrade over its predecessors, and Samsung has made a few tiny but necessary modifications.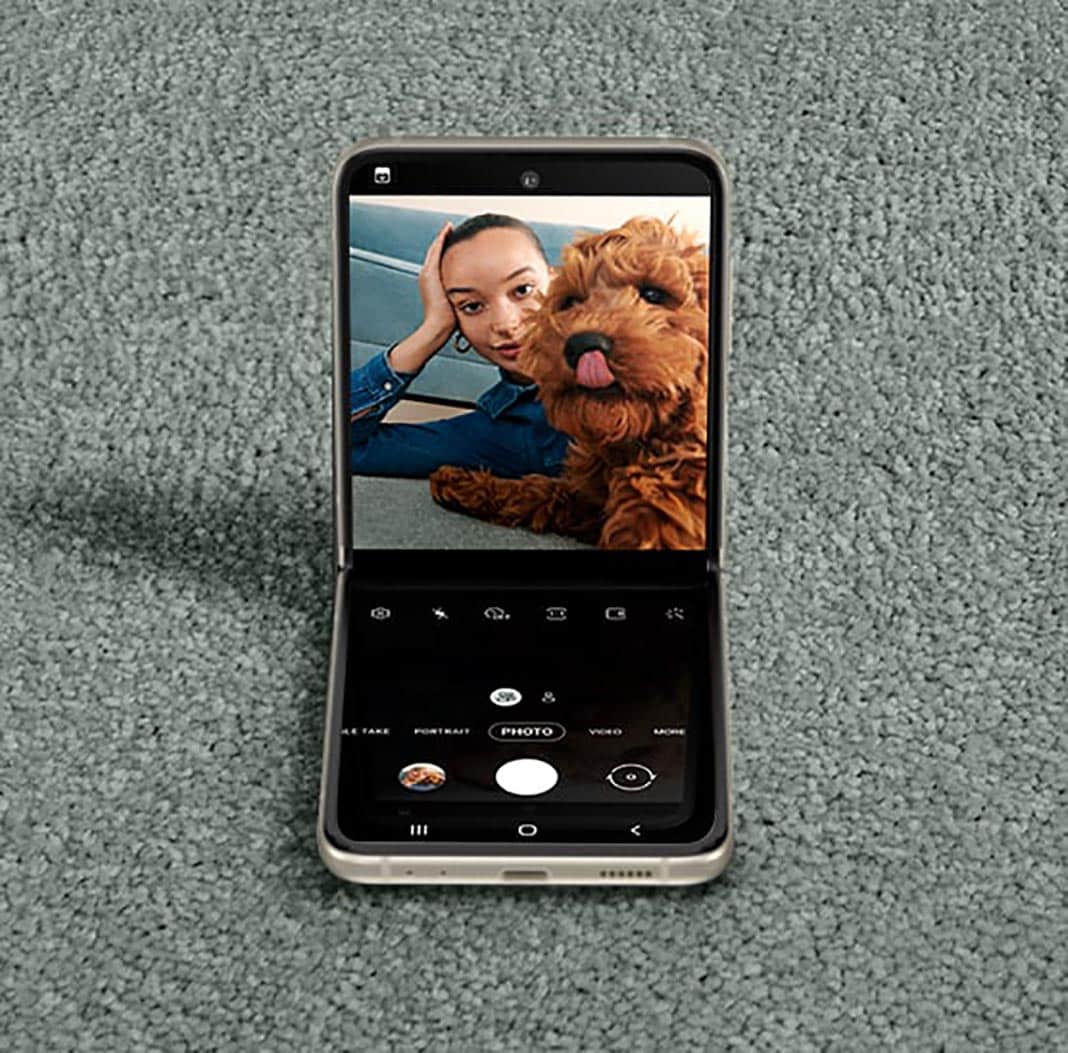 To begin, there's the brand-new cover display, which is both larger and more practical. The diagonal size has increased from 1.1 to 1.9 inches, which is more like giving people what they asked for.
The new cover display is a mix of widgets and notifications. It's like if Samsung threw in a de-tuned Galaxy Watch on top, which can show you notifications, calls, texts, and other useful features like music control, weather, step count, and more. All of these features can be used in conjunction with one another. You can accept or reject a call or dismiss a notice right from the cover screen.
Samsung has also improved accessibility by incorporating a simple swipe left/right gesture to shuffle between different widgets, as well as a slide down from the top to modify sound profile and brightness, among other things. This Samsung Galaxy Z Flip 3 review will give you a complete idea about specifications when you will go for buying a smartphone. 
Now, we'll go on to the main display. The 6.7-inch fullHD+ (1080×2460 pixels) display may appear to be the same size and resolution as prior Z Flip phones. Things have changed in a significant way yet again. The Dynamic AMOLED 2X display panel, for example, now offers a 120Hz refresh rate and is significantly brighter than its predecessor.
Both are significant advances, as well as another example of a 'regular foldable phone,' which has the same top-notch display as any flagship phone but can fold. Putting it side-by-side with S21 felt no difference now that the display is a 120Hz panel. In fact, the Z Flip 3 felt significantly more responsive at times, but that's partly due to the hardware it uses.
Samsung produces some of the greatest displays on the market, and its flagship Galaxy smartphones have long had the sharpest displays available. The Z Flip 3 is already equipped with the company's most recent foldable display technology. This hasn't stopped the corporation from employing a solid panel in this case. Because it's a 1080p display, you'll always have the 120Hz benefit without having to pick between high resolution and fast refresh rate unless you choose to manually limit it to 60Hz. Although it is unlikely that anyone would do so, the opportunity exists.
Display color 
As usual, the display panel's color fidelity is among the greatest you'll find on a premium smartphone. The Z Flip 3's display is stunning to look at in everyday use. It creates vibrant, bold colors. The contrast levels are also excellent. They're just right in terms of viewing angles. Even in the harshest sunshine, the peak brightness of 1200 nits is more than enough for everybody. Furthermore, the display dims quite a bit, making it ideal for bedtime use.
When it comes to the display of the Z Flip 3, Samsung has followed the same pattern as every other luxury smartphone.
Performance of the Samsung Galaxy Z Flip 3
The Samsung Galaxy Z Flip 3 is one of the company's best smartphones, not only because it has the most modern technology available in the smartphone world, but also because of its internals.
Instead of using its own Exynos 2100SoC, which powers the whole Galaxy S21 family, Samsung has chosen Qualcomm's top processor. That's a powerful chipset as well, but we loved the fact that Samsung went with the Qualcomm Snapdragon 888 here.
It's an octa-core SoC with Adreno 660 graphics, which is one of the most powerful graphics processors for mobile devices. It's built using a 5nm technology. The phone also has 8GB of DDR5 RAM and 128GB of UFS 3.1 storage. Samsung Galaxy Z Flip 3 review is based on any handset performance.  
On paper, the specifications look to be comparable to those of most flagship smartphones. And don't be fooled by the 8GB RAM; the Z Flip 3 is a beast, and imagine it without the so-called "Flagship-test," a custom-made test created exclusively to evaluate luxury smartphones.
The daily driving test: This is a practical test that measures how well a motorist performs on a daily basis. We had high hopes for the Qualcomm Snapdragon 888 processor. Every assignment we gave it was a slam dunk. It can handle any situation without breaking a sweat. It's fun at times to open various apps, navigate through menus, surf, skim through social media feeds, and watch MX TakaTak videos. Z Flip 3 has been used on a daily basis.
2. The Social Media Test: This is a test for people who enjoy keeping their social media feeds up to date.
The test is divided into several sections, beginning with shooting a photo or recording a 4K video, editing, and sharing it on social media. We began by shooting a good photo of our morning breakfast and then heavily editing it in Adobe Lightroom.
We also created a 2-minute 4K film with transitions, layers, effects, and audio, as well as sound effects.
In all occasions, the smartphone was quick to respond and expected the photographs and videos to load without stuttering or lag. This is where the speedier UFS 3.1 storage system comes in handy.
3. The gaming test: We used a few lights and triple-A games for this test, including Subway Surfer, Candy Crush, Battlegrounds Mobile India, and the freshly announced Marvel Revolution.
The Adreno 660 GPU appears to be doing a good job here. Lightweight games performed flawlessly at their maximum capacity. At high settings, Battlegrounds Mobile India also had flawless frame rates. The Marvel Revolution, on the other hand, astonished us. It's a big game with a lot of vivid and detailed graphics. And the Galaxy Z Flip 3 was flawless.
All of these tests have proven that Samsung isn't afraid to provide best-in-class performance on its foldable smartphones. The smartphone performs admirably, just like any other top device. This also confirms that this is a "normal foldable smartphone."
Another area where Samsung has tweaked or optimized its Android 11-based One UI 3.1 operating system to best fit the Z Flip 3 is software. The user interface and appearance are clearly similar to those found on other Samsung smartphones. However, there are a few minor details that make using Z Flip 3 a breeze.
For example, you may use the smartphone's cover display as a camera viewfinder and the primary sensor to snap selfies, or you can put it in Flex mode and use it as a "tripod" to film ultra-stable video. Interesting fact: you can check your makeup at any time with your smartphone in Flex mode. Aside from the jokes, the Flex mode is a useful function that works with apps like YouTube, camera, Google Duo, and others. It allows you to add flexibility to your workday by allowing you to work without constantly holding your smartphone. The nicest feature we loved was Duo's flex mode, which turns your phone into a tripod.
One UI is one of the most well-designed bespoke user interfaces for cellphones. It's polished, slick, and packed with features. There aren't any issues.
The Samsung Z Flip 3 now comes with dual speakers. Dolby ATMOS technology is also included. The sound quality is excellent. The fingerprint scanner on the side of the device also worked 100% of the time.
Camera on the Samsung Galaxy Z Flip 3
The Samsung Z Flip 3 has three camera sensors. Of them, two 12MP sensors, one wide-angle and the other ultra-wide-angle, at the rear or, to put it another way, at the top folding section, and a 10MP sensor for selfies. Slow-motion, portrait, night mode, pro video, portrait video, hyper-lapse, and other camera modes are all available on the camera, including slow-motion, portrait, night mode, pro video, portrait video, and hyperlapse. It can also record 4K videos at 60 frames per second.
The dual 12MP camera combination isn't new for Samsung, and we've seen it on a couple of their smartphones before, including the Galaxy S9 Plus. Few people would disagree that the S9 Plus was one of Samsung's top camera smartphones. Even without the large sensor size, it took some detailed and sharp shots. So, we already know what Samsung's dual 12MP arrangement can do, and the Galaxy Z Flip 3's camera setup is no different. Let's take a closer look at this.
Let's start with the most basic Auto mode. Photo, which is what most people use to take pictures with their cellphones. Take a look at the image below; it's a difficult shot that requires the camera to figure out numerous things at once, such as the proper exposure and dynamic range for the sky, as well as color science for the grass and other aspects. The 12MP sensor on this camera performs admirably. There's a lot of detail in the sky, and there's no hint of overexposure. Color output is quite superb, with no oversaturation or sharpness. The dynamic range is also adequate. This Samsung Galaxy Z Flip 3 review definitely help you focus your point before purchasing any mobile.
The best thing is that if you don't need the enormous zoom or ultra-sharp image to count the hairs in a man's beard, this 12MP sensor will be enough and can compete with most high-resolution camera sensor smartphones. Simply told, it's on par with the 64-megapixel camera in the Galaxy S21.
The ultra-wide-angle 12MP lens performs admirably and captures a lot of detail. However, when compared to the primary sensor, image quality suffers. However, the distortion is modest and well-contained. At night, we saw that the ultra-wide-angle photos became softer and grainier. Thankfully, Night mode works with both primary and ultra-wide sensors, so this issue is no longer an issue.
The Portrait mode is present, and it performs admirably. Samsung improved its Portrait mode game with the Galaxy S21 series, and it appears that this trend will continue with the Galaxy Z Flip 3. The smartphone's edge detection, sharpness level, and skin tones are all among the best we've seen.
Studio, High-key, Low-key, backdrop mode, and more options are available in Portrait mode. All of the modes worked perfectly. The single-take mode also works exactly as it should.
The 4K footage at 60 frames per second is smooth and detailed. There's also a Pro video and Portrait video mode, which enables users to be more creative. The 12MP dual camera on Samsung smartphones performed admirably, as predicted, and this is still the case with the Galaxy Z Flip 3. It's also worth noting that Samsung's decision to use a 12MP sensor rather than a larger sensor was a wise one, as a larger sensor requires more electricity to operate and consumes more battery, reducing the smartphone's battery life.
Battery life on Samsung Galaxy Z Flip 3
Things start to become intriguing at this point. The phone comes with a 3300mAh battery and 15W charging capability from Samsung. Both are behind the times when it comes to smartphone technology. Our test, on the other hand, yielded a totally different result.
A larger battery and faster charging would have undoubtedly made a significant impact. However, in our tests, the smartphone lasted for most of the day, with roughly 10% remaining under moderate usage. Charger or battery is always a great part of any smartphone review. So, know here in detail about Samsung Galaxy Z Flip 3 review and stay tuned. 
If you are a typical smartphone user who utilizes it for most smartphone-related tasks like calling, checking emails, social media, browsing, reading articles, and so on, the Z Flip 3 will serve you well throughout the day. However, if you enjoy playing games on your smartphone, this is the only time you'll need to find a charging station sooner than intended.
Samsung Galaxy Z Flip 3 review and verdict
Many people are still wondering if foldable cellphones are truly ready for prime time. Are these devices poised to move beyond the experimental tag and become users' primary device and the next major form factor? The answer is a resounding yes. When it comes to the Galaxy Z Flip 3, the answer is yes. The Samsung Galaxy Z Flip 3 can do all of the functions of a standard premium smartphone, plus a lot more. This includes, among other things, taking a selfie using the Flex mode, video calls, and viewing notifications on the cover display.
The smartphone's major USP, though, is its design, which is unique in the smartphone market. A design that has clearly progressed and now offers significant improvements over previous models. The display, hinge, and body is all comprised of materials that are sturdy and long-lasting. So, if you're looking for something unique, stunning, and long-lasting, the Galaxy Z Flip 3 is the smartphone for you. 
Apart from this, you can also read Entertainment, Tech, and Health related articles here: PUBG Launch Date in India, Covaxin vs Covishield, Sears Credit Card, GoDaddy Email, Free Fire Redeem Code, Mangago, Project Free TV, Jio Rockers, Best Record Players, August 27 Zodiac, August 26 Zodiac, Best Hindi Movies on Amazon Prime, New iPhone 13, Vivo Y53s Review, Eye Shapes, M4uHD, Fever Dream, Moon water, Oppo Reno 6 Pro Review, iPhone Headphones, Best gaming desks, Spanish Movies, Hip dips,  M4ufree, Xiaomi Mi 11 Ultra Review, Pulse Oximeter, Google Pixel 5a Review, NBAstreams XYZ, CCleaner Browser review, Avocado Calories, Bear Grylls net worth, Rihanna net worth 2021, Dry white wine, Highest Paid CEO, The 100 season 8, Sundar Pichai net worth, Grimes net worth, F95Zone, how to change MSI keyboard color, Microsoft Office Suite, How to Share Netflix Account, how to change Twitch name, The Last Airbender 2, Sherlock Season 5, Homeland Season 9, Now you see me, Salvation season 3.
Subscribe to Our Latest Newsletter
To Read Our Exclusive Content, Sign up Now.
$5/Monthly, $50/Yearly