An Ultimate Makeup Guide to Determining 8 Different Types of Eye Shapes
Eye shapes have their own set of cosmetic methods and tips to accentuate them. Eyes come in a vast range of sizes, colors, and forms, and they are all stunning. Are you not sure of your eye shapes? We've got your back. We spoke with Giorgio Armani Celebrity Makeup Artist Tim Quinn ahead of time to receive his expert guidance on all the makeup suggestions for eye shapes and how to enhance their distinct features. But keep in mind that everyone with any eye shape can wear whatever cosmetics they like.
These pointers are only recommendations for determining and enhancing your individual eye form.
How Do Your Eye shapes Affect Your Vision?
A full eye examination is required if there is a problem with the eye. Eyesight problems rarely affect eye shapes, although eye shapes can have an impact on total vision.
Drooping eyelids, for example, can obstruct eyesight. Ptosis is the medical term for this condition. When the upper eyelid border descends low enough to partially or completely conceal the pupil, this happens.
Ptosis can affect one or both eyes of a person. It could be present from birth or develop over time as a result of nerve or muscle disorders. Severe ptosis can lead to tension headaches as a result of compensating for vision restriction by raising one's brow.
Ptosis is treated in a variety of ways, including surgery. Vision is also affected by the shape of a person's eyeball. Nearsightedness, often known as myopia, is indicated by elongated eyeballs. This indicates that the person has trouble seeing far away.
Nearsighted folks can see up close in most cases. Far-off objects, on the other hand, induce blurriness, and trying to focus can cause eyestrain and headaches.
A cornea with an irregular shape can also cause nearsightedness. Nearsightedness occurs when the curvature of the eyeball is too severe for the length of the eyeball or when the lens of the eye is too thick.
Hyperopia, or farsightedness, is indicated by shortened eyeballs. Farsighted people have trouble seeing close-up items clearly. They may find reading or stare at a computer or phone screen challenging. Distance vision can be affected by severe cases of farsightedness. Farsightedness can also be caused by a cornea with too little curvature.
Most of the time, eye form is purely a cosmetic concern. It has a minor impact on vision. However, the shape of your eyes can have a big impact on your eyesight.
What are the various kinds of eye shapes?
Round, monolid, hooded, downturned, upturned, and almond are the six main eye shapes, each of which is stunning in its own way. You may have also heard the terms broad set, asymmetrical, huge, small, close-set, and deep-set applied to your eyes. These aren't all-inclusive descriptions, but they're worth mentioning.
Beyond the shape, this is a supplementary description. "It's more about the positioning of the eye on the face," said Colby Smith, a celebrity makeup artist at Exclusive Artists.
There is also feasible to straddle two different eye forms. "It's possible for someone to be in-between shapes. I frequently encounter almond-shaped eyes that are a little rounder than the norm. "For the most part, the forms are fairly distinct," said Anton Khachaturian, a celebrity makeup artist who has worked with Lana Condor, Tia Mowry, and Meg Donnelly.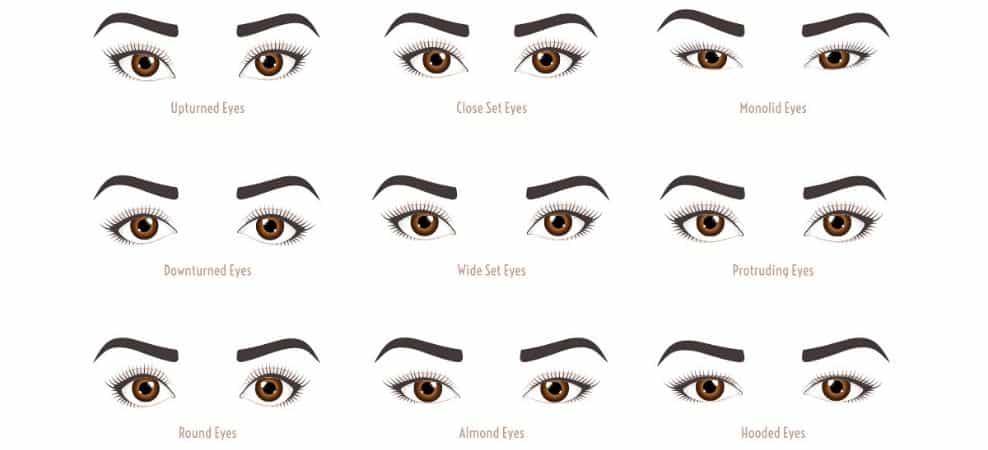 Here's how to locate your ideal partner.
1. Round Eye shapes
Are you unsure if your eyes are round? Here's a quick reference guide:
Round eyes are often huge, prominent, and spherical in appearance.
The cornea of a round eye is completely encircled by white.
Round eyes have rounded inner and outer corners that are not pulled inward or outward.
Makeup suggestions for round eye shapes include:
To close up some of the white space, Khachaturian suggests putting eyeliner in the waterline.
According to famous makeup expert Sandy Linter, round eyes are quite versatile and can wear liner and shadows in a variety of colors: "Try a deep contour in the crease, a pale lid, and a darker shadow at the ends of the eyes."
Don't go crazy with the lashes! "Only apply mascara to the top lashes, with an extra coat or two on the outside lashes," Ramy Gafni, celebrity makeup artist and inventor of Ramy Cosmetics, advised.
2. Monolid Eye shapes
Do you think you've got monolid eye shapes? Consider the following:
Monolid eyes, which are more common in Asian women, have a less visible crease.
Monolids, also known as shallow or smooth eyelids, don't display much of the eyelid, if at all.
Makeup suggestions for Monolid eyes include:
Don't be afraid to experiment! "Because monolid eyes have less space above the eye, it's a perfect opportunity to experiment with a colorful color or a smoky look under the eye and in the waterline," Smith explained.
Add depth to the scene. Glamsquad artistic director Kelli J.
Make your eyes smokier! "I prefer to go smokier and tighter on the eyes, then soften out to produce a stronger crease," Khachaturian explained.
3. Hooded Eye shapes
Do you have hooded eyes? If the following statements are true, you may be correct:
Hooded eyes have a thick brow bone and a deep crease.
When hooded eyes are open, the eyelid is hidden behind the crease and retracts.
As you've gotten older, the space between your eyelids has shrunk, giving you a hooded appearance.
Makeup suggestions for hooded eye shapes include:
Go for a smoky eye. "Put color all over the lid and blend upward," Powell advised, or "make a cut crease to give the illusion of a crease."
To balance things out, apply thick eyeliner to your upper lash line and matte eye shadow to your entire eyelid.
When it comes to shadow, consistency is key. "To create continuity of the lid, apply a deep-toned eye shadow to the lash line and brow bone," Bartlett advised.
4. Downturned Eye shapes
Are you wondering if you have downturned eyes? Here's how to figure it out:
Downturned eyes' outer corners are lower than their inner corners.
Downturned eyes, sometimes known as "descending eyelids," have an upper lid that drops to meet the lower lash line.
Makeup suggestions for downturned eye shapes include:
Use shadows to create a sense of equilibrium.
Don't be afraid to experiment with fakes. "False eyelashes placed in a pushed up fashion in the outer corner will also benefit the eye shapes." "Try doubling the last lash and placing it on top of the one you just applied, then curling it up with a lash curler," Linter said.
Your best friend will be catted eyes. "Draw out eye shadow in an elevated, pointed form towards the tail of the forehead to create the illusion of a lifted cat eye," Bartlett said.
5. Upturned Eye shapes
Do you think your eyes are cocked? Take into account the following:
Upturned eyes are the polar contrary of downturned eyes, with the outer corners turning upward and being higher beyond the inner corner.
Upturned eyes, sometimes known as "cat eyes," slant upward, giving the eye an unusual aspect. Examine your appearance to see if you appear to have undergone an eye lift!
In upturned eyes, the bottom lash line curls upward to meet the top lashes at the outer corner of the eye.
Makeup suggestions for upturned eye shapes include:
"Extend your eyeliner on the upper lash line past the outer eyes to emphasize your eye form."
Do you want to get a more balanced appearance? "Use eyeliner on both the upper and lower lash lines, but don't go past the outer eye." "Also, apply a second coat of mascara to the bottom lash line," Gafni said.
Apply liner to the bottom outer corners of your eyes to create symmetry.
6. Almond Eye shapes
If any of the following characteristics sound familiar, you may have almond eye shapes:
Like an almond, almond-shaped eyes have a narrower eyelids and are wider than they are round.
Between the tear duct and the outer eye, this eye form tapers to a point.
The top and bottom lids usually conceal the outside section of the cornea. There's also a visible crease.
Use a heavier liner on the bottom lash line to emphasize your contour.
Mila Kunis, Beyoncé, and Eva Longoria all have almond-shaped eyes.
Tips for almond-eye shapes makeup:
To enhance your almond shape, use a light color on the lid and a darker color on the outer half/crease of the eye.
"Apply eye shadow across the eyelids and eyeliner to the upper and lower lash line to create a smokey effect." Apply the same shadow you used on the lids to the lower lash line, just below the eyeliner. "Then apply mascara," Gafni said.
To emphasize your shape, Linter recommends using heavier eyeliner on the lower lid.
Other Eye shapes include:
7. Protruding Eye Shapes
The eyeballs of a person with protruding eyes appear to bulge outward from the eye socket.
8. Close Set Eye shapes
The distance between your eyes is smaller than one eyeball width. "It's as simple as putting light eye shadows in the inner corners to create the sense of more space," Jeffrey explains. Try an icy white or a gleaming nude.
9. Wide Set eye shapes
Wide-set eyes are separated by more than one eyeball width. "Rim your top and bottom lash line with a black liner as close to the inner tear duct as possible," adds Jeffrey, to draw your eyes closer together. Swipe your small lashes from mid-eye to nose with a mascara comb.
10. Deep-set Eye Shapes
Deep-set eyes are larger and placed further into the skull, giving the appearance of a higher brow bone. Jeffrey recommends dusting a beige or warm metallic hue on the lid (think peach!) and highlighting under your arches with an illuminating crayon to lighten up the natural shadowing. Because the ends of your lashes are likely to brush against your lids, use waterproof mascara to avoid smudges.
General tips for every Eye shape
There are some makeup tips that will flatter any lid outline, regardless of your eye shape. If you will call them the dogmas of eye makeup. Here's what Compton has to say about it:
"Keep in mind that light eyeshadow shades brighten and bring forward a region, whilst dark eyeshadow tones define and recede an area," she advises. It's important to remember this if you're aiming to define (like round eyes) rather than enlarge the area (like hooded eyes).
Tightline your waterline with a nude eyeliner to open up the eyes. It will make any eye shape appear larger and brighter, according to Compton.
"For huge doe eyes, curl your lashes before adding mascara," she advises. Especially for downturned eyes, because lashes that aren't properly curled tend to droop.
Why do we have different eye shapes?
The anatomy of the face determines the shape of the eyes. The framework that appears to give structure to our eyes is made up of tissue, muscle, and bone in the skull, eyebrows, and eyelids. Almost all human eyeballs, on the other hand, have a similar shape. There are many interesting facts about eye forms, as well as a few intriguing questions.
Your eyes may be described as upturned, downturned, or almond-shaped by a cosmetic artist. A specialist in eye anatomy might point out that practically all individuals have a globe that isn't exactly round in their eyes.
To solve the eye shapes conundrum, consider the following two questions: why is the eye shape significant, and how do eye shapes affect our vision? The answers are divided into two categories: appearance and anatomy.
Knowing the different eye shapes can help you apply makeup strategically to enhance your eyes' inherent beauty. Anatomy, on the other hand, is less obvious: Nearsightedness or farsightedness is determined by small changes in the shape of the eyeball.
Let's have a look at some of the responses to eye shapes queries.
Choosing The Right Eye Shadow Color
When it comes to choosing eye makeup colors, there are two things to keep in mind. We already discussed color theory, warm/cool tones, and complementary colors.
When it comes to choosing eyeshadows, these two factors must be taken into account.
Colors can be chosen from the following list:
Depending on your skin tone: Keep cool tones for the eyes if the skin is cool: green, blue, cool brown, grey, silver. Choose warm tones if your complexion is warm: bronze, gold, peach, red, orange, yellow…
Eyes should be painted in complementing colors, such as orange/bronze for blue eyes.
This is merely a guide; the colors you use for your eye makeup will be based on your imagination and how you feel about your client.
Brown eyes go well with a variety of colors. Blue, purple, and green eyeshadow can be applied to enhance the color. If you have a warm complexion, use warm brown and bronze tones to compliment it; if you have a chilly complexion, use grey, black, silver shades.
Complementary colors such as bronze, brown, gold, and orange will be used to enhance blue eyes.
Warm or cold neutral tones can also be employed, depending on the complexion.
Green eyes should be brightened with a burgundy or purple tint. Gold and bronze will also bring out the green in your eyes.
How to determine your eye shapes is as follows:
1. Look for a mirror
To get the finest perspective, place a mirror at eye level and then take a step back. "Always look forward with your eyes open to identify eye shapes," Renee advises.
2. Look for a visible crease
Examine the top of your upper eyelid. "This eye shape is often considered monolid if there is no wrinkle at all," Renee notes. A hooded eye, on the other hand, is defined as "a crease that covers all or the majority of the lid."
3. Draw an invisible line straight across your eye
Try this approach if you don't have hooded or monolid eyes. Renee suggests drawing a straight line across the eyes with the pupil in the middle.
You have upturned eyes if the corners of your eyes go above the line. Your eyes are downturned if they're below the line.
Conclusion
There are several eye forms to choose from, and you may have one or a combination of two. For example, you might have hooded eyes that are also downturned. It's vital to remember that everyone's eyes are attractive, regardless of their shape. Experimenting with different cosmetic tactics and techniques should be enjoyable and pleasant, as it will help you learn more about how to best showcase your unique eye shapes. When you're in the mood to experiment with your eye makeup, there's no limit to what you can come up with. Feel free to get as creative as you like, whether you prefer bright hues or more natural-inspired styles.
Apart from this, you can also read Entertainment, Tech, and Health related articles here: M4uHD, Fever Dream, Moon water, Oppo Reno 6 Pro Review, iPhone Headphones, Best gaming desks, TheWiSpy Review, Spanish Movies, hip dips,  M4ufree, Xiaomi Mi 11 Ultra Review, Pulse Oximeter, Google Pixel 5a Review, NBA Stream XYZ, CCleaner Browser review, Avocado Calories, Bear Grylls net worth, Rihanna net worth 2021, Dry white wine, Highest Paid CEO, The 100 season 8, Sundar Pichai net worth, Legacies Season 2, Grimes net worth, Oscar Isaac height, Konosub season 3, Good Omens season 2, F95Zone, how to change MSI keyboard color, Microsoft Office Suite, how to block subreddits, How to Share Netflix Account, how to change Twitch name, The Last Airbender 2, Sherlock Season 5, Homeland cast, Now you see me, Love Alarm season 2, Young Justice season 4, Shield Hero season 2, Salvation season 3, Jack Ryan season 3.