7 Secrets to Keep Your Tent Dry While Camping in the Rain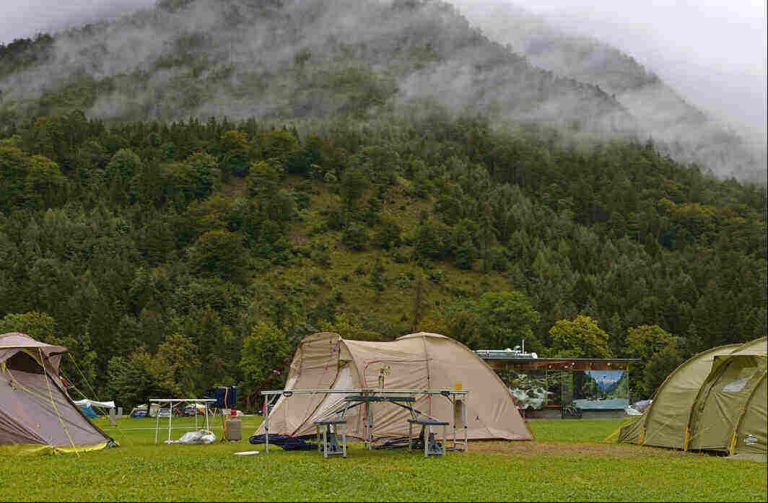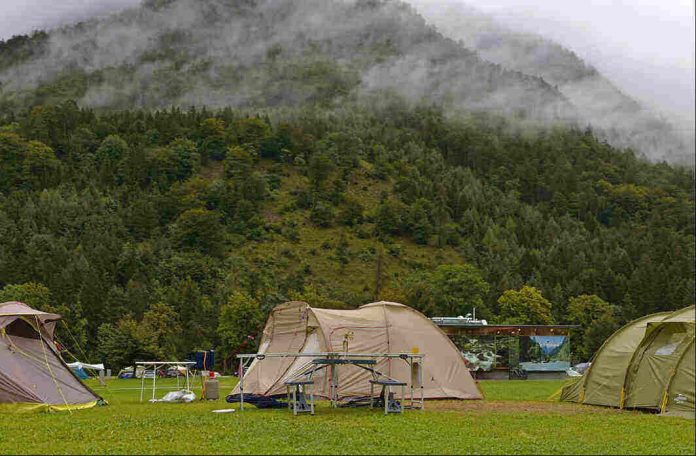 No one likes to get wet and soggy on a camping trip.
An experienced camper always keeps an eye on the skies and starts preparing to camp at the first hint of rain. Water, water, everywhere but not a dry spot in sight? Here are seven secrets to help you keep yourself safe and comfortable in such situations. Of course, tapping into the knowledge of local experts like Empire State Trail Rentals is always advised as well.
Pick the right spot
The first step, and probably the most impactful, is to identify a proper place to set up camp. There are a number of factors that you must keep in mind while selecting where to pitch your tent.
Choose a small clearing rather than a canopy to avoid the danger of being crushed by falling trees.
Choose space on higher ground where water is naturally running off towards lower ground.
Choose a patch slightly slanting downwards so that water does not pool in and around your tent.
Choosing the right spot to pitch a slightly leaky tent would have better consequences than setting up a costly tent in an unfavorable area. Don't worry if you don't get it right the first time, this knowledge is gained only through experience. 
Groundsheet is essential
Once you've settled upon a place to set up your tent, start spreading your groundsheet on the area. A groundsheet is a piece of waterproof material that you can pitch your tent upon. It acts as a barrier between the tent bottom and the ground, ensuring that moisture does not seep into the tent from below.
You can also use a large portion of a tarpaulin sheet as a substitute for a groundsheet. Make sure that in either case, the sheet below the tent is a bit smaller than the tent itself. This is because any excess portion sticking out from the sides would collect water and flood the tent, hence defeating its own purpose.
Choose your tent well
In testing conditions like rain or wind, the quality of your equipment makes a huge difference. Investing a bit more money in your camping gear could later end up being the difference between a wonderful camping-in-the-rain experience and a washed-out disaster.
The most important aspect of surviving rainy weather during camps comes down to your choice of tents. Too flimsy, and it'll simply blow away. Thin walls would lead to water seepage, but the walls being too thick would suffocate you. If you're looking for the best tents to buy for different camping conditions, this guide might be exactly what you need.
Get a fire going
The word camping usually evokes an image of a cheerful campfire with people roasting marshmallows and faint sounds of someone strumming a guitar. In rainy weather, however, these campfires are more of a necessity than a luxury.
A fire during rain provides light, warmth, and comfort, and it is essential if you plan to cook. Get a bright fire going before it starts to rain as this helps the fire resist moisture better. Also, ensure that you have an ample supply of firewood stored in a dry corner.
Sometimes, it might be a good idea to pack a camping stove for your trip. In case your destination is notorious for sudden rainfall, a good quality stove removes the worry of your firewood getting sodden.
Try hammocks
An innovative idea to deal with annoying water all over the ground is by avoiding it altogether! By constructing hammocks, you can suspend all your equipment above the ground, saving you the hassle of setting up a dry tent. Use a sheet of tarpaulin as a makeshift roof and you're all set to go: even if the ground is covered with water, you will wake up dry.
One major drawback of hammocks, however, is their reliability. While it is easy to set up, the anchor poles or trees have to hold up a substantial weight. In case they collapse, the whole experiment gets completely ruined, so that is one thing to keep in the back of your mind.
Use tarps
You might have noticed that tarp sheets have been mentioned multiple times so far. This is because the versatile tarpaulin sheets are an essential camping staple, especially in bad weather. During rains, they can be used in a variety of ways to avoid getting wet.
Erect a make-shift roof on top of your tent to serve as protection against the rain. Remember to slant it slightly so that the waterfalls off beyond the tent, keeping it safe.
As mentioned earlier, large pieces of tarps can also double up as a groundsheet when required.
Cover more important and electronic equipment with a tarp to keep them extra-safe against any water seepages.
Set up tarp shelters close to your campfire, this provides space to store firewood and a warm spot for you to relax.
It's always advisable to pack a few extra sheets of tarpaulin sheets for camping trips, as you never know when you might need them.
Vent your tent
Not many think of checking a tent's ventilation during rains, but it makes a world of difference when done properly. Our breath contains small amounts of vapor, which condenses inside the tent if there is no route for it to escape. This results in moisture collecting inside the tent, which is not desirable.
To avoid this, look for tents that come with small flaps for windows or open a small portion of the tent at the top. This helps the moisture to evaporate and frees up air circulation.
Hopefully, these tips help you make your camping trip more enjoyable, if you are planning a trip and you want more information to be prepared for it, take a look at this article from Proper Good.
Author Bio
Res Marty is an experienced hiker and camper based in Switzerland. With his substantial knowledge of the subject, Res posts product reviews and valuable information about camping products on his blog, ResMarty.com. His goal is to help amateur campers plan on what to expect and what to avoid on their adventures.
Apart from this, you can also read entertainment and Tech articles here: best gaming desks, TheWiSpy Review, Spanish Movies, hip dips,  M4ufree, Xiaomi Mi 11 Ultra Review, Pulse Oximeter, Google Pixel 5a Review, NBA Stream XYZ, CCleaner Browser review, Avocado Calories, Bear Grylls net worth, Rihanna net worth 2021, Dry white wine, Highest Paid CEO, The 100 season 8, Sundar Pichai net worth, Legacies Season 2, Grimes net worth, Oscar Isaac height, Arnab Goswami Salary, Bhushan Kumar net worth, Prabhas wife name, Konosub season 3, Good Omens season 2, F95Zone, how to change MSI keyboard color, Microsoft Office Suite, how to block subreddits, How to Share Netflix Account, how to change Twitch name, The Last Airbender 2, Sherlock Season 5, Homeland cast, Now you see me, Love Alarm season 2, Young Justice season 4, Shield Hero season 2, Salvation season 3, the feed season 2, Taboo season 2, Jack Ryan season 3. 
Subscribe to Our Latest Newsletter
To Read Our Exclusive Content, Sign up Now.
$5/Monthly, $50/Yearly