How to Boil Chicken – Tips and A Proper Guide
Find out how to boil chicken breasts to get meat that is always tender, moist, and full of flavor. Get our tips on how to quickly add flavor to boneless, skinless chicken breasts that you are boiling to shred for recipes or serve as is.
If you want to cook chicken breasts in a way that makes them juicy and tender, try this recipe for boiled chicken. With this easy method, you won't end up with dry, tough, and chewy chicken breasts.
Over the years, we've tried many different ways to cook chicken breasts to find the best way. By far, boiling chicken is one of our favorites. No one ever complains about dry chicken, and whether it's served plain or shredded, everyone loves recipes made with it. If we aren't cooking frozen chicken breasts in the instant pot, then we are boiling chicken. Let's find the way how to boil Chicken.
How to Boil Chicken?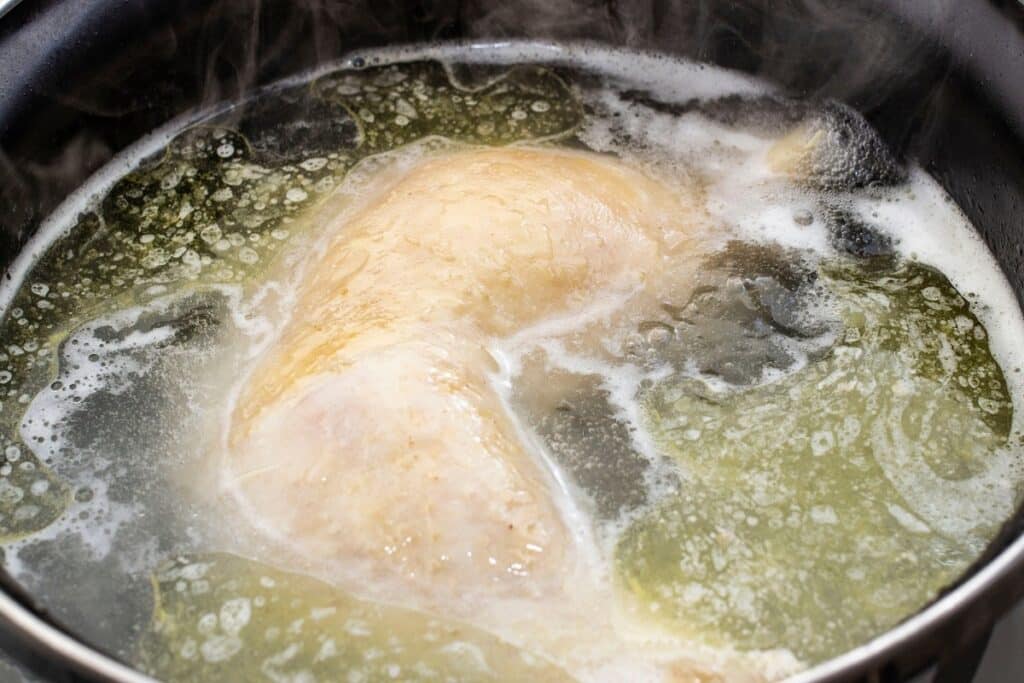 If you've ever needed a rotisserie chicken but didn't have one, knowing how to boil chicken will come to your rescue. If you don't have time (or the energy) to run to the store, boiling chicken is the best way to get tender, juicy, easy-to-shred chicken. You can dress it up however you want. It's great for pulled chicken sandwiches or chicken salad sandwiches, which are my favorite.
As the name suggests, it doesn't have to be bland or boring. Also, boiling takes less time and effort than cooking in a pan. It's as simple as bringing a pot of water to a boil, and if done right, boiling can make a piece of chicken perfectly tender. Few steps for how to boil chicken:
1. Pick your liquid
You could boil your chicken in water, but that doesn't sound very exciting, does it? Boiling chicken in chicken broth is a quick way to make it taste better.
2. Season it
Put your chicken breasts in a large pot with a tight-fitting lid and add enough liquid to cover the chicken. Make sure you add salt and pepper to your liquid well. This is very important. It's pretty much the same as boiling a pot of pasta. You can also put in carrots, onions, or fresh herbs if you have them. All of the flavors will come from what you put in the pot, so the more you put in, the better.
3. Bring it to a boil
When you're done adding flavors, bring the water to a boil. Cover the pot and turn down the heat just a little so it stays at a fast simmer. Depending on how big your chicken breasts are, you should let them simmer for 10 minutes. After 10 minutes, take out one of the pieces and check. The temperature inside should be 165°. Check on them every 5 minutes to see if they need more time. Don't let them cook too long or they will get tough.
4. Shred it up
Let the chicken rest for about 10 minutes after you take it out of the pot. This will keep some of the moisture in so they don't dry out and make them cool enough to shred. You can shred or slice your chicken with two forks.
How Long to Boil Chicken?
Thinner chicken breast cutlets take around 8 minutes to cook.
Larger chicken breasts may require up to 15 minutes to cook.
It will take about 20 minutes to cook large bone-in chicken breasts.
Check the internal temperature of the chicken with a thermometer (it should be 165°F) or slice into it toward the end of cooking to ensure it's cooked through, and continue to cook until it's done.
Cooked Chicken that is moist and tender
This chicken recipe is ideal if you want silky, delicate chicken without much fuss or ceremony. The chicken cooks slowly, keeping far more moisture than other techniques. Adding herbs and other seasonings to the poaching liquid helps season the chicken while it cooks, and the result is a wonderful broth!
Ways to Use Boiled Chicken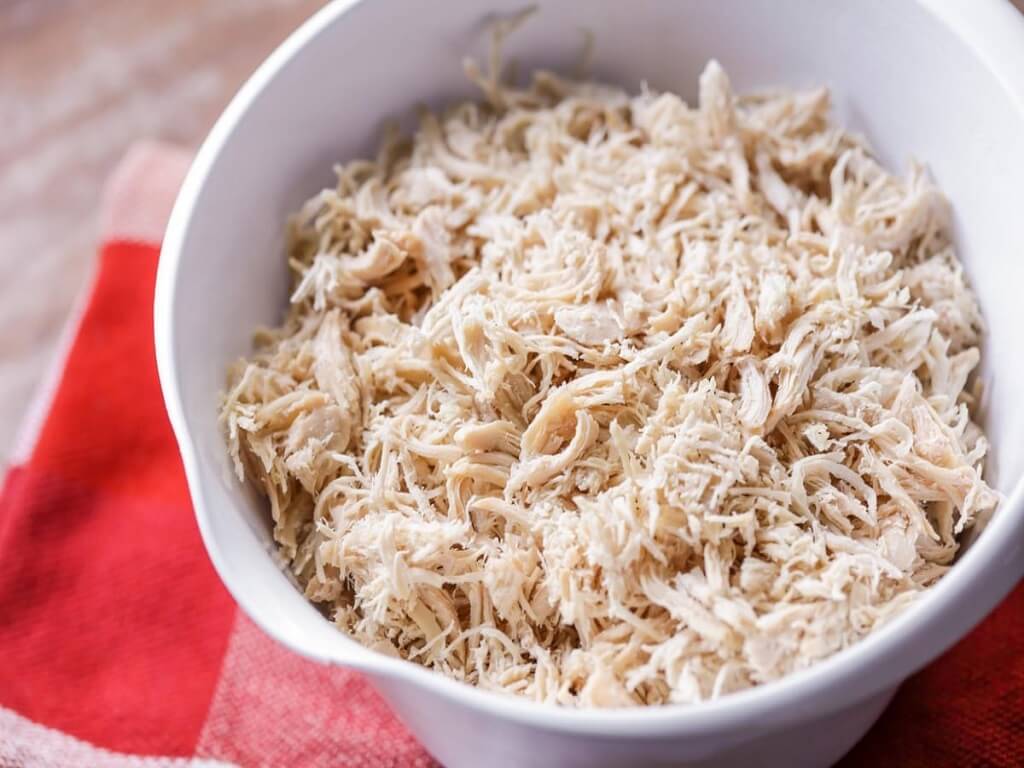 Try one of these top-rated recipes with your boiled chicken.
1. Chicken Biscuit Pie
"This recipe is fantastic! It's an excellent way to utilize leftover chicken… Fast, simple, and pleasant, with ingredients most people have on hand, "CARMICHAEL, a reviewer, states
2. Quick and Easy Chicken Noodle Soup
"When you don't have time to make your soup completely from scratch, this is a really easy, very tasty substitute," says recipe developer MARVM.
3. Baked Chicken and Rice Chimichangas
"Delish! I made no changes, save that I boiled my own shredded chicken, which added a little extra zing "says, the catamaran reviewer
4. Holiday Chicken Salad
"This is something I've done twice now. It's good the day it's made, but it's much better the next day or two. Allow the flavors to mingle together. Delicious on a croissant sandwich "LADYLAVENDER, a reviewer, writes
Boiled Chicken vs. Poached Chicken: What's the Difference?
In this scenario, the term "cooked" is a bit misleading. You are not completely boiling the chicken (this would result in tough, dry chicken!). You merely boil it to bring the liquid up to temperature before finishing it in the simmering liquid.
This approach is known technically as "poaching," which simply involves cooking materials in a small amount of liquid.
All of this is to suggest that there is no discernible difference between boiling and poached chicken in this recipe.
Tips For Success
Here are a few tips for how to boil chicken properly. Let's check it out.
Boiling liquids can be water, broth, apple cider vinegar, dry white wine, or beer.
Cooking time will vary based on the amount and size of chicken breasts in the skillet.
To add flavor, add vegetables to the skillet while it is boiling. This is a great way to use up any leftover vegetables (celery, carrots, onions) in the fridge.
Change the spices to suit your taste. One of the various seasoning combinations is peppercorns and parsley.
Before adding the garlic to the skillet, mash it up. This allows the garlic oils to seep into the liquid, adding even more flavor to the chicken.
Allow the chicken to rest for 8-10 minutes before shredding to help keep it moist. Discover How To Shred Chicken In A KitchenAid.
For a faster cooking time, use boneless, skinless chicken breasts instead of bone-in.
How to Store Boiled Chicken?
Cook the chicken ahead of time and keep it in the fridge or freezer for usage during the week. It's the ideal method to save time and effort on hectic weeknights. Allow the chicken to cool before transferring it to an airtight storage container and storing it in the fridge for up to three days or freezing it for up to three months. That's all there is to it!
Additional Notes on How to Boil Chicken
After heating the breast, you may either discard the broth or strain it to remove any froth or herb leaves before using it to cook your preferred grain.
If you're using bone-in skin-on breast, cook it for a few minutes longer.
The size of your chicken breast will determine how long it takes to cook.
Frequently Asked Questions(FAQs) about How to Boil Chicken
How long does to boil chicken breast?
The entire time will be determined by the number of chicken breasts in the skillet. It takes about 12 minutes to cook four chicken breasts. We recommend increasing the cooking time by 5-7 minutes for each additional chicken breast.
How long to boil frozen chicken breast?
If using frozen chicken breasts, increase the cooking time by 8-10 minutes. It will take about 20-22 minutes to cook four frozen chicken breasts. Insert a meat thermometer into the thickest part of frozen chicken breasts to ensure done boiling – the internal temperature should reach 165°F.
How long to boil boneless chicken breast?
Cooking time for boneless chicken breasts is half that of bone-in chicken breasts. Set a timer for 12 minutes for boneless chicken breasts, then check with a meat thermometer. When the internal temperature hits 165°F, the boiling process is complete.
How long does it take to boil chicken?
Bring the pot to a boil, covered. Reduce the heat to a low boil. Cook for 90 minutes for a full chicken. Cook for 15 minutes, or until no longer pink, for boneless chicken breasts.
How long does it take to boil chicken breast?
Cook boneless chicken breasts for 12-15 minutes and bone-in chicken breasts for 25-30 minutes, or until an internal temperature of 165°F is reached.
When you boil chicken do you boil the water first?
The bird should be thoroughly submerged in water. Bring to a boil, then reduce to low heat. Cook for 12 minutes, or until the internal temperature of the chicken reaches 165°F.
How do you tell if a boiled chicken is done?
This procedure is only applicable to chickens. If you cut into the perfectly cooked chicken and the juices stream clear, the chicken is thoroughly cooked. If the liquids are crimson or pinkish, the chicken may need to be cooked for a little longer.
Is it healthy to boil chicken?
Boiled chicken, whether in soup or on its own, is beneficial to the sick because it includes cysteine, which helps thin mucus in the lungs, making it easier to breathe. Boiling food, like grilled food, typically requires less fat and butter than other cooking methods.
Can you boil chicken too long?
As a result, you get hard, rubbery egg curds surrounded by the milky liquid that was formerly contained within the proteins. The same is true for chicken… If it is boiled or cooked too quickly or for too long, the proteins contract tightly and squeeze out the moisture.
Can I boil frozen chicken?
FACT: Frozen chicken can be cooked. It will take roughly half as long as thawed chicken and you must utilize a quick-cooking method. According to the USDA (under the Safe Defrosting banner), cooking it in the oven or on the stove is fine, so boil and simmer away!
Apart from this, if you are interested, you can also read Entertainment, Numerology, Tech, and Health-related articles here: How to Soften Brown Sugar, How to Start Jump a car, XXXX Dry Review, Highest Grossing Indian Movies of all Time, Highest Grossing Movies of All Time, Rush Limbaugh net worth, Gotham Season 7, Parag Agrawal Net Worth, Tara Reid Net Worth, Blonde Trailer,  Fastest VPN for PC, WPC18, Highest Paid CEO in India 2022, Highest paid athletes 2022, My5 TV Activate, Kissmanga, WPC16, Highest Paid CEO 2022, Grey's Anatomy Season 19, WPC15, Alexa.com Alternatives, 
The Resident Season 6, Kraven The Hunter, One Punch Man season 3, The Resident Season 5, Yellowstone season 5, Ozark season 4 part 2, How to Remove Bookmarks on Mac, Outer Banks Season 4, How to block a website on Chrome, How to watch NFL games for free, DesireMovies, How to watch NFL games without cable, How to unlock iPhone, How to cancel ESPN+, How to turn on Bluetooth on Windows 10, Outer Banks Season 3, 
6streams, 4Anime, Moviesflix, 123MKV, MasterAnime, Buffstreams, GoMovies, VIPLeague, How to Play Music in Discord, Vampires Diaries Season 9, Homeland Season 9, Brent Rivera Net Worth, PDFDrive, SmallPDF, Knightfall Season 3, Crackstream, Kung Fu Panda 4, 1616 Angel Number, 333 Angel Number, 
666 Angel Number, 777 Angel Number, 444 angel number, Bruno Mars net worth, KissAnime, Jim Carrey net worth, Bollyshare, Afdah, Prabhas Wife Name, Project Free TV, Kissasian, Mangago, Kickassanime, Moviezwap, Jio Rockers, Dramacool, M4uHD, Hip Dips, M4ufree, Fiverr English Test Answers, NBAstreamsXYZ, Highest Paid CEO, The 100 season 8, and F95Zone. 
Thanks for your time. Keep reading!
Subscribe to Our Latest Newsletter
To Read Our Exclusive Content, Sign up Now.
$5/Monthly, $50/Yearly