Top 20 Effective Tips for Hooded Eye Makeup in 2023
While every eye shape is beautiful, from almond to downturned. They each have unique requirements for achieving diverse hooded eye makeup looks. Certain looks, like smokey eyes and winged eyeliner, might be especially challenging to master if you have hooded eyes. And, while there are many attractive eye makeup styles, not all of them will enhance your hooded eyelids. However, if you're ready to learn how to do hooded eye makeup, we've got you covered! Continue reading to find out how to apply everything from eyeliner to eyeshadow to hooded lids.
If you choose to use hooded eye makeup, you are almost probably doing so to enhance your appearance and raise your confidence. And why should you not? With that drive in mind, you'll want to employ all of the best beauty and grooming strategies to look and feel your best. But, in order to do so, you must first understand your eye shape so that you can apply makeup suggestions that are unique to you. Today we're going to talk about cosmetic techniques for people who have hooded eyes.
We're going to look at hooded eye makeup in today's guide. Experts provide their tried-and-true tips for enhancing this eye shape in the section below.
What are Hooded Eyes?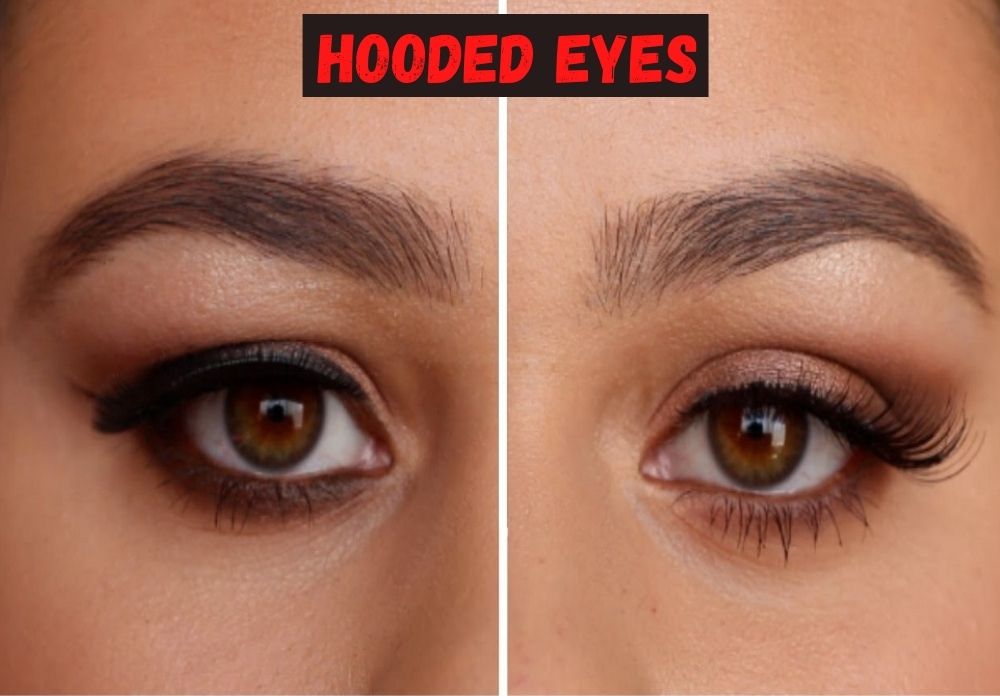 As we age, our eyes might get hooded, which occurs when the skin of our brow becomes heavy and droops over our eyelids, partially or completely obscuring our eyelids. This side-by-side comparison of myself when I was 17 and then again when I was 50 reveals what happens in excruciating detail.
As you can see, my eyes were always hooded, with very little of my eyelids showing. But, as I've become older, the excess skin on my brow has sagged and drooped, as it has on so many other portions of my body. Crepey eyelids can form as we age, making it difficult to apply hooded eye makeup evenly. We can't go back in time, but we can update our eye makeup procedures to complement our characteristics as they are now.
How to Tell if You Have Hooded Eyes?
Hooded eyes have an additional layer of skin that droops over your eyelid crease, making it appear smaller. Examine your eye crease to see whether you have hooded eyes. Is the crease of your eyelid visible or hidden when you have your eyes wide open? You have a hooded eye shape if it's hidden.
Jennifer Lawrence, Taylor Swift, Blake Lively, and Cate Blanchett are among the actresses that have hooded eyes. Makeup is tough for hooded eyes because if you don't know how to apply it correctly, it disappears after approximately an hour. Does this sound familiar? Don't be concerned. We've got exactly what you need for hooded eye makeup.
Essential Tools and Products for Hooded Eye Makeup
Hooded Eye Makeup experts recommend keeping these beauty items on hand when applying eye shadow to hooded eyes to get a smudge-free, beautiful effect.
Concealer: Applying a little coating of concealer under your eyes can help them stand out. To mask dark circles, apply concealer under and around the inner corners of the eyes.
Eyelash curler: The key to applying hooded eye makeup is to make the eyes appear larger. Before applying mascara, use an eyelash curler to raise the lashes upward.
Liquid eyeliner: Liquid eyeliner is more long-lasting than a pencil liner. When applying eyeliner to hooded eyes, start with the upper lash line and close your eyes for a few minutes to let the liner dry. This keeps the liner from spreading onto your lid from the hood of your eye.
Matte eye shadow: While shimmering colors reflect light and make the brow bone appear larger, matte eye shadow palettes have the reverse effect. Use matte eye shadows to hide your brow bone and enhance the illusion of hooded eyes.
Primer: A creamy hooded eye makeup product designed to absorb excess moisture and keep makeup from creasing is eye primer. Gently dab the eye shadow primer around the skin around your eyes, allowing the product to set before adding further beauty products.
Waterproof mascara: Mascara on your top lashes can smudge onto the skin around your hooded eyes, so use a waterproof mascara to keep the color from smearing onto your skin.
How to Apply Eyeshadow to Hooded Eyes?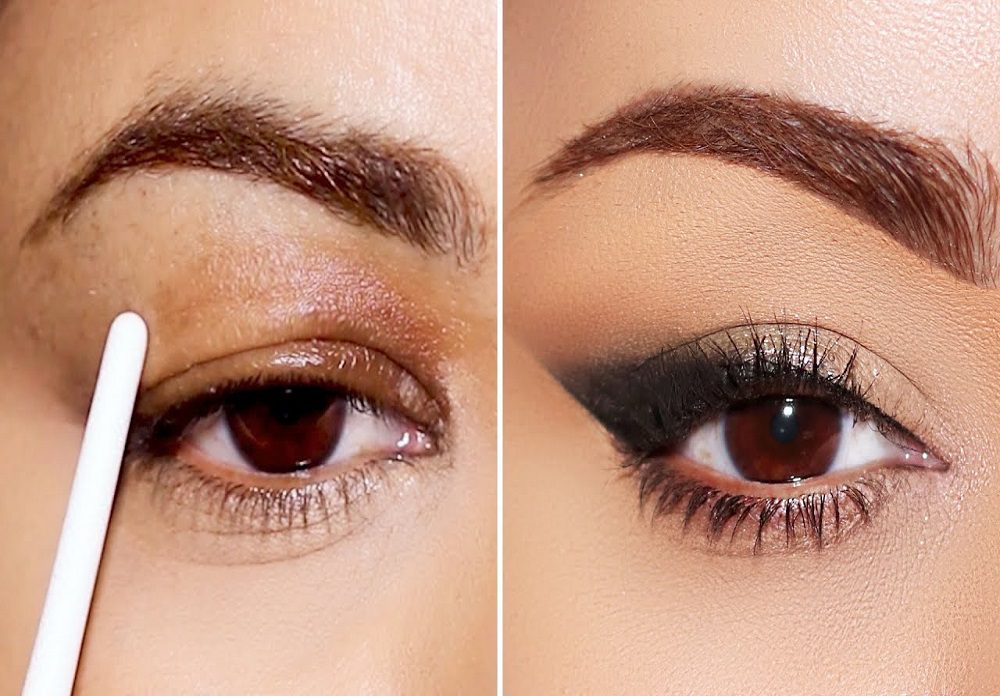 If there's one thing we can all agree on in the beauty community (apart from our extreme passion for cosmetics), it's how difficult it can be to apply hooded eye makeup for your specific eye shape, especially hooded eyes! Some of us have them, so we understand how stressful it is to create a lovely makeup look just to have it disappear as soon as you gaze straight ahead (*eye roll*). The days of battling are over because these eye-poppin' makeup tips for hooded eyes will make applying any look to those stunning eyes a breeze!
Eye shadow can become concealed beneath hooded eyes, making it difficult to achieve a long-lasting hooded eye makeup look. In addition to creating an excellent eye shadow look for hooded eyes, use the cosmetic techniques and tricks in this step-by-step tutorial.
1. Use eye shadow primer
The primer keeps your eye shadow in place and prevents it from creasing. Use your fingertips or a cosmetic brush to apply eye primer.
2. Apply eye shadow with your eyes open
As you apply hooded eye makeup, look directly into the mirror, keeping your eyes straight and open. When you have your eyes open, it's easier to find your natural crease, which serves as a guide for applying eye shadow. Applying makeup with your eyes open also eliminates smearing beneath the hooded lid.
3. Create your own crease
Draw a faint line over your natural crease with your transition eye makeup shade, a shadow that is similar to your skin tone and aids in the blending of two eye shadow hues. Using this line as your crease gives the illusion of greater lid space by adding depth to your eye area.
4. Use light and dark colors for depth
Layering dark eye shadow on your center lid can make your eyes look heavy and droopy. Use light shades on your center lids and dark shades on the outside corner of your eyes to enhance hooded eyelids. Create a cut crease by using lighter hues on the eyelid and darker shades along the crease for a more dramatic eye effect.
5. Blend upward and outward
Blend your eye shadow up toward your brow bone and out past the ends of your eyes to make your eyes appear elevated.
6. Highlight part of your brow bone 
Highlighting your entire brow bone may be too much for hooded eye makeup. Instead, highlight the arch of your brow bone to create a subtle glow that will lift your eyelids.
7. Use eye shadow as eyeliner (optional)
Consider a winged shadow style akin to a cat-eye winged eyeliner effect for hooded eye makeup. To create a winged liner using eye shadow, brush the eye shadow across the bottom of the eyelid, tracing the upper lash line. Consider using shimmer eye makeup to trace the outer corners of your eyes for a gorgeous nighttime look. You can also use eye shadow to emphasize your eye shape by highlighting the lower lash line.
8. Finish the eye look 
Apply mascara to the top lash line. Adding mascara and lining your lower lash line (also known as tight lining) will offer even more depth to your smoky eye look, and it's a terrific way to finish it.
Eyeshadow and Eyeliner Tips for Hooded Eye Makeup:
Use a primer. "Because it can easily cause hooded eye makeup transfer over the lids, I highly recommend starting with an eyeshadow primer," explains McGoff.
Get in position. It's all about angles, as it usually is. "The idea is to lift your head and open your eyes. "Look straight ahead in a mirror with your eyes open and calm when doing your makeup," Renee adds.
Use the right tools. McGoff suggests creating your crease with a flat brush, inner corners with a pencil brush, and blending with a fluffy brush (how-tos are included below).
Say yes to shimmer. "Because of the way shimmery colors reflect light, they make things appear larger, so I prefer to use them under the brow bone, inside the corner of the eye, and on the portion of the lid that moves." "This will make the eyes pop," McGoff explains.
Swipe matte shadow first. According to McGoff, "matte colors are fantastic beneath the eyes and in the crease to add depth."
Give a lifted look. "With a hooded eye, the top lid is often longer than the bottom lash line," Renee notes. Blend a darker eyeshadow along the outer two-thirds of the lid and the outer lower lash line to help pull the eye forward.
Try tight lining. "I advocate a technique called tightening to make eyeliner more noticeable on the upper lash line of a hooded eye," Renee explains. "Apply a transfer-resistant eyeliner pencil to the roots of your lashes and upper waterline to create a tight line."
Smudge your eyeliner (intentionally). "Smudge and diffuse the liner with a pencil brush to create a cohesive soft line across the lid." This approach will not only make your eyes appear larger and more lifted, but it will also make your lashes appear thicker," Renee adds.
Keep the lines thin. Unless you're trying for a really specific look, a well-defined and lash-hugging line is essential. "A thicker line will make the eyes appear quite a little," adds McGoff.
Should You Wear Eyeliner with Hooded Eye Makeup?
For those of us with hooded lids, eyeliner can be difficult to apply. The traditional winged eyeliner design can end up taking up our entire eyelid, making our eyes appear even smaller.
Instead of using a winged liner, I like to emphasize my lash line with a flat brush dipped in a dark eyeshadow. Then I press the brush into my lashes, creating a sense of depth and making them appear thicker.
Here's how to score a smoky shadow look for hooded eyes:
Apply your shadow with your eyes open after you've applied your primer. It's the most effective method for truly "creating your crease." Your crease is where your eye folds are, so add shadow a little above that area to really highlight it. In this area, I like to use a darker matte shadow with a stiff blending brush to really define the eye.
Apply a subtle shimmer color to the lid with a flat brush. The flat brush will assist you in defining and cutting through the crease line, resulting in a "cut crease."
Apply the lightest color in your palette to the inner corner of your eye with a pencil brush.
Blending, blending, blending! Blend the colors together softly with a smooth, fluffy brush, leaving no hard lines behind. Blend upwards to give the appearance of wider eyes.
Make your winged liner with a liquid liner pen. Tightly draw the upper lash line with your black kohl pencil to create a darker and more full look. MAYBELLINE Eyestudio Lasting Drama Waterproof Gel Pencil in Sleek Onyx is a good option.
To create a smoky and dramatic effect, use your darkest shadow to draw about 13 under the eye with a flat brush. Use a highly luminous hue to connect the line to the inner eye. (My favorite brushes are made by MAC COSMETICS and MORPHE.) The size you choose is determined by your level of comfort and the size of your eyes.
Line the bottom of your eyelids inside the waterline with a nude or white liner to brighten the eyes.
Curl your lashes and apply a couple of coats of mascara to achieve the desired amount of intensity.
Finally, don't forget about your brows!! With hooded eye makeup, they stand out even more. Keep them trimmed and fill in the blanks as needed. Make brows appear more arched by increasing the highlighter underneath or tracing and shaping brows with a light concealer. I usually apply my brows last so that I can determine how dramatic to make them dependent on the level of drama in my eyeshadow look.
Magic Hacks For Hooded Eye Makeup

 
Everyone's facial features are distinct, which is what makes us all so lovely! Hooded eyes, which refer to excess skin above the lash line and under the brow bone that folds over the crease, can sometimes create the illusion of smaller-looking eyelids, and if you have hooded eyes, you may have found it difficult to achieve that sparkling, wide-eyed, brighter-looking gaze that everyone wants!
You can, however, enhance your lovely eye shape and make it POP with Charlotte's miraculous cosmetic tricks! Watch a stunning video lesson from the past with Team Tilbury Artist Rasheena as she discusses her hooded eye makeup tricks!
Conclusion
This list is a terrific place to start if you're curious about how makeup professionals enhance a hooded eye shape. At the end of the day, you can wear any face beat you want (the outcome will look stunning on everybody, regardless of eye shape), but emphasizing your own lid structure can help make the look your own.
Frequently Asked Questions About Hooded Eye Makeup
What Are Hooded Eyes?
Hooded eyes (also known as heavy-lidded eyes) have a little extra skin on the top of the eyelid, which folds down from the brown to the lashline, partially or completely covering the lower eyelid. This can make applying makeup to hooded eyelids more difficult. Hooded eyes may also appear smaller visually.
How to Tell if You Have Hooded Eyes?
Have you got hooded eyes? Hold a mirror in front of your face and lift your brows to see if you have hooded eyes. If the skin on your eyelids is smooth and free of wrinkles or folds, you do not have hooded eyes. If instead of elevated brows, you have extra skin covering part or all of your eyelids when you gaze in the mirror, you have hooded eyes.
Is Hooded Eye Makeup the Same as Droopy Eyes?
Droopy eyes are not the same as hooded eyes. Hooded eyes are a common eye form that many people, regardless of age, have. Beautiful women with hooded eyes include Blake Lively, Emma Stone, and Jennifer Lawrence. However, if your hooded eyes are caused by age, they are caused by drooping skin, which can make your eyes appear droopy and sad. (I know, gravity, yuck.)
What Race Has Hooded Eyes?
While hooded eyes are more common among Asian people, they can be found in people of any color. Different ethnicities cause hooded eyes to appear differently on each individual, and all of them can be enticing!
Is Hooded Eye Makeup Attractive?

 
Certainly, yeah. Hooded eyes may be more difficult to enhance, but when done correctly, they can look enigmatic, sensual, and sexual, just like any other eye shape. And did you know that Priyanka Chopra, the stunning Miss World 2000, also has hooded eyes? It had no effect on her ability to win the crown!
Do Hooded Eyes Get Worse With Age?
Our skin loses tone and flexibility as we age, and our eyelid skin is no exception. This is why it is critical to use the best anti-aging skincare on and around hooded eyes. It is critical to utilize high-quality serums and creams that are both effective and gentle enough to be used on sensitive and delicate eye skin.
The sooner you begin anti-aging treatment for hooded eyes, the longer you will be able to keep them appearing young and fresh. And there's an added bonus! Better eyelid care can assist in gently raising the skin around your hooded eyes, making them appear more open. It is never too early to start using anti-aging skincare.
Is it harder to do with hooded eye makeup?
Why? Because your eyes may appear smaller, you should go for a softer style. Because of their peculiar shape, thick or sharp graphic lines are difficult to get correct on hooded eyes. By applying liner first, you can get a more delicate appearance while still providing the definition.
What eyebrow shape is best for Hooded Eye Makeup?
2. Make your brows straight and flat. Hooded eyes will appear more open with a straight and flat brow facing downwards.
Can you get rid of Hooded Eye Makeup?
Is it possible to treat hooded eyelids? Hooded eyelids, which occur when excess skin sags and folds down from below the brow bone, can be repaired surgically through a technique called blepharoplasty. Excess skin and fat are removed, and the muscles and tissue of the eyelids are tightened.
Apart from this, if you are interested, you can also read Entertainment, Numerology, Tech, and Health-related articles here: Lovers Tarot Card, Moon Tarot Card, Death Tarot Card, Fastest VPN for PC, WPC18, Highest Paid CEO in India 2022, Highest paid athletes 2022, My5 TV Activate, Kissmanga, WPC16, Highest Paid CEO 2022, Grey's Anatomy Season 19, WPC15, Alexa.com Alternatives, The Resident Season 6, Kraven The Hunter, One Punch Man season 3, The Resident Season 5, Yellowstone season 5, Ozark season 4 part 2, Outer Banks Season 4, DesireMovies, Outer Banks Season 3, 
6streams, 4Anime, Moviesflix, 123MKV, MasterAnime, Buffstreams, GoMovies, VIPLeague, How to Play Music in Discord, Vampires Diaries Season 9, Homeland Season 9, Brent Rivera Net Worth, PDFDrive, SmallPDF, Knightfall Season 3, Crackstream, Kung Fu Panda 4, 1616 Angel Number, 333 Angel Number, 666 Angel Number, 777 Angel Number, 444 angel number, Bruno Mars net worth, KissAnime, Bollyshare, Afdah, Prabhas Wife Name, Project Free TV, Kissasian, Mangago, Kickassanime, Moviezwap, Jio Rockers, Dramacool, M4uHD, Hip Dips, M4ufree, Fiverr English Test Answers, NBAstreamsXYZ, Highest Paid CEO, The 100 season 8, and F95Zone. 
Thanks for your time. Keep reading!
Subscribe to Our Latest Newsletter
To Read Our Exclusive Content, Sign up Now.
$5/Monthly, $50/Yearly