Steps to Consider before Becoming a Lash Artist
If you're familiar with eyelash extensions, then you're surely familiar with lash artists. And who knows, maybe you might be someone who's vocally (or secretly) interested in becoming a lash artist too, that's why you've found yourself reading this content. 
But before you read on about How to become a lash artist, let's first identify what lash artists are. 
What is a lash artist? What do lash artists do?
Last artists are the ladies (and sometimes, gents) who are qualified, certified, and/or licensed to apply eyelash extensions on one's natural lashes. These eyelash extension specialists are also called lash technicians. They are the experts who artistically and creatively design or map, and apply eyelash extensions on their client's natural lashes. They give guidelines on how to maintain and care for an eyelash extension set, and professionally care and cater their clients' eyelashes, both natural and synthetic extensions. 
In pursuing a lash career…
In pursuing a lash career, you first need to ask yourself "How long do I plan on working here?". Is it only for a moment or would it be something long term? Will you do it part time or full-time? Either way, you need to give it your all. 
If you want to pursue this career, you need to be passionate, fully committed, and teachable. 
You're going to need a lot of patience because there are instances that you will be encountering struggles. There could be days when your lashes won't attach, when isolation is a struggle, or  when your temperature and humidity won't cooperate. Or days when your back will dramatically hurt, or your hands will shake, or it will take hours long to complete a set. There too can come days when the products you use, such as glues, are out of stock or product shipment gets delayed, or when some clients will take a toll on you. 
On such days, your dreams, commitment, and resilience are your loyal companions.  Don't be pressured nor discouraged, you need to take heart! When you start lashing at a dozen people, you'll realize that each and every day you will get better at it, you'll get a hang of it and every hurdle is just a piece of cake… or piece of lash. Always keep in mind that quality is much more important than speed, and that you'll get there eventually. 
So now, without further ado, let's get down to business. Following are the steps on how to become a lash artist.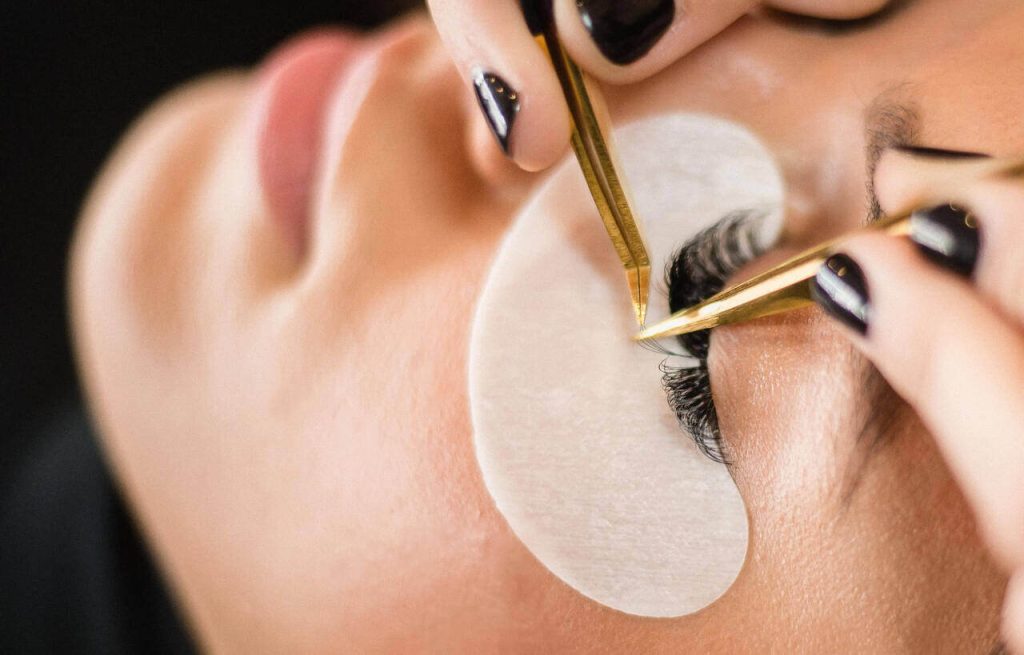 Steps on How to become a lash artist/lash technician:

    First step is to plan ahead. 
    Are you going to do it as a part-time job for the time being or are you going to immediately jump into becoming a full-time lash artist? Will you do it mobile, home-based, or salon-based? Will you start as an employee for another lash salon or will you start independently with your own? 
If you're planning on starting independently, you need to prepare financially, of course. Will you be paying separate rent fees for your lash room or not? Will you be offering other beauty services or will you be exclusive with eyelash extensions?
    If you're planning on starting as an employee of another lash salon, do you have a timeline for how long you'll be staying there? Or will you just collate experience and money then start lashing independently? 
There are things you need to consider, and outcomes that you need to expect.
    Then, based on your answers, your plan must follow.
Know your State requirements
Depending on the state you're planning to work in as a lash artist, you need to undergo a lash training program or a lash certification course that will satisfy the state requirements to enable you to legally work as a lash artist. 
If you're in the United States of America, most states require an esthetician or cosmetology licensure before you can get licensed in eyelash extensions, but a few don't. So keep in touch with your State board for their requirements then comply. 
Compliance to State board requirements would be the best for you, this releases you from any legal issues that may arise. It is also needed for you to be properly licensed, and then be properly insured. Proper licensing results in proper insurance, and with proper insurance, you are saving your lash career and lash business from any future downfall that may occur. Eyelash extensions have risks that can be avoided, until they can't. You wouldn't want to lash unsecured, would you? 
Meanwhile, for other countries, a completion of a lash training program or lash certification is enough to legally become a lash artist. 
Choose and complete a lash training program or lash certification course
Lash training programs or lash certification courses are taken from beauty or lash academies and they come in packages depending on what the academy offers. For example, there is a training program or course for beginners- and for refreshers. Choose which will suffice your need of knowledge. During this time, you may be introduced to several eyelash extension glue or adhesives that your trainer or lash educator is currently using- keep in mind that it is best to consider which eyelash extension glue really suits your speed of application and environment conditions.
There are lash academies that require an esthetician or cosmetology license before you can enrol and get certified as a lash artist or if you're not yet a licensed esthetician or cosmetologist, you'll need to go through all the other esthetician/cosmetology courses before you can take an eyelash extension course. Best thing to do is check the State board for requirements, and then enrol to comply. 
When you're good to go and take lash courses, here's what to consider next. Courses, along with its certification, can be taken one at a time or all at once. For example, you can take a separate course on Classic Eyelash Extensions, Volume & Mega Volume Eyelash Extensions, or Hybrid Eyelash Extensions but you can also take a combination of the three courses in one package. 
Choose the course which you think will suit your context well. For example, if you're working another full time job while pursuing a lash career, it's advisable to start with one course at a time. Take a single course on Classic Eyelash Extensions first, once you're certified and taking in clients then take courses on other eyelash extension sets. 
These courses will teach you to be familiar with the anatomy of the eyes, and every needed detail that's lash related, from do's and don'ts to the lash health, lash capacity, and as well as the sensitive reactions that may occur. Inclusive of this, you will learn the different types of lashes, styles, sets, and the variety of eye shapes that would suit your clients well, and the tools you'll need, and a lot more. 
Once you're certified or licensed, you're good to go in taking in clients! Yaaay! The following steps will help you lash sets with great results!
Complete other legalities
Aside from your certification or license, there are other documents you need, such as business permits, to prepare for in order to continue with your business/lash career venture. Make sure to complete needed permits required by your state. 
Another thing is proper insurance, as dealing with the eyes is pretty much delicate and can come with risks, insurance is a good back up. Make sure that the insurance you'll be getting will have liability coverage that will fit your needs, protect you, your business, and even your clients.
    Lastly, prepare your consent forms and client liability waivers. There are available templates online that you may give a check, pick the best and even modify or add sections you think are necessary to benefit and protect you, your business from your clients. Being a lash artist also means dealing with different kinds of people, and a couple of them may take advantage of you, and for sure you wouldn't want to be deceived. Take two steps ahead and protect yourself with well written consent forms or client liability waivers. Insurance companies also require such forms. 
Entering the lash world means that you are going to need to invest a lot of time, that's why you'll need to schedule your time accordingly. 
Either full-time or part-time, make sure to give time for practicing, this is especially for beginners. Practice! Practice! Practice!
    You'd want to master your new learned skill, and the best way to do it is with well guided practice. Apply and practice what you've learned from your lash academy. Note down your observations. Try different trips or tricks, and find ways that will best work for you. 
If you have questions,  you may ask it to your trainor, but when not available, you can also search it on google, there are great lash blogs to read, or watch lash videos on Youtube or better ask Facebook Eyelash Extension Groups which have lash artists from all around the globe,  such as the Lash Community. 
Practice with your mannequin for the lash application, and when possible, practice with real people. When practicing with real people you can start doing it with your relatives or friends or get a lash buddy from your lash academy. This will give you that experience you'll need before you start lashing on actual clients.
After getting certified or licensed, you're legally permitted to lash real clients. Post the services you offer then open up your schedule for clients' booking.  If you're starting out, make sure you're giving yourself ample time in between each appointment. You may also start with having at least a 30 mins interval per lash appointment, this is to give you that extra time to prepare for the next client, sanitize your tools and your room, and even clear and refresh your mind. Eventually, you'll be better at lashing, and you'll be quicker, once that happens you can take in more clients a day with a shorter time interval. 
For scheduling tools, there are available apps that you can also check online, choose one that you think will best suit your needs. 
Whether you're in a salon, in a studio, at home, or even when you're working mobile, make sure to set up your place. Your tools and supplies, like your chosen eyelash extension glue, must be high quality, organized and complete. 
    If you are looking for quality eyelash extension products and supplies see Forabeli lash products.
    Make sure your workplace is clean and sanitized, especially with Covid-19 and its variants just around the corner. With this, you can also learn your State sanity requirements and regulations and then comply. Make it safe and clean both for you and your clients. 
Another thing, make sure to also make your workplace look professional. It will be where you and your clients can have a relaxing atmosphere. You may check on Pinterest for lash room inspiration set ups, then make that perfect look you're desiring for your lash room. You can perfect your lash room look bit by bit as well, especially if you're on a shoestring. 
Continue to grow
 As in all areas of your life, even in your lash career, you should continue to grow. Cultivate your lash skill and be open for growth and adjustments. Never stop learning, being certified or licensed may be a requirement to legally lash, but it is not the end goal. 
Knowing that our world is ever evolving introducing new trends, products, procedures, and even preferences, you must have that skill of adaptability. You may also test your eyelash extension glues with other lash care products to know which is really worth it to be with you on your lash journey.  Growth has endless possibilities that you don't want to miss out on. Be open to explore these changes while mastering your current skills.  You'll need to grab opportunities that will make you a much more valuable lash artist. 
Lastly, along with your growth as an individual lash artist, it's good to also consider growing as a business. Once you've mastered the necessary skills encompassing the lash extensions industry, you may also make it a goal to become a lash trainer, teach in a lash academy, resell eyelash extension glue or supplies, or even start your own lash academy. 
The possibilities are endless! Just don't forget to grow, for a beautiful life! 
Keep in mind that nothing comes easy. All of it comes with hard work, time and effort. You'll need to give it your all to be able to succeed in this industry. You need to become a lash artist or at heart, not just a certified lash technician. You'll need to put your all on what you are doing. Put quality on it to be able to become a valuable lash artist. By having these qualities, everything will pay off in the end. 
Subscribe to Our Latest Newsletter
To Read Our Exclusive Content, Sign up Now.
$5/Monthly, $50/Yearly