Stranger Things 4 Part 2 Episodes: What We Know so far
Stranger Things 4 part 2 episodes are almost ready to show, which will bring an end to a season full of surprises and twists.
At the end of Stranger Things Season 3, Eleven lost her powers and is trying to get them back. Hopper was stuck in Siberia, and Joyce had to go there to save him. On top of all this, Hawkins had to deal with a new villain who was a lot like Freddy Krueger.
Season 4 also took us back to the Rainbow Room in Hawkins' lab, where we saw more of what Eleven went through as part of Br. Brenner's secret project. There are still two more chapters to see what happens with everything.
The Duffer brothers have already said that season 4 is not the end, but after leaving the story on an exciting cliffhanger, they have something very big planned for this new chapter.
So far, this is what we know about Stranger Things 4 Part 2 Episodes:
Stranger Things 4 Part 2 Release Date
The series has two parts. The first one came out on May 27, and the second one came out on July 1.
Stranger Things 4 trailer
Hawkins is getting ready for battle, Nancy is about to face Vecna in her world, and Eleven is determined to get back to her friends because they can't win the war without her.
Also, we see Eleven's powers for the first time again as Number 1, also known as Henry Creel and Vecna, teases her by telling her that her friends are missing.
How long are Stranger Things 4 Part 2 Episodes?
Both parts of season 4 have episodes that are longer than an hour, and two of them are as long as a movie. The first is chapter 7, which takes about 1 hour and 38 minutes, and the second is chapter 9, which takes about 2 hours and 30 minutes.
SIX Days until #StrangerThings4 returns!

Here's how long each episode lasts:

EPISODE 1: 1hr 16min
EPISODE 2: 1hr 15min
EPISODE 3: 1hr 3min
EPISODE 4: 1hr 17 min
EPISODE 5: 1hr 14min
EPISODE 6: 1hr 13min
EPISODE 7: 1hr 38min
EPISODE 8: 1hr 25th
EPISODE 9: ~2hr 30min pic.twitter.com/zTIqrovuLk

— Stranger Things Spoilers (@SThingsSpoilers) May 21, 2022
The final trailer for Stranger Things 4 Part 1
The newest trailer for Season 4 shows that a war is getting ready to start, and the people of Hawkins are in the middle of it. Without Eleven and her powers, the war is pretty much over, so she needs to do something to face her past and get back what she lost.
Also, we now know why Joyce goes to Siberia: she gets a mysterious package, where she is likely to find out what happened to Hopper.
The most important detail is Creel House, an old, abandoned house where the Steves, Dustin, and the rest of the group meet, probably looking for answers and a way to deal with what's to come. Part of this is a new monster that appears alone a few seconds into the trailer, but that seems to be why Hawkins is the center of Eleven's powers and the Upside Down.
What is Stranger Things Season 4 about?
The Netflix summary says that it has been six months since the Battle of Starcourt, which destroyed and scared the town of Hawkins. As the fallout continues, the friends are split up for the first time, and school doesn't make things any easier. At this most dangerous time, a terrifying new supernatural threat shows up, along with a gruesome mystery. If they can solve the mystery, they might be able to stop the horrors of the Other Side.
Also, a poster showed that the friends are going to get back together for what seems to be the last battle.
The Creel House
The new teaser for season 4 confirms that it will come out in 2022 and shows us a different story that takes place in the past. The teens from Hawkins go to the Creel House, which seems to be haunted and has had strange things happen there in the past.
We don't know who the family is or what their relationship could be with Eleven, but it's clear that strange things happen in that house and that at least one person there has some kind of power. Could it be another epicenter that will once again open the door to the Upside Down?
The official images
Netflix released a set of Stranger Things 4 photos that show some hints about what will happen in the next season. We can see Nancy and Robin going into what looks like the Creel House, the friends working together on a project probably to save Hopper, and Joyce on a snowy piece of land, which could be where Hopper is being held prisoner.
We also get a look at some of the new characters who are joining the season.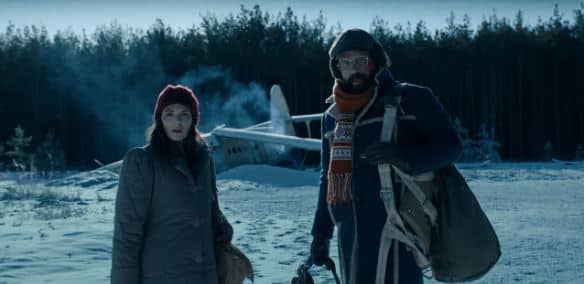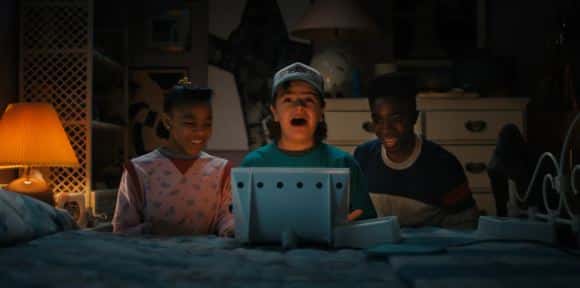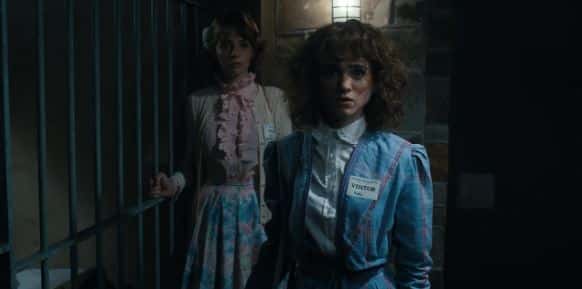 Eleven's siblings?
The new teaser for the show takes us to what looks like a hospital where kids are playing with different toys, but this isn't just any place. This is Eleven's childhood laboratory, and it wasn't the only one.
The video gives us more information about the other kids who took part in the experiment, which suggests that we might see more of them when season 4 comes out.
The lives of David Harbor and Millie Bobby Brown
Before the premiere of the much-anticipated fourth season, David Harbor went live on Instagram wearing the makeup of his character, who we could see in a first teaser that proved he was still alive somewhere in Russia.
Harbor said he was going to read parts of the script, but before he could give away any big secrets, Millie Bobby Brown walked into the video to tell him to stop or he would be fired. Harbor didn't say anything important in the end, but the video reminds us that the season premiere is coming up soon. It also shows that Hopper and Eleven were not together, which makes it more likely that we won't see them together for most of the season.
A new villain
The Sun says that Levon Thurman-Hawke, the brother of Maya Hawke (who plays Robin) and the son of Ethan Hawke and Uma Thurman, will play the new "bad boy" in Stranger Things 4. He is the son of Ethan Hawke and Uma Thurman.
We don't know much about the character, but Levon was seen on set dressed in a punk rock style, and one of the photos shows him with Steve, which makes us think it could be one of his coworkers.
What happened in Stranger Things Season 3?
The kids from Stranger Things are now teenagers, and they are having a monster-free summer. But their fun is coming to an end when they find out that some very strange things have been happening in their town.
Erica, Steve, and Robin find out that there are Russian spies in Hawkins. Dustin is busy with his new girlfriend. Mike and Lucas are freaking out in their own relationships. Hopper doesn't know what to do to get Joyce to give him a chance, and things keep getting worse. When they find out that the Mindflayer, which had Will in its possession, is now stealing from their neighbors to make a super monster that can kill everyone, they are very scared.
The team finds out that the Russians are trying to open a portal to the Upside Down under the new mall and makes a plan to stop them. Once they get there, the monster attacks Eleven and takes away her powers. Everyone has to help her. Joyce and Hopper are able to get into the Russian lab and destroy the machine that opens the portal. They go down together and realize that someone has to die to save everyone.
Hopper offers to turn the two keys that will destroy the machine. The machine explodes and the portal closes, but the Sheriff is nowhere to be found after that. Joyce takes her and Eleven's children and moves to a new city because she thinks Hopper is dead. However, a scene after the credits shows that there is still hope.
The new characters
STRANGER THINGS NATION WE GOT NEW CHARACTERS pic.twitter.com/WfBz8rBBe6

— chandler| ST4 SPOILERS✧ JULY 1 VOL 2! (@Keeryluv) October 22, 2020
Netflix confirmed that Amybeth McNulty, Myles Truitt, Regina Ting Chen, and Grace Van Dien will be in the new season, and details about their characters have been released.
Amybeth McNulty ( Anne with an E) will play Vickie, a cool and persuasive nerd from the gang, who catches the eye of one of our beloved heroes.
Myles Truitt ( Queen Sugar, Black Mafia Family ) will play Patrick, a basketball star from Hawkins with friends, talent and a good life…until a series of shocking events sends his life spiraling out of control.
Regina Ting Chen ( Queen of the South, Falcon and the Winter Soldier)  is Mrs. Kelly, a popular guidance counselor who cares deeply about her students, especially the struggling ones.
Grace Van Dien ( The Manson Girls, The Village ) as Chrissy, the leader of the Hawkins High School cheerleaders and one of the most popular girls in school. But beneath her seemingly perfect appearance, she hides a dark secret.
Who's coming back for Stranger Things 4?
Eleven (Millie Bobby Brown)
Mike (Finn Wolfhard)
Dustin as Gaten Matarazzo
Will (Noah Schnapp)
Lucas (Caleb McLaughlin)
Max (Sadie Sink)
Steve (Joe Kerery)
Nancy (Natalia Dyer)
Jonathan (Charlie Heaton)
Robin (Maya Hawke)
Joyce (Winona Ryder)
Erica (Priah Ferguson)
Karen (Cara Buono)
Hopper (David Harbour)
What about Hopper?
At the end of Stranger Things season 3, Hopper gives his life to save the world. Everything seemed to point to this being true, but Netflix has already released a first teaser that shows what happens to Hopper. The Sheriff of Hawkins is stuck in what looks like a Russian military base in Siberia.
This means Eleven and the others will have to work together again to save him and stop the Russians from using the power of the Upside Down to take over the world.
Theories about Eleven, Hopper and the new villain
People have a lot of ideas about what will happen now that Eleven doesn't have any powers and a big monster is trying to destroy everything. The first says that Eleven could become the villain of the story because he was infected by the Mindflayer. Another says that Hopper was brainwashed and is now working for the Russians, or that one of Eleven's brothers will use their powers to help the Soviets. However, the title of the first episode of season 4 revealed a more important theory.
The show's creators posted a picture with the words "Looking for new members… will you join?" on their Twitter account. The image showed that the first episode will be called "Episode 1: The Hellfire Club." It didn't show a lot of details, but it was enough for fans of the show to start making their own guesses about what would happen.
Hellfire Club is the name of a British secret society that was started in the 18th century. You may recognize the name because it is also the name of a group of Marvel villains who make life hard for the X-Men (coincidence? We don't believe that). The club first appeared in the comic Uncanny X-Men #129 in 1890. This makes us think that it is probably a name that the kids and teens of Hawkins might give to new enemies they meet. This season, they won't just have to deal with the Demogorgon and creatures from the Upside Down.
Location preview 
In the first Stranger Things location teaser that Netflix has put out, Eleven is seen writing a letter to Mike.
Stranger Things 4 Part 2 Episodes titles
Netflix put out a video with the episode names for the season.
This is the list: 
The club
The Curse of Vecna
Monster or Superheroine?
Dear billy
Girl project
In the deep
Massacre at hawkins lab
Potato
The guest
Apart from this, if you are interested, you can also read Entertainment, Numerology, Tech, and Health-related articles here: Tara Reid Net Worth, Blonde Trailer,  Fastest VPN for PC, WPC18, Highest Paid CEO in India 2022, Highest paid athletes 2022, My5 TV Activate, Kissmanga, WPC16, Highest Paid CEO 2022, Grey's Anatomy Season 19, WPC15, Alexa.com Alternatives, 
The Resident Season 6, Kraven The Hunter, One Punch Man season 3, The Resident Season 5, Yellowstone season 5, Ozark season 4 part 2, How to Remove Bookmarks on Mac, Outer Banks Season 4, How to block a website on Chrome, How to watch NFL games for free, DesireMovies, How to watch NFL games without cable, How to unlock iPhone, How to cancel ESPN+, How to turn on Bluetooth on Windows 10, Outer Banks Season 3, 
6streams, 4Anime, Moviesflix, 123MKV, MasterAnime, Buffstreams, GoMovies, VIPLeague, How to Play Music in Discord, Vampires Diaries Season 9, Homeland Season 9, Brent Rivera Net Worth, PDFDrive, SmallPDF, Knightfall Season 3, Crackstream, Kung Fu Panda 4, 1616 Angel Number, 333 Angel Number, 
666 Angel Number, 777 Angel Number, 444 angel number, Bruno Mars net worth, KissAnime, Jim Carrey net worth, Bollyshare, Afdah, Prabhas Wife Name, Project Free TV, Kissasian, Mangago, Kickassanime, Moviezwap, Jio Rockers, Dramacool, M4uHD, Hip Dips, M4ufree, Fiverr English Test Answers, NBAstreamsXYZ, Highest Paid CEO, The 100 season 8, and F95Zone. 
Thanks for your time. Keep reading!