Lionel Messi – The Greatest Ever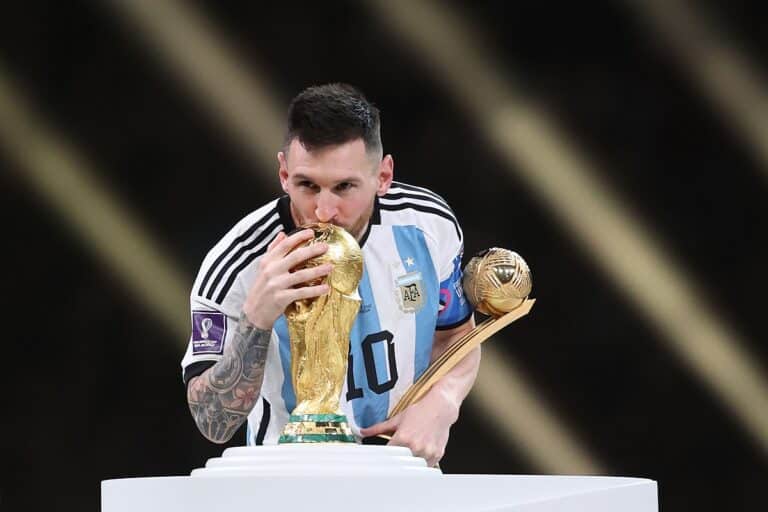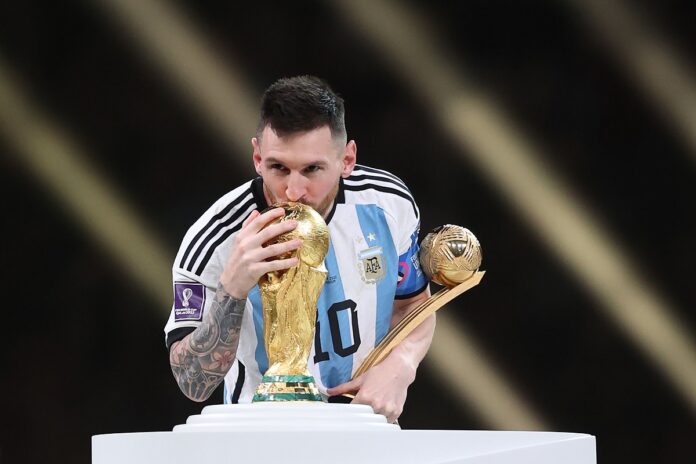 Listen to Podcast:
Lionel Messi appears to have ended the debate over who is the greatest footballer of all time after helping Argentina win the FIFA World Cup in Qatar with a victory over France.
Footballing legends from around the world insisted that the 35-year-old deserved the title after he emulated another Argentine No. 10 by leading his country to the World Cup for the first time in 36 years.
Messi opened the scoring with a penalty kick in the first half and got the shootout off to a perfect start with an incredibly cool penalty kick.
The debate regarding Lionel Messi's right to be regarded as the greatest footballer in history has officially ended for his legion of fans.
Messi's lack of a World Cup winner's medal has long been the primary argument for why he does not rank above Pele and Diego Maradona in the pantheon of football.
Nonetheless, with Argentina's victory over France in Sunday's awe-inspiring World Cup final in Doha, the case against the 35-year-old genius is now conclusively closed.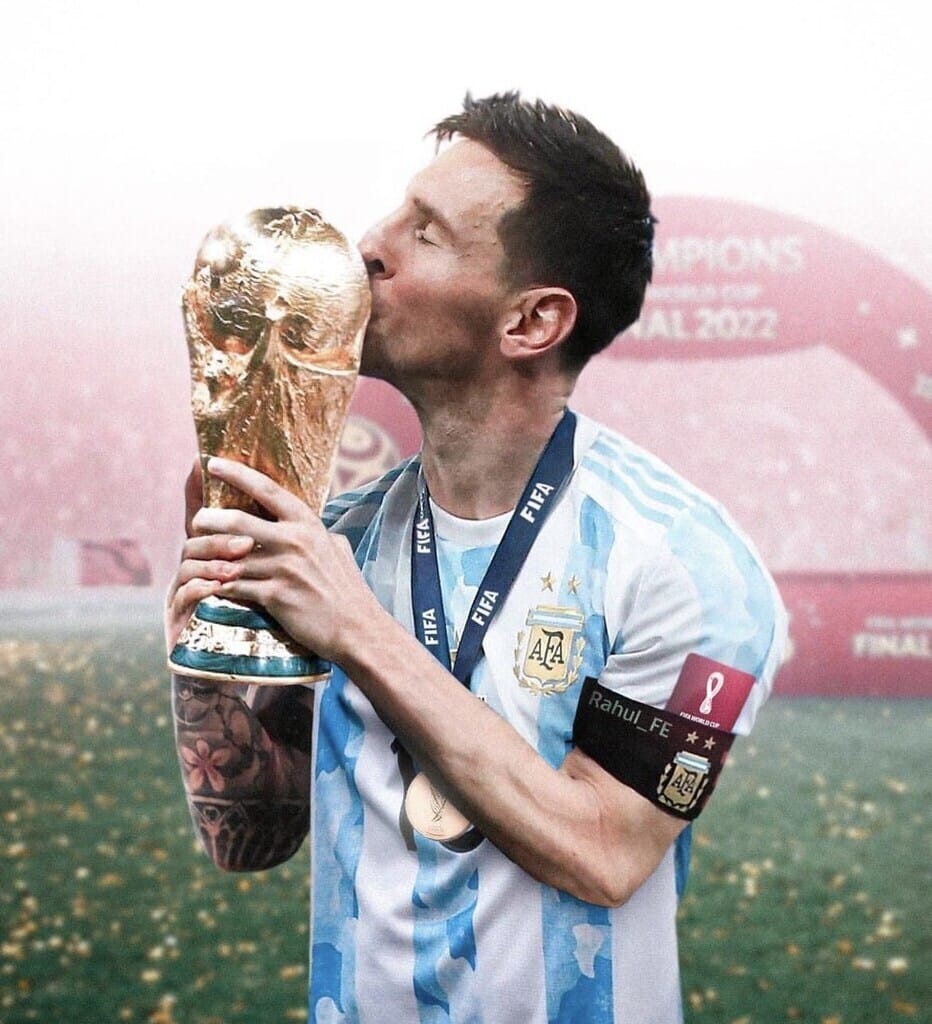 Messi has won 37 club trophies, 7 Ballon D'Or awards, and 6 European Golden Boots over the course of his illustrious 30-year career.
A Copa America championship, an Olympic gold medal, and a list of scoring and statistical records that may never be broken exist.
The only remaining gap on Messi's resume, a World Cup victory, was completely filled on Sunday night at the Lusail Stadium in 120 mesmerizing minutes.
In his final World Cup appearance, a record-setting 26th, Messi scored twice as Argentina fought to a 3-3 tie in extra time before winning on penalties.
Even Kylian Mbappe's incredible hat trick for Les Bleus couldn't thwart Messi's destiny on a night that seemed predetermined.
Gary Lineker, who used to play football for England and Barcelona, tweeted, "It's been an absolute privilege to watch Lionel Messi for nearly 2 decades. Moment after moment of spellbinding, breathtakingly joyous football. He's a gift from the footballing Gods. So pleased that he's lifted the ultimate prize in our sport. Gracias y felicidades, campeón."
Glorious. Truly glorious. Congratulations Argentina. You deserved it. Messi deserves it.

— Gary Lineker 💙💛 (@GaryLineker) December 18, 2022
"Lionel Messi. After England's win on Sunday, midfielder Declan Rice said, "That was the best game ever." "There will never be another player like Messi."
Lionel Messi. The Best Ever. 🐐

— Declan Rice (@_DeclanRice) December 18, 2022
Whether or not Messi is really the "greatest ever" is a pointless question because the answer depends on who you ask. It's a game that comes down to what you see.
MESSI IS THE GREATEST OF ALL TIME

— Jake Paul (@jakepaul) December 18, 2022
Jamie Carragher thought that the performance put him above any other player in soccer history. He tweeted a list of great players, with Messi at the top, Diego Maradona in second, and Cristiano Ronaldo at the bottom.
1: Messi
2: Maradona
3: Pele
4: Ronaldo
5: Zidane

— Jamie Carragher (@Carra23) December 18, 2022
Bastian Schweinsteiger, who won the 2014 World Cup with Germany, agreed with him. He tweeted that the small Argentinian had "finally crowned his great career."
What a match! 🤯 Congratulations to @Argentina 🇦🇷🏆 With the World Cup title, #Messi has finally crowned his great career 👏🏼 #FIFAWorldCup

— Bastian Schweinsteiger (@BSchweinsteiger) December 18, 2022
Declan Rice and Tammy Abraham of England said that Messi is now "the best ever" and "the greatest of all time." Alan Shearer said that the win was "written in the stars."
Sam Quek, a hockey star, said that the debate was "fun while it lasted" but that it was now "over." Settled. Confirmed.'


Some people didn't say anything about the GOAT debate and instead focused on the performance. One of these people was the famous Ronaldo fan Piers Morgan, who said that "Messi and his team" played an "incredible game."
Ranking Greatness
What can't be argued is that Messi has won more and different types of trophies than Pele and Maradona, who are his main competitors for the title of "GOAT."
Messi's club career is much better than Pele's, even though Pele's three World Cup wins are still unmatched.
During his best years with Barcelona, the Argentine often reached the top of European club football. He won four Champions League titles, which is arguably a better technical arena than international football.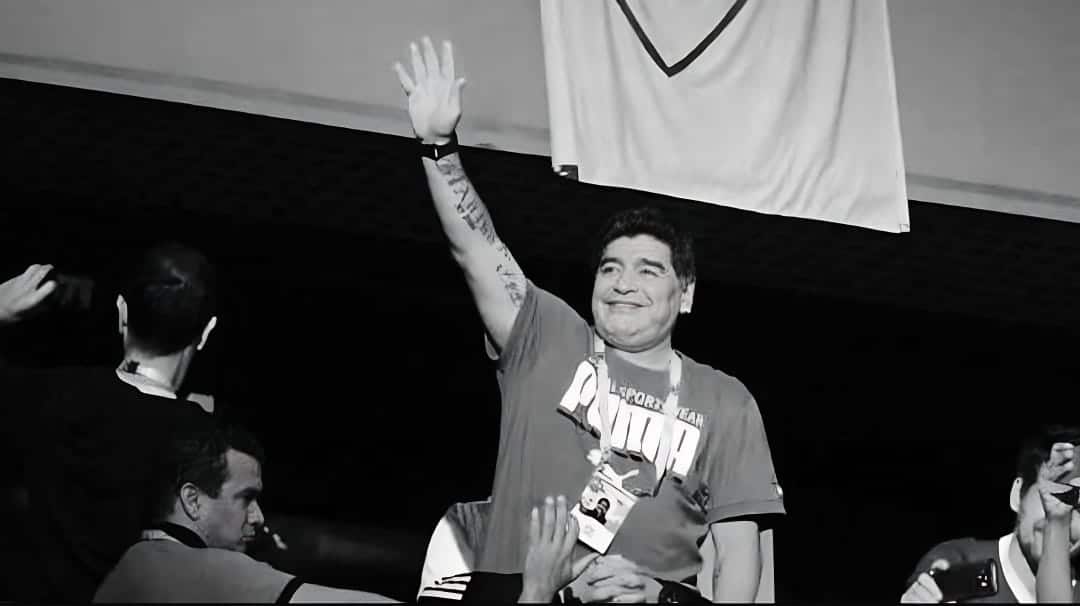 Maradona, on the other hand, only won one World Cup and never won a European Cup during his club career in Europe, most of which was spent with Barcelona and Napoli.
The other side of the argument is, of course, that Pele and Maradona played in a time when players had much less protection than Messi and his great rival Cristiano Ronaldo do now.
Pele had to leave the 1966 World Cup finals because he had taken too many hard hits. Maradona also had to deal with rough play throughout his career.
Jorge Burruchaga, who played with Maradona on the national team, doesn't like to compare players from different eras.
Burruchaga, who scored the winning goal in the 1986 World Cup final against West Germany after being set up by Maradona, says that Messi is the best player of his time.
"Messi is the same as Maradona, win or lose," Burruchaga told AFP before Sunday's final. "No matter what happens, Messi will go down in history."
"In the last 70 years, there have been five players who can be considered the best in the world: Di Stefano, Johan Cruyff, Pele, Maradona, and Messi." Messi is on that list, whether he wins the World Cup or not. But I hope he does."
On Sunday, Burruchaga's and a lot of other Argentinians' hopes came true.
Magic in his feet
Messi has won a lot of trophies, but the way he plays the game is what makes him the best now that he has won the World Cup.
Messi is a big reason why so many kids around the world love football. A small, shy man whose feet are magical. The kid from Rosario could be any one of his fans, anyone who lives and breathes football.
Many of the people who supported Argentina in Qatar were migrant workers from India or Bangladesh. Everyone loves Messi, and during this tournament, Argentina's fan base grew like no other.
In the final against France, he helped his team get off to a fast start by making accurate passes and daring dribbles early on. He kept his cool to score the first penalty and then helped Angel Di Maria score the second goal, which was one of the best team goals ever scored in a World Cup final.
France was weakened by a virus in the camp. They were going nowhere, but Kylian Mbappe's quick double-tied the game. But the hero from Argentina got back on track in extra time. Even though it was one of his worst goals, he won't care.
Messi didn't get the Golden Boot at the World Cup because Mbappe scored his third goal to send the final to penalties, but he won't care about that either. He did win a prize for himself, though. He was named Player of the Tournament.
But after the pain of losing in extra time to Germany in 2014, what matters most is that he is now a world champion, even though Argentina's first game was a loss to Saudi Arabia.
He had the guts to go first and score in the shootout, unlike Neymar of Brazil, who was supposed to go last but never got to take his penalty kick as Croatia knocked Brazil out of the quarterfinals.
Messi is also a role model. He had trouble with the Spanish tax authorities, but other than that, the 35-year-old is not someone you would call scandalous. Compare him to Diego Maradona, who was also a great player for Argentina.
Humble and Gracious
The late playmaker may have been better at football than Messi if that is even possible. However, Maradona can't be called the best because he was banned from using drugs, cheated with the "Hand of God," and may have been involved with Italian criminal gangs.
Sure, Argentina could not have won the World Cup in 1986 without him, but the same could be said for Messi in 2022 when his country won its third title.
South America has been waiting for 20 years while Europe has been in charge. Messi made it so that France couldn't keep the trophy.
Some people will still say that Cristiano Ronaldo is the best. But he doesn't have a World Cup winner's medal on his list of accomplishments. We must also compare Messi's tearful, humble, and kind departure from Barcelona with Ronaldo's haughty, arrogant, and selfish departures from Manchester United, Real Madrid, and Juventus.
'The Greatest Footballer Ever' Recognition of Lionel Messi
Messi is now the greatest football player in the world because he won the World Cup in his last World Cup game.
Sports fans all over the world will never forget seeing Messi celebrate with his kids and jump up and down with that golden trophy over his head. He was the first player in World Cup history to score in every single knockout round. At last, he doesn't have to live in the shadow of his countryman and soccer legend Diego Maradona. The tournament is over, and we should all agree that Messi is the best player ever.
The Argentine superstar should not have needed a World Cup trophy to solidify his mythical title, but now that he has one, there are no more holes in the argument. Pele did win more World Cups than anyone else. 
The Brazilian legend Pele stunned the world when he scored in the quarterfinals against Wales, scored a hat trick in the semifinals against France, and scored two more goals in the championship game against Sweden. He was only 17 years old at the time. He will always be thought of as great, and what he did for the game can't be measured. Maradona was more than a sports star. The charismatic legend led Argentina to win the World Cup in 1986, and in his country, he was a cultural icon.
Zinedine Zidane and Cristiano Ronaldo are also among the best players of all time. But Messi made greatness even better. He not only scores goals, but he is also selfless and has the skill and vision to make passes that no one else can see.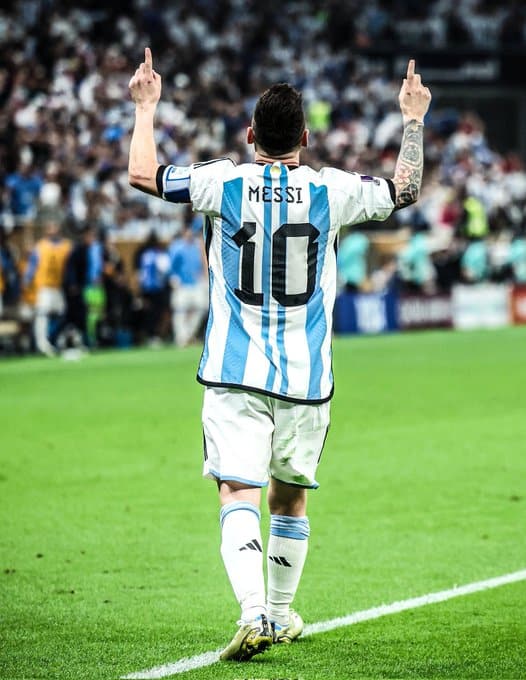 Wherever he plays, people are mesmerized by his control, balance, and amazing dribbling sequences. He has won every scoring title and trophy there is, and he has done this for a long time. A colorful commentator Ray Hudson said on Twitter on Sunday, "Keep throwing bricks and stones at him, all you cynics, haters, and critics out there. Leo Messi takes them and uses them to build another thing that shows how smart he is. The unquestionable, undeniable, BEST of ALL TIME!!!! Magesteeeeeeerial Lionel Messi!!!!"
Lionel Messi is a world champion at last. But what a rollercoaster ride to get there. 1600-word whistle report from Lusail Stadium (a lot happened). #FIFAWorldCupfinal #ARGFRA #ARG #FRA https://t.co/tsyaw42kFR

— Henry Winter (@henrywinter) December 18, 2022
We are lucky to be able to see him play. And if David Beckham, Jorge Mas, and Jose Mas get their way, we might get to see Lionel Messi play at DRV PNK Stadium next summer while wearing an Inter Miami jersey.
Even though that sounds crazy, Messi has been talking about what he will do after his contract with PSG ends in June 2023. He loves Miami and comes here for vacations and to live. PSG wants him back, though. Barcelona would love for him to go back and finish his career there, where it all began. Only time will tell. In the meantime, let's talk about the final on Sunday. This World Cup, which started four weeks ago in Qatar with a lot of controversy over things like beer bans, the weather, and human rights violations, ended with one of the best, if not the best, finals ever.