Messi Net Worth, Earnings, Salary, Biography, Wiki [Updated in 2023]
Messi net worth is estimated at $600 million as of 2023. Lionel Messi is a professional soccer player from Argentina who is often regarded as the finest in the world. Messi made the majority of his money for FC Barcelona as a striker and winger. Lionel Messi's transfer from Barcelona to Paris Saint-Germain (PSG) was confirmed on August 10, 2021. He is also a member of Argentina's national team. Lionel Messi scored 672 goals in 778 games during his stint with Barcelona. According to Celebrity Net Worth, Lionel Messi net worth stands at $600 million.
Messi is perhaps the world's highest-paid football player, as well as one of the world's highest-paid athletes in general. Messi's record-breaking 2017 contract with Barcelona paid him an average annual base salary of $168 million. He also makes over $40 million each year from endorsements, bringing his total annual earnings to around $200 million under that arrangement. He set a record for most goals in a calendar year in 2012, and he won Europe's Ballon d'Or for the seventh time on 29 November 2021 and the sixth time in 2019.
About Lionel Messi
Lionel Messi is not a billionaire, despite what you may have read in certain low-quality publications. By the end of his deal with Barcelona, he had earned more than $1.3 billion in endorsements. To date, he has made about $900 million in salaries and $400 million in sponsorships, according to our calculations. Some media outlets misinterpreted that figure and labeled him a "billionaire". His contract, which ended after the 2020 season, was undoubtedly one of the most lucrative in sports history, bringing his total earnings to $1.5 billion by the time it is over.
Barcelona declared on August 5, 2020, that it could not afford to re-sign Messi and that he would be pursuing contracts from other clubs. Lionel Messi revealed his signing with PSG five days later. Lionel Messi's new Paris Saint-Germain contract will pay him $75 million per year. The deal features a third-year extension option.
| | |
| --- | --- |
| Name | Lionel Messi |
| Net Worth | Appx. £437 million or $600 million |
| Age | 34 years (born June 24, 1987) |
| Residence | Castelldefels, Spain |
| Marital Status | Married |
| Spouse | Antonella Roccuzzo (m.2017) |
| Source of Wealth | Professional Football, Endorsements, Investments |
| Salary | $34 million per year or $653k per week |
| Endorsements | Adidas, Huawei, Gatorade, MasterCard, Lay's, Pepsi, Hawkers, Ooredoo |
| Endorsement Earnings | Approximately $40 million in 2023 |
| Philanthropy | Leo Messi Foundation |
He was said to be willing to take a 50% pay reduction to stay with Barcelona, but league rules prevented him from doing so. Barcelona's salary would have accounted for 110 percent of the club's earnings, despite league rules requiring that figure to be 70 percent.
Messi wins record seventh Ballon d'Or
Lionel Messi of Argentina won the Ballon d'Or award for the greatest player in the world for the seventh time on Monday, defeating Robert Lewandowski and Jorginho to win soccer's most prestigious trophy.
After winning Copa America for the first time with his country last July, the forward added to his 2009, 2010, 2011, 2012, 2015, and 2019 trophies.
"It's amazing to be back here. I believed it was the final time two years ago. "Winning the Copa America was crucial," Messi remarked at the Chatelet Theatre in Paris.
Argentina and Paris Saint-Germain forward Lionel Messi won the prestigious Ballon d'Or award as the world's best male footballer for a record-extending seventh time. https://t.co/FaYkbMsB78

— ANews (@anews) November 29, 2021
"With this Copa America victory, it's a special year for me." Winning at the Maracana meant a lot to me, and I was overjoyed to be able to celebrate with the Argentina fans.
"I'm not sure if it was the finest year of my life; I've had a long career," he says, "but it was a special one with Argentina winning the World Cup after all the difficulties and criticism."
Messi, who joined PSG on a free transfer from Barcelona after finishing the previous season as La Liga's top scorer, scored 613 points.
Lionel Messi Net Worth
As of November 2022, Lionel Messi net worth is believed to be around £437 million ($600 million), according to goal.com, these estimates are hypothetical, especially because his economic activities aren't generally recognized.
On Forbes' list of the 100 highest-earning celebrities of 2019, Messi was placed first among athletes, with a total income of $127 million (£98 million) for the year, and fourth overall, making him the highest-paid footballer and athlete in the world. He had an $18 million advantage over Ronaldo and a $22 million advantage over Neymar, the next athlete on the list.
The current wage agreement for Messi will almost surely keep him among the world's wealthiest active athletes for the next few years. With this latest earnings, Lionel Messi net worth increased by $600 million.
| | |
| --- | --- |
| Name | Lionel Messi |
| Lionel Messi Net Worth (2023) | $600 Million |
| Profession | Footballer |
| Monthly Income And Salary | $4 Million + |
| yearly Income | $50 Million + |
| Last Updated | 2023 |
Lionel Messi net worth to be £437 million ($600 million) in 2023, Forbes.com estimates. It comprises $92 million in salaries and winnings, as well as $40 million in endorsements. According to reports from several media outlets, the estimated Lionel Messi net worth as of 2023 is £291 million.
The new PSG number 30 is one of the most valuable sportsmen in the world, with a reported value nearly double that of his new and former teammate Neymar Jr.
Despite this, Juventus and Portugal superstar Cristiano Ronaldo is worth more than the Argentine, with a reputed net worth, putting him at the top of the list when it comes to net worth among the world's greatest footballers.
What is Lionel Messi's salary?
Messi's latest deal at Barcelona was worth a net £500,000 ($610k/€565k) each week. Messi was earning roughly £336,000 ($410k/€397k) per week before signing this contract, according to goal.com.
After agreeing to a contract with PSG, it is estimated that Messi will earn between €30 million and €35 million (£25 million and £35 million/$35 million and $41 million) every season, plus team and individual bonuses. Lionel Messi is paid a yearly salary of $34 million plus bonuses and winnings after signing a new contract in 2017 that extends his contract at FC Barcelona until 2022.
Biography and early life
Messi was born in Rosario, Argentina, on June 24, 1987. Messi used to go along with his two elder brothers as they played soccer with their pals as a kid, unfazed by the bigger lads. He was persuaded to join the youth system of Newell's Old Boys, a Rosario-based club when he was eight years old.
Messi, who was noticeably smaller than most of his peers in his age group, was subsequently diagnosed with a hormone deficit that hampered his growth. Messi's parents, Jorge and Ceclia, opted on a nightly growth-hormone injection regimen for their son, despite the fact that paying several hundred dollars per month for the medicine became unfeasible.
| | |
| --- | --- |
| Lionel Messi Net Worth: | $600 Million |
| Salary: | $75 Million |
| Date of Birth: | June 24, 1987 (34 years old) |
| Gender: | Male |
| Height: | 5 ft 6 in (1.69 m) |
| Profession: | Football player |
| Nationality: | Argentina |
So, when Messi was 13, his family packed up and traveled across the Atlantic to build a new home in Spain, when he was offered the chance to train at soccer giant FC Barcelona's youth program, La Masia, and have his medical fees covered by the team. Messi progressed fast through the junior system despite being homesick in his new homeland.
Finally, Messi's diminutive size (5 feet, 7 inches) has prompted similarities to another great Argentine footballer, Diego Maradona, due to his speed and persistent attacking style. But now Messi has become a millionaire and Lionel Messi net worth of $600 million has been achieved by him.
Soccer Teams and Careers
With FC Barcelona, Messi signed his first contract when he was 13 years old. He is also a member of Argentina's national squad. Messi made his first appearance for FC Barcelona at the age of 16, breaking the record for the youngest player to ever score a goal for the club on May 1, 2005. He also led Argentina to the under-20 World Cup triumph in the same year, scoring on a pair of penalty kicks to help the squad defeat Nigeria.
Before PSG, Messi led Barcelona to numerous victories, the most notable of which came in 2009, when the left-club footer's won the Champions League, La Liga, and the Spanish Super Cup. He won his first FIFA "World Player of the Year", Ballon d'Or that same year following two consecutive runner-up finishes. Throughout his career, Lionel Messi net worth comes to $600 million.
Even the legendary Maradona gushed about his compatriot. The retired star told the BBC, "I view him as quite similar to me." "He's a leader who teaches excellent football to others. He has a unique skill set that no other player in the world possesses."
Despite this, the soccer magician continued to progress, discovering new methods to avoid opponents while leading Barcelona to La Liga and the Spanish Super Cup titles in 2010 and 2011, as well as the Champions League triumph in 2011.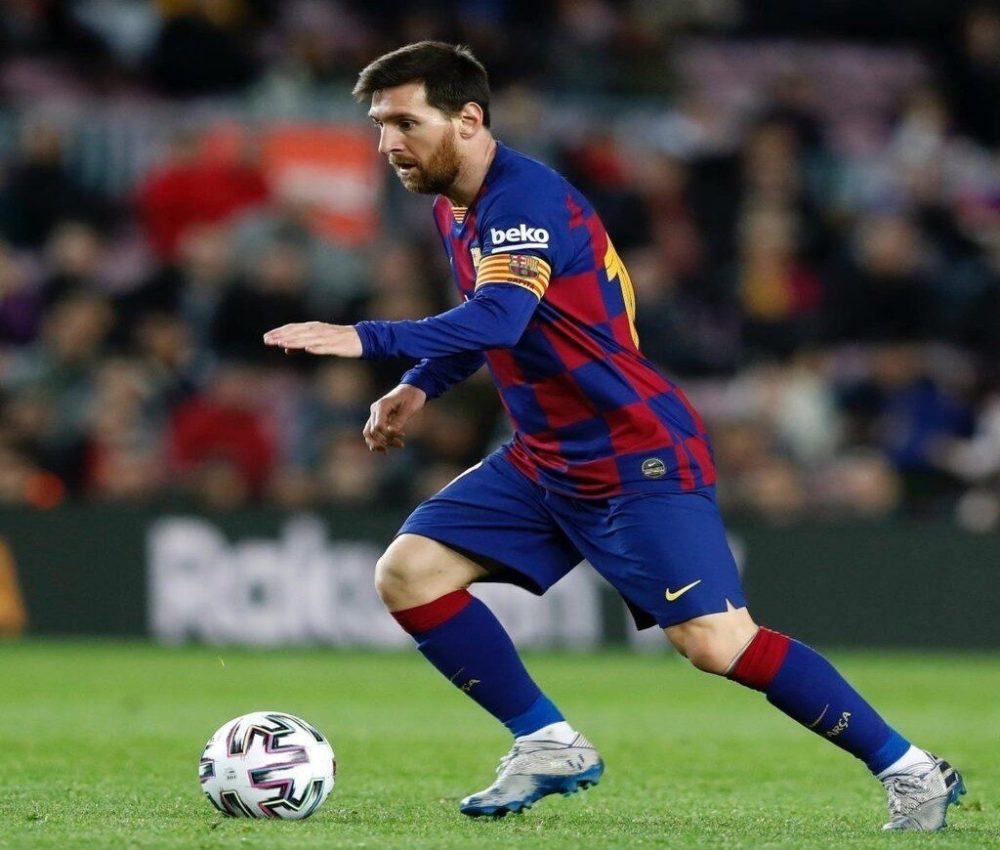 Messi becomes the first player in Champions League history
In 2012, Messi launched an all-out assault on the record books. In early March, he became the first player in Champions League history to score five goals, and a few weeks later, he eclipsed Cesar Rodriguez's 232 goals to become Barcelona's all-time greatest scorer.
Messi had scored 91 goals in club and international play at the end of 2012, surpassing Gerd Muller's record of 85 goals in a calendar year set in 1972. In January 2013, he broke another record as he was voted FIFA Ballon d'Or winner for the fourth time.
Due to the frequency of hamstring ailments, the soccer legend slowed down a bit that year, but he recovered his record-breaking form in late 2014, becoming the all-time leading scorer in La Liga and the Champions League.
In 2015, he was awarded his fifth FIFA Ballon d'Or title after assisting Barcelona to win a historic second triple. After winning another La Liga title four years later, Messi set a new record for greatness by winning his sixth Ballon d'Or. As a result, Lionel Messi net worth has been increased day by day by $600 million.
In Rosario, Argentina, Messi, and Antonella were childhood sweethearts. Antonella Roccuzzo was born in Rosario, Argentina, on February 26, 1998, to a businessman and a housewife. Carla and Paula, her two sisters, were her childhood companions.
Messi was a close friend of Antonella's cousin, Lucas Scaglia, and was born a year before Antonella. While hanging out with Lucas, the Barcelona superstar met Antonella. Messi began spending a lot of time with Lucas after their initial encounter in order to get closer to Antonella.
Lionel was an obsessive letter writer
In his youth, Lionel was an obsessive letter writer, and it is said that he penned several letters to Antonella. Messi was over heels in love with her, but the couple split up once Messi's father relocated the family to Barcelona to pursue Messi's football career.
After Messi relocated to Spain, Antonella is said to have dated another man. Following the tragic loss of Antonella's buddy in a traffic accident, Messi and Antonella reunited. Messi rushed to Argentina to console Antonella after learning of her death. She dumped her ex-boyfriend at that point in order to give her romance with Messi a shot.
"She dumped me, but at least she didn't dump me for any old man — she dumped me for Messi,' the ex-boyfriend is believed to have added. Despite their obvious desire, Messi's shyness kept him from approaching Antonella and asking her out. Lionel ultimately asked his childhood sweetheart out with the help of his cousin, and the two began dating. Thus, Lionel Messi net worth reaches $600 million.
Stats
Messi's all-time highlights with FC Barcelona as of August 2019:
Appearances: 687
Goals: 603
Assists: 251
Shot accuracy: 48 percent
Chances created: 348
What is Messi's weekly salary?
Messi's annual salary of £24 million means around $653k per week. As a result, Messi is one of the highest-paid athletes in the world. With the weekly salary, Lionel Messi net worth is currently estimated at $600 million.
Messi's houses
Lionel Messi owns two opulent homes in Barcelona, as well as one in his native Argentina. Messi's mansions are a testament to his illustrious career. One of his homes is in Castelldefels, a suburb of Barcelona on the Mediterranean coast. This house is said to have restrictions on aircraft flying over it. It's a colossal light-colored Mediterranean-style home with expansive panoramic windows.
'One-Zero Eco House' is the name of Lionel Messi's second home in Barcelona. It was built and designed by Luis Garrido, a well-known Spanish architect. On a football field, the house resembles a soccer ball. It is estimated that the cost will be around seven million euros. The house is 22 miles from Barcelona and has a view of the Catalan Mountains.
Cars of Lionel Messi
Messi has high-end vehicles from Maserati, Ferrari, Audi, Mercedes-Benz, Lexus, Chrysler, Toyota, Dodge, Cadillac, and Range Rover, among others. Messi has a huge automobile collection. However, he did not purchase all of them because some were provided to him by sponsors. Messi's car collection is worth millions of dollars in the United States. Acquiring these assets has been possible due to Lionel Messi net worth.
Lionel Messi has the following automobiles: 
335 S Spider Scaglietti
Maserati GranTurismo MC
Maserati GranTurismo S
Audi R8 V10
Dodge Charger SRT8
Audi R8 Spyder
Audi Q7
Ferrari F430 Spider
Lexus RX
Cadillac Escalade
Mini Cooper
Range Rover Vogue
Toyota Prius 
Bikes of Lionel Messi
Lionel Messi isn't known to be a motorcycle enthusiast. But you never know, he might have a couple in his collection, and if he does, you can bet they're the best of the best. So, check out here.
Assets of Messi
Messi owns a number of villas and estates, including homes in both Spain and Argentina. His pricey car collection adds to his entire assets and Lionel Messi net worth.
Lionel Messi's Way of Life
Messi is a straightforward individual. He has a basic and humble existence. Nonetheless, he understands how to enjoy life to the fullest. Lionel Messi, being one of the world's wealthiest players, indulges inexpensive investments from time to time. He recently purchased a $35.5 million Ferrari 335 S Spider Scaglietti. Apart from that, Messi is a pretty quiet individual who enjoys spending time with his family and prefers to stay to himself.
Endorsements by Lionel Messi
Because of his celebrity and large fan base, Messi is one of the most sought-after athletes for endorsements. Lionel Messi net worth is largely based on the money he makes from endorsements. Messi has substantial endorsement relationships with Pepsi, Adidas, Dolce & Gabbana, Air Europa, and Gatorade, among others.
Messi also has a long-term contract with Adidas. Lionel Messi is also a global brand ambassador for Tata Motors, whose new car is named after Messi's son Thiago. He earned a whopping $40 million in endorsements in 2019, making him one of the highest-paid athletes of the year. Aside from the organizations mentioned above, he also has a contract with Huawei, a Chinese mobile phone company. Not to mention his lucrative Mastercard partnership.
Additional sources of income
He receives his rightful portion of rewards when Barcelona wins a title, in addition to his fixed income at Barcelona FC and when he plays for Argentina, as well as other incredible endorsements.
Messi's Donation              
During the 2020 COVID-19 Pandemic, Lionel Messi is said to have offered a significant donation of $1.1 million, which will be split between a hospital Clinic in Catalunya and another health facility in Argentina.
Lionel Messi has also established the Leo Messi Foundation, which donates and assists a variety of charities. In February 2019, the Leo Messi Foundation donated $218,000 to UNICEF Kenya programs. Messi contributed almost a million euros to hospitals in Barcelona and Argentina during the coronavirus outbreak. Along with David Beckham and Shakira, he was named UNICEF's Goodwill Ambassador.
To battle blood cancer, the Leo Messi Foundation teamed up with the Josep Carreras Leukemia Foundation. Messi requested donations to the Leo Messi Foundation instead of wedding gifts when he married Antonella Roccuzzo in 2017. This demonstrates Lionel Messi's generosity and kindness, as well as his desire to make the world a better place.
What would Lionel Messi's salary be at PSG?
Due to his contract expiring in Spain, his move to PSG will be classed as a Bosman free transfer. Messi's move to Paris, on the other hand, will solidify his status as one of football's highest-paid players — by a long shot.
His annual take-home pay will be €35 million (about £29.7 million), or nearly €3 million (roughly £2.7 million) every month. That works up to about £620,000 every week, or £88,000 per day, or £7,352 per hour, £122.55 per minute, and £2.41 per second. In addition, he will receive a signing-on fee of around £22 million as a result of the move. This high-expected salary will increase Lionel Messi net worth.
PSG is spending a lot of money on Leo, but they are no strangers to doing so, having signed players like Neymar Jr and Kylian Mbappe – but, oddly, Messi is expected to make more than both on his stated salary.
Lionel Messi salary at Barcelona and now at PSG
Lionel Messi was paid £500,000 ($610k/€565k) per week during his time with Barcelona. Messi was expected to earn roughly £336,000 ($410k/€397k) per week prior to signing this contract.
Messi was earning $165 million per year in salary and bonuses once his contract was leaked in 2022, an unrivaled number in team sports. Following his departure from Barcelona, Lionel Messi signed a contract with PSG on August 10, 2021, in which he will earn between €30-35 million per season, with the possibility of increasing to (£25-£30 million), as well as a team and individual bonuses.
With total earnings of $127 million, Lionel Messi net worth of $600 million has been achieved by him and he surpassed Floyd Mayweather, the boxing legend, to become the richest athlete in 2019. However, in 2020, Roger Federer dethrones Messi, with Ronaldo finishing second.
Lionel Messi Net Worth Dependency
In the case of athletes, match winnings account for a large portion of their revenue. Messi is presently ranked third in the globe and among the finest players in the world. He has also put a lot of money into his own branded products and personal investments.
He's also one of the most popular celebrities on the planet. We can be very optimistic about Lionel Messi net worth, which will continue to expand over time, based on his current performance and record-breaking achievements.
He once turned down an offer from the Spanish national football squad. Messi is also a renowned humanitarian, having founded the Leo Messi Foundation, which aims to provide the finest educational and health care possibilities for children. His foundation, with the support of Herbal-life, assists children with significant medical difficulties pay for medical care, transportation, and recovery.
Everyone has some tiny secrets or truths about their lives, but when it comes to our favorite athletes, we become enthralled with the prospect of poring over the pages of their life books. We hope we've provided you with some interesting reading material about Lionel Messi's life.
Finally, we wish Lionel Messi the best of luck in the coming year and also with an increase in Lionel Messi net worth.
Leo Messi, Entrepreneur and Philanthropist
The former Barcelona no.10 enjoys investing in buildings in his hometown of Rosario, where he owns the Azahares del Parana project (a collection of gated communities on the outskirts of town) and an apartment complex in the city center.
Messi has his own philanthropic foundation, the Leo Messi Foundation. There, he provides a huge sum of money to youngsters who cannot afford an education or a single meal per day.
He only gives to reputable charities and businesses. Lionel Messi was appointed as a UNICEF ambassador in 2010 after working with the organization since 2004. Since then, he has been involved with the organization and has aided many children in need. So, check out this article about  Lionel Messi net worth and other details.
With 247 million Instagram followers, Lionel Messi is the third most followed person after Cristiano Ronaldo and Dwayne Johnson. Messi's photo with the Copa America trophy 2021 has received the most likes of any athlete's photo.
Messi does not use Twitter, but he has 103 million Facebook fans. Messi, in fact, has a huge influence on individuals both on and off the pitch.
As a result, if Lionel Messi joins PSG in the summer transfer window, his net worth will remain at the top of the list of the world's highest-earning athletes in 2023.
Frequently Asked Questions on Messi (FAQs)
Is Lionel Messi worth a billion-dollar?
Of course. Lionel Messi is not a billionaire as of 2023. Throughout his career, he has made over $1 billion, but that is not Lionel Messi net worth. He is one of the world's highest-paid athletes and Lionel Messi net worth is approximately $600 million.
How much money is Lionel Messi worth in rupees?
Lionel Messi net worth is estimated to be around 4,459 crores in Indian rupees.
What is Messi's most valuable automobile?
Messi has a number of high-end automobiles. 335 S Spider Scaglietti is the most costly, with a price tag of $35.5 million.
When did Lionel Messi win his seventh Ballon d'Or award? 
Lionel Messi wins the record seventh Ballon d'Or award on 29 November 2021.
What is Messi's contribution to UNICEF?
In February 2019, the Leo Messi Foundation donated $218,000 to UNICEF Kenya programs.
How much does Messi earn every year?
Messi's annual income is estimated to be around £24 million, or $653k each week.
What is the name of Lionel Messi's Wife?
Lionel Messi Wife name is Antonela Roccozzo (m. 2017).
Apart from this, you can also read Entertainment, Tech, and Health-related articles here: Messi wins seventh Ballon d'Or, Twitter New CEO Parag Agrawal, Squid Game Season 2, Joe Biden net worth, Crackstream, The Matrix 4, Goku, Kung Fu Panda 4, Leonardo DiCaprio net worth, Diabolik Lovers Season 3, Twitch Error 2000, Alyson Hannigan, Brent Rivera net worth, Emma Watson net worth, 444 angel number, 666 angel number, 1616 angel number, 777 angel number, 333 angel number, Dave Portnoy net worth, Keanu Reeves net worth, The Equalizer 3, The 100 Season 8, Gina Carano net worth, Bruno Mars net worth, KissAnime, Jim Carrey net worth, PDF Drive, Youtbe, Bailey Sarian Net Worth, Bollyshare, Afdah, Moviezwap, Y8, Jalshamoviez, Project Free TV, Kissasian, Mangago, Jio Rockers, M4uHD, Hip dips, M4ufree, NBAstreams XYZ, CCleaner Browser review, Avocado Calories, Bear Grylls net worth, Highest Paid CEO, The 100 season 8, Sundar Pichai net worth, Grimes net worth, and, F95Zone.