20 Best Romantic Comedies on Netflix
Do you want to have a one-night stand? A fling at work? A full-fledged commitment spanning 30 episodes? Are you looking to chuckle the entire time you're watching whatsoever type of connection you choose? We've compiled a list of 20 of the best romantic comedies now available on Netflix.
We looked through Netflix's huge repertoire of will-they-won't-theys and could-they-should-theys, both movies and TV episodes, to identify the films that are guaranteed to make you laugh and feel butterflies. There are rom-com classics such as Emily in Paris and To All the Boys I've Loved Before. However, there are lots of unusual options, such as Easy, The Incredible Jessica James, and The Duff.
Snuggle up with some chocolates, a glass of wine, and a warm blanket. Here are the top 20 romantic comedies available on Netflix right now.
Falling Inn Love (2019)
Assume you're watching a home improvement show. Make a scripted Bachelor spin-off out of the home improvement show. Now, set that home improvement show that became a fictional Bachelor spin-off in New Zealand. Finally, throw in a few puns, and you have Falling Inn Love.
This deliciously insane adventure into renovating romance, starring Christina Milian and Adam Demos, is the perfect comfort movie for a comfortable afternoon on the couch. Admire the lovely settings, covet the linen clothes, and marvel at Gilbert, the goat.
Holidate (2020)
Netflix's Holidate, directed by John Whitesell (Deck the Halls), takes the "false relationship" cliche to new, festive heights. Emma Roberts and Luke Bracey feature in this will-they-won't-they romantic comedy about two friends who agree to be each other's "holidates" — specially designated plus ones for special occasions when the pressure of a real romantic relationship is the last thing anyone needs. With all the flirting fun of holidays like Christmas, Valentine's Day, and [checks notes] St. Patrick's Day, it's only a matter of time before these not-lovers start making eyes over the dinner table.
When We First Met (2018)
When We First Met is a film that falls somewhere between Hot Tub Time Machine and Some Kind of Wonderful. It imagines the perfect first date over and over again.
Adam DeVine and Alexandra Daddario star as a couple who can't seem to get their time right, with Robbie Amell and Shelley Hennig providing supporting roles. The cloying tone and overdone idea of this film should not work, yet they do. It's…fate?
Love Seasons 1-3
Love is a bit of a mishmash of a series, but then then, so is its namesake.
Mickey Dobbs and Gus Cruikshank, played by Gillian Jacobs and Paul Rust, are two Angelenos who meet by chance at a gas station and fall hopelessly, madly in love with…something. Viewers are treated to the ups, downs, and sideways of finding the one throughout the course of the show's all-too-brief three seasons. Come for the promise of a happily ever after, but stay for everything else.
Been So Long (2018)
Been So Long is a romantic look at a fortuitous encounter between two people in dire need of a respite from reality, adapted from the musical of the same name. This flowery romance will have you from the first lines sung — and won't let go until the very last verse — thanks to the explosive exchanges between stars Michaela Coel and Arinzé Kene.
The Lovebirds (2020)
In the incredibly amusing The Lovebirds, Issa Rae and Kumail Nanjiani play a nice couple locked in a terribly screwed-up scenario. When our titular lovebirds are accused of a vehicular homicide, date night turns into a race against time to investigate the crime they didn't commit. It's the ideal popcorn movie, with just enough heart to make you care about the characters.
The Half of It (2020)
The Half of It, directed by Alice Wu, follows straight-A student Ellie Chu (Leah Lewis) on her road to self-acceptance. It does wonders for the streaming service's rom-com library, not because the themes are particularly novel, but because Wu executes them with her own unique style.
The Half of It is a fascinating blend of original subject matter and clichéd storytelling that examines the views of characters uncommon to the genre — especially, Ellie, a gay, Chinese-American adolescent — with some very obvious plot twists. You won't have seen this narrative told with these people anywhere else, but you'll think you have. That's a win for the genre in and of itself.
Easy Seasons 1-3
Easy by Joe Swanberg covers a lot of emotional material, but the love moments stand out the most.
This series weaves together so many genuine displays of feeling that it can be difficult to keep your heart in check. An intimate anthology analyzing relationships in Chicago, this series weaves together so many genuine displays of feeling that it can be difficult to keep your heart in check. Although not all of the characters fall in love, you will surely fall in love with all of them. Begin at any point during any of the three seasons and see where you end up. (Tears. It's tears that get you.)
The Incredible Jessica James (2017)
The Incredible gives you a masterclass in self-assurance and healthy communication. Jessica James is a writer. Jessica Williams co-stars alongside Chris O'Dowd, with LaKeith Stanfield providing support. This delightful story about a lady who will go to any length to be loved the way she deserves delves into a lot of the issues that make romance such a tricky business. This rom-com, on the other hand, has just the proper amount of optimism to keep you committed until the end, which is a stunningly grounded happily ever after.
About Time (2013)
In this romantic dramedy starring Rachel McAdams and Domhnall Gleeson, a woman falls head over heels for a time traveler. We know, that sounds ridiculous and probably isn't very good. But writer-director Richard Curtis handles this outlandish notion with such grace and elegance that you'll soon be lulled into embracing its beautiful realism. As a result, you've been forewarned: bring Kleenex. This one is very taxing on the tear ducts.
Alex Strangelove (2018)
You must first discover yourself in order to find true love.
Alex Strangelove is a coming-of-age story that will make your palms sweat. It stars Daniel Doheny, Antonio Marziale, and Madeline Weinstein in sad performances. This film is a heartbreaking and sympathetic look at coming out; the world is full of good people doing good things, and any viewer will need a handhold.
Always Be My Maybe (2019)
Fans of the Netflix comedy special Baby Cobra have been waiting a long time for a fictional Ali Wong fantasy, and Always Be My Maybe does not disappoint. With love triangles, awkward childhood flashbacks, Keanu Reeves in the character he was born to play, and accurate representations of the Asian-American experience, Wong and Randall Park provide a fascinating will-they-won't-they.
Emily in Paris Seasons 1-2
Emily in Paris is Darren Starr's (Sex and the City, Younger) flowery Parisian fantasy that you'll suck up like a "chatte" drinking "lait." Lily Collins plays the titular ex-pat, a young Chicago marketing executive who receives an unexpected promotion that brings her to France. She sells perfume, eats excellent cheese, and, of course, falls in love with Lucas Bravo's gorgeous chef. This show isn't entirely rom-com, but it's at least 75% of the time.
Sex Education Seasons 1-3
From the minute Sex Education's protagonist feigned to masturbate, we were hooked.
There's a lot to like about this flawlessly cast teen drama. But, in light of the events of Seasons 2 and 3, nothing feels more pressing than Otis' (Asa Butterfield) and Maeve's (Emma Mackey) relationship, with the exception of Eric's (Ncuti Gatwa) continuous love antics. A great romance is at the center of every great novel, and Sex Education has more than its fair share.
Never Have I Ever Seasons 1-2
This smart, lovely coming-of-age narrative, created by Mindy Kaling and Lang Fisher, was one of the most satisfying new Netflix binges of 2020. Then, in 2021, it returned to dazzle us once more.
Devi, a high school sophomore mourning from the loss of her father the year before — but with great ambitions for a future as vivid and courageous as she — will grab your heart as lead Maitreyi Ramakrishnan. Never Have I Ever is both culturally and authentically significant, as well as a dreamy teen rom-com that you'll love.
Bridgerton Season 1
Where do you begin with Bridgerton, the scandalous, sensual, and ridiculous sensation? In this period drama, Regency-era Londoners search for love while avoiding controversy at every turn, all while being scrutinized by the Queen and a slew of courtiers. It's a cross between Gossip Girl and Downton Abbey, with a How to Get Away with Murder-style twist that's indisputably Shonda Rhimes. You're going to adore it so much that you should plan on binge-watching it from beginning to end.
Crazy Ex-Girlfriend Seasons 1-4
Monuments should be built in celebration of this television masterpiece, but for for, a place on our list will suffice. Crazy Ex-Girlfriend is as much a gooey rom-com as it is a daring picture of self-love, with four amazing seasons of musical-infused lunacy. Rebecca Bunch (Rachel Bloom) and her swarm of adorable companions will greet you with open jazz hands whether you're single, attached, or moving to West Covina for Josh from camp.
Set It Up (2018)
Set It Up is a seductive mash-up of The Devil Wears Prada and Jim and Pam's The Office relationship that makes office romance almost seem like a good idea. Almost.
This lighthearted comedy, starring Zoey Deutch and Glen Powell as two overworked assistants determined to make their bosses fall in love, is full of laughs and butterflies. Plus, Taye Diggs and Lucy Liu have a romantic relationship that is quite intriguing. Thank you very much.
The Duff (2015)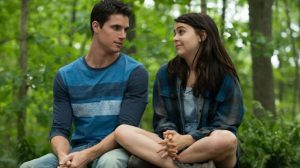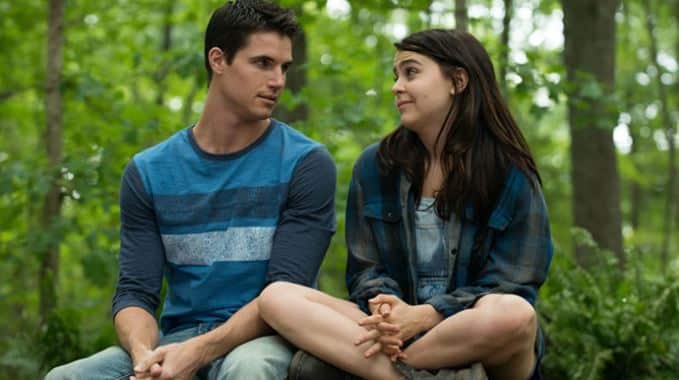 The Duff, based on Kody Keplinger's novel, is one of those films that you expect to be tone-deaf to the juvenile issues it plods through. Instead, director Ari Sandel and screenwriter Josh A. Cagan create something so endearing that you'll forget about your reservations.
Bianca (Mae Whitman) is a high school senior who is battling with the notion that she may be the "Designated Ugly Fat Buddy" in her friend circle. Wesley (Robbie Amell) is Bianca's longtime childhood buddy, the football team's current captain, and the boyfriend of cruel girl Madison (Bella Thorne). The pair's dormant friendship is reignited when Bianca enlists Wesley's help in a glow-up. They learn some valuable lessons, and…well, you can probably guess what happens next.
To All the Boys I've Loved Before (2018)
If you're reading this list, there's no way you haven't seen To All the Boys I've Loved Before and its two sequels, To All the Boys: To All the Boys: To All the Boys: To All the Boys: To All the Boys: To All the Boys: To All the Boys: To All the Boys: To All the Boys: To All the Boys: To All P.S. I Still Love You and To All the Boys: Always and Forever are two of my favorite songs. But, with the release of XO, Kitty, a spinoff series starring Anna Cathcart as the fan-favorite youngest sister, now is the greatest time to rewatch. Enjoy Lana Condor and Noah Centineo's chemistry. Enjoy the yogurt representation in a drinkable form. Consider why you didn't dress like this at school. Then it's time to send out your letters.
Apart from this, you can also read Entertainment, Tech, and Health-related articles here: Harnaaz Sandhu Net Worth, SmallPDF, Dramacool, Squid Game Season 2, Joe Biden net worth, Crackstream, The Matrix 4, Goku, Kung Fu Panda 4, Leonardo DiCaprio net worth, Diabolik Lovers Season 3, Twitch Error 2000, Alyson Hannigan, Brent Rivera net worth, Emma Watson net worth, 444 angel number, 666 angel number, 1616 angel number, 777 angel number, 333 angel number, Dave Portnoy net worth, Messi net worth, Keanu Reeves net worth, The Equalizer 3, The 100 Season 8, Gina Carano net worth, Bruno Mars net worth, KissAnime, Jim Carrey net worth, PDF Drive, Youtbe, Bailey Sarian Net Worth, Bollyshare, Afdah, Moviezwap, Y8, Jalshamoviez, Project Free TV, Kissasian, Mangago, Jio Rockers, M4uHD, Hip dips, M4ufree, NBAstreams XYZ, CCleaner Browser review, Avocado Calories, Bear Grylls net worth, Highest Paid CEO, The 100 season 8, Sundar Pichai net worth, Grimes net worth, and, F95Zone.
Information Source: Mashable
Subscribe to Our Latest Newsletter
To Read Our Exclusive Content, Sign up Now.
$5/Monthly, $50/Yearly