15 Best Ways to Fix Twitch Error 2000? [Latest Tech Tips 2023]
Do you know how to fix Twitch error 2000? Nowadays It is one of the most important issues related to Twitch. Sometimes Twitch users face the problem of Twitch error 2000. There are many reasons for this problem, such as network problems, browser problems, and so on.
As you know, technology evolves very fast to offer us more convenience. Therefore, it is obvious that we encounter various glitches from time to time. But when there is a problem, there is also a solution to solve it.
Twitch is a live streaming platform and many users use it to live stream their online activities. You can stream your games and earn more money. There are many matters that you can live stream on Twitch.
So let's talk about the Twitch problem, i.e. the Twitch 2000 bug.
A bit of history about Twitch
Twitch is a U.S. live video streaming service specializing in live video games, including esports broadcasts. It also offers music broadcasts, creative content, and, more recently, "real life" broadcasts.
It is operated by Twitch Interactive, a subsidiary of Amazon.com, Inc. It was founded in June 2011 as an offshoot of the general streaming platform Justin.tv. The site's content can be viewed live and on-demand.
Twitch's popularity has eclipsed that of its mainstream counterpart. In October 2013, the site had 45 million unique visitors and, as of February 2014, ranked as the fourth largest source of Internet traffic in the United States.
At the same time, parent company Justin.tv was renamed Twitch Interactive to reflect this change in focus – Justin.tv was shut down in August 2014.
That same month, the service was acquired by Amazon for $970 million, which involved synergies with the Amazon Prime subscription service.
In 2016, Twitch acquired Curse, an operator of online video game communities, and introduced tools to buy games through streaming links, as well as a program that allows streamers to earn commissions from the sale of the games they play.
What causes a Twitch error 2000?
The Twitch 2000 network error is mainly caused by an unsecured Internet connection. Sometimes this type of error is also caused by a server malfunction or incorrect browser settings.
But that's not all, because I'm going to show you how to solve this problem in a complete tutorial. But before that, I want to explain in detail the root cause of the problem. Without knowing the cause of the problem, you may not be able to solve it completely.
Without further ado, let's look at the causes of this error and its solution.
The possible causes are:
Error when using a web browser
Problem with Adblocker and browser extensions
Problem with antivirus software
Weak or slow network connection
Problem with HTML 5 player
Problem with the web application
Problems with antivirus software
Remember that Twitch Error 2000 may also appear on the screen with various error messages, such as:
Twitch device has been disconnected Error 2000: This error message appears when the Twitch device is disconnected.
A network error has occurred. Please try again. [error 2000]: This is a network error that can be easily resolved by restarting the PC or router.
Twitch error 2000 on Chrome: This is also a Twitch network error, but it occurs specifically when running the web version of Twitch.
How to fix Twitch error 2000 Step-by-Step?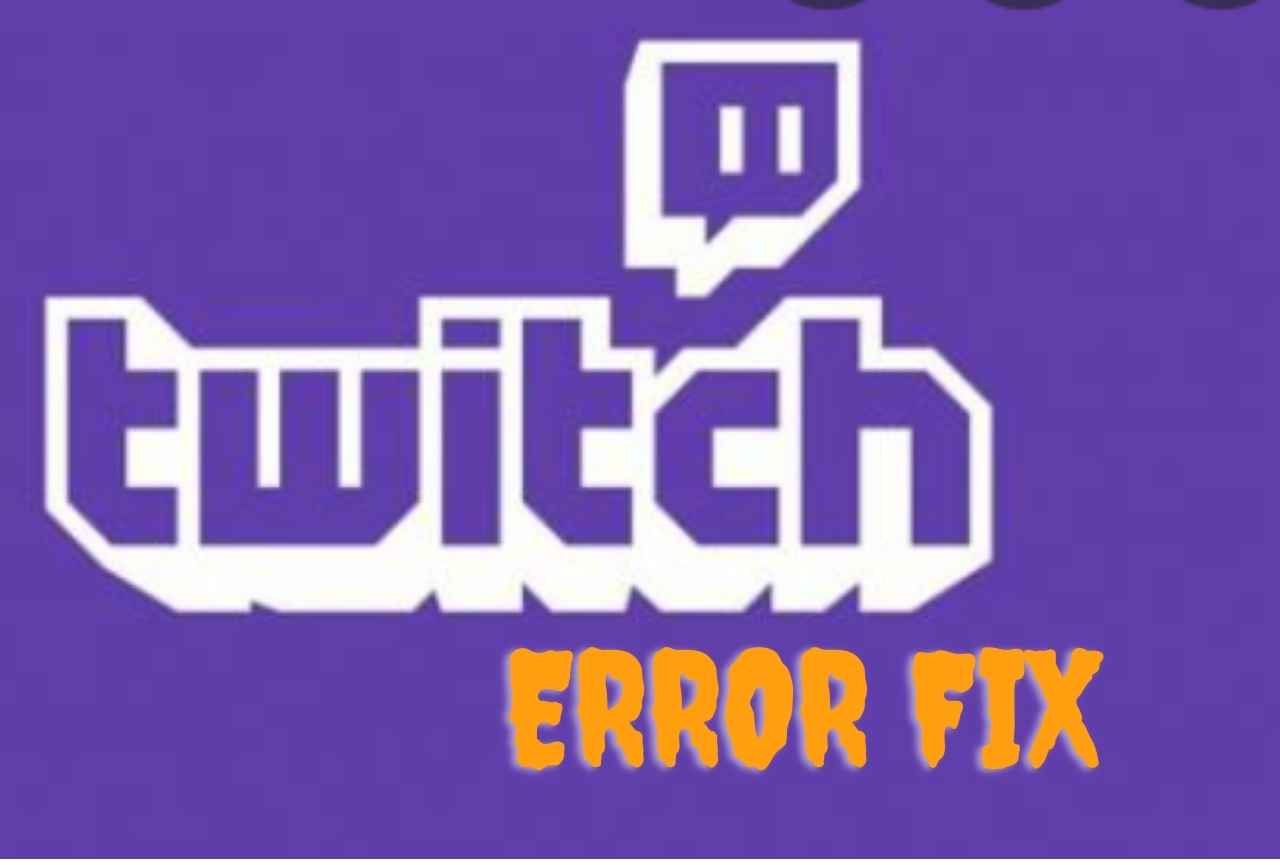 Deactivate antivirus software
Antivirus software such as Kaspersky, Windows Defender, and Avast can also be the cause of "Twitch error 2000". Normally, this software has the ability to block Internet content for security reasons.
In this case, it is possible that Twitch is also enabled, and as a result, the antivirus will block access to the platform.
To solve this problem, users can temporarily disable their antivirus programs. Once the problem is fixed, add Twitch as an exception to the list of platforms that the antivirus should spy on. This way, the antivirus will work while users are watching TV on Twitch.
Restart the Internet modem
The Twitch TV failure may also be related to your network connection. In this case, the user must make some network adjustments to try to fix the "Twitch Error 2000" problem.
If you are using an Internet modem or router, reboot or reconnect and try again to access the Life platform. You can also make some changes to your router settings. In the device settings, change the subnet mask to 255.255.255.255.0, reboot the router, and try sending data again.
Clear browser cache
Clearing the browser cache is another effective solution. All browsers tend to accumulate and store large amounts of data, including cookies and cached versions of websites.
It's a necessary evil, of course, as almost every website collects your data (including Twitch) and the browser itself collects it all to speed up the download process. However, they often have the opposite effect and slow down the connection or even break it completely.
To solve this problem, we recommend that you delete all data stored by your browser. The exception is, of course, passwords. Here you can see how to do it in the 3 main browsers:
Google Chrome and Mozilla Firefox
Press Shift + Ctrl + Del to open the Delete data menu on the screen.
Select "All time" as the time slot.
Focus on deleting cookies, cached images, cached files, and other website data.
Click on the Clear Data button.
Microsoft Edge
Open Edge.
Press the key combination Ctrl + Shift + Delete.
Select all checkboxes and click clear.
Clearing your browser cache will probably solve your problem with Twitch, but it's not guaranteed. However, it's pretty easy to do, and it doesn't hurt either.
Check the connection
The next step we recommend you take is with your network. If you can browse the Internet and the problem only occurs when you stream Twitch content, simply disable the VPN or proxy temporarily.
However, if you are experiencing general problems with your network, there are some troubleshooting steps you can try.
Here are some workarounds that should help you solve your network problems:
Restart the router and the computer
Temporarily disable a VPN or a proxy
Flush DNS
Run Connection troubleshooter from the Menu of Troubleshoot
We also recommend that you take a look at our list of the best programs that can fix Windows 10 network problems if you can't solve them manually.
Disabling Adblocker extensions
Twitch, like many online streaming services, is free but is funded by advertising and subscriptions. If you do not subscribe to a particular Twitch channel, you will likely see ads before downloading a Twitch stream.
Many Chrome users use ad-blocking extensions to avoid seeing ads online. Unfortunately, Twitch goes a step further than these extensions, as video ads are generally protected. However, in some cases, ad blockers prevent ads from loading, but they can also prevent the Twitch stream from loading.
If you think your ad blocking extension is causing the Twitch error 2000, you should add Twitch to the list of unblockable extensions or disable Ad blocking altogether.
To disable an extension, select the three dots menu icon in the upper right corner, then select More tools > Extensions from the menu.
In the Chrome extensions menu, select the slider next to the Adblocker extension to disable it.
After disabling, refresh the Twitch stream (and leave the ads running). The stream should start loading, assuming ad blocking is the cause of the problem.
Refreshing the Twitch stream
This is the easiest way to fix the Twitch 2000 error in Chrome. If you see the error, you need to refresh the page quickly. It helps many Twitch users to fix the problem.
If something breaks while loading the page in Chrome and disconnecting from the Twitch server, just quickly click the "Refresh Twitch Stream" button in that case.
Switch to another web browser
The web browser also has hidden issues that can also cause the Twitch error 2000 in Chrome. There are many other ways to switch to other web browsers.
To do this, it is necessary to perform certain actions, such as checking the network settings and disabling unnecessary browser extensions.
There are many other options for web browsers, for example, Firefox can stop the error through the general privacy settings.
Disable the Advanced Anti-Tracking option for Ghostery
There is an entire thread on Reddit dedicated to this solution, and for many Reddit members, this trick fixed the Twitch error 2000.
If you have Ghostery installed in your browser, open Ghostery and click on the shield icon. From there, simply disable it to turn off the advanced anti-tracking mode, which will most likely affect your Twitch streams. Try updating your Twitch stream again and see if it works.
Disable HTML 5 player in Twitch
Sometimes the HTML5 player conflicts with Twitch and causes a Twitch 200: Network error. To resolve this issue, you need to disable the HTML5 player. Follow these steps:
Step 1: Go to the Twitch website.
Step 2: Play each video on each channel.
Step 3: Click on the cog (Setting icon) at the bottom right of the screen.
Step 4: Select the advanced settings.
Step 5: Disable the HTML5 player.
If that doesn't work, try the Twitch desktop app
It's not a solution, and you have every right to get mad at me for it haha.
However, if you have an urgent need to watch a Twitch stream, you can install the official Twitch desktop app to watch Twitch streams directly without going through the browser. This version is much more stable than the browser version, which can sometimes cause unpredictable errors.
The official Twitch desktop application can be downloaded below:
Download the Twitch desktop application.
After installing the Twitch desktop app, just open the Twitch stream you want to watch and start watching it.
We hope the above information has helped you fix Twitch error 2000 and get your Twitch streams back up and running.
Check out the tips and recommendations in the many helpful comments from others who have had the same problem. Let us know if you have found a better solution and we will update the article accordingly.
Add Twitch to the list of trusted sites
Adding Twitch to the list of trusted sites is quick and easy, and you can apply this patch to any other site that displays a security message or has access blocked.
Open Internet Explorer > Tools > Internet Options, and then click the Security tab.
In the Select a zone window to view or change security settings, click Trusted Sites and then Sites.
Check the box "Require https: server validation for all sites in this zone".
Enter the URL "https://www.twitch.tv/" of your trusted site, then click Add and Close.
Close all open browsers and log back into Twitch.
Try the Twitch desktop client
Also, if you can't fix the problems you're having by looking at the Twitch browser client, we recommend you look into the desktop version. In my experience, it's a much better option.
If the above solution did not work, you may be using a version of the Twitch web application. You can switch to the desktop version of the application, as it offers a better user experience and is more sustainable in terms of overall functionality.
This dedicated client works in a similar way but offers a better overall experience and a number of additional features. If you want to try it, you can find the installer here.
That's all for today. We hope these methods have helped you fix the Twitch error 2000.
Contact Twitch support
If all the steps or processes I have described above do not help you, please contact Twitch support via the forums or direct support email. You can also post your problem in the comments and we'll help you get rid of the Twitch 2000 bug.
Conclusion
We hope this blog has helped you fix the Twitch error 2000. Let us know in the comments section which method worked for you and which didn't. In the end, remember to enjoy your streamer and have fun.
FREQUENTLY ASKED QUESTIONS (FAQs) on Twitch Error
Why do I always get an error message on Twitch?
Since the network problem is somehow related to the Internet, the Twitch error 2000 may be caused by a bad Internet connection. If the problem is Internet-related, try turning off the Internet router for a while, then turn it back on and check the problem.
Why do I keep getting Twitch error 3000?
Twitch error code 3000 is a media decoding error. This means that the browser is unable to translate the stream information correctly, resulting in something similar to an endless loading screen. Many users are reporting that the resolution is changing to 360p, 720p, 1080p, and other available resolutions.
How to fix error 1000 on Twitch?
For example, an incorrect cookie stored by your browser can cause permanent streaming problems. To fix this problem, you can specifically look for Twitch cookies and delete only those or delete the entire cookie folder of your browser.
Why do I always get an error when I upload videos to Twitch?
One of the most common causes of error code 1000 on Twitch is related to the streaming configuration. The solution is to change the bitrate and stream below 6,000 kbps. Set your encoder to the maximum bitrate of 6,000 kbps and everything will work fine.
Apart from this, you can also read Entertainment, Tech, and Health-related articles here: Squid Game Season 2, Alyson Hannigan, Brent Rivera net worth, Emma Watson net worth, 444 angel number, 666 angel number, 1616 angel number, 777 angel number, 333 angel number, Dave Portnoy net worth, Lionel Messi net worth, Keanu Reeves net worth, The Equalizer 3, The 100 Season 8, Gina Carano net worth, Bruno Mars net worth, KissAnime, Jim Carrey net worth, PDF Drive, Youtbe, Bailey Sarian Net Worth, Bollyshare, Afdah, Moviezwap, Y8, Jalshamoviez, Project Free TV, Kissasian, Mangago, Jio Rockers, M4uHD, Hip dips, M4ufree, NBAstreams XYZ, CCleaner Browser review, Avocado Calories, Bear Grylls net worth, Highest Paid CEO, The 100 season 8, Sundar Pichai net worth, Grimes net worth, and, F95Zone.
Subscribe to Our Latest Newsletter
To Read Our Exclusive Content, Sign up Now.
$5/Monthly, $50/Yearly