What is Agile SDLC? It's Uses and Implementation in App Development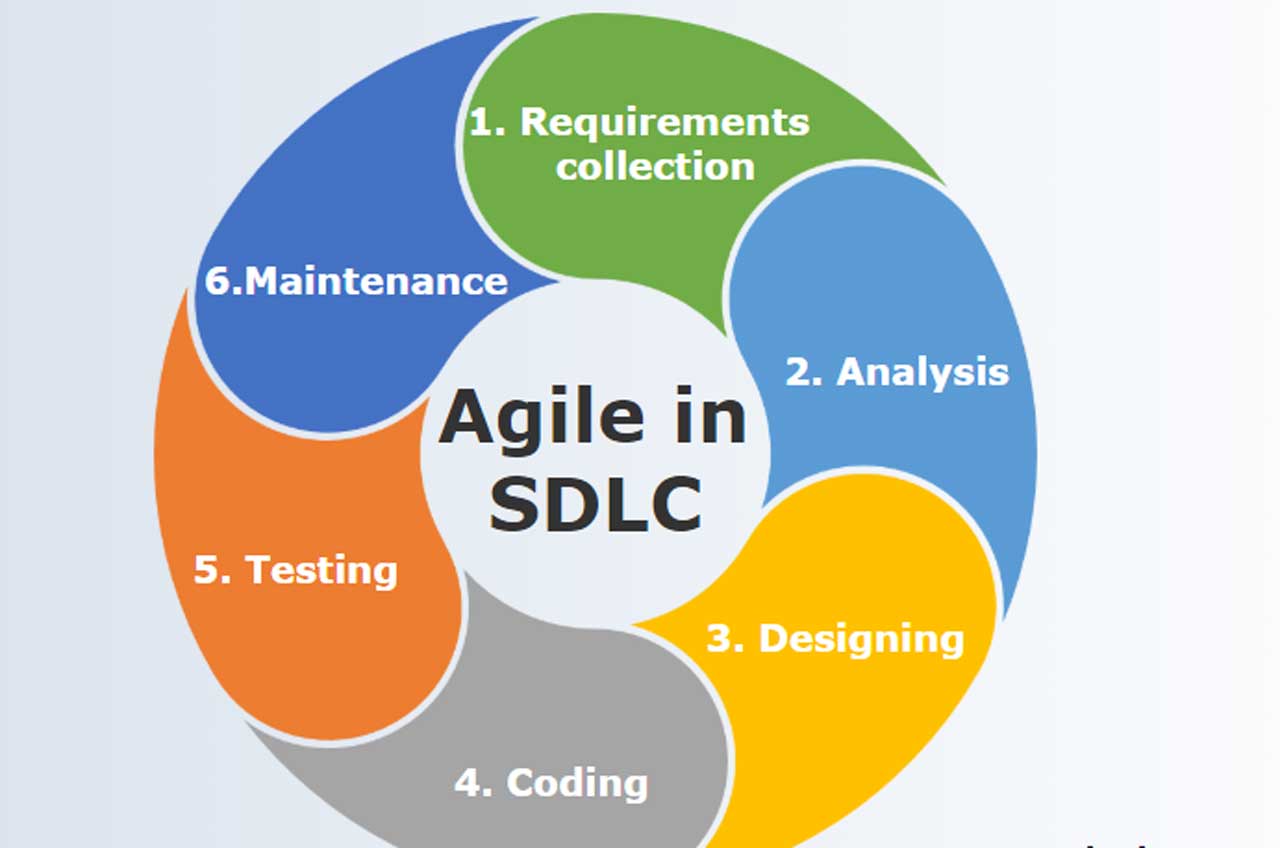 Businesses and industries are now more inclined towards digital transformation and mobile application development to ensure maximum user acquisition and increased ROIs.
Since the focus is now on global markets and catering to an audience beyond the location barriers, the need for robust, quick, and result-driven solutions is a must.
That's where Agile development comes into the picture.
Whether you are interested in developing a robust mobile or web app, or are a web development company, agile SDLC development is always a preferred approach.  
The framework is focused on providing developing solutions in an incremental approach until the product is perfected.
So, why is Agile software development life cycle (SDLC) important in app development?
This article brings an answer to this and every other important question that you, as an entrepreneur, would be thinking of.
Here's everything the article includes:
What is the Agile app development approach?
Why should developers opt for Agile SDLC?
Agile SDLC in app development
So, let's get started.
What is the Agile App Development Approach?
Agile development is basically an iterative methodology that focuses on building digital software using an incremental approach – building the app iteratively and making improvements as needed.
The approach is far different from the conventional app development methods where the product is delivered at the end of the timeline.
What makes it convenient for teams to opt for the agile development process is that it is a highly synchronized and flexible process that allows moving back and forth as per the product requirements or changes required.
In general, the stages included in the agile app development process are planning, designing, development, testing, and reviewing, which occurs in an iterative manner until the product is launched.
However, following a definitive approach can help you to find out how to make a successful app.
The methodology is based on collaborative decision-making between team members, including developers, project managers, and designers, to deliver a highly-quality digital product.
The tasks are performed in regular iterative cycles, known as sprints, that usually lasts up to two weeks, and then the deliverables are launched.
The key takeaways from the agile development approach are following:
It is a process-oriented approach
Highlight the changes made to the deliverable to improve quality and performance.
Focused on accelerating the delivery process.
Why Should Developers Choose Agile Development?
Along with being an incremental approach and enabling developers to quickly launch products in the market, agile development comes along with several benefits.
Since it's focused on delivering a profitable app in an efficient manner, here are some of the primary aspects agile app development focuses on:
1.     Product Quality
The prime focus on agile app development is to focus on delivering quality products to the market to prioritize user-centricity and acquisition for businesses.
Since the app development procedures in this methodology work in an iterative manner, testing, and quality assurance are conducted at every stage of development.
With continuous testing and quality evaluation, the approach helps in identifying the existent issues and removing them adequately.
2.     Flexibility
One of the prime features of agile development is that it offers flexibility in developing and quality assuring the product.
Subsequently, it allows developers to go back and forth and make updates as per the requirement to ensure the app quality remains intact and the purpose is well-served.
This approach gives enough room to identify mistakes and make improvements.
3.     Shorter Time to Market
With quick product delivery, the solution reaches the market more quickly than in any other conventional app development approach.
This is primarily important for entrepreneurs and startups as this can help to tap into their competitive market in a quicker and more result-oriented manner.
Also, since it allows developers to make updates whenever required, it also adds more credibility to the business performance and plays a part in enhancing the user experience.
4.     People-Focused Approach
Agile app development is a team effort; it focuses on collaboration between team members, stakeholders, clients, and end-users as well to ensure the product developed is robust, performance-oriented, and serves a purpose.
Also, working in a collaborative team allows developers and managers to get more insights into clients' vision and what they expect from the product.
5.     Cost-Effective
Agile app development helps entrepreneurs to invest wisely and make sure funds are used adequately, making it a cost-effective approach.
6.     Optimal Elimination of Risks
Agile methodology focuses on working on small tasks at a time to be integrated into a big picture. This helps the team to make fewer errors, ensure the purpose is completed, and reduce the occurrence of risks.
7.     Collaborative Working Environment
The agile methodology leverages the sprint approach to develop and deliver end-products. This enables teams and clients to collaborate instead of working as separate entities.
While this ensures the product delivery is close to the initial requirements, it provides a collaborative working environment allowing meaningful sessions and more insights to develop profitable digital products.
Agile SDLC in App Development
Developing a mobile app using an agile development approach can provide several benefits as mentioned above; however, the following are certain components that must be in there to make the process more efficient and result-driven:
1.     Scrum Roles
In an agile development team, every team has certain roles that define how efficient the results would be. Here are the important roles in a scrum:
Scrum Master: Scrum Master is the person who makes sure that the team follows the scrum as per scheduled time. Also, they make sure that the team is fulfilling their responsibilities and is performing according to the set deadlines.
Product Owner: product owner takes care of the backlog and makes sure the team is dedicated to achieving the set targets. They are responsible for ensuring smooth communication between the team.
Scrum Team: Scrum team includes developers, managers, testers, and people who do the actual tasks.
2.     Product Backlog
A product backlog in simple terms is explained as the project requirements that are to be delivered by the team.
A product backlog is usually managed and updated by a product owner, and it contains various documents that are worked upon by their internal team. 
3.     Agile Sprint Backlog and Planning
This is the step where the team decides what tasks from the product backlog that the team would focus on currently. Subsequently, they create a sprint backlog of the tasks to be done.
Sprint backlogs are then usually divided into actionable entities that the team agrees on working as the backlog items once the sprint begins. 
4.     Daily Scrum Meetings
Scrum meeting is a regular practice that starts after the team has started working on the product backlogs. Scrum is a stand-up meeting for 15-minutes where the team discusses their last day's work and discuss their plans for the next day.
5.     Sprint Review
Since the entire process is divided into several sprints, a sprint review is when the team discusses the deliverables, the stages where they got stuck, and what part went well.
The print review sets the base and action statement for the next sprint.
6.     Increment
An increment is the final product of a scrum. The aim at the end of the scrum is to deliver quality increment that is free from errors and is functionally robust.
7.     Learn. Repeat. Improve.
The entire sprint cycle is repeated until the entire product is developed and delivered. While the team executes sprints, the product owner takes care of the product backlog to make sure the team is synchronized with the tasks.
Wrap Up
Agile SDLC methodology is a profitable approach when it comes to app development.
From flexibility and bug-free products to the collaborative working environment and shorter market time, the agile methodology offers great benefits to businesses.
So, if you are interested in developing an app for your businesses, you now know why you should opt for an agile approach.
Apart from this, you can also read Entertainment, Tech, and Health-related articles here: Alyson Hannigan, Brent Rivera net worth, Emma Watson net worth, 444 angel number, 666 angel number, 1616 angel number, 777 angel number, 333 angel number, Dave Portnoy net worth, Lionel Messi net worth, Keanu Reeves net worth, The Equalizer 3, The 100 Season 8, Gina Carano net worth, Bruno Mars net worth, KissAnime, Jim Carrey net worth, PDF Drive, Youtbe, Bailey Sarian Net Worth, Bollyshare, Afdah, Moviezwap, Y8, Jalshamoviez, Project Free TV, Kissasian, Mangago, Jio Rockers, M4uHD, Hip dips, M4ufree, NBAstreams XYZ, CCleaner Browser review, Avocado Calories, Bear Grylls net worth, Highest Paid CEO, The 100 season 8, Sundar Pichai net worth, Grimes net worth, and, F95Zone.