Razer Blade 15 2018 H2 – One of the Best Gaming and Powerful Laptop
Listen to the Podcast:
The Razer Blade 15 2018 H2 is among the best gaming laptops currently available. This laptop is exceptionally lightweight for veteran PC gamers; despite its capability, it weighs less than 2.1 kg.
It contains all the components necessary for an exceptional gaming experience, including a fast 8th-generation Intel Core processor, 16GB RAM, and an NVIDIA GeForce GTX 1060 Max-Q graphics card.
The 15.6-inch display provides spectacular graphics with its FHD resolution and vivid colour palette. In addition, the Chroma RGB lighting allows for adjustable illumination to create an even more immersive gaming atmosphere.
In addition to being an excellent gaming device, this laptop functions admirably as a productivity tool. As gamers, we feel that picking a laptop requires serious analysis, which is why we're producing this review to assist you in making the ideal purchase.
Join us through this Razer Blade 15 review as we reveal everything under the hood of the 2018 iteration of the Razer Blade 15 to evaluate whether it's a good buy.
Razer Blade 15 2018 H2 Review
The Razer Blade 15 2018 H2 is a terrific new gaming laptop at a much lower price than you might think. It has an Intel Core i7-8750H and an Nvidia GeForce GTX 1060 Max-Q Processor and costs $1,799. Razer's laptop is one of the first to feature dual storage and Gigabit Ethernet. The comprehensive evaluation of the new model, which offers the ideal balance of performance and price, can be found below.
The Razer Blade features the most recent Intel processors, which are just making their way into the majority of gaming laptops. Also included are 16GB of RAM and a GeForce GTX 1070 graphics card. In PCMag's benchmark tests, the Razer Blade performed extraordinarily well. But not everyone will appreciate it, regardless of price. Consider purchasing a laptop stand or other cooling device.
The Razer Blade 15 (2018) has poor ventilation due to frequent obstruction of its fans, which can result in increased heat buildup and potentially harm the laptop's performance or components, which may require repairs or replacement of the fan. Users may need to take extra steps to ensure adequate cooling during use
The Razer Blade is an excellent alternative for entrepreneurs seeking a high-quality laptop for everyday use. Despite not being the most powerful gaming laptop, you can still play games at a high level on it. It boasts a fingerprint-resistant matte black finish and is compatible with the vast majority of gaming accessories. In addition to its keyboard, the Razer Blade 15 features a full complement of connectivity, including three USB 3.1 ports and one USB Type-C port.
Read More: Nware 17in Laptop
Specification
This laptop is an excellent purchase for any gamer seeking an affordably priced portable gaming station. Even though it has an average battery life and mediocre storage capacity, it is loaded with other features that will make your gaming sessions consistently entertaining.
| | |
| --- | --- |
| Features | Specifications  |
| Display | 15.6 inches |
| Pixels per inch | 141.2 pixels per inch  |
| RAM | 16 GB |
| Storage | 1128 GB |
| Battery life | 4.9 hours |
| Frame per inch | 50.25 frames per inch |
| Processor | i7-8750H (2.20 GHz) |
| Chipset Brand | NVIDIA |
| Weight | 2.1Kg |
| Operating System | Windows 10 home |
| GPU | NVIDIA GeForce GTX 1060 Max-Q |
| Memory Speed | 2666MHz |
| Processing Speed | 2.40GHz |
| Connectivity WiFi | Bluetooth |
| Ports | USB Type A, Thunderbolt 3 |
| Price | $1799  |
Important Features of Razer Blade 15 2018 H2
Design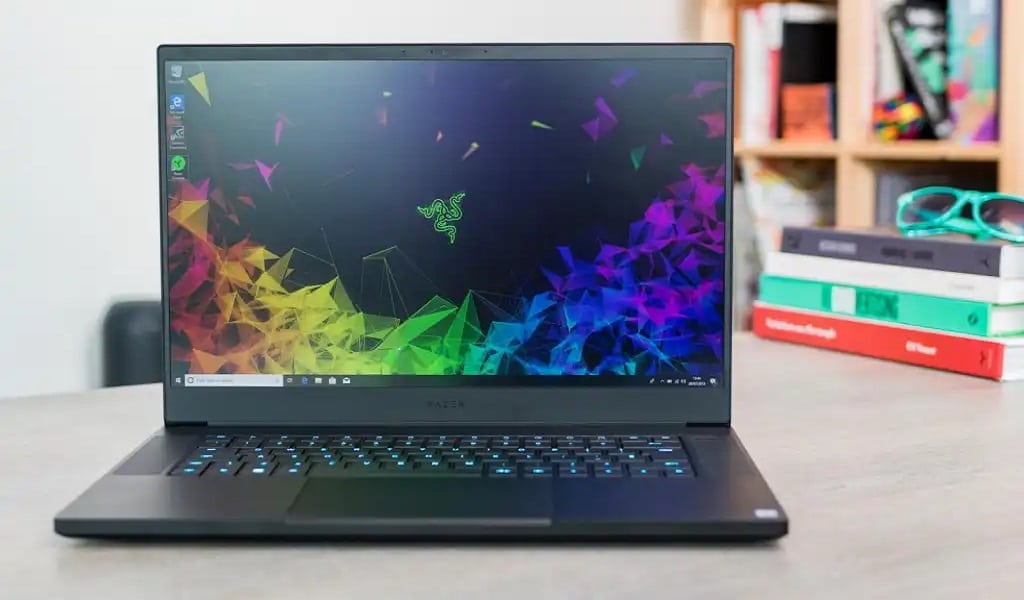 The Razer Blade 15 2018 H2 is a design marvel for a laptop. It has an ultra-thin aluminium unibody, measuring 0.7 inches in thickness and weighing 4.56 pounds. The laptop has a captivating full HD display with a phenomenal refresh rate that gives motion-free images.
The 8th Generation Intel Core i7 processor and NVIDIA GeForce GTX 1060 Max-Q graphics give the user the power for demanding gaming or productivity tasks such as video editing and creative work. In addition, this laptop features up to 16GB of RAM and 256GB of SSD storage, allowing users to save their files securely and quickly retrieve them when necessary.
Memory
The Razer 15 comes with 16 GB of memory by default. This means you have superb multitasking and app-switching performance. Moreover, the memory is not soldered and may be expanded to 32 GB.
Processing Power
The Intel-powered i7-8750H processor, with a processing speed of 2.20GHz, is insufficient for playing the most recent high-end games. Before contemplating this gaming laptop, scepticism is warranted since it is unlikely to match quality requirements.
Also Read More: Macbook 12in M7 Review
Graphics Card
The Razer Blade 15 2018 is equipped with the NVIDIA GeForce GTX 1060 Max-Q graphics card, which is optimal for multiplayer gaming. It can play older games simply, but it cannot comprehend the visuals of the most recent titles. Razer 15 2018 h2 should only be considered if you want to play multiplayer games.
Resolution
If you're looking for a laptop for gaming or personal document processing, the Razer blade's 1920 x 1080 resolution is a decent characteristic to check for. The display's 15.6-inch size and resolution make it the ideal feature for playing a variety of games.
Battery Life The machine's battery life is subpar at best. Even though this is a lithium-ion battery, it has a rather short lifespan; it may be used for five to six hours on a single charge with mixed usage and much less when gaming.
However, it is crucial to know that this laptop consumes a significant amount of battery life when gaming, and it is normally advised to avoid playing games while on battery.
Battery Life
The Blade 15 features a 15.6-inch display with exceptional clarity, contrast, and colour. It has a 100 percent sRGB colour gamut, which is ideal for gaming but inconsistent for other applications, like media editing.
This Razer Blade's display has a high brightness level, but its shiny surface makes it a fingerprint magnet.
Display
The Blade 15 features a 15.6-inch display with exceptional clarity, contrast, and colour. It has a 100 percent sRGB colour gamut, which is ideal for gaming but inconsistent for other applications, like media editing.
This Razer Blade's display has a high brightness level, but its shiny surface makes it a fingerprint magnet.
You must exercise caution when utilizing the touchscreen. In addition, the display has a native refresh rate of 144Hz, and the response speed is great, especially for first-person shooter games.
This display utilizes IPS technology, and while it cannot display as many colours as the MacBook Pro, it does deliver more colours than the usual gaming laptop.
Operating System
Operating System The Razer 15 ships with the Windows 10 Home operating system. Not only do you receive a familiar environment, but the operating system is also upgradable to Windows 11, allowing you to enjoy the latest designs, user interface, and capabilities that come with the operating system.
Weight
Gaming laptops are rumoured to be heavy, yet the Razer Blade laptop does not leave its users with any complaints. It weighs 2.1 kilograms and is, therefore, a travel-friendly alternative due to its portability.
Read Also: Clevo PA71
Keyboard, Speakers, & Trackpad
When searching for a new laptop, it is essential to evaluate the technologies it has. The keyboard, trackpad, and speakers of the Razer Blade 15 2018 H2 laptop make working on it easier and more fun. The keyboard features anti-ghosting keys with individually illuminated RGB lights for enhanced typing responsiveness and accuracy. It also features macro keys with rapid access for increased productivity.
The trackpad's precision tracking and navigation skills make it perfect for gamers, graphic designers, and individuals who perform routine jobs such as web browsing and email composition. Dolby Atmos surround sound technology is integrated into the laptop's speakers, offering an immersive audio experience ideal for watching movies or listening to music.
Price
The pricing of the 2018 edition of the Razor Blade 15 h2 is $1799. Today's laptops have reached unprecedented heights, and as a result, they are very expensive. Razer Blade laptops with newer models, such as the razer blade 15 2020 and razer blade 15 2023, are prohibitively expensive for the common person.
Due to its pricing, the razer blade 15 2018 is a good gaming and school laptop. It is portable and powerful enough for the majority of games. The keyboard is nice and sensitive, allowing for rapid writing. The battery has a four-hour lifespan.
Read Also More: Best Laptops for Video Editing
Gaming Performance  
Since that Razer has promoted this laptop as a gaming laptop, it is logical to assume that gaming performance is significantly more important than with other laptops.
Thankfully, the Razer Blade 15 2018 H2's gaming performance does not disappoint. It runs on an older GTX 1070 Max-Q, but our testing revealed that you could play the vast majority of games at FHD resolution and high settings without any issues.
In some recent games, such as Elden Ring, God of War, Spiderman, and a few others, you may wish to reduce the settings a little bit.
Having said that, the thermals on this laptop are superb, which is a plus. You can proceed with confidence that you will not encounter any problems. There are sufficient vents to ensure that playing a game on this laptop will not be problematic.
Connectivity
The Razer Blade 15 2018 H2 laptop features sophisticated Wi-Fi and Bluetooth networking. Dual-band Wi-Fi provides customers with a faster and more dependable internet connection regardless of their location. Even in locations with lesser signals or several connected devices, the 22 antenna guarantees that the connection is always strong. The laptop also features the most recent Bluetooth 5 technology for enhanced performance when connecting to external devices like headphones and speakers.
This provides customers with a broader dynamic range and enhanced sound quality when listening to music or watching movies on their laptops. In addition to improving connectivity with other devices, this laptop's sophisticated Wi-Fi and Bluetooth capabilities make it simple to transfer between networks fast and safely.
Read Also More: How to Choose the Best Second Monitor for Your Laptop?
Razer Blade 15 2018 H2 Performance
The Razer Blade 15 is an industry leader. The 100% sRGB colour gamut of the Razer Blade 15 creates vibrant colours. It also boasts a refresh rate of 144Hz, allowing games to run smoothly and consistently. Throughout production, the screen of the Razer Blade has been calibrated to ensure optimal visual quality. That is not inexpensive, though. The screen quality is excellent. However, battery life may be improved. The standard mode only lasts for two hours. However, battery-saver mode can last up to five hours. The Razer Blade boasts an astounding quantity of ports.
The Blade 15 is an attractive machine. Also, its construction is amazing. The deck is unbent, and the aluminium frame appears to be sturdy. Razer picked this design due to its abundance of premium components. The Blade 15 is superior in numerous respects. The most recent version has enhanced visuals and a larger screen. The Razer Blade 15 (2018) H2 Review will provide a superior experience overall.
For gamers, the Razer Blade 15's thinness is an essential attribute. The keyboard is intuitive, and the battery life is enough for a gaming laptop. There are a few problems. You will encounter issues with your keyboard, trackpad, and screen, which will prevent you from playing your favourite games.
Pros & Cons
Pros
Full HD IPS Display with a Refresh Rate of 144 Hertz

Strong construction quality and attractive aesthetics

GeForce GTX 1070 Max-Q dedicated graphics card

Outstanding gaming performance

16 GB of DDR4 Memory for increased responsiveness

Keyboard with responsive keys and Chroma lighting

Many connectivity alternatives

G-Sync
Cons
Insufficient power is available to charge more devices.

Due to the limited battery capacity of this gadget, power outages are possible.

Due to frequent obstructions of its fans, the laptop has poor ventilation.

Very Expensive.

Due to the lack of a slot, MicroSD card external hard drives are not supported.
Major Drawbacks of Razer 15 Laptop

 
Several factors rendered the Razer blade laptop inappropriate for the current gaming needs of new players. Many of them are listed below.
Unreliable Visuals: The NVIDIA GeForce GTX 1060 Max-Q is unstable for demanding games. It does not meet the requirements of the existing gaming infrastructure.
Battery Power: It is common knowledge that battery power is a necessary feature for the longevity of gaming amusement.
Razer 15 2018's i7-8750H (2.20 GHz) processor does not support games that require intensive processing and is unsuitable for freshly created titles.
Why Should You Buy This Laptop? 
If you want a high-quality gaming laptop, this is a good alternative. Due to its 16GB of Memory and 16GB of RAM, this system is capable of running even the most demanding games.
The chassis is made of durable aluminium, has a premium feel, and is durable. The screen's size and brightness make it excellent for video games and films. The Razer Blade 15 2018 H2 is surprisingly lightweight and narrow, making it easy to transport.
The illuminated keyboard is incredibly comfortable to use for extended periods.
Final Words
The Razer Blade 15 2018 H2 is not the best gaming laptop available on the market today, but it does satisfy a number of essential gaming requirements. It is an inexpensive laptop that offers adequate performance, and you will not have to break the bank to purchase it.
This gaming rig has a fantastic value-to-price ratio, and if you are looking for an affordable gaming rig that can support the majority of recent games, you should give it a try.
Subscribe to Our Latest Newsletter
To Read Our Exclusive Content, Sign up Now.
$5/Monthly, $50/Yearly