What Does an HVAC Contractor Do? [In-Depth Guide in 2023]
Listen to the Podcast:
"HVAC" refers to your home's heating, ventilation, and air conditioning systems. These systems move heated or cooled air throughout the building to keep the temperature comfortable for those living there. The job of an HVAC contractor is to set up, control, and maintain these systems so that the people who live in a building can be comfortable with the temperature and the air quality.
You may also hear the term "HVACR" for heating, ventilation, air conditioning, and refrigeration. You'll need an HVAC contractor(Heating, Ventilation, and Air Conditioning) at some point as a homeowner. But what should you expect if you hire one? We're here to tell you why.
What is an HVAC Contractor?
HVAC contractors solve problems that are hard to solve. No matter how big or small the job is, they use what they've learned in school, their experience, and the knowledge of their coworkers and experts.
For example, installing a system involves more than just picking out the parts. The contractor should measure the size of your building, check the insulation, ducting, and other things, and figure out the Manual J figure, which tells how much heat your building loses in the winter and gains in the summer. Once he has all this information, he can only give you options that fit your needs and budget.
In our area, HVAC contractors must be able to work with older buildings and their problems, like high ceilings, oversized windows, and old wiring, and solve problems quickly. To do this, you need professionals who are excited about their work, take things one step at a time, and work as soon as possible while carefully doing excellent work.
What Do HVAC Contractors Do?
Heating, ventilation, and air conditioning are all things that are meant by the term HVAC. Almost everything that affects the environment inside your home is part of this system. Nearly every home in the United States and Canada has a heating and cooling system.
So, an HVAC Contractor is a professional who knows how to install, replace, repair, or maintain your heating, air conditioning, and ventilation systems. Here are some of the other tasks that come with this job:
Watch over how HVAC systems are put in.

Find the problem and fix it right away.

From time to time, clean and adjust the systems that keep the air cool.

When needed, give excellent customer service and technical support.
HVAC technicians do the technical work, and an HVAC contractor is in charge of the whole thing for large projects. So, if your heater or air conditioner breaks, you should call these guys.
Read More: Swimming Pool Contractor
How to Choose the Right HVAC Contractor?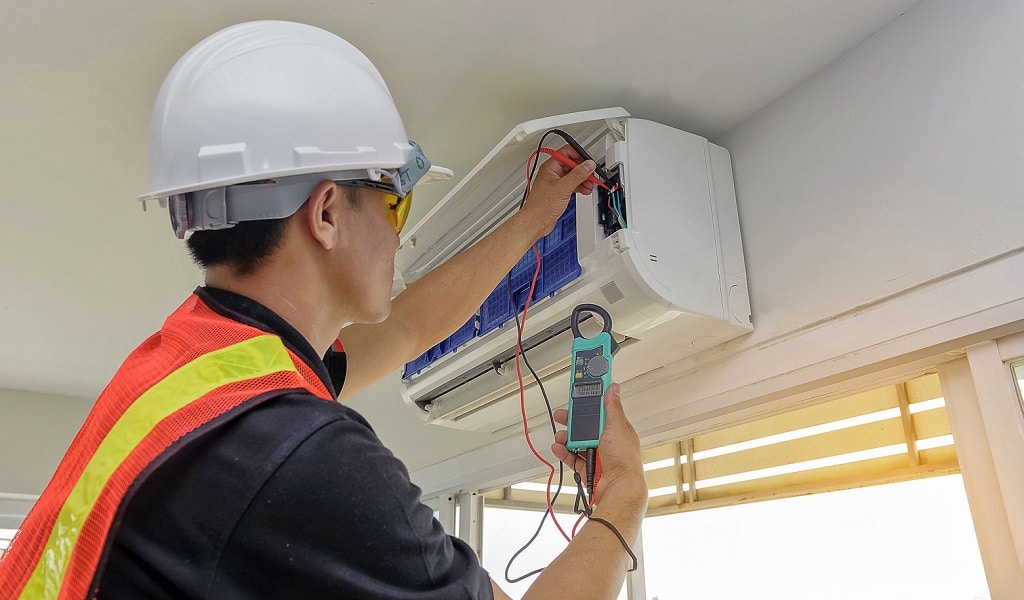 You can use sites like Yelp, Angi, or HomeAdvisor to find and read reviews of HVAC contractors near you. You could also ask for personal recommendations from friends, local home improvement businesses, or a handyman you've used before. Choosing the cheapest option here might be tempting, but remember that HVAC contractors and companies have different areas of expertise.
Most HVAC companies and contractors are trained in heating, ventilation, and air conditioning, but some technicians are better known for specializing in one of these areas. So know who you're dealing with before you hire someone.
You should also consider how long a given HVAC contractor has worked in the field. Most HVAC contractors, no matter how long they've been in business, should be able to do a routine maintenance checkup on your furnace, ventilation system, or air conditioner. But if they find a problem, it may not be in their skill set yet to fix the damage. At this point, your HVAC contractor may refer you to someone with more experience trained to find, troubleshoot, and resolve problems with your HVAC system.
Remember that installing an air conditioner or furnace takes a lot of skill and maybe a job that's better left to a professional HVAC contractor.
What Specific Work Do HVAC Technicians Perform?
As we've discussed, HVAC contractors work on various mechanical, electrical, carbon-fuel, and water-based systems. But what do they do most of the time?
Maintenance
Inspection and maintenance services focus on checking pipe and tube joints for leaks, testing thermostats, checking and refilling refrigerant levels, testing electric circuits, inspecting fans and motors, cleaning air ducts, troubleshooting different parts for optimal efficiency or faults, or changing HVAC air filters.
Repair 
Maintenance is the first step; when problems are found, the next step is fixing them. This part of the job involves putting in, fixing, or replacing broken parts of a heating or cooling system to get the heat or air conditioning back on. This is where most of the attention of the average HVAC contractor goes since repairs are often needed right away, especially when it's very cold or hot outside.
Installation
An HVAC system installation may include things like surveying and inspecting the current system and setup, taking measurements to make sure the new system is the right size and capacity for the home, and carefully removing the old system while trying not to disturb the comfort of the people living or working in the home or office, connecting the new units, which can involve installing ductwork, wiring, tubing, pipes, or electrical supply lines, and doing a final check afterward.
What Types of Services are Offered by HVAC Contractors?
You need different systems and equipment if you want to heat, cool, or ventilate an indoor space. Here, we discuss the most important parts of HVAC contractors' services.
Air Conditioning Systems
Air conditioning works by filtering hot, humid air out of a room and replacing it with cold air. You might think that this is easy.
But these different HVAC systems are made by multiple companies. Only an experienced technician with the right tools can provide professional support and help you figure out how to use your complicated HVAC system. Your heating and cooling system can also be set up to control the whole building. This requires even more expert knowledge.
Ducting and Ventilation
The fans, vents, and exhausts that control how air moves through your home are all part of the ventilation system. There are different ways to let air in and out. Some only have mechanisms for exhaust, while others only have mechanisms for supply, and some take a balanced approach.
An HVAC contractor can handle all of these types of mechanical ventilation. Air can only move through air ducts, usually hidden above your ceiling. And it's just as complicated as it seems. An HVAC contractor can do everything that has to do with air ducts, from designing the layout to cleaning and inspecting them.
Heating
Especially in cold places, a heating system must keep the inside temperature at a certain level. This is important for the comfort of the people living there and so that the water pipes and other plumbing won't freeze.
There are different kinds of furnaces, boilers, heat pumps, space heaters, and other HVAC equipment for heating. Any of these can be installed or fixed with the help of the right HVAC contractor.
Read Also: Commercial Electrical Issues
Why is Being an HVAC Contractor a Good Career Option?
Here are some reasons to choose a job as an HVAC contractor out of all the other options:
HVAC work is problematic because it requires a lot of technical knowledge. And it can be hard to find and fix broken HVAC equipment. If you like facing new challenges daily, you might enjoy being an HVAC contractor.

You can always work in different places, with various tools, and with others. Every day, you'll face a new problem. It's friendly and helpful for people who can't work in a small space. But if you run your own HVAC business, you have to do everything, from hiring the best technicians to figuring out how to get things done to getting paid.

You get better job opportunities as you accumulate experience. If you own a business that has to do with HVAC, you can be your boss in a field expected to grow.

As an HVAC contractor, you get new tasks and problems to solve daily, which can be a lot of fun if you like to solve problems. Using what you know and have done to help solve someone else's problem feels good.

As an HVAC contractor, you rarely worry about being out of work. The need for heating, ventilation and air conditioning will grow in homes and large buildings over the next few years. This shows that this industry is growing, and you can always find work.
Why Should I Hire a Professional HVAC Company?
Hiring a professional HVAC contractor will save you money in the long run. It's essential to have your heating and cooling system serviced every year. So that it continues to work well all year long; if you don't hire anyone, this vital job might not get done, which could lead to more significant problems in the future. So, no matter what brand or type of unit you have, hiring a company that will come out once a year to maintain it is in your best interest.
When Should You Hire Local HVAC Companies?
Most of the time, HVAC contractors and HVAC installers work for or run businesses. That fixes or install heating and cooling systems in homes.
Local air conditioning companies can help with various services, such as installing and fixing air conditioners. Air conditioning contractors also called "a/c contractors," have a lot of work to do in the summer when temperatures are at their highest. You might want to hire air conditioning installers in the spring or fall for bigger jobs, like installation. Try to do the same thing with heating services. Heating contractors and people who install heating systems might be more available for big jobs in the summer or fall.
How do I Find a Good AC or HVAC Contractor?
The fastest way to find the best HVAC or AC contractors near you is to search online. This makes it easier to look at a lot of top-rated pros quickly. Start by looking at the ratings and customer reviews of the contractors. Pay attention to thoughts that specify the HVAC contractors' quality of work. Did they finish the job by the due date? Did they charge too much? Were they open to talking to the customer during the whole process?
You should also look at photos of past projects that customers or professionals may have uploaded. You can get a good idea of the contractors' skills by looking at before-and-after pictures of air conditioners and HVAC systems.
Next, determine if HVAC and AC professionals in your state or city need a license. Everyone you work with should follow these rules if that's the case. Once you've picked a few possible contractors, ask for free estimates. Compare their bids and choose a qualified, affordable, and trustworthy HVAC contractor.
Also Read: Toilet Bathroom Maintenance
Why is it Necessary to Call a Contractor at the Time of Installation?
Homeowners may not have the help to keep their heating and cooling systems clean when caring for their HVAC systems. Also, they might not have the right tools to open and close the machine's cover. If they try to open the lid, they could hurt themselves. So, you would need to talk to someone who knows about HVAC.
HVAC contractors can help clients determine whether their heating, cooling, and ventilation system works well. They might look at the small parts more and replace any that need it. They also clean the pipes and air ducts if required to make the air flow more smoothly. Service is essential to an HVAC system and should be done right. So, heating or cooling machine service needs to be done by experts.
In the same way, when a new HVAC system needs to be installed quickly, an HVAC contractor must be called. A heating, ventilation, and air conditioning professional will ensure that their clients are in a healthy environment. During installation, there are a lot of things that need to be done. So, it's always best to call an HVAC contractor when it's time for them to do their job.
How to Save Money on HVAC Installation?
Because replacing an HVAC unit is so expensive, many homeowners want to know how to save money. One great way to do this is to look for rebates from manufacturers. You can often combine these price breaks with any other deals or discounts your installer might offer. To look for rebates, go to the manufacturer's website and look for the model you want to buy.
And if you find a contractor through word of mouth instead of a big, well-known company, you might be able to save money on the cost of installation.
Frequently Asked Questions (FAQs) about HVAC Contractors
How much do HVAC companies typically charge?
The average cost of hiring a heating, ventilation, and air conditioning (HVAC) contractor is between $40 and $100 per hour. Some may be more expensive, but you probably won't be able to find someone who is qualified and licensed to do HVAC work for less.
Should HVAC technicians be certified or licensed?
Yes. Every state has its own rules about how HVAC contractors can get licensed and certified. Check out our state licensing tool to see what the rules are in your area for HVAC.
What is the labor cost to install the HVAC?
Even though most contractors won't quote a price based on square footage, the average cost per square foot to install an HVAC system is between $15 and $18.
How do I maintain my heating or cooling system?
Taking care of your heating and cooling system is essential if you want it to work as well as possible. Many companies will try to sell you things or services you don't need to make money, but we won't do that. Before making any suggestions, our techs always figure out what you need.
How much is a contractor for an AC unit?
Contracts' prices vary greatly based on where you live and what kind of work you need. An AC installer will average charge between $925 and $1,034 to put in a 0.5-ton unit. Costs range from $7,217 to $12,569 to put in a complete HVAC system with ductwork.
What is the most common type of heating system?
A forced-air heating and cooling system is the most common home heating system. This type of heater uses a furnace, usually powered by natural gas, to push air through a series of ducts that send the hot air to different rooms in a house. Furnaces can run on electricity, propane, or oil, among other things. This heating system is widespread because it can cool the home in the summer.
What is an HVAC contract?
An HVAC contract, also called an HVAC service contract, HVAC service agreement, or HVAC agreement is a legally binding document outlining the terms and conditions of the services an HVAC professional or company will provide to maintain and repair a customer's HVAC system.
Is an HVAC contract worth it?
If you get a service contract to protect yourself from expensive repair bills, it often won't work. Most service contracts don't even cover the most costly repairs, like replacing compressors and heat exchangers. You'll most likely do better if you pay for repairs as they come up.
Does an HVAC contractor need to enter my home?
Most HVAC systems are in people's homes, so it's likely that a technician would need to come into yours to do the work. There might be some exceptions, though. Some HVAC systems are in garages or other parts of the house that are not open to the rest of the house. Ask your tech during the consultation if they will need to come into your home.
Ask local technicians if they'd be willing to do a video call instead of a traditional consultation when you call them. Make sure to send everything digitally, like photos and documents, and follow all the rules.
How long does an HVAC system last?
Depending on the type of system, if it is well taken care of, a heating and cooling system can last between 15 and 25 years. A local HVAC contractor can tell you more about the pros and cons of your chosen system if you're worried about how long it will last. They can also help you check and fix your HVAC system every year.
What kind of HVAC system is best?
Talking to a professional is essential when choosing a heating, ventilation, and air conditioning (HVAC) system. He can explain and evaluate your options based on your climate and budget.
Subscribe to Our Latest Newsletter
To Read Our Exclusive Content, Sign up Now.
$5/Monthly, $50/Yearly