E-liquids: What's It, and What are The Ingredients?
Are you thinking about taking up e-smoking, or are you an experienced vaper? Whether you are a beginner or expert vaper, you might not be aware of what you are smoking. People start using e-cigarettes for different reasons. Some people want to experience the euphoric feeling without much risk, and some people use it to get rid of their tobacco addiction. But have you ever wondered what it is you are smoking? What are the ingredients that go into your favorite e-liquids? Is it harmful to your health? We will answer all these questions for you in this article. Keep reading this article to find out.
What are e-liquids?
Vape pens have a vape tank or a cartridge, which carries the e-liquid or the vape juice. When you turn on your e-cigar, the engine produces heat and vaporizes the e-liquid. The vaporized e-juice enters your lungs and then your bloodstream. In some vape pens, you can control the temperature. If the temperature is too high, then the liquid can burn. Combustion does not take any part in vaping. So, keep the temperature between 90-180 degrees. You can find different vape juices for different needs. Most vape juices have a smooth flavor.
E-liquid ingredients:
Vape juices or e-liquids do not contain harmful ingredients like tobacco or marijuana directly. So, it is a safer option than smoking. Many smokers start vaping to fight addiction. The general components of any e-liquids are listed below.
Nicotine (in some vape juices)
Water
Propylene Glycol or PG (A base carrier)
Vegetable Glycerine or VG (A base carrier)
Flavors (for additional taste)
NICOTINE:
Many people have the misconception that nicotine is a very harmful and dangerous chemical. But it is an addictive substance. When a smoker inhales nicotine, it hits your brain and releases Dopamine. Dopamine is a chemical that trains the brain to repeat the same behavior. So, when the brain does not get its desired nicotine hit, your brain shows you the signs of craving. The craving feeling only stays for 20 seconds or less, but the feeling is very intense. This agony is what makes your nicotine withdrawal so hard.
If you want to switch to e-cigars to withdraw nicotine addiction, you can choose a nicotine-free vape juice. You can enjoy the flavorful taste of vape juice. But if you want a nicotine hit, there are different e-liquids available with various nicotine concentrations. 0.3% nicotine, for light smokers, 0.6% nicotine, for those who smoke less than ten cigarettes a day, 1.2% nicotine for people who smoke 10 to 15 cigars a day, and 1.8% for people who smoke more than 20 cigars a day.
Some users love the nicotine hit so much, e-liquid with nicotine isn't giving them the desired effect; they can use Nic Salts. Nic Salts carry the nicotine in the form; it is present in tobacco. Nicotine may be a highly addictive substance, but it does not have the same amount of toxins as tobacco. And with vaping, the bioavailability is higher so, the effect lasts much longer. You have to mix the Nic Salts with your vape juice to use. It is a far safer and smoother experience than smoking. It is also cost-effective. You can slowly lower your nicotine dose to give it up completely.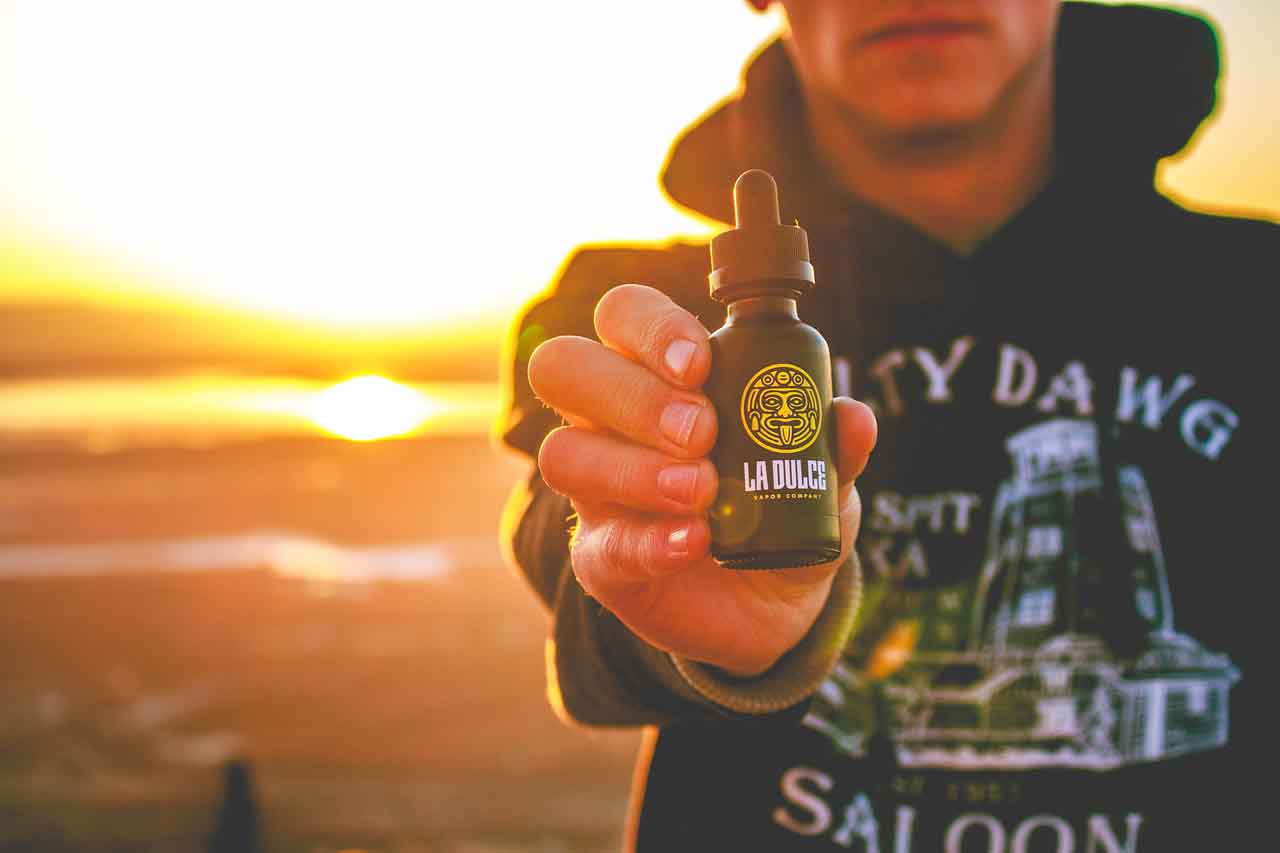 PG and VG:
Some e-liquids use a base of propylene glycol, some use vegetable glycerin, and some use a mixture of both. In the mixed liquid, the ratio of PG and VG is either 70:30 or 50:50. There are different flavors of bases available in the market.
Reasons to choose Propylene Glycol based e-liquids
PG is a tasteless chemical liquid with the chemical formula of CH₃CHCH₂OH. Some companies also use it in body lotions and skin moisturizers.
It is an organic compound with low viscosity.
It is odorless, colorless, and tasteless. So, it does not temper the taste or overall appearance of the vape juice.
Its thin texture does not create build-up on the vape coil. So, your vape pens last longer.
It heats up very quickly and produces vapor. So, you can start vaping as soon as you turn on the vape pen.
The clouds are not that dense, and it has very little chance to cause an allergic reaction.
Reasons to choose Vegetable Glycerin based e-liquids
It is a natural chemical compound made from plant oils with the chemical formula C3H8O3.
It has a high viscosity. So, the clouds are more impressive.
It is also odorless and clear in color. But it has a slight sweetness to it, which makes the overall product sweet.
It makes the hit smooth and flavorful.
But it can accumulate in the vape coil and create a problem. Also, it takes a little time to heat. So, you have to wait for a bit before vaping.
If you are confused with one to choose from, you can opt for the mixed liquid base. It gives you a standard cloud density and also a smooth and flavorful balance in taste.
Extras:
Other than the main ingredients, some extra elements go into e-liquids. Flavors are the most common extra ingredient. There are vanilla, fruity, alcohol, coffee, and pudding flavored vape juices available in the market. You can order your favorite vape juice or e-liquid online from the manufacturer's website directly.
E-liquids or Vape juices do not contain any harmful ingredients in general. But always check the ingredients list to be sure. If you are vaping for fun or the experience, choose a nicotine-free e-liquid. Always store the vape juice in a cold and dark place. Do not use expired e-liquids. A 10ml bottle of vape juice can last almost a week for an average vaper. Always clean the vape tank before filling it with a new bottle. Check the legalities in your country before buying vape juice. E-juices that contain more than 20% nicotine are illegal. Vaping can cause side effects like nausea, vomiting, coughing, mood swings, behavioral changes, etc. There are also CBD, Delta-8, and kratom vape juices available in the market. Choose an e-liquid wisely and vape with pleasure.
Apart from this, you can also read Entertainment, Tech, and Health related articles here: August 27 Zodiac, August 26 Zodiac, Best Hindi Movies on Amazon Prime, New iPhone 13, Vivo Y53s Review, Eye Shapes, M4uHD, Fever Dream, Moon water, Oppo Reno 6 Pro Review, iPhone Headphones, Best gaming desks, TheWiSpy Review, Spanish Movies, hip dips,  M4ufree, Xiaomi Mi 11 Ultra Review, Pulse Oximeter, Google Pixel 5a Review, NBA Stream XYZ, CCleaner Browser review, Avocado Calories, Bear Grylls net worth, Rihanna net worth 2021, Dry white wine, Highest Paid CEO, The 100 season 8, Sundar Pichai net worth, Legacies Season 2, Grimes net worth, Oscar Isaac height, Konosub season 3, Good Omens season 2, F95Zone, how to change MSI keyboard color, Microsoft Office Suite, how to block subreddits, How to Share Netflix Account, how to change Twitch name, The Last Airbender 2, Sherlock Season 5, Homeland cast, Now you see me, Love Alarm season 2, Young Justice season 4, Shield Hero season 2, Salvation season 3, Vivo Y53s Review Jack Ryan season 3. 
Subscribe to Our Latest Newsletter
To Read Our Exclusive Content, Sign up Now.
$5/Monthly, $50/Yearly