70 Best Things to Do in Phuket [With Latest Updates 2023]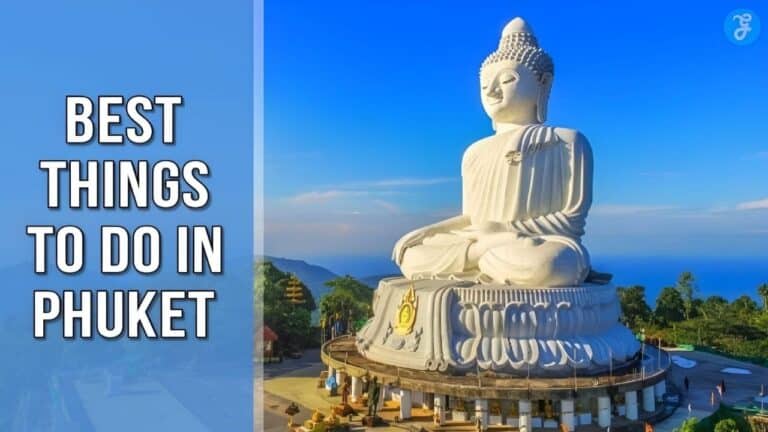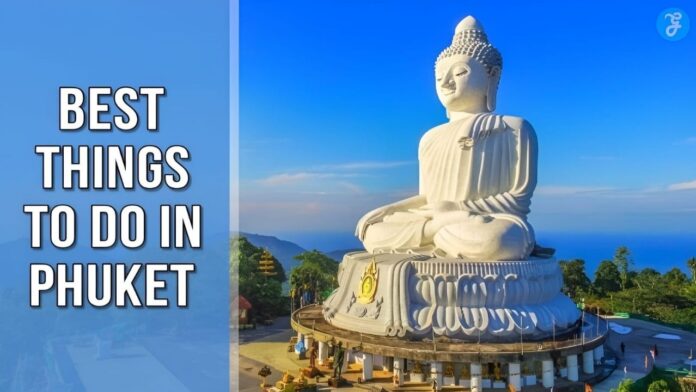 Planning a trip to the tropical paradise of Phuket can be both exciting and overwhelming, given its plethora of attractions. Known as the 'Pearl of Andaman', this Thai island does not disappoint with its intriguing blend of rich culture, pristine beaches, scrumptious local cuisine, and adrenaline-pumping outdoor adventures.
This comprehensive guide will simplify your planning by compiling 70 must-visit spots in Phuket you should consider for your itinerary in 2023. Let's dive right into these awe-inspiring experiences waiting for you!
Content Highlights
Phang Nga Bay offers stunning natural beauty and diverse activities like scuba diving, sea kayaking, and exploring limestone caverns.

The Big Buddha of Phuket is an awe-inspiring attraction known for its tranquility and panoramic island views.

The Phi Phi Islands are a paradise for nature enthusiasts with their white sand beaches, mystical caves, and vibrant marine life.

James Bond Island in Phang Nga Bay features a captivating limestone rock formation and a beautiful beach featured in a James Bond film.

Promthep Cape offers breathtaking sunset views over the Andaman Sea and is a popular photography spot.

Old Phuket Town showcases colorful colonial houses, historical sites, street art, and lively markets for an immersive cultural experience.

Chalong Temple is the largest Buddhist temple in Phuket, with exquisite architecture and tranquil gardens to explore.

Explore vibrant night markets like the Sunday Street Market or Chillva Night Market to indulge in authentic street food delights and local crafts.

Banzaan Fresh Market provides an immersive cultural experience with its wide selection of fresh produce while offering a pleasant shopping environment.

Mai Khao Beach is the longest beach in Phuket, with crystal – clear waters perfect for relaxation or snorkeling adventures.

Koh Racha (Raya Island) is ideal for snorkeling with its clear blue water, and abundant marine life, accessible from Phuket by boat trip.
Explore Nature and Scenic Beauty
Phang Nga Bay offers breathtaking natural beauty and is perfect for scuba diving, snorkeling, sea kayaking, and speed boating.
Phang Nga Bay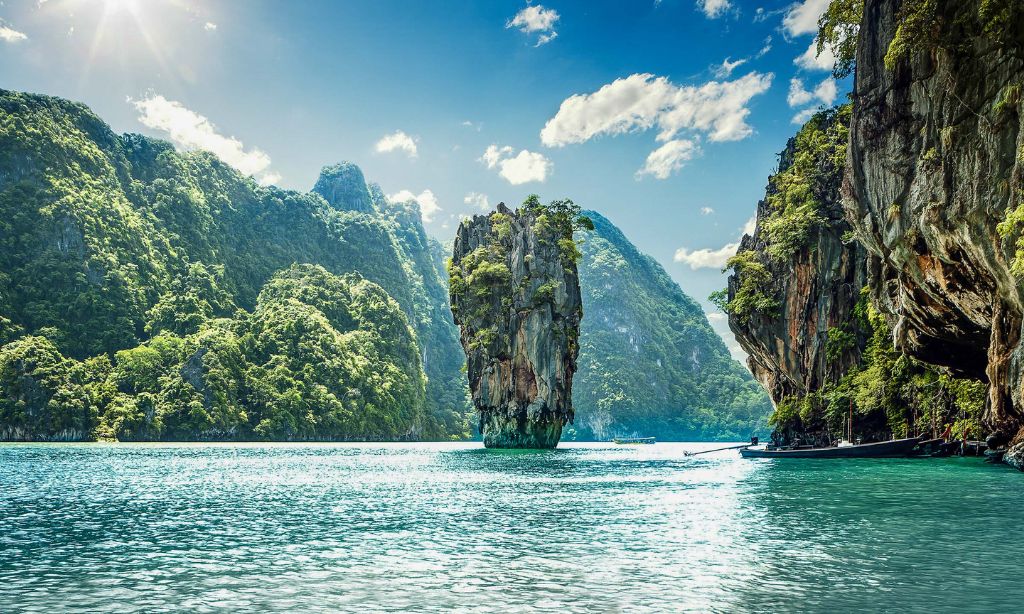 Nestled in the true heart of Phuket, you'll find Phang Nga Bay – an iconic natural attraction known for its stunning limestone cliffs and emerald-green waters. This vast bay expands over 400 square kilometers and enchants visitors with its clear, serene seawaters that house a rich array of diverse flora and fauna.
A popular way to explore this unique landscape is sea cave canoeing, which allows adventurers access to Lod Cove's large limestone caverns. Don't miss out on visiting Koh Pan-Yee, a renowned floating fishermen's village in the bay area; it is a sight to behold! For those looking for something extra special, why not enjoy a buffet lunch surrounded by breathtaking views? Whether by big boat or intimate sea canoe, dining at Phang Nga Bay provides an unforgettable experience.
Highly recommended for all types of travelers – couples, families, or individuals – exploring this oasis tops the list as one of the best things to do in Phuket.
Big Buddha of Phuket
The Big Buddha of Phuket, one of the best things to do in Phuket, Thailand, in 2023, is an awe-inspiring attraction that radiates tranquility and serenity. Towering at a majestic height from atop a mountain, this impressive statue is the largest and most sacred temple on the island.
Visitors are often left spellbound by its magnificence and significance.
Incorporating a grand pagoda rumored to house a fragment of Buddha's bone offers more than just visual appeal. Gazing upon Phuket from such an elevation provides an unmatched panoramic view of its lush greenery and azure waters.
This must-visit landmark intertwines cultural heritage with scenic beauty, representing nature exploration at its finest during your visit to Phuket.
Phi Phi Islands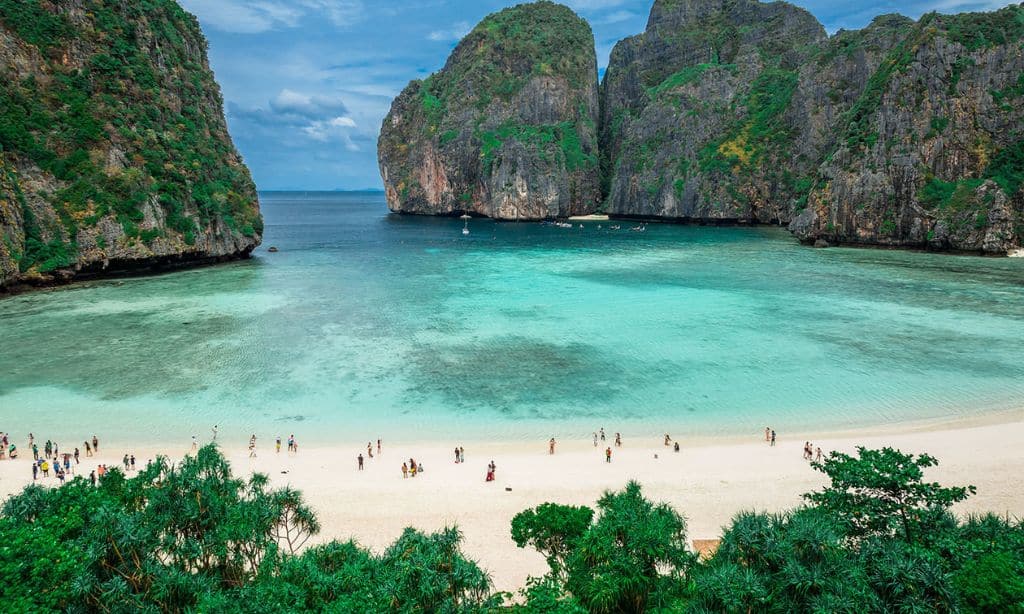 Unveil the mystic charm of Phi Phi Islands on your trip to Phuket, Thailand. Renowned for its spectacular white sand beaches softly caressed by tranquil blue waves, it is a paradise for every nature enthusiast.
The islands are also home to untouched natural surroundings and mystical caves – a perfect blend of beauty waiting to be explored. From remarkable Maya Bay's enchanting allure, which gained fame from Leonardo Di Caprio's movie "The Beach," to Mosquito Island's rich underwater realm attracting snorkelers and scuba divers globally, there is an adventure at every corner of Phi Phi Islands.
Furthermore, you can easily access this haven via boat or ferry from Phuket or nearby areas, ensuring convenience for visitors. Embellished with multiple accommodations catering to different travel styles, one can truly soak in the blissful experience offered by these paradisiacal islands as they reveal among the best things to do in Phuket.
James Bond Island
James Bond Island, also known as Ko Tapu, is a captivating limestone rock in Phang Nga Bay – an area renowned for its striking limestone cliffs and crystal-clear emerald waters.
This iconic island earned its name from its appearance in the famous James Bond movie "The Man with the Golden Gun." Standing tall and narrow like a nail or spike, Ko Tapu boasts an exquisite beach called James Bond Beach that attracts countless visitors.
Besides soaking up the sun on this beautiful coastline, tourists can indulge in thrilling activities like caving, canoeing, and exploring hidden lagoons around the island. Day trips to James Bond Island offer opportunities to witness wild monkeys and marvel at the breathtaking scenery.
Read Also: Planning for a Trip to Europe in Summer? Keep this in Mind
Promthep Cape
Promthep Cape is a breathtaking natural attraction that should not be missed during your visit to Phuket. Located in the southern part of the island, this cape offers stunning views of the Andaman Sea and surrounding nature.
It is especially famous for its mesmerizing sunset view over the ocean, making it a favorite spot for photographers and romantics. The best part? There is no entrance fee to enjoy Promthep Cape's beauty; it is open 24 hours a day.
So whether you want to witness an unforgettable sunset or soak in the awe-inspiring scenery, add Promthep Cape to your list of things to do in Phuket.
Experience the Local Culture
Immerse yourself in the vibrant local culture of Phuket by exploring Old Phuket Town, visiting Chalong Temple, strolling through night markets, and indulging in the authentic flavors of Banzaan Fresh Market.
Old Phuket Town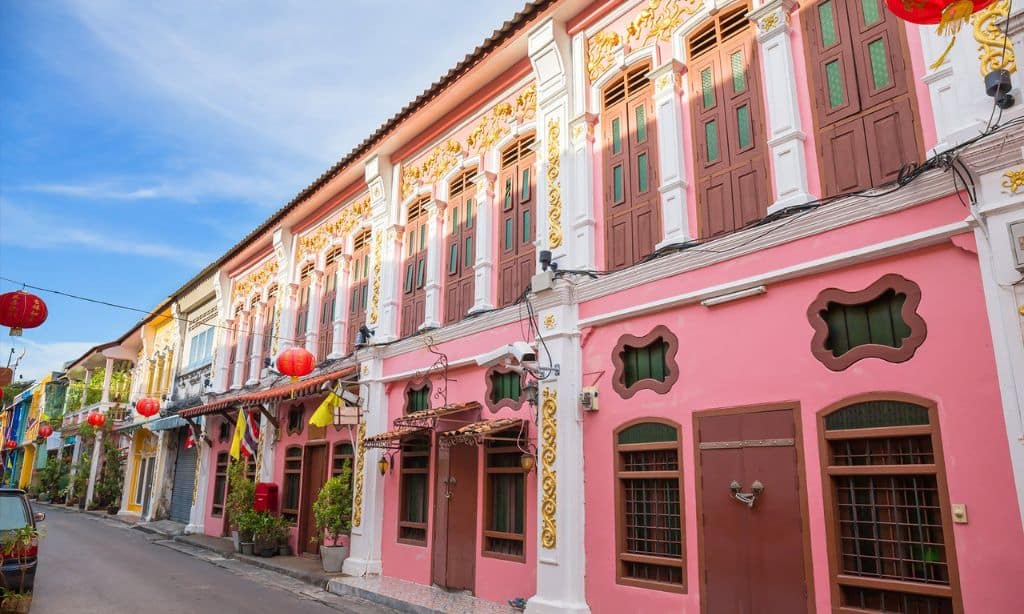 Old Phuket Town is a captivating destination that offers a unique cultural experience in Phuket. Once a bustling tin mining town in the 17th century, it has transformed into a vibrant area known for its colorful colonial houses and rich heritage.
Strolling along Thalang Road, you'll be amazed by the picturesque backdrop of these charming buildings. Don't miss visiting the Phuket Thai Hua Museum, where you can delve into the town's history and learn about its cultural significance.
For those seeking authentic local experiences, the Old Town Sunday Walking Street is a must-visit spot with its lively market offering delicious cuisine and one-of-a-kind souvenirs.
This town gem also boasts Soi Rommanee, an enchanting row of well-preserved Sino-Portuguese townhouses that add to its charm. Immerse yourself in beautiful architecture, stunning street art, and an array of dining options as you explore this lesser-known side of Phuket.
Chalong Temple
Chalong Temple, also known as Wat Chalong or Wat Chai Thararam, is a magnificent Buddhist temple that is the largest and most revered in Phuket. It is a true masterpiece of Thai architecture, drawing visitors from around the globe to marvel at its beauty.
It is located along Chao Fa West Road and is a proud Thai culture and heritage symbol. Its serene atmosphere and breathtaking surroundings make it an absolute must-visit for anyone eager to immerse themselves in the local culture of Phuket.
The temple's ornate architecture, intricate carvings, and tranquil gardens glimpse Thailand's rich spiritual traditions. Open to the public, this sacred place offers an opportunity to learn about Buddhism and witness devout locals praying and seeking blessings.
Night Markets
Phuket is a treasure trove for those seeking a taste of the local culture, and the island's vibrant night markets are an essential part of this experience. With their festive atmosphere, lively street performances, and tantalizing aromas wafting through the air, these markets offer visitors a chance to immerse themselves in the sights, sounds, and flavors of Phuket.
From handmade crafts to authentic street food delights, there is something here for everyone. Don't miss out on exploring popular night markets like the Phuket Sunday Street Market or Chillva Night Market, where you can find unique products and delectable treats.
For an even more authentic experience, visit the OTOP Night Market, which showcases locally-made goods and traditional crafts. No trip to Phuket is complete without indulging in its evening bazaars – they truly capture the essence of this vibrant destination!
Banzaan Fresh Market
Banzaan Fresh Market is a vibrant and modern Thai fresh market located on Sai Kor Road, behind the popular Jungceylon megamall in Patong, Phuket. This bustling market offers an extensive selection of fresh produce, including a wide array of fruits, vegetables, meat, and fish.
It's not just about grocery shopping; Banzaan Fresh Market provides visitors with an immersive cultural experience as they explore its vibrant atmosphere and witness the beautiful displays of local fruits.
The market is well-known for its cleanliness and pleasant environment, making it a favorite shopping destination for locals and tourists.
Divided into different zones for different types of food, Banzaan Fresh Market makes it incredibly easy to navigate through its aisles and find exactly what you're looking for. Located near popular attractions in Patong, this market allows visitors to conveniently combine their shopping experience with other sightseeing activities throughout the day.
Enjoy Beaches and Water Activities
Phuket's pristine beaches, like Mai Khao Beach and its crystal-clear waters, are perfect for snorkeling, exploring marine life in Koh Racha, or taking a boat trip to the stunning Similan Islands.
Don't miss out on the exhilarating experience of bamboo rafting in Phang Nga – an adventure you won't forget! Soak up the sun and enjoy endless water activities in Phuket – read on to discover more!
Mai Khao Beach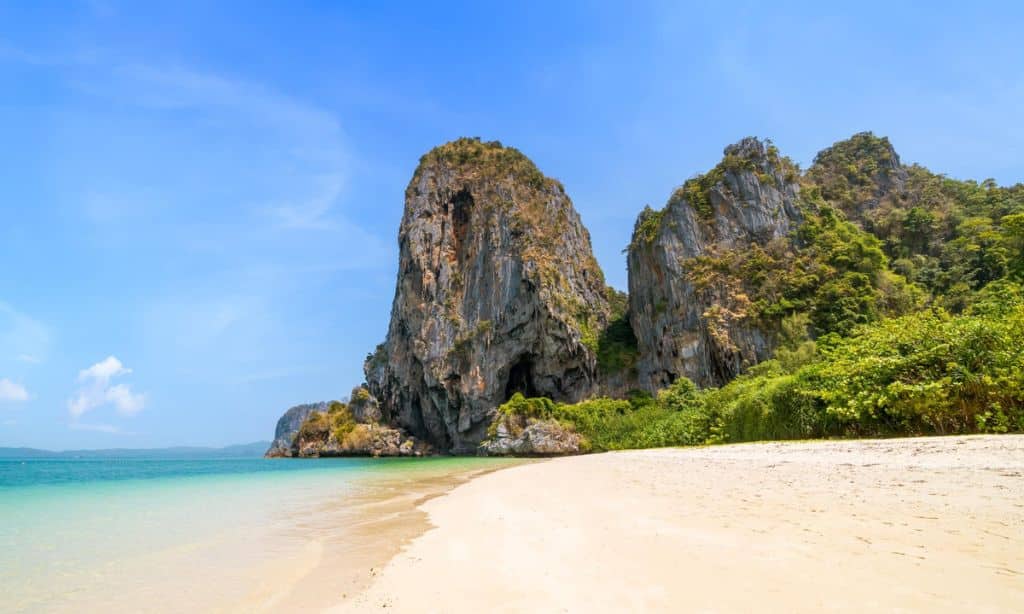 Mai Khao Beach, located in the northwest corner of Phuket Island, is a hidden gem that offers an impressive and uncrowded experience for beachgoers. Stretching for 11 kilometers, it is the longest beach in Phuket and boasts stunning natural beauty.
With its crystal-clear waters and white sand, Mai Khao Beach provides the perfect setting for relaxation and tranquility. Visitors can also enjoy exciting attractions like sliding down tunnels and spinning funnels.
This secluded paradise is ideal for snorkeling enthusiasts who want to explore underwater wonders. Additionally, plane spotting is popular, adding a unique touch to your beach experience.
Snorkeling in Koh Racha
Koh Racha, also known as Raya Island, is a must-visit destination for snorkeling enthusiasts in Phuket. Here are some key points to know about snorkeling in Koh Racha:
Crystal-clear blue water: Koh Racha Yai, where Raya Island is located, is famous for its amazingly clear blue water. This provides excellent visibility for snorkelers to explore the vibrant underwater world.
Abundant marine life: Patok Beach in Koh Racha is a haven for marine life enthusiasts. Snorkelers can expect to encounter a diverse range of fish species while exploring the coral reefs surrounding the island.
Accessible from Phuket: Raya Island is conveniently situated just a short distance from Phuket, making it easily accessible for day trips or overnight stays. Visitors can find information on how to get to Raya Island from Phuket to embark on their snorkeling adventure.
Snorkeling tours: Various snorkeling tours are offered in Phuket, including visits to Koh Racha. These tours provide all the necessary equipment and guidance, ensuring a safe and enjoyable experience for snorkelers of all levels.
The ideal destination for beach lovers: Known for its beautiful beaches, Phuket sets the perfect backdrop for a memorable snorkeling experience in Koh Racha. After a thrilling underwater exploration, visitors can relax and soak up the sun on the island's pristine shores.
Similan Islands
The Similan Islands, located just northwest of Phuket, offer a plethora of exciting beach and water activities for visitors to enjoy. With its crystal-clear turquoise waters, these islands are a true paradise for snorkelers and divers alike.
The marine life here is breathtaking, with vibrant coral reefs teeming with diverse species. Diving enthusiasts worldwide flock to the Similan Islands due to their reputation as one of the most fascinating diving spots globally.
Beyond underwater exploration, you can also hike through the picturesque landscapes and encounter monkeys in their natural habitat on these beautiful islands. Don't miss out on experiencing the stunning beauty and rich wildlife that make the Similan Islands an absolute must-visit destination in Thailand's incredible Phuket region!
Read More: 9 Best Liveaboard Trips in Southeast Asia
Maiton Island
Maiton Island, also known as "Honeymoon Island," is a hidden gem in Phuket that offers an untouched paradise away from bustling crowds. With its soft and pristine white sandy beaches, Maiton Island is perfect for those seeking relaxation and tranquility.
The island's clear blue waters are home to vibrant marine life, making it an excellent spot for snorkeling and encountering tropical sea creatures like cuttlefish and sea turtles. From swimming in the crystal-clear waters to exploring the island's coconut groves and dense forests, Maiton Island provides an idyllic setting for a day trip near Phuket.
Conveniently located near Phuket, this hidden gem can be easily accessed for a peaceful beach experience that will leave you feeling rejuvenated and enchanted.
Koh Khai Islands
The Koh Khai Islands, consisting of Koh Khai Nai, Koh Khai Nui, and Koh Khai Nok, are a group of stunning tiny islands just a short speedboat ride away from Phuket's east coast. These islands boast breathtaking natural beauty with crystal-clear waters, sandy beaches, and vibrant coral reefs.
Whether you're into snorkeling or swimming, each island offers its unique charm. Koh Khai Nai is the largest among them and presents mesmerizing views and a white sandy beach perfect for water activities.
On the other hand, Koh Khai Nui stands as the smallest yet equally enticing option for exploration. Don't miss out on these serene and picturesque getaway options to make the most of your trip to Phuket in 2023!
Bamboo Rafting in Phang Nga
Experience the thrill and tranquility of bamboo rafting in Phang Nga, a must-try activity for those seeking to immerse themselves in the beauty of nature while visiting Phuket.
Immerse yourself in the natural beauty of Phang Nga as you embark on a bamboo rafting adventure.

Glide along the serene rivers of Phang Nga on a traditional bamboo raft, guided by experienced locals who know the area like the back of their hand.

Discover hidden gems and lush landscapes as you navigate through picturesque waterways surrounded by towering limestone cliffs and dense greenery.

Watch for local wildlife, such as monkeys swinging from tree branches and colorful birds soaring through the sky.

Feel at one with nature as you gently float downstream, allowing the peaceful sounds of flowing water to quiet your mind and rejuvenate your soul.

Capture stunning photos of the untouched natural scenery, creating lasting memories of your bamboo rafting experience.

Combine your bamboo rafting adventure with other exciting activities like jungle hiking or river tours to maximize your time in Phang Nga.

Join a tour that includes a visit to Khao Sok National Park, where you can explore ancient rainforests and fascinating caves before continuing your bamboo rafting journey.

Whether you're seeking adventure or want to unwind and connect with nature, bamboo rafting in Phang Nga offers an unforgettable experience for travelers visiting Phuket.

Don't forget to bring sunscreen and insect repellent for added comfort during your bamboo rafting excursion.
Unique Attractions
Experience the quirky and captivating Upside-Down House, soak in panoramic views of Phuket at Samet Nangshe Viewpoint, discover the enchanting Black Rock Viewpoint, indulge in The Selfie Experience for picture-perfect memories, and explore the mesmerizing underwater world at Phuket Aquaria.
Upside-Down House
One of Phuket's most unique and popular attractions is the Upside-Down House. This three-story house is flipped upside-down in the Thalang area, providing visitors with a surreal and mind-bending experience.
Inside, you'll find furniture, fixtures, and decorations hanging from the ceiling, creating an otherworldly atmosphere. The Upside-Down House is a great photo opportunity and offers a range of other attractions within its complex.
For those seeking added fun and challenge, there's A-Maze-in-Phuket, a maze-shaped garden that tests your senses. Whether you're looking to entertain the kids on a rainy day or want to experience something unique in Phuket, the Upside-Down House should be on your list of must-do activities.
Samet Nangshe Viewpoint
Samet Nangshe Viewpoint is a must-visit destination in Phuket, Thailand. Located in the stunning Phang Nga Bay, this 800-meter-high viewpoint offers breathtaking panoramas of the surrounding scenery.
With its incredible sunrise view and a 180-degree panoramic vista overlooking the large mangrove forest and bay, it's no wonder why it's considered one of the most popular viewpoints in Phang Nga.
Not only does Samet Nangshe provide mesmerizing views of the limestone islets, but it also offers a unique camping experience beneath the milky way. Whether you're a nature enthusiast or a photography lover seeking that perfect shot, Samet Nangshe Viewpoint will inspire you.
Black Rock Viewpoint
Located above Ao Sane Beach in Phuket, Black Rock Viewpoint is a must-visit for those seeking breathtaking views. This hidden gem offers a challenging hike through the rainforest, rewarding visitors with an unmatched panoramic view of the entire southern coast of Phuket.
You can take in the beauty of Nai Harn Beach, Promthep Cape, and neighboring islands like Koh Phi Phi. Black Rock Viewpoint is one of the best viewpoints on Phuket Island, perfect for photography enthusiasts or anyone who appreciates stunning scenery.
Don't forget to check out other popular attractions nearby, such as the Phuket Observatory and Karon Viewpoint, for even more awe-inspiring vistas.
The Selfie Experience
The Selfie Experience is a must-visit attraction in Phuket, Thailand. As the first selfie museum in the country, it offers an exciting and unique experience for visitors of all ages.
With over 40 different themes, booths, and rooms filled with captivating backdrops and props, this place is a paradise for selfie enthusiasts. Located near Phuket town, The Selfie Experience is perfect for birthday parties, friends' gatherings, staff parties, or romantic outings.
From whimsical settings to stunning photo spots, this museum guarantees countless opportunities to capture memorable selfies. With admission tickets starting at just $14.83, it's an affordable way to have fun and create lasting memories in Phuket.
This fun-filled attraction covers an expansive area of over 3000m2 and has garnered rave reviews from visitors who have enjoyed its interactive atmosphere. Whether striking poses at larger-than-life exhibits or immersing yourself in themed environments that transport you to different worlds, The Selfie Experience ensures endless entertainment throughout your visit.
When exploring the best things to do in Phuket in 2023, make sure not to miss out on this one-of-a-kind opportunity for creative self-expression and unforgettable moments.
Read Also: How to Prepare for a Trip to Europe?
Phuket Aquaria
Located in the heart of Phuket Town, Phuket Aquaria is a must-visit destination for those seeking an immersive and educational underwater experience. As the largest aquarium in Thailand, it showcases a diverse collection of marine life, from colorful tropical fish to awe-inspiring sharks and stingrays.
Offering interactive exhibits, feeding sessions, and insightful presentations about conservation efforts, this attraction provides visitors with an up-close look at the beauty and complexity of the marine ecosystem.
With well-maintained facilities and knowledgeable staff ensuring a memorable visit for all guests, Phuket Aquaria is perfect for families, couples, or nature enthusiasts looking to delve into the wonders of the underwater world.
Adventure and Outdoor Activities
Experience the thrill of flying through the treetops with a Flying Hanuman Zipline adventure, dive into the crystal-clear waters for an exhilarating scuba diving experience, and feel the rush of wind as you master kitesurfing on Phuket's stunning beaches.
Flying Hanuman Zipline Experience
Flying Hanuman is an adventure zip line in Phuket that offers an exhilarating ziplining experience amidst forests and above valleys. Located near Patong Beach, between Phuket town and Patong, in the jungle above Kathu village, Flying Hanuman is set in the middle of Phuket island, near Kathu waterfall, surrounded by lush jungle.
Guests at Flying Hanuman can enjoy flying through the jungle on various zipline courses that offer stunning views of the island's natural beauty.

It is considered one of the best zipline experiences in Phuket and is known for its safety measures and professional staff.

Flying Hanuman offers a range of zipline courses suitable for different ages and levels of adventure, ensuring something for everyone.

Visitors can expect an adrenaline-pumping experience as they soar through the treetops suspended by harnesses and cables.

The zipline adventure at Flying Hanuman allows guests to experience the thrill of flying like Hanuman, the mythical monkey god in Hindu mythology.

Along with zip lining, Flying Hanuman offers other outdoor activities such as sky bridges, spiral staircases, and abseiling.

The zipline adventure at Flying Hanuman is a popular attraction for tourists looking for an exciting and unique way to explore Phuket's natural beauty.

Visitors can book tickets in advance to secure their spot at Flying Hanuman and enjoy an unforgettable zipline adventure in Phuket.
Wakeboarding
Wakeboarding is an exhilarating water sport that should be on your list of things to do in Phuket. Whether you're a beginner or an experienced wakeboarder, plenty of options are available to satisfy your adrenaline cravings.
One of the best places to try wakeboarding is Phuket Wake Park, which cater to all skill and experience levels. This relatively new sport has gained popularity among locals and tourists, offering a thrilling and exciting activity for those seeking adventure during their vacation.
With its beautiful coastal setting, Phuket provides the perfect backdrop for wakeboarding, allowing visitors to enjoy the sport while taking in breathtaking ocean views. You can even combine wakeboarding with other water sports activities like kayaking, kite surfing, and snorkeling for a truly unforgettable experience.
Scuba Diving
Phuket is a paradise for scuba diving enthusiasts, offering many breathtaking underwater experiences. Here are some key highlights:
Witness the diverse marine life: Phuket boasts an abundance of fascinating marine creatures, including barracudas, stingrays, seahorses, tropical fish, and vibrant nudibranchs.
Explore coral reefs: Dive into Phuket's crystal-clear waters to discover both hard coral reefs and soft corals, creating a kaleidoscope of colors beneath the surface.
Snorkeling adventures: Even if you're not a certified diver, you can still immerse yourself in the beauty of the underwater world through snorkeling. Phuket provides excellent opportunities for snorkeling with its mesmerizing marine life.
Adventure beyond diving: Besides scuba diving and snorkeling, Phuket offers a myriad of thrilling outdoor activities. From kayaking and stand-up paddleboarding (SUP) to kite surfing and wakeboarding, there's something for everyone seeking adrenaline-inducing experiences.
Discover Phang Nga Bay: One of the must-visit sites in Phuket is the surreal Phang Nga Bay. Dive into its turquoise waters to explore hidden caves and limestone cliffs that have made this area famous.
Kitesurfing
Kitesurfing is one of the most thrilling and popular water sports in Phuket. With its stunning beaches and warm waters, this island paradise is the perfect destination for kitesurfing enthusiasts.
Whether you're a beginner or an experienced kiteboarder, Phuket offers ideal conditions for this adrenaline-pumping activity. The island's consistent wind patterns make it a haven for kitesurfers all year round.
Imagine gliding across crystal-clear waters, propelled by the power of the wind as you perform gravity-defying tricks and jumps. Phuket's kitesurfing season attracts thrill-seekers worldwide who flock to experience its world-class spots like Nai Yang Beach and Chalong Bay.
Muay Thai Class
If you want an exhilarating and unique experience in Phuket, consider trying a Muay Thai class. Travelers highly recommend this traditional Thai boxing sport, and it offers a great introduction to the sport while providing a challenging workout for your core, legs, and arms.
Whether you're a beginner or have some experience, plenty of training camps in Phuket offer classes catering to all skill levels. Soak up the rich cultural heritage of Muay Thai while getting fit and having fun in this tropical paradise.
Go Kart Racing
One of the most thrilling activities to experience in Phuket is go-kart racing. Whether you're a speed enthusiast or simply looking for an adrenaline rush, go-karting is a must-try adventure sport.
With two popular go-kart tracks on the island, namely Patong Karting Circuit and Phuket Offroad Fun Park, there's no shortage of options to get your heart racing.
Established in 1991, the Patong Karting Circuit offers a 750-meter-long track to push your limits and test your driving skills. It's perfect for groups of friends and families who want to engage in friendly competition while enjoying an adrenaline-fueled outing.
Similarly, Phuket Offroad Fun Park provides exciting go-karting activities that promise fun-filled moments as you zoom around the track.
Golfing in Phuket
Phuket isn't just a haven for beach lovers and adventurers; it's also a paradise for golf enthusiasts. With its stunning scenery of mountains and beaches, the island offers a range of top-notch golf courses to choose from.
One popular choice is the Blue Canyon Country Club, known for its challenging fairways and breathtaking views. Loch Palm Golf Club and Laguna Phuket Golf Club are highly regarded options, offering beautifully designed courses catering to players of all skill levels.
For those who want a unique experience, Phuket Country Club and Mission Hills Golf Club provide an opportunity to tee off surrounded by lush tropical landscapes. Whether you're a seasoned golfer or just starting out, Phuket has something to offer every golfing enthusiast.
Read More: Best Family Beaches in Florida: Bliss for the Whole Family
Relax and Pamper Yourself
Indulge in spa treatments, rejuvenating massages, and peaceful yoga sessions to relax your mind and body. Experience the blissful pampering Phuket has to offer. Read on to discover more incredible ways to unwind in this tropical paradise.
Spa and Massages
Phuket is not just about beautiful beaches and thrilling activities but also offers a wide range of options for relaxation and pampering. With over 542 spa and wellness centers to choose from, visitors will be spoilt for choice.
If you're looking to unwind after a day of exploring, head to the Patong Beach area where you'll find some of the best massage parlors in Phuket. One highly recommended experience is the 1-hour aromatherapy massage, which helps relax your body and release muscle tension.
For something more indulgent, try the equilibrium therapy that includes a foot bath, foot massage, and body scrub. The Oasis Spa in Phuket is particularly renowned for its top-notch Thai Massage and oil massage services – no wonder it has won multiple awards! So go ahead and treat yourself to a blissful spa experience while in Phuket – you deserve it!
Yoga Sessions
Yoga Sessions in Phuket offer a transformative experience for those seeking relaxation and wellness. Here are some key highlights:
Sunrise yoga sessions provide a peaceful start to your day, allowing you to connect with nature and find inner calm.

Sunset meditations offer a serene setting as you unwind and let go of stress, taking in the breathtaking views Phuket has to offer.

Phuket's yoga retreats focus on physical practice and include meditation classes that help promote mental clarity and mindfulness.

Immerse yourself in Thai culture by attending Thai cooking classes at yoga retreats, where you can learn to create delicious and healthy dishes using local ingredients.

These retreats often occur in wellness resorts, where you can enjoy luxurious amenities alongside yoga sessions.

In addition to yoga, wellness resorts in Phuket may offer Pilates activities and other wellness classes to further enhance your fitness journey.
Cooking Classes
Phuket offers a range of cooking classes for food enthusiasts visiting the island. Whether you're looking to learn how to cook authentic Thai dishes or explore vegetarian cuisine, these classes have something for everyone. Here are some key points to know about cooking classes in Phuket:
Enroll in a cooking class and experience the flavors and techniques of Thai cuisine.

These classes allow participants to cook like a local and learn about the culture and history of Thailand.

The menu can be adapted to suit individual preferences and dietary restrictions.

Phuket has a variety of cooking class options, including private and affordable sessions.

Vegetarian cooking classes are also available, catering to different preferences.

Participating in a cooking class can be a rejuvenating and fulfilling experience, adding to your relaxation and pampering in Phuket.

Cooking classes are part of Phuket's vibrant activities, from island hopping to exploring the nightlife and nearby attractions like Phi Phi Islands and Phang Nga Bay.
Explore Local Cuisine
Indulge in the vibrant flavors of Phuket's local cuisine with a wide array of street food, seafood delicacies, and traditional Thai dishes prepared by talented local chefs.
Try Local Food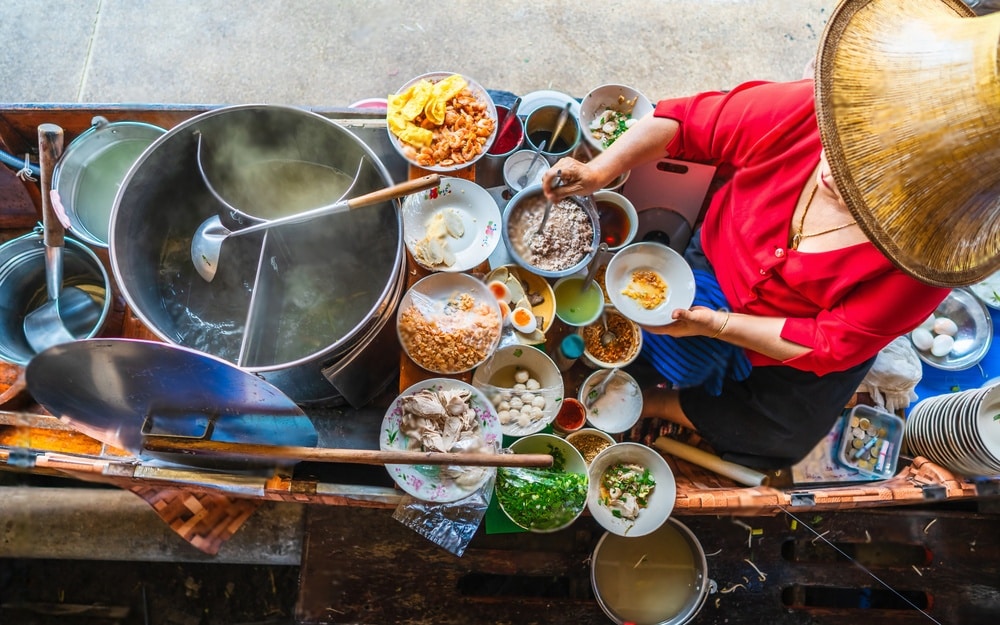 Phuket is a culinary paradise, offering an array of local dishes that will tantalize your taste buds. From fiery Tom Yum Goong to savory Pad Thai and comforting Kuay Tiew noodle soup, the island's local cuisine is bursting with flavors, spices, and fresh ingredients.
It's a must-do for any traveler visiting Phuket to indulge in the authentic Thai dishes this destination offers. Whether you dine at one of the many hidden gems or explore bustling local eateries, unlocking the flavors of Phuket's local food scene will satisfy your hunger and provide you with a deeper understanding of the island's culture and culinary traditions.
Thai Cooking Classes
Experience the art of Thai cuisine through cooking classes in Phuket:
The Phuket Thai Cookery School offers a full day of learning, cooking, and eating for interested students.

It is located at the beautiful Siray Beach in Phuket and provides the perfect setting for a culinary adventure.

Wooddy's Kitchen is the top-rated cooking class in Phuket, offering the best Thai cooking experience.

Cookly is an online booking platform that focuses on providing fun and easy cooking classes, including the Phuket Easy Thai Cooking class.

Discover the secrets of authentic Thai cuisine with over 70 classic recipes, insider stories, and tips from local cooks in "Thai Cooking Class Authentic Thai Cuisine Pdf."

During these cooking classes, immerse yourself in the local culture by learning about the unique ingredients used in Thai cuisine.

Whether you're a beginner or an experienced cook, Thai cooking classes in Phuket are tailored to suit all skill levels.

Not only will you learn how to recreate authentic flavors at home, but you'll also gain a deeper understanding of Thai culture and traditions through food.
Cultural and Entertainment Shows
Experience the dazzling performances of the world-renowned Simon Cabaret Show, featuring stunning drag queens, extravagant costumes, and captivating choreography.
Simon Cabaret Show
Simon Cabaret Show is a renowned entertainment venue in Phuket, Thailand, offering a captivating display of color, originality, and fun. Founded in 1991, this show has become one of the most popular events on the island.
The theater provides an exclusive, luxurious experience with state-of-the-art sound and lighting technology. Combining music from various cultures worldwide, Simon Cabaret offers a glamorous evening filled with live performances that will mesmerize you.
It's considered one of the best night shows in Thailand and promises an unforgettable experience for visitors seeking vibrant nightlife adventures. So if you're looking for an evening filled with spectacle and dazzle while immersing yourself in cultural diversity, Simon Cabaret Show is a must-see attraction on your list of the 70 best things to do in Phuket.
Shopping and Souvenirs
Phuket is not just a destination for beautiful beaches and thrilling outdoor adventures; it also offers a vibrant shopping scene that caters to all budgets and preferences. Whether you're a shopaholic or simply looking for souvenirs to bring back home, Phuket has something for everyone.
From vibrant flea markets to gigantic shopping malls, plenty of options exist. Patong Beach, one of Phuket's most famous and longest beaches, is lined with shops offering everything from clothes and accessories to local handicrafts.
If you're looking for unique pearls, head to the Phuket Pearl Shops on the east coast, where you can find exquisite pearls that make perfect souvenirs.
Don't forget to visit Rawai Market, a popular place known for its beautiful items, including jewelry and crafts. And if you're in the mood for some street food shopping, stalls throughout Phuket offer a variety of souvenirs along with delectable treats.
No matter your shopping needs, Phuket has got you covered. So take some time away from the beach and immerse yourself in this stunning island's diverse shopping experiences.
Frequently Asked Questions (FAQs)
If you have any queries, you can check the answers below regarding things to do in Phuket.
1. What are some must-see attractions in Phuket for 2023?
For the latest updates in 2023, don't miss out on visiting iconic attractions such as Patong Beach, Big Buddha, Phi Phi Islands, and Old Phuket Town.
2. Are there any new activities or events to consider in Phuket for 2023?
In 2023, watch for new activities and events like the Phuket Ironman Triathlon, local food festivals showcasing authentic Thai cuisine, and immersive cultural experiences organized by local tour operators.
3. How can I stay updated with the latest information about things to do in Phuket?
To stay updated with the latest information about things to do in Phuket for 2023, including new attractions and events, you can follow the official tourism websites of Phuket or sign up for newsletters from popular travel blogs that cover Thailand destinations.
4. Do I know any safety precautions when engaging in Phuket?
While enjoying your time in Phuket, it's important to prioritize your safety. Be mindful of ocean currents while swimming or participating in water sports, adhere to instructions provided by tour guides during adventure activities such as zip-lining or snorkeling trips, and take necessary precautions against sunburn and dehydration.
Subscribe to Our Latest Newsletter
To Read Our Exclusive Content, Sign up Now.
$5/Monthly, $50/Yearly