World Asthma Day 2023: 10 Tips to Shed Light on Global Respiratory Health
Listen to the Podcast:
Every year on the first Tuesday of May, World Asthma Day is honoured, and it will be celebrated for the 26th time on May 2, 2023. The Global Initiative for Asthma (GINA) launched the day as a global initiative in conjunction with healthcare organizations.
Asthma educators to improve global awareness about asthma, its causes, symptoms, treatment, and prevention measures. World Asthma Day should also urge people to take action to avoid asthma and properly manage its symptoms.
Since 1998, several events and activities have been held around the world to commemorate World Asthma Day. This year's World Asthma Day has the subject "Asthma Care for ALL." The majority of asthma-related deaths occur in low- and middle-income nations. Due to the social and economic implications, GINA strives to guarantee that all people have access to appropriate asthma healthcare and medications. Asthma care for all, this year's message, encourages the establishment and implementation of asthma treatment programs worldwide.
World Asthma Day 2023
World Asthma Day 2023 (Vishwa Asthma Divas) World Asthma Day. Although asthma cannot be completely cured, proper management reduces the likelihood of asthma attacks, episodes, or exacerbations.
The information in the table below will help you learn more about World Asthma Day 2023.
| | |
| --- | --- |
| Day | World Asthma Day |
| Observed | First Tuesday in May |
| World Asthma Day 2023 Date | May 2, 2023 |
| World Asthma Day 2023 Theme | Asthma Care for All |
| Established | Global Initiative for Asthma (GINA) |
| Aim | To raise awareness about asthma, its symptoms and treatment. |
History of World Asthma Day
The Global Initiative for Asthma (GINA) founded World Asthma Day in 1998 to promote awareness of asthma and its impact on people's lives. The goal of this day is to enhance asthma care worldwide by educating people about the disease and advocating for better management and preventative techniques.
The inaugural Asthma Day was held on the first Tuesday of May in 1998, and it has been observed annually since then. The date was chosen to correspond with the spring and fall seasons, when changes in temperature and pollen exposure can aggravate asthma symptoms.
Over the years, World Asthma Day has evolved into an important platform for advocacy and education, with organizations and individuals all over the world participating in a variety of asthma-related events and activities. Seminars, workshops, rallies, social media campaigns, and instructional programs are examples of these.
The
Global Asthma Network
(GAN) was founded in 2008 to supplement GINA's efforts to raise asthma awareness and care. Today, World Asthma Day is observed in over 60 countries and has established itself as a major event on the global health calendar.
Asthma Day's history demonstrates that this yearly event is critical in raising asthma awareness and improving the lives of those living with this chronic disease. We can assist to lessen the burden of asthma on individuals, families, and communities around the world by educating people about the disease and campaigning for better care and management.
World Asthma Day 2023 Theme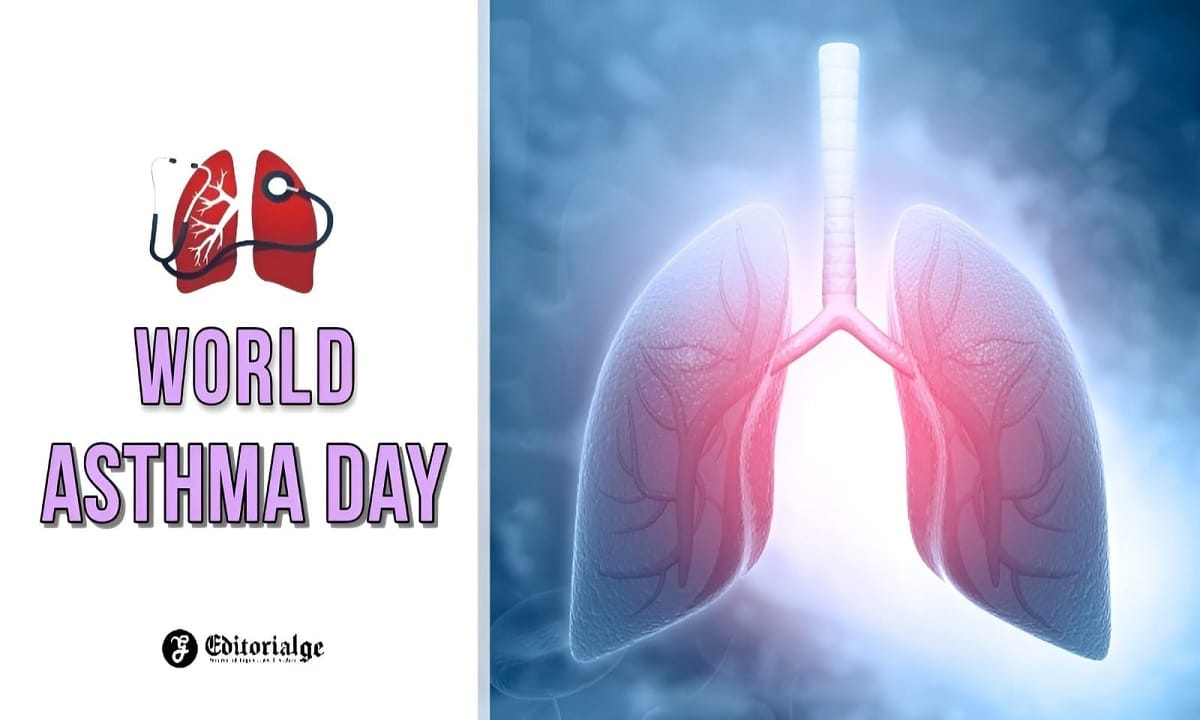 Every year, the theme of World Asthma Day changes to highlight unique difficulties and challenges connected to asthma care and management. The subject for each year is chosen by the Global Initiative for Asthma (GINA), and it is published well in advance so that organizations and people can arrange their events and activities accordingly.
GINA has chosen "Asthma Care for All" as the topic for World Asthma Day in 2023. This theme emphasizes the necessity of ensuring that everyone with asthma has access to good and inexpensive asthma care, regardless of geographic location, financial position, or other considerations. The purpose of this theme is to enhance fairness in asthma care and management while also lowering the global burden of asthma on individuals, families, and communities.
Significance of World Asthma Day 2023
Every year on the first Tuesday of May, World Asthma Day is observed, and it is very important in the field of respiratory health. The significance of the day stems from its capacity to raise awareness of asthma, a chronic respiratory ailment that affects millions of people around the world.
The day is observed because it allows people to learn about the causes, symptoms, and treatment choices for asthma. It also acts as a platform for promoting asthma research and advocacy initiatives, as well as encouraging legislators to act to enhance asthma care and management.
Another important component of World Asthma Day is that it contributes to the reduction of the stigma associated with asthma. World Asthma Day strives to eliminate myths and misconceptions about asthma that can lead to discrimination and marginalization of individuals with asthma by raising awareness and spreading accurate information about the disease.
Furthermore, World Asthma Day aims to improve the quality of life for asthma patients by providing a forum for healthcare professionals, patients, and caregivers to share their experiences, best practices, and innovations in asthma care and management.
World Asthma Day is significant because of its ability to raise awareness, promote research and activism, eliminate stigma, and enhance asthma care and management for people all around the world.
How to Celebrate World Asthma Day?
It may be a lot of fun to observe and celebrate World Asthma Day! To get started, try any of these suggestions:
World Asthma Day is an excellent opportunity for anyone who has had difficulty breathing for any cause to obtain a health screening. Alternatively, have a health screening for the children to ensure that they are not at risk for asthma problems. No matter what, it's always a good idea to consult a doctor as soon as an adult or child develops breathing problems!
Those who already have friends or family members who suffer from asthma should take advantage of this opportunity to learn more about it. One smart place to start is by studying a few key facts regarding asthma, such as these:
Asthma is not an illness that only affects children. Although many people believe that most people will "grow out of" asthma, this is not always the case. It can happen at any age, including childhood, youth, adulthood, and even the elderly.
Asthma is manageable. Though there is no known cure for asthma, it can often be controlled with inhaled low-dose steroids.
Asthma is not contagious. This is a pulmonary condition that is not communicable and cannot be 'caught'. Asthma attacks, on the other hand, can be caused by viral respiratory infections or even allergies.
Asthmatics can exercise and participate in sports. Though it is commonly assumed that people with asthma cannot participate in sports or exercise, this is simply not true.
Furthermore, it is a time to do everything possible to help other sufferers around the world by sharing that information. Make a
social media
message informing others about World Asthma Day and encouraging them to learn more and celebrate as well. It might even be a good idea to hold a promotional event at the office to increase the number of people who are aware of the day.
Those who are sincerely committed to offering assistance to those suffering from asthma may wish to consider making a donation to a charity that assists those suffering from the disease.
Begin with.  Not cleaning as completely. Does this appear to be counterintuitive? It certainly does for a lot of people! That is until they discover that hyper-hygienic surroundings have a considerably higher incidence than farms and pet-owning households.
So one place to begin is to ensure that those children spend more time playing in the dirt rather than sterilizing the planet to within an inch of its life.
How to Avoid Asthma Attacks?
Avoid triggers: A range of things, including allergens, exercise, pollution, and stress, can cause asthma attacks. Identify and avoid your personal triggers as much as possible. If dust, for example, is a trigger for you, keep your home clean and dust-free.
Exercise on a regular basis: Exercise is essential for general health, including lung health. Some persons with asthma, however, may suffer symptoms during or after activity. Consult your doctor about developing a safe exercise plan that includes a warm-up and cool-down period.
Take your medication exactly as directed: Inhalers and other asthma treatments are designed to help manage symptoms and avoid attacks. Even if you're feeling OK, it's critical to take them exactly as advised by your doctor. Skipping doses or not properly utilizing your inhaler can raise your chance of an attack.
Make a plan of action: A written asthma action plan specifies what to do in the event of an asthma attack. Make sure you have one and that you and your loved ones understand how to use it. Your action plan should contain directions on when to take your medicine when to seek emergency medical attention, and how to keep track of your symptoms.
Stay hydrated: Drink plenty of water to keep your airways wet and lower your chances of having an asthma attack. Drink at least 8 glasses of water every day and avoid dehydrating beverages such as alcohol and coffee.
World Asthma Day Quotes
"Asthma is a reminder to slow down, breathe deeply, and take care of ourselves. It can be a teacher, showing us the importance of self-care and self-awareness." – Genevieve Howland

"Asthma is a manageable condition that should not prevent anyone from achieving their goals." – Monica Kraft

"Asthma should not limit a person's dreams or aspirations. With proper care, anything is possible." – Sally Wenzel

"Asthma doesn't define me; I define asthma." – Kyle Kondik

"Asthma is an illness that can be effectively managed with proper treatment and self-care." – Harold S. Nelson

"Asthma is a chronic condition, but it does not have to be a chronic problem. With proper management, it can be controlled." – Stephen Holgate

"Living with asthma requires courage, patience, and a positive attitude. But it is worth it to live a healthy, fulfilling life." – Kay Boycott

"Asthma may be invisible, but it is very real and can have a significant impact on people's lives." – Amanda Barnard

"Asthma is not a weakness, but a condition that requires strength and resilience to manage." – Toni Latimer-Scahill

"Asthma is not a barrier to living a full and active life. It is a challenge that can be overcome with the right mindset and support." – Neil Thomson
Also Read: Cold Icy Feeling Inside Chest
World Asthma Day Wishes, Messages
Let us promise to take extra precautions against Asthma and to live in clean, toxin-free environments. Congratulations on World Asthma Day. 
Keeping Asthma under control can also assist to keep other disorders under control. Have a wonderful World Asthma Day.
It is not always necessary to achieve big things. Breathing can also be a major accomplishment at times. Have a wonderful World Asthma Day.
On World Asthma Day, let us strive to return to a time when there was just clean air to breathe and a healthy heart to beat. Congratulations on World Asthma Day.
It is critical to leave a healthy environment for our children in order to develop a better future for them. On this World Asthma Day, let us all work together to keep our environment clean.
We must remember that it is better to plan for the future than to look back and be sorry. Congratulations on World Asthma Day.
May you be able to breathe freely and enjoy a long, healthy, and happy life? On this World Asthma Day, best wishes.
All living beings require fresh air to survive, and we must conserve it in order to protect the globe from asthma. Congratulations on World Asthma Day.
Assist those suffering from Asthma. Understand their issues and help to raise awareness. Congratulations on World Asthma Day.
Better air and better breathing are required to rid the globe of asthma. Congratulations on World Asthma Day.
5 Interesting Facts About Asthma
Asthma affects about 8% of adults and 7% of children.
Asthma affects around 5.1 million people under the age of 18.
Women are three times as likely as males to be admitted to the hospital for asthma-related problems.
Asthma kills ten Americans every day on average.
Asthma affects 8.4% of men and 5.5% of women.
Slogans
"Together, we can breathe a little easier."
"Asthma can't hold us back: let's raise awareness together!"
"Every breath counts: show your support for World Asthma Day."
"Manage your asthma, and live your best life."
"Take charge of your asthma: don't let it control you."
"Breathing should be easy for everyone: support World Asthma Day."
"Breathe easy, live freely: World Asthma Day."
"Awareness of asthma is critical to a healthier future."
"Let us work together to make asthma no longer a barrier."
"Asthma doesn't have to define you: join the fight on World Asthma Day."
Read Also More: International Workers Day 2023
Why World Asthma Day Is Important?
Today is a day to raise awareness: To raise awareness of asthma, World Asthma Day is held. It promotes the information to those who are unaware of it and demonstrates how to assist persons suffering from asthma.
It is a day of service: On this day, we assist persons suffering from asthma. People get together in a variety of ways, such as through research donations and volunteer efforts.
It encourages unity: It promotes togetherness by bringing people together to demonstrate the power of mankind. It is a day for people to demonstrate compassion and kindness to one another.
Conclusion
World Asthma Day 2023 is an opportunity to improve asthma awareness and refute misinformation about the condition. We can ensure that people with asthma receive the treatment and support they need to control their symptoms and lead healthy and active lives by educating people about asthma and encouraging them to take action. Remember that asthma is a treatable disorder and that with the proper treatment and care, persons with asthma can live a normal life.
Subscribe to Our Latest Newsletter
To Read Our Exclusive Content, Sign up Now.
$5/Monthly, $50/Yearly