Top 10 Shopping Destinations in India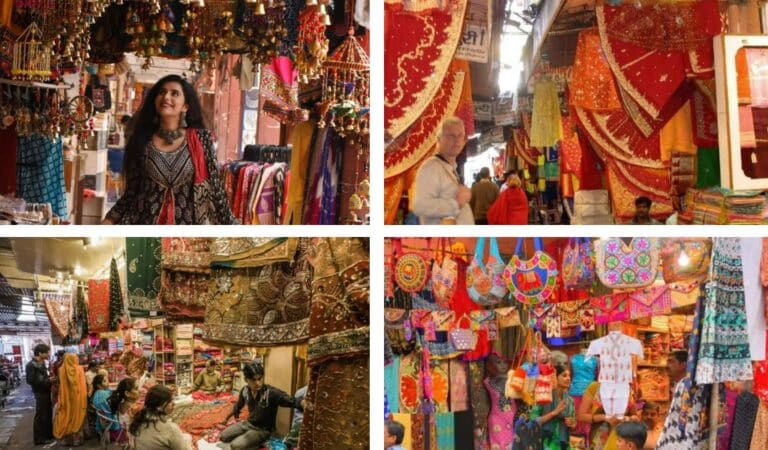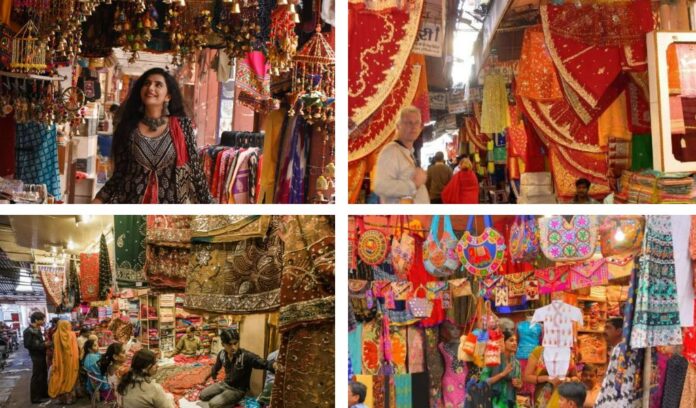 Listen to Podcast:
Causeway of Colaba. With designer brands, malls, shopping arcades, and a plethora of flea markets, Mumbai is a shopper's paradise that serves millions of visitors each day.
India's shopping scene is as varied as its culture, ranging from chic boutiques to opulent malls. Our cities have high-street and hyperlocal retail opportunities, as well as specialties that frequently encapsulate the spirit of the city.
Read More: Facebook Live Shopping
Here are India's best 10 shopping locations to visit for your next shopping extravaganza, whether you're wanting to save money or indulge.
1. Jaipur, Rajasthan
Jaipur, more commonly referred to as the Pink City, embraces shopping in all of its various colors. The bright world of mirror work, Rajasthani bandhanis, lehariyas, tie-and-dyes, Batik designs, hand-printed papers, and traditional juttis can be entered through Bapu Bazaar, MI Road Market, Chaura Rasta, Nehru Bazaar, and Chandpole Bazaar. Block-printed textiles from Sanganer and Bagru, exotic silverware, Jaipur blue ceramics, stone carvings, Jaipuri quilts, bedspreads, and beautiful home furnishings are some of the other must-buy items in this regal city.
It is impossible to find a city with more intricate artistry than Jaipur, which is known all over the globe as a center for cutting and polishing precious and semi-precious stones, diamonds, kundan, and thewa jewelry. The well-known Johari Bazar is a haven for people who love jewelry, since it sells everything from lac jewelry with intricate designs to kundan jewelry with magnificent hallmark pieces.
2.  Srinagar, Kashmir
This "Paradise on Earth" is known all over the world for its beautiful scenery and stunning natural landscapes. It also has some of the best shopping in the world. Lal Chowk is a popular shopping area in Srinagar that is known for its carpets and rugs, Pashmina shawls, Kashmiri embroidered handiworks, woolens, antique art, and silverware. It is a one-stop shop for shoppers who don't have much time. To make sure you're getting a real Pashmina shawl, it's best to shop at official stores or get help from a local guide.
Consider the popular paper-mâché boxes and crafts, saffron and other spices, Kashmiri tea, and dry fruits. All of these are easy on the wallet and make great gifts.
Read More: Mumbai to Delhi Cheap Airticket
Other great places to shop here are the Cottage Industries Emporium, the JK Govt Handloom showroom, the Main market area, Mughal Garden Road, and the Polo Market.
3. Mumbai
Mumbai is known as the fashion capital of India. It is a shopper's dream, with lots of designer labels, malls, shopping arcades, and flea markets that serve millions of people every day.
The City of Dreams really lives up to its name. You can buy almost anything there, from street and designer jewelry, clothing, and shoes to electronics, antiques, and old movie posters.
Each neighborhood has many busy markets and malls, but High Street Phoenix and Jio World Drive are the most popular places to shop for high-end luxury. Colaba Causeway, Fashion Street, Bandra's Hill Road, and Linking Road are the most popular places to shop for trendy, chic, and funky fashion.
You Can Read: Azim Premji Net Worth
As you fight for space and shop until you drop into this city that never sleeps, the best things to buy are the famous Kolhapuri chappals and odd, funny things. The Chor Bazaar, which has been around for more than 150 years, is another popular place to buy old furniture, hookahs, gramophones, and other interesting deals.
4. Kolkata, West Bengal
Kolkata is the largest shopping area in East India, but it is often overlooked as a place to go shopping. It has some of the best burnt-kiln terracotta handicrafts and the most beautiful fabrics made by rural weavers.
This soulful "City of Joy" has some of its own specialties, like the famous red-bordered (Lal-paar) sarees, handicrafts from Sholapith, fine leather goods, and silk from Murshidabad, among other things.
Park Street, Dakshinapan Shopping Centre, Chowringhee Road, Assam Craft Emporium, and Nagaland Emporium are all well-known places to shop.
Here, you can find famous Bengali sweets, jute crafts, Darjeeling tea, clay horses from Bankura, paintings from Kalighat, and brassware. Walk through the crowded maze of stalls in Kolkata's famous New Market and Barabazaar, the wholesale and retail hub, to get a feel for the city and find the best deals.
5. Delhi
If there is one city in India that delivers a real shopping experience from each state, it is Delhi. From state emporiums selling handicrafts and signatures particular to that state to designer boutiques in glittering malls as well as traditional and contemporary budget street shopping, Delhi offers it all.
The landmark Connaught Place and Khan Market, the lush Santushti shopping complex, Delhi Haat for handicrafts, the vibrant Janpath market, South Extension, Hauz Khas Village, Chandni Chowk, INA Market and Sarojini, and Lajpat Nagar for discount street buys are all must-see shopping destinations. The most popular purchasing items are embroidered textiles and oxidized silver trinkets, as well as stylish Western clothes and purses.
Also Can Read: Best Books for Entrepreneurs
For antique yet economical furniture, Amar Colony furniture market and Kirti Nagar are your best bets. If you want to indulge, the opulent DLF Emporio Mall, Select Citywalk, and other huge retail malls house most designer collections under one roof.
6. Goa
Goa is a popular choice for any vacationer searching for a calm getaway because to the state's abundance of sunny beaches, festive atmosphere, and laid-back holiday spirit. The beach kiosks, night bazaars, and flea markets further add to the positive vibes of this lively party destination.
Artificial jewelry, souvenirs, apparel, shoes, cashew nuts, jute macrame, seashell, bamboo, and fiber accessories may all be found at the wildly popular Anjuna market and Calangute Market Square.
Arpora Night Market, held every Saturday from 6 PM to midnight, should be at the top of your itinerary. Everything from authentic designer gowns to sterling silver piercings may be found here. One of the finest ways to get in touch with the genuine Goan spirit is to visit one of the many markets that dot the state. These markets sell everything from clothing and handicrafts to chunky jewelry and leather accessories to home decor and festoons.
7. Kochi, Kerala
Kochi is the industrial and financial capital of Kerala, and it is the crowning jewel of the state's beautiful tourism scene. Since this city was a busy port for spice trade for hundreds of years, it's not surprising that shopping here reflects the city's rich history, and spices are still the most popular things to buy here.
Stock up on fresh spices like anise, cardamom, cinnamon, cloves, bay leaves, and pepper. Cashew nuts, aroma oils, and Kerala's famous banana chips are also must-buys.
Luxury shopping is available in big malls like Lulu mall and Centre Square mall, but the city's heart beats on busy streets like MG Road, Bazaar Road, Marine Drive, and Broadway.
Kairali Emporium on MG Road is one of the best places to buy Keralan artifacts and crafts, like Kathakali masks that make great gifts and souvenirs to take home.
8. Hyderabad
A trip to this bustling market might provide the solution you're looking for if you're concerned about a potential Bridezilla scenario developing in the near future. Beginning with Charminar, it is characterized by winding alleyways that conceal a variety of glittering treasures. In addition to selling magnificent bridal attire, khara dupattas, sarees, pearls, Nirmal, kalamkari, and handwoven materials of silk, brocade, velvet, and gold embroidered fabrics, this shop is famous for its traditional Hyderabadi glass and stone studded bangles. After a day spent here, you will be completely ready for the wedding.
9. Chennai
You can't possibly leave Chennai without taking a dazzling Kanchipuram Sari with you. Even if you don't wear saris very often, you should have at least one exquisite silk sari in your wardrobe. If you're searching for a particularly exceptional sari, you won't find anything that tops this one. For a shopping experience that is guaranteed to be successful, visit the Nalli store, even if you do not consider yourself an expert on saris. Make sure to stop by Pondy Bazaar, and while you're there, maybe grab a bite to eat at Anna Salai.
10. Pune
One location where you can find the students of Pune taking advantage of the most attractive deals. A well-known flea market can be found on FC Road in Pune, and most of the time it is completely overrun with students. The packed and tiny alleyways of the streets will offer you anything from watches to accessories to clothing to Kurtis to purses and shoes at prices that won't put a dent in your wallet. Since most of the items come from Mumbai, you can be sure that you will always be able to affordably stay up with the latest fashions despite the fact that most of the items come from there.
Subscribe to Our Latest Newsletter
To Read Our Exclusive Content, Sign up Now.
$5/Monthly, $50/Yearly