Sukanta Bhattacharya Death Anniversary: An Analysis of His Life
Listen to the Podcast:
The 76th death anniversary of poet Sukanta Bhattacharya will be observed on Saturday (May 13). Sukanta is thought to be one of the most important Bengali literature of the 20th century, along with Rabindranath Tagore and Nazrul Islam.
Even though he died of tuberculosis at the age of 21 in 1947, when he was still very young, he left behind a huge number of poems that were very different from those of his more famous and well-known peers. Sukanta was a communist because in 1944 he joined the communist party. He was in charge of "Kishore Shabha", the youth magazine of the Communist Party of India (CPI).
In Sukanta's poetry, the pain of his country under British colonialism and the longing for a "red dawn" come through very clearly. Even though he only lived a short time, he had a big impact on other people, especially the poet Subhash Mukhopadhyay and the musician Salil Chowdhury, who put many of his works to music.
Sukanta Bhattacharya Biography
Sukanta Bhattacharya was a Bengali poet and playwright. Along with Rabindranath Tagore and Kazi Nazrul Islam, he is seen as one of the most important figures in modern Bengali poetry But most of his work came out after he died. During his life, not many people read his works. 
But they got more attention after he died, and he eventually reached the same level of fame as the great Bengali writers of the 19th century who were important to the Bengal Renaissance. The most important things in his poems were his communist ideas, his patriotism, and his humanism. His nephew, Buddhadeb Bhattacharya, used to be the leader of West Bengal. The artist Shubhas Mukhopadhyay was a close friend of his.
| | |
| --- | --- |
| Full Name | Sukanta Bhattacharya (Bengali: সুকান্ত ভট্টাচার্য) |
| Nick Name | 'Young Nazrul' and 'Kishore Bidrohi Kobi |
| Pen name | Kishore Kabi |
| Gender | Male |
| Birth Date | 15 August 1926 |
| Birth Place | Kotalipara Upazila, Faridpur District, Bengal Presidency, British Raj (now Kotalipara, Gopalganj District, Bangladesh) |
| Date of Death | 13 May 1947 (aged 20) |
| Died Place | K. S. Roy T. B. Hospital, Calcutta(Now Gopalganj District, Bangladesh) |
| Occupation | Poet, writer |
| Nationality | British India |
| Religion | Hinduism |
| Father | Nibaran Chandra Bhattacharya |
| Mother | Suniti Devi  |
Sukanta Bhattacharya's Family, Parents and Siblings
Sukanta Bhattacharya was born on August 15, 1926, to Nibaran Chandra Bhattacharya and Suniti Devi. Nibaran Chandra Bhattacharya owned Saraswat Library, which published and sold books. He was the second of their seven sons. Their other six sons were Manmohan, Sushil, Prashanta, Bibhash, Ashoke, and Amiya. Nibaran Bhattacharya's oldest child from his first marriage was Manmohan. 
Manmohan and his wife Saraju Debi were very close to Sukanta. Noted that Buddhadeb Bhattacharya, who used to be the Communist Leader and Ex-Chief Minister of West Bengal, is his nephew. He is the son of one of his cousins. Sukanta was born at his maternal grandfather's house in Kalighat, Calcutta (now Kolkata, West Bengal), even though his family was from the village of Kotalipara in Faridpur, which is now in Bangladesh.
Early Life  and Education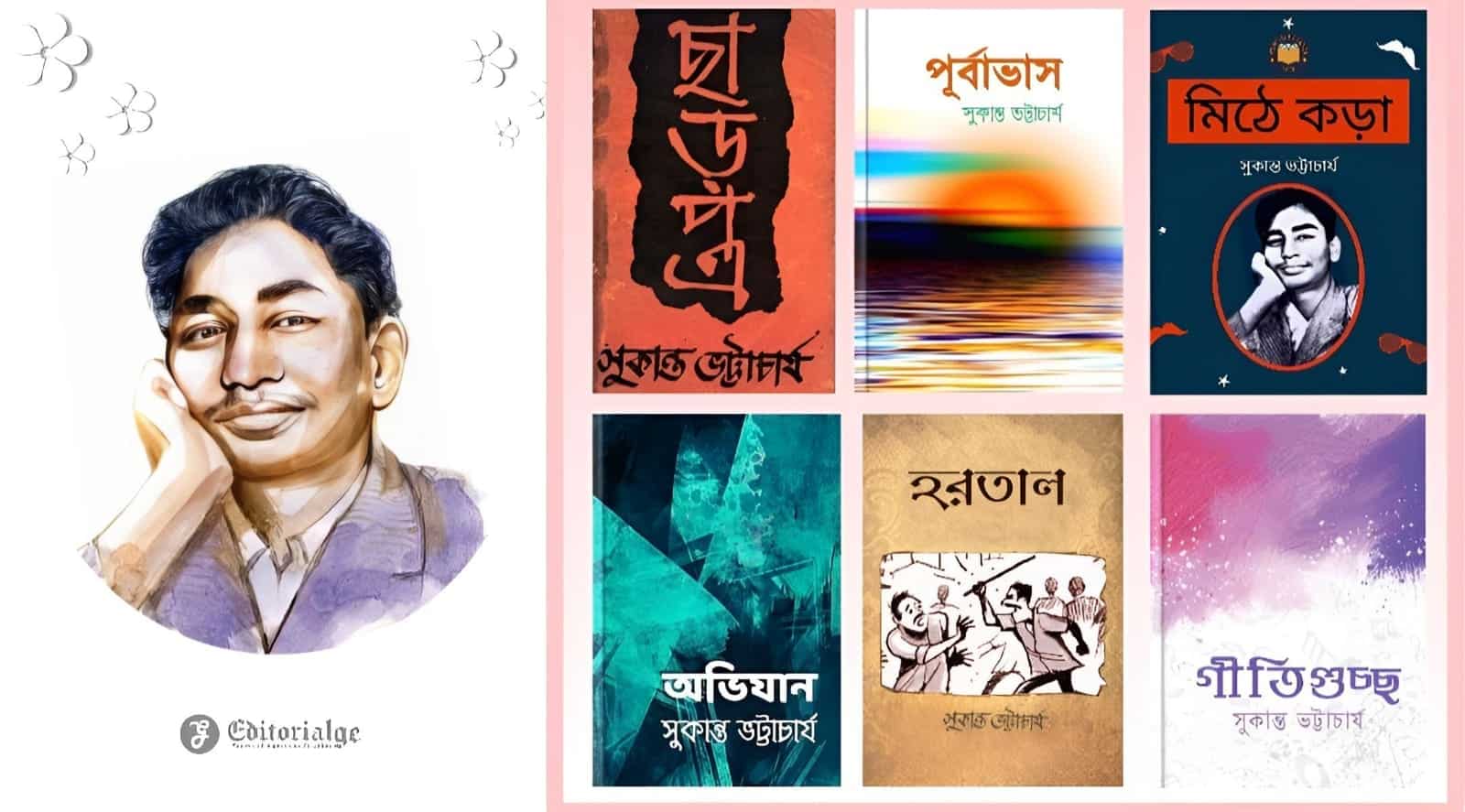 Sukanta grew up in his parents' home on Nibedita Lane, Bagbazar. He was sent to a nearby elementary school called Kamala Vidyamandir, where he started writing. The school's student magazine, Sanchay, put out his first short story. Later, his "Vivekananda Jibani" was edited by Bijon Bhattacharya and released in the Sikha language.
He went to Kamala Vidyamandir first, and then he got into Beleghata Deshbandhu High School. In 1944, he joined the Indian Communist Party. In the same year, he was in charge of putting together an anthology called Akal (Famine), which was put out by the Anti-Fascist Writers' and Artists' Association. The artist Shubhas Mukhopadhyay was a close friend of his. He appeared for the entrance examination into Beleghata Deshbandhu High School in 1945, but he failed the test. 
He was the editor of the youth section (Kishore Sabha) of the Bengali party's daily organ, Dainik Swadhinata, since 1946. At the age of 21, he died of tuberculosis at Jadavpur T. B. Hospital (K. S. Roy T. B. Hospital) in Calcutta. Amiya Bhattacharya, the poet's youngest brother, wrote a book about the poet's life called "Kabi Sukanta Bhattacharya O Sei Samay". This book gives a full account of the poet's life.
Sukanta Bhattacharya's Political Life
While at school, Sukanta came in contact with Marxist thought (মার্কসবাদী) in 1941-42 AD. Became a member of the Communist Party of India in 1944. All studies are over, he focuses on politics. He could be seen in meetings, marches, and gatherings. Worked tirelessly for the Communist Party. And the words of this politics came up in his poetry. That is why Sukanta is called the poet of the masses. 
The Literary Life of Sukanta Bhattacharya
In 1941, Sukanta Bhattacharya attended a program called "গল্পদাদুর আসর" "Galpdadur Asar" organized by Kolkata Radio. There he first recited the poems of Rabindranath. When Rabindranath died, he also paid tribute to Rabindranath by reciting his own poems.
If you thought that Sukanta Bhattacharya was nothing but a poet, then you are completely wrong. Because he also composed various songs, stories, dramas and essays along with poetry
At the age of eleven, he composed a lyrical play called "রাখাল ছেলে" "Rakhal Boy", which was later compiled into a book called "হরতাল" "Hartal".
Among all his works, the most notable are – (ছাড়পত্র) Charpatra (1947), (গীতিগুচ্ছ) Gitiguchcha (1965), (পূর্বাভাস) Premonition (1950), (মিঠেকড়া) Mithekra (1951), (অভিযান) Abhiyan (1953), (ঘুম নেই) Ghoom Nei (1954), (হরতাল) Hartal (1962), etc. Later, his works were published under the name of "Sukanta Samagra" "সুকান্ত সমগ্র" by both Bengals.
Works
Sukanta's poetry was published in magazines while he was still alive, and with the exception of Chharpatra, his books were all published after his death:
Chharpatra (ছাড়পত্র) (Certificate, 1948)

Ghum Nei (ঘুম নেই) (Sleepless, 1950)

Purbabhas (পূর্বাভাস) (Premonition, 1950)

Abhijan (অভিযান) (Expedition, 1953, a play)

Mithe-Kadha (মিঠে-কড়া) (Sweet and sour 1951)

Giti Guccha (গীতিগুচ্ছ) (Songs1965)
His time as a communist has left a big mark on and shaped his work. In one of his shorter songs called "Hey Mahajibon" (হে মহাজীবন) from the book Chharpatra (ছাড়পত্র), he compares the moon to a burnt roti. This is a commonplace thought that comes from being hungry.
Sukanta Bhattacharya's poetry is full of socialist rebel ideas, patriotism, and humanism yet, it is his romanticism that won him the name "Young Nazrul" or "Kishor Bidrohi Kobi" (Young Rebel Poet).
Sukanta Samagra (সুকান্ত সমগ্র) (Complete Works of Sukanta) (1967), published by the Saraswat Library, Kolkata was edited by Subhash Mukhopadhyay. This includes all the printed texts, some lesser-known writings, his plays and stories, which include Khudha (Hunger), Durboddho (Incomprehensible), Bhadralok (Gentleman) and Daradi Kishorer Svapna (Dream of a Compassionate Adolescent), an article, Chhanda O Abritti and also a selection of letters.

Patra Guchha (পত্র গুচ্ছ) (Letters)
Important information about Sukanta Bhattacharya
He did social service work and ran coaching classes for young children.

"Ranudi" was an important person in his life. This Ranudi after reading "Sukanth" the fiction writer Manindralal Bosu's story, and His name was given Sukanth.

Also known as 'Young Nazrul' and 'Kishore Bidrohi Kobi.

Most important in Sukanth's life was his aunt Ranudi. Inspired by his inspiration, Sukanta concentrated on writing literature.

Sukanta Bhattacharya's favorite book is Pather Panchali by Bibhutibhushan Bandyopadhyay. He said about this book, "This book should be kept in everyone's home with equal respect to the scriptures."

Poet Buddhadev Bose wrote about Sukanta Bhattacharya, "His appearance like Gorki is like a protest against the traditional. He listens a little less, doesn't speak much, and is not something to fall in love with at first sight, but the smile is sweet, and the two lips are simple."

Buddhadev Bhattacharya, the former chief minister of the state, is the nephew of poet Sukanta Bhattacharya.
Conclusion
In every part of life, Sukanta made irregularity a part of his life. His lean body could no longer accept the pressure of party work on the one hand, literary work on the other, poverty and poverty. As a result of excessive work, the torture that he does on his body, first malaria and then incurable tuberculosis attack in his body.
As a result, he finally died on May 13, 1947, at the রেড এড কিওর হোমে" "Red Aid Cure Home" belonging to No. 119 Loudot Tristrar, Kolkata. He was only 21 years old at the time of his death.
Subscribe to Our Latest Newsletter
To Read Our Exclusive Content, Sign up Now.
$5/Monthly, $50/Yearly