Iowa Building Collapse: Eighth Person Saved; Fatalities Highly Unlikely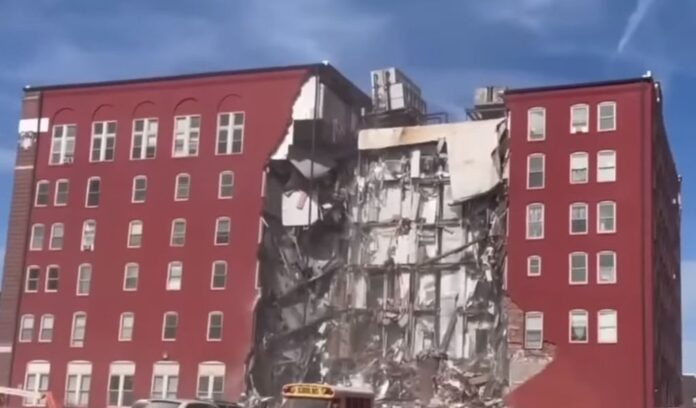 Officials said on Monday that search and rescue teams worked all night to get an eighth person out of a fallen apartment building in Davenport, Iowa.
The mayor and fire chief of the city told reporters that they think no one will die in the event.
On Sunday afternoon, the center section of a six-story building with 84 apartments and businesses fell for unknown reasons. This led to an immediate rescue effort in which seven people were pulled from different floors of the building, some with the help of a firetruck ladder.
Officials say that another dozen people left on their own.
A person who was being treated at the hospital was pulled from the building overnight with the help of six rescue dogs, Mayor Mike Matson said at a Monday morning meeting.
The building's four corners stayed up, but a piece about two apartments wide fell down on one side, leaving support beams hanging from the upper floors and a pile of debris below.
Matson gave credit to the first rescuers from several city, county, and state agencies who rushed into the building to help victims "regardless of their own safety."
Matson said, "They saved lives because of that. They're the heroes of the day."
Davenport Fire Chief Michael Carlsten said that he expected to call an end to the search later on Monday, once officials confirmed that no one was still missing inside the building, which they thought they knew from the start.
Officials from the city said that the building had been inspected several times in the past few years, both in response to complaints and as part of regular checks, but they wouldn't guess as to why.
About 100,000 people live in Davenport, a city on the Mississippi River near where Iowa meets Illinois on the east.
Subscribe to Our Latest Newsletter
To Read Our Exclusive Content, Sign up Now.
$5/Monthly, $50/Yearly