10 Tom Cruise Stunts [Most Dangerous] in Mission: Impossible
The Hollywood star does his most dangerous Tom Cruise stunts in Mission: Impossible. You love him or hate him, Tom Cruise is one of the best action heroes in cinema history. He is also one of the few heroes who risks his life. Doing his own stunts in the film is to give his movies realism. And that's why no one can avoid going to see each and every one of his movies, no matter how ridiculous the most dangerous Tom Cruise stunts in Mission: Impossible. 
Tom Cruise is a savage who is not afraid to die in order to get the shot, and thanks to that he has achieved some of the most memorable scenes in cinema, speaking of the action genre, like the time Ethan Hunt hanged himself from a mountain using only his hands, or when he climbs, from the outside, one of the tallest buildings in the world using gloves and a rope. 
Mission: Impossible – Fallout swept the box office, with most critics agreeing that it is one of the best in the series. Tom Cruise still has the touch and although many of us were sure that he had already gone too far and should let the character rest, he proved us otherwise with a fun, explosive and action-packed movie in which he ended up filming a scene with one foot broken. And all this will continue in the next film in the saga. 
Cruise has done thousands of stunts for Mission: Impossible, and The New York Times ' Ben Kenisberg sat down with the director to find out what are the most dangerous Tom Cruise stunts that has been done on behalf of Ethan Hunt in the Mission: Impossible action movies. 
These are the best Tom Cruise stunts that have the highest level of danger in the Mission: Impossible movies and he did that without Tom Cruise stunt doubles.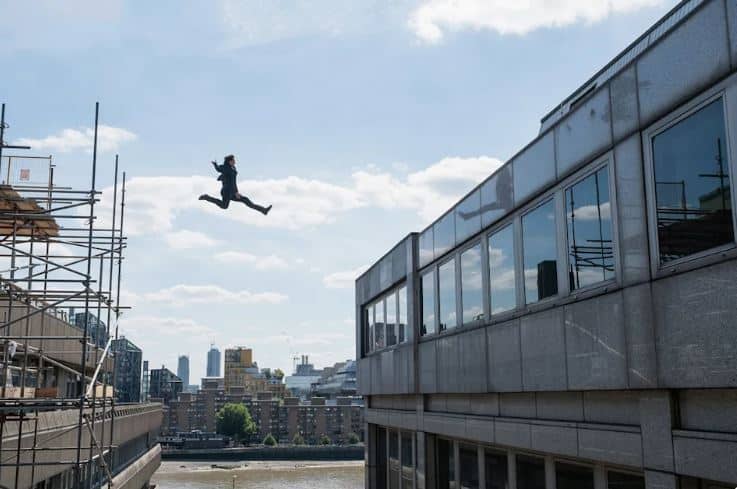 Most dangerous Tom Cruise stunts in Mission: Impossible saga
Mission: Impossible 7
The new film in the saga includes a scene in which Tom Cruise must drive a motorcycle down a ramp, jump off a cliff and open a parachute in the air, and it was so difficult that the actor had to train for a whole year to achieve it. 
The scene is said to be the most extreme the actor has done so far. To prepare, he had to perform 500 parachute jumps and perform more than 13,000 jumps on motocross ramps, in order to do well at the time of filming. And all this is for a scene that lasts a few seconds. 
Flight tests at Top Gun: Maverick
Ok, this is not Mission Impossible, but we can't talk about dangerous Turks without mentioning this movie. 
According to Den of Geek, Cruise actually flew the planes featured in the movie and did some tricks. Jennifer Connelly was the one who revealed that the two got on one of the planes and were in the air for almost 3 hours, where the actor performed some stunts and showed his great talent as a pilot. 
Climb a building from the outside in Ghost Protocol
One of the most incredible scenes in the Mission Impossible saga is when we see Cruise climbing one of the tallest buildings in the world, Burj Khalifa in Dubai, from the outside. You might think it's CGI, but Cruise actually donned a harness and performed the stunt in real life, ending with Ethan Hunt breaking a window to get into the building. This is the most dangerous Tom Cruise stunts in Mission: Impossible. 
The underwater sequence of Rogue Nation
Tom Cruise had to film this sequence without oxygen and hold his breath for very long periods in order to get the effect they wanted (where he had to look like he was seconds away from drowning), luckily he trained with an expert diver who helped him stay out of panic underwater and to be able to hold out longer than normal humans.
The motorcycle chase in Fallout
This scene was one of the most explosive in the film and takes the actor through the most difficult terrain on a motorcycle. The idea was to use safety harnesses to prevent accidents, but in the end, the harnesses didn't work and Cruise ended up filming the chase scene unprotected.
The parachute jump and the helicopter chase in Fallout
Cruise, his double and a cameraman had to jump from a moving plane at 25 thousand feet, according to the director, this was one of the most difficult challenges since they had to film the entire action sequence before reaching the point where who opened the parachute was essential to survive the fall.
Fallout had several moments of danger, in another of them Cruise had to fly a helicopter through a very complicated area, and since there was not enough time to prepare, he had to do it after training only 3 months, and he had only 6 weeks left to having to get to the set and shoot a scene that could have been disastrous. 
Hanging from a plane in Rogue Nation
Yes, Tom Cruise had to hang from a plane wearing only a safety harness that didn't protect him from all the dangers of the scene. One wrong turn, and the actor would have been thrown into the air, but things turned out very well and we got to see him accomplish something extraordinary in the film. 
Slipping under speeding truck – Mission: Impossible 3
Cruise had to persuade Mission: Impossible 3 director J.J. Abrams to let him lie in the middle of a Shanghai street while a jack-knifed lorry speeds towards him, rather than using the slightly safer option of CGI. Cruise is on the verge of death as the tanker loses control. "Many of us saw our careers flash before our eyes," Abrams said.
On bike – Mission: Impossible – Dead Reckoning Part One (2023)
Mission: Impossible 7 will feature the most dangerous Tom Cruise stunts in his career, which could have gone horribly wrong in a variety of ways. He told the Empire about his most recent shoot, which included a dangerous scene involving a motorcycle, a helicopter, and a cliff jump. The star was forced to ride the bike off the edge of a cliff in Norway while a helicopter filmed the nerve-racking stunt.
"If the wind was too strong, it would blow me off the ramp," he explained. The helicopter was a problem because I didn't want to be hammering down that ramp at full throttle and getting hit by a stone. Or if I left in an unusual manner, we had no idea what would happen to the bike.
"I only had about six seconds after leaving the ramp to pull the chute, and I don't want to get tangled in the bike." If I do, things will not go well." While filming Mission: Impossible 7, Cruise was also photographed hanging off the side of a moving train. So, why are not interested to watch the most dangerous Tom Cruise stunts in Mission: Impossible movies.
Rock climbing in Utah – Mission: Impossible 2
Even though there were cables involved (which were later digitally removed), Cruise was hanging by his fingers from Dead Horse Point in Utah.
"Tom was adamant about doing it. "[He] did all of the climbing except the slip off the overhang, which was done by his main stunt double, Keith Campbell," said cameraman Earl Wiggins. "Tom was on the cliff parts for five days and never complained, which is unusual for a big star." 
Conclusion
We all know that Tom Cruise is the best known for his action-adventure roles in Mission Impossible films. Primarily because he has almost exclusively acted in some of the biggest and best action films in recent years. The actor has an unrivaled work ethic and a zealous devotion to the craft. Many actors slow down as they get older, but Tom Cruise only improves. Every year, he embarks on a new project that is larger and more dangerous than the previous year.
We enjoy seeing larger-than-life heroes on the big screen, but there is nothing worse than a film that fails to believe in itself. Something about Cruise's publicized abilities as one of the action movie stars who perform their own stunts adds realism and an extra layer of suspense to his already thrilling films. Cruise's unrivaled work ethic and dedication to his craft enable him to push the boundaries of acting to perilous new heights. We are sure that these most daring and craziest Tom Cruise stunts will increase your heart racing.
Apart from this, if you are interested, you can also read Entertainment, Numerology, Tech, and Health-related articles here: Billions season 7,  NFL Live Streaming, WPC16, Highest Paid CEO 2022, Grey's Anatomy Season 19, WPC15, Alexa.com Alternatives, The Resident Season 6, Kraven The Hunter, One Punch Man season 3, The Resident Season 5, Yellowstone season 5, Ozark season 4 part 2, PUBG Redeem Code, Is Windows 11 Free, KProxy, How to play Xbox Games on PC, Ozark Season 5, How to cancel YouTube TV, Churchill Car insurance, The Rookie Season 5, Downloadhub, Ssr Movies, 7starhd, Movieswood, How to Remove Bookmarks on Mac, Outer Banks Season 4, How to block a website on Chrome, How to watch NFL games for free, DesireMovies, How to watch NFL games without cable, How to unlock iPhone, How to cancel ESPN+, How to turn on Bluetooth on Windows 10, Outer Banks Season 3, 
6streams, 4Anime, Moviesflix, 123MKV, MasterAnime, Buffstreams, GoMovies, VIPLeague, How to Play Music in Discord, Vampires Diaries Season 9, Homeland Season 9, Brent Rivera Net Worth, PDFDrive, SmallPDF, Squid Game Season 2, Knightfall Season 3, Crackstream, Kung Fu Panda 4, 1616 Angel Number, 333 Angel Number, 666 Angel Number, 777 Angel Number, 444 angel number, Bruno Mars net worth, KissAnime, Jim Carrey net worth, Bollyshare, Afdah, Prabhas Wife Name, Project Free TV, Kissasian, Mangago, Kickassanime, Moviezwap, Jio Rockers, Dramacool, M4uHD, Hip Dips, M4ufree, Fiverr English Test Answers, NBAstreamsXYZ, Highest Paid CEO, The 100 season 8, and F95Zone. 
Thanks for your time. Keep reading!
Subscribe to Our Latest Newsletter
To Read Our Exclusive Content, Sign up Now.
$5/Monthly, $50/Yearly