SpyDialer – The Best Free Reverse Phone Lookup Software in 2023
Listen to the Podcast:
It can be rather annoying to receive repeated phone calls from unknown individuals. Now, technology enables you to conduct an inquiry and determine who is calling you. SpyDialer is an application that, if desired, displays the caller's contact information and other data.
Hence, it is common to be unable to attend a phone call when in class or a conference and then check out later. But, you may not recognize an unfamiliar number frequently. SpyDialer assists you thereby in these circumstances. You may also download the SpyDialer app for Android and iOS, as well as download and install the current version of the spy dialer app from our fast downloading server with a single click.
What is SpyDialer?
SpyDialer is a free reverse phone lookup service that may be used to make automated phone calls and obtain information about the desired phone numbers. This type of software is frequently used for telemarketing or other forms of automated calling and allows users to make calls without disclosing their phone numbers.
SpyDialer can also be used to collect information about unknown numbers, including their location, the name of the person or company linked with the number, and other details. While Spy Dialer is a free service that only works with phone numbers and email addresses based in the United States, there are numerous reverse phone number lookup services available worldwide.
Read More: Best Spy App for Android without Access to Target Phone
How Does the SpyDialer Work?
They employ public data, or information gathered from public sources, to provide identities and images for unknown or suspect phone numbers. They utilize information from publicly accessible data sources, such as social media and user-submitted contact information databases. Thus, they possess information about your mystery caller, including the phone numbers and email address you may suspect.
Although the service promises that the information is accurate, it will not accept any claims or complaints regarding any mishaps that may arise as a result of your use of the website's information, whether it is accurate or not.
Joining the App is Quick and Easy
There are search possibilities available on the Spy Dialer Home page. Your search parameters will yield the target's contact information, including phone numbers, emails, and addresses.
Submit your address book so that it can be included in the site's telephone directory. The donated address books are incorporated into the app's searches.
If the investigation requires media information, you can obtain the individual's photograph and voicemail message. Recognizing persons will be as easy as recognizing their voice or facial features. The free version allows users to perform an investigation without expense. You may begin your search instantly.
Read Also: Does Tiktok Spy on You
SpyDialer Features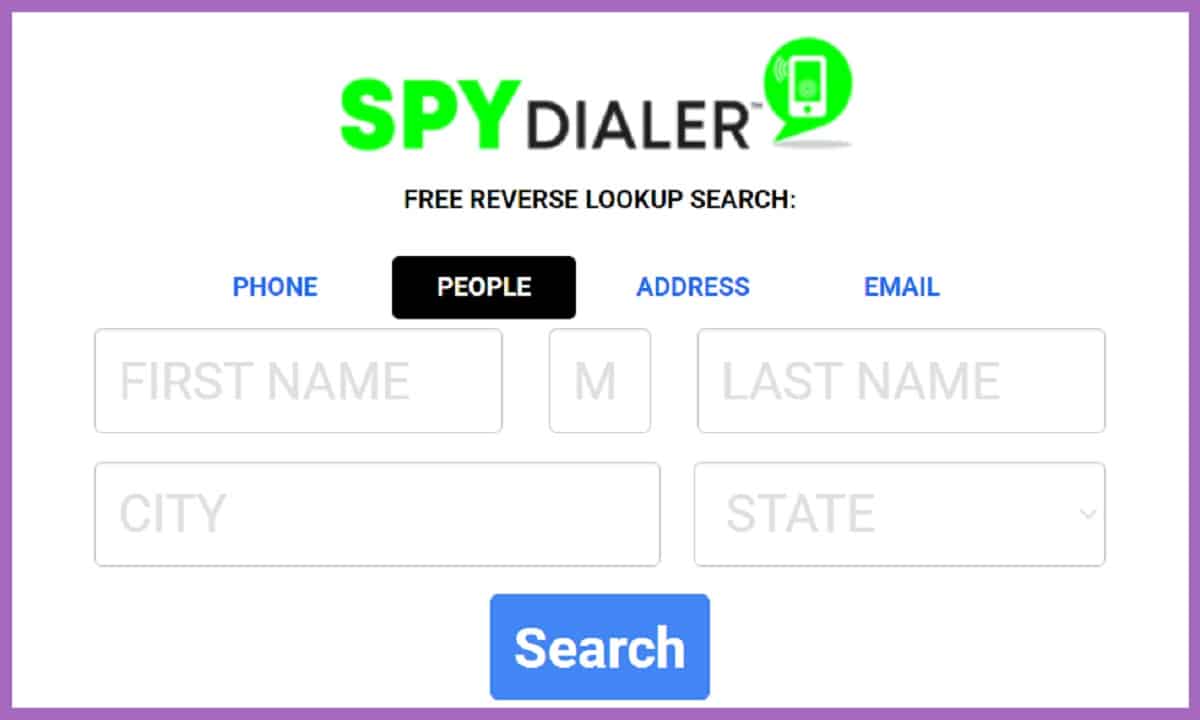 Spy Dialer is a free reverse phone lookup service – You can use it to look up a phone number and find out who owns it. At least 10 free phone number lookups can be done each day.

No Membership Necessary – You do not need to be a member of the service to use it and locate an unknown caller.

Spy Dialer is Legal — SpyDialer is entirely legal and utilizes publicly accessible information such as social media and user-contributed data.

Huge Collection — SpyDialer offers a massive collection of phone numbers that you will never find on any phonebook or.com directory page.

Spy Dialer is better than Cell phone trackers, Caller ID, Google Phone number lookup, and reverse phone detective. The paid version of Spy Dialer costs $10 per year and gives you 100 searches per day for a year.

Limitation – It only works in the US, and it can only look at data from the US.
How to use SpyDialer?
Go to the site at https://www.spydialer.com/

Above the search bar, you'll see four tabs: Phone, People, Address, and Email.

Choose the category you want to look in, then type the number, email, or name into the search bar and click the search button.

Spy Dialer will magically tell you who is calling you when you don't know who it is.
Use Spy Dialer to locate strange callers, spam email addresses, individuals, and more from its extensive online directory. Users outside the United States are unable to access the service, as it has a data cap for only the United States.
How to Install Spy Dialer APK on Android?
Step 1: First, tap on the apk file you downloaded. This will start the process of downloading.

Step 2: Now tap the "Install" button, wait a few seconds, and let the app install on your device.

Step 3: At the end, you'll find a button that says "open." Just tap it to open the app, and you're done.
How to Use Spy Dialer On PC?
If you want to utilize the Spy dialer on your computer. Then I have your back as well. In this scenario, the nicest aspect is that no downloads are required. As previously stated, SpyDialer is a website converted into an app. Also, both the company's website and mobile app are active. To learn how to use Spy dialer, visit its website, where you will get all the necessary information. Moreover, no download is required.
How to Install SpyDialer on the iPhone?
There is unfortunately no method to install SpyDialer on an iPhone. Android package, or APK, is exclusive to Android devices. Also, the software is unavailable in the Apple App Store. Thus, you cannot install the application on your iPhone. Nonetheless, the mobile web version will suffice for the task.
Also Read: Call Center Software
What are the Common Problems of Users of SpyDialer?
A typical issue with software is that it can be used to conduct automated calls that might be disruptive to the recipients. Spy Dialer can be used, for instance, to make calls to numbers on the national do-not-call registry, a list of numbers that have requested not to receive telemarketing calls. In some instances, this type of action may be prohibited and may even result in complaints and consequences for the software user.
Another issue with Spy Dialer is that it can be used without consent to collect personal information about users. Spy Dialer, for instance, can be used to check the name and address connected with a phone number, which can be used for illicit purposes such as stalking or harassment.
In general, it can be a very valuable tool for specific objectives, but it can also be abused in destructive or illegal ways. It is crucial that software users are aware of these potential issues and utilize the program properly.
Is SpyDialer Legal?
Absolutely, spy dialer inc is legal in every way. Organizations are permitted to republish and use publicly available information for their own purposes, as recognized by the Supreme Court (of the United States). However, it may be prohibited in other states, such as California. Nonetheless, you have the right to remove your personal information from their website and other similar websites, but you cannot amend it.
Spy dialer does not have access to your personal information stored on your phone or computer, or anything else that is prohibited by the Constitution.
Read Also More: How to Hack a Phone without Physical Access
Conclusion
Spy Dialer is a great tool for both personal and professional use. The application enables users to discover numerous data about a person of interest. The service utilizes information legally obtained from publicly accessible forums. It will be fascinating to observe how this technology continues to enhance work-related duties.
Frequently Asked Questions (FAQs) about Spydialer
How do you use Spy Dialer?
To use the Spy Dialer reverse phone number lookup service, you must enter the number you wish to research into the search box on the company's website and then wait for the system to provide information on the caller. You can also conduct a search by entering a person's name, address, or email address.
Can I remove my information from Spydialer?
Yes, you can totally do so. So, go to the "remove my information" section of Spydialer and do what you need to do. Find out more in our "Spydialer remove my information" section.
When will my information be deleted from SpyDialer?
SpyDialer could take up to 4 business days to take your information off of their website.
How does SpyDialer's opt-out process work?
To opt-out of SpyDialer, you must furnish them with your name, email, address, and phone number, which they will use to locate your record. Once discovered, it is removed from the website.
How does Spy Dialer get my data?
Spy Dialer obtains your information by scraping internet public sources, including records of property ownership. It displays just publicly accessible information, yet it is information that would not otherwise be gathered in one location or so easily searchable.
Does Spydialer work outside the United States?
No, as of right now, it only works in the United States. But there are similar apps and software all over the world, so it's not too much of a worry.
Can Spydialer provide mistaken information?
In this case, the context becomes significant. It is possible that the app will find the individual you are seeking. Yet, the app may not display the person's phone number when you know they have one. Therefore, this may occur if the app obtained their information from a public source that did not include their phone numbers. Thus, the app does not fundamentally convey incorrect information. In certain circumstances, though, their hands are tied.
Subscribe to Our Latest Newsletter
To Read Our Exclusive Content, Sign up Now.
$5/Monthly, $50/Yearly