Sendfox Review – The Best Email Marketing Platform with Setup Guides
Listen to Podcast:
You've probably heard that one of the most important parts of your online business is your email list. Today I want to talk about the SendFox review. The SendFox email marketing platform promotes itself as "email marketing for content creators."
I've been using SendFox for about 6 months now. I wanted to give it a try before I told my readers to use it. I would recommend it to anyone who wants to save money and have less trouble with email marketing.
Email marketing can be one of the most expensive parts of your business, so I'm glad I've found a way to do it that doesn't cost too much and has all the features I need for my business. In this blog post, we'll take a closer look at the SendFox review, features, and benefits of using Sendfox, so you can decide if it's right for you.
What is SendFox?
The SendFox email marketing platform markets itself as "email marketing for content creators." It makes it easy to "automatically send customized emails to your subscribers, followers, and fans." Like other email marketing platforms, it lets you reach out to your target audience and people who already like you.
With email campaigns that promote your articles, videos, podcasts, and other content, you move people through your sales funnel. SendFox is part of the suite of Sumo Group products that were made by Noah Kagan, an early employee of Facebook. Millions of people now use these products.
Some of these are the Sumo list-building tool, AppSumo (which tells people about all the great app deals out there), and KingSumo (which helps you build your list by promoting viral contests and giveaways). Fam. just came out recently.
How Does SendFox Work?
Step 1: Go to the official SendFox website and sign up with your Google account or email address.
Step 2: When asked to add a source, type in the URL of your website. It will help you automate tasks, run smart campaigns, and keep up with the news.
Step 3: If you have any contacts, import them on the next page. You can do that in three different ways.
Step 4: Since we had email addresses on MailChimp, we tried to move them to SendFox.
Go to your MailChimp account and sign in.

Allow SendFox to access your account. 

Then, choose the MailChimp list you want to import.
After a few seconds, the contacts will be imported, and you'll be taken to your dashboard.
SendFox Review: Important Features
SendFox offers a range of features, making it a great choice for content creators. It offers unlimited emails and unlimited list sizes, making it perfect for larger businesses. With SendFox review, you can create custom emails to send to your customers, as well as use a wide range of email automation options. You can also use the drag-and-drop editor to create beautiful email campaigns, and the analytics dashboard provides you with detailed insights into your email campaigns. Additionally, SendFox review integrates with popular services like Zapier and Shopify, allowing you to easily connect your existing tools.
Email Automation
Email automation is a feature I really value. I want to send a certain email to someone who opts into a certain list. I'd like to be able to add them to another list and keep sending them automated emails when they do something in that email. All of these things can be done with a SendFox review!
You can also set up a series of emails that go out at certain times. This kind of marketing is often called "drip marketing." Someone signs up for a lead magnet on your website, for example. You can have SendFox send the automated email reply with the lead magnet. Then, over the course of a few weeks, you can send that user a series of "onboarding" emails.
SendFox doesn't have as many or as advanced features as something like ConvertKit. You won't be able to connect it to your website or track actions with cookies, etc. Automations are just based on time or what happens with an email (clicks, opens, etc.).
Integrated RSS Functionality
Bloggers will love SendFox's built-in RSS feature, which lets you draft your most recent blog posts automatically. With this feature, you can easily send your most recent blog posts to your subscribers as soon as you publish them.
Multiple Domains / Businesses in One Account
The ability to send from any number of domains was the feature that made me decide to switch to SendFox. Not just Convology is linked to my SendFox account. I can have lists for both my business and my wife's business. Each email and automation is sent from the email address I choose (and can validate those domains as well).
Even though I don't plan to do it too often (because it would get too crowded and confusing), I could. And it's a lot cheaper than using drip and automation on multiple email marketing accounts.
Custom Landing Pages and Forms 
SendFox review- This is more than just a tool for marketing via email. It's also a tool for capturing leads because it lets you make custom landing pages and forms with your own brand to do so on your site. These landing pages and forms are easy to add to your website, which will help you grow your email list.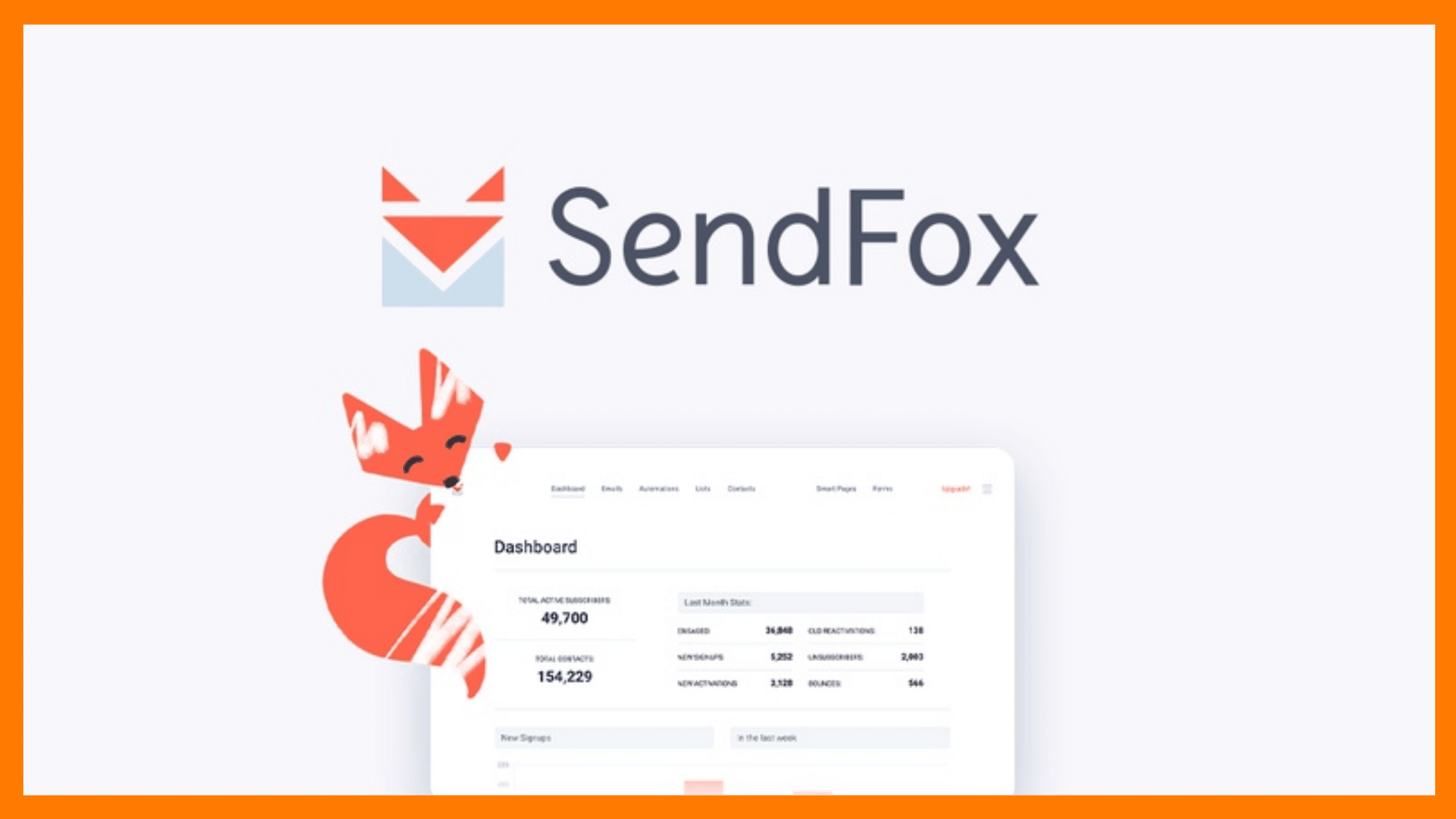 Lack of Customization
SendFox is an email service that says customization is one of its best features. However, you can't do much customization with it. You can only choose from three font types for the email template, and there is no preview for the email. So, each time you want to see how your email looks in an inbox, you'd have to send yourself a test email. Also, the landing pages and forms look and feel very simple, and there's no way to add custom fields.
Multiple Lists
The SendFox email marketing software lets you create multiple lists through opt-ins and double opt-ins. You can then use these lists to send emails to people based on their interests.
This is a great tool for email marketers who want to figure out who their target audience is and send them content that is relevant to them.
Unlimited Email Sends
When was the last time you signed up for an email service where you could send as many emails as you wanted every day or month? You can send as many emails as you want with SendFox on a daily, weekly, or monthly basis.
Creating Subscriber Lists
SendFox makes it easy to create subscriber lists to target customers with the perfect message. With its intuitive list-building tools, users can upload a list of existing contacts and subscribers to SendFox and start creating and sending emails. Moreover, SendFox review helps users create opt-ins for their websites or social media campaigns, making it easy to quickly grow their email list. This way, businesses can stay in touch with their followers and fans and keep them engaged with personalized emails tailored to their interests.
Read Also: Suitedash Review
SendFox Review: Pricing and Plans
SendFox offers a variety of pricing and plans to suit the needs of any business. The Free plan gives you access to all the basic features, allowing you to reach up to 1000 contacts. The MULTIPLE plans is $480 for three codes, which is ideal for larger businesses with multiple teams. For a one-time lifetime deal, you can get SendFox from AppSumo for only $49. Compared to Mailchimp, SendFox review offers more features at a lower cost when you reach 4000 contacts or more. Drip is another alternative, offering a free plan with up to 1000 contacts and an unlimited premium plan for $49. With this variety of plans and prices, SendFox is sure to have something that will fit your budget and needs.
SendFox Free Plan 
This plan doesn't cost anything, but you can only have up to 1000 contacts.
Turned Down Snding (50,000)

Server Normal for Sending

SendFox Server Normal
SendFox Lifetime Plan
5,000 contacts can be added to this plan for $49 per year. It's a one-time payment that lasts for life. You can add as many contacts as you would like. For this, you'll have to pay an extra $49 for every 5K contact.
Unthrotted Sending

Better Sending Server

Reduced SendFox Branding
Setup Guide for SendFox
Setting up SendFox is a breeze. The user will be guided through the process with simple step-by-step instructions. Once the user is logged in, they can begin creating email campaigns, managing contacts, and setting up automation rules. The user can also connect their website and social media accounts to SendFox. This allows them to sync their contacts and quickly start building their audience. SendFox review also offers helpful resources such as a tutorial library and support center to ensure that users are successful in their email marketing efforts.
How to Use SendFox for Email Marketing
SendFox is a great tool for content creators to use for their email marketing campaigns. With its easy-to-use interface, SendFox review allows users to quickly create and automate customized emails. The intuitive design makes it easy to create forms and CRM, send campaigns, and integrate other services into SendFox. Once the user has set up their account, they can begin creating emails and scheduling them for later delivery.
With its drag-and-drop editor, users can quickly customize emails with images, text, and HTML elements. Users can also monitor the performance of their campaigns with detailed analytics, allowing them to make real-time adjustments to their strategies. With all of these features, SendFox is the perfect tool for content creators looking to streamline their email marketing efforts.
Best Practices for Email Marketing with SendFox
When it comes to email marketing with SendFox, there are several best practices you should follow to get the most out of your campaigns. Firstly, make sure to segment your audience so that you can tailor the content of your emails to the needs and interests of your subscribers. This will ensure that your emails are relevant and engaging.
Secondly, use A/B testing to optimize the subject line and content of your emails for maximum engagement. Finally, track the performance of each campaign and make adjustments as needed. By following these best practices, you'll be able to maximize the success of your email marketing campaigns with SendFox review.
Also Read: Email Client for your IOS Devices
SendFox vs Other Email Marketing Platforms
SendFox is a great choice for content creators looking for a powerful email marketing platform. It offers an intuitive dashboard, smart campaigns, automation series, and the ability to set up multiple domains/businesses under the same account. Furthermore, the SendFox review is much cheaper than its competitors, making it a great option for those on a budget.
When compared to other email marketing platforms, SendFox stands out with its focus on content and its ability to cater to small businesses. It is also much easier to set up and use than other platforms, making it ideal for those who don't have the time or expertise to learn complicated software.
How Can You Grow Your Business Using SendFox? 
SendFox lets you send email sequences automatically, so you can always reach your audience at the right time. SendFox has built-in scheduling and automation features that make it easy to set it up and let it run on its own. Your dashboard makes it easy to see how many people opened each email. With email automation, you can save time and put your attention on business tasks that will help you make money. Also, automation makes it 10 times faster for your business to grow.
Its automation templates set up a welcome email campaign that sends people to popular content and encourages them to sign up. You can also send a series of emails based on clicks and opens, and everything can be done automatically with SendFox review built-in scheduling and automation tools. You get a full report on how your email campaign and landing page did in terms of analytics. So, the report can help you quickly and easily make a better choice.
What Makes SendFox Standout? 
SendFox has everything you need for a standard marketing campaign. It is a simple but powerful email marketing tool with features like trigger automation, an easy-to-use dashboard, multiple lists, landing pages, embedded forms, smart campaigns, smart pages, and many more.
The price and lifetime deal of SendFox are two more things that make it a great email marketing platform. It is a great choice if you want to lower the cost of your email marketing software. It is the perfect mix of being cheap and easy to use. Sendfox review- makes it easy for us to do email marketing. Also, it has almost all the features that an email marketer needs, like the ability to create multiple lists through opt-ins, schedule campaigns, and send automated emails.
How to Save Money with SendFox?
With SendFox review, content creators can save money by utilizing the tool's powerful automation capabilities. Automations allow users to create automated workflows that can save them time, as well as money. For example, users can create welcome series emails that are automatically sent to new subscribers, saving them time and money from manually sending individual welcome emails.
Additionally, SendFox's plans offer generous discounts for annual subscriptions instead of paying on a monthly basis. This makes it easier for content creators to budget their spending and make sure they are getting the most out of their email marketing efforts.
To Know More: Email Tracking Software
Alternatives to SendFox
For those who are looking for alternatives to SendFox, there are several options available. MailChimp, ConvertKit, MailerLite, ActiveCampaign, Acumbamail, and SendinBlue are just a few of the best alternatives to SendFox. Sourceforge ranks these alternatives in 2023 and users can compare features, ratings, user reviews, and pricing before making a choice. EasySendy and SendFox have basic email marketing features; however, EasySendy helps create RSS campaigns as well. There are numerous reviews online that can help users make an informed decision before choosing an alternative to SendFox.
Tips for Optimizing Your Email Campaigns with SendFox
Using SendFox to optimize your email campaigns can help you get the most out of your marketing efforts. Here are a few tips for getting the most out of your SendFox campaigns: segment your audience, create compelling subject lines, personalize messages, keep track of engagement metrics, and test different versions of the same message. Segmenting your audience will help you target specific groups with messages tailored to their needs and interests. Crafting eye-catching subject lines can help attract attention and spark engagement. 
Personalizing messages can also help you create a more meaningful connection with your readers. Keeping track of engagement metrics like open rates, click-through rates, and unsubscribes can help you understand your readers' preferences and determine which messages are most effective. Finally, testing different versions of the same message allows you to compare results and find the one that works best for your audience. With these tips in mind, you should be able to create powerful email campaigns with SendFox reviews that get results.
Pros and Cons of SendFox Review
To help you decide if SendFox is worth the money, I've made a short list of its pros and cons:
Pros
Very clean and easy to use.

Forms and landing pages can be made.

Can create basic automation campaigns

Each contact only counts once toward the quota.

Analytics that are strong and up-to-date

Very affordable
Cons
To use the HTML editor, you have to buy an add-on.

Without an add-on, double opt-in is not a choice.

No email templates

No list segmentation
You can Read: Viddle Interact Review
Conclusion
In conclusion, SendFox is an excellent email marketing tool for beginners, bloggers, and content creators. The tool's features, pricing plans, and setup guide make it easy to create effective email campaigns. The one-time payment is unbeatable and the platform is user-friendly and intuitive. With SendFox review, you can quickly create stunning emails that will engage your audience. If you're looking for a reliable email marketing tool at an affordable price, SendFox is the perfect choice for you.
Frequently Asked Questions (FAQs) about SendFox Review
Who is SendFox for?
SendFox is an email marketing tool made just for content creators. It lets users write and send as many personalized emails as they want. SendFox combines automation and customization to make it easier and faster to send emails that are simple, beautiful, and effective.
Is there any way to get your money back if you buy SendFox?
Yes, you can get your money back in 60 days, no matter what the reason is.
Does SendFox Offer A Free Plan?
Yes, SendFox does have a free plan. So you don't have to pay anything to use this tool.
What kinds of users and organization types does SendFox work with?
SendFox works with Mid Size Businesses, Small Businesses, Enterprises, Freelance, Nonprofit, and Government users and organizations.
Can I Trust SendFox?
I agree, Sendfox is an original product from APPSumo. This app is safe and secure in every way. You can trust it. And definitely buy it.
Is This Software Scam Or Legit?
Appsumo is a well-known service platform. So many customers use and benefit from this software. This software is 100% real and has been proven to work.
Should I Buy This Software?
Yes, SendFox might be the best email platform for you if you want a cheap email marketing tool that lets you make simple, branded emails without much trouble.
Subscribe to Our Latest Newsletter
To Read Our Exclusive Content, Sign up Now.
$5/Monthly, $50/Yearly