Legendary Filmmaker Satyajit Ray's Birthday Celebrated with Reverence and Cinematic Tributes
Listen to the Podcast:
Satyajit Ray is a legendary film maker in the history of Indian cinema. May 2, 2023 is Satyajit Ray's 102nd birth anniversary. People are celebrating his birthday in many ways. He is known for his remarkable work and is regarded as one of the finest filmmakers that Indian subcontinent has ever seen. On this special day, the Bishop Lefroy Roadhouse is open for everyone.
Bahujan appears at Roy House to pay tribute to the Oscar-winning director. In 2022, due to the impact of Corona, Satyajit was informed at home following social distancing rules. On one floor Satyajit Ray's picture was decorated with flower garlands. But this year, the interior of Roy's house is getting decorated again in the old mood. The door of Roy's house has been opened.
In this context, Satyajit's son Sandeep Roy told, 'We do not plan anything in any year. The door of the house is open. all come. The same happened this time too.'
He added, 'A single-storey house was opened last year. But now people can climb to the second floor. Father's room is never opened. The adjoining room of the father's room is decorated with his picture. It has been done this time too.'
Satyajit's daughter-in-law Lalita Roy said, 'We have Tagore for cooking. On Father's birthday, his favourite dishes are cooked. This time they are also doing the cooking. Even when Satyajit Ray was alive, on his birthday, the door of Ray's house would remain open. Fans would flock to the Bishop Lefroy Road home for a visit. The guests were entertained by eating Jilipi, Singhara, and Khasta Kachuri.
Satyajit Ray 102nd Birth Anniversary in 2023
The date of his birth is May 2, 1921. He was an Indian director, documentary filmmaker, playwright, author, lyricist, and essayist. The Big City, The Apu Trilogy, The Music Room, and Charulata are some of Ray's most famous movies. He is often called one of the best directors of all time.
Satyajit Ray was born in Calcutta. His father died when Satyajit was only three years old. He went to school in Calcutta at Ballygunge Government High School and got his BA in Economics at the Presidency College, even though he was always more interested in Fine Arts.
In 1940, he went to Visva-Bharati University, which was started by Rabindra Nath Tagore and was in Santiniketan. There, he learned to like Oriental art.
Satyajit Ray's Biography
Satyajit Ray was born on May 2, 1921, in India. Considered one of the greatest Indian filmmakers in the annals of cinema. His directing credits included The Chess Players, Distant Thunder, and The Stranger. Sanjeev Kumar starred in the acclaimed 1977 film The Chess Players, which he directed. He earned an economics degree from Presidency College, Calcutta.
According to Popular Bio, he is a successful director. He has been included on the list of famous individuals born on May 2, 1921. He is one of the wealthiest Indian-born directors. He is also included on the list of the Most Popular Directors.
| | |
| --- | --- |
| Full Name | Satyajit Ray |
| Nick Name | Manik, God |
| Gender | Male |
| Birth Date | 2 May 1921 |
| Birth Place | Calcutta, Bengal Presidency, British India (Now India) |
| Date of Death | 23 April 1992 |
| Died Place | Calcutta, West Bengal, India |
| Marital Status | Married |
| Wife | Bijoya Ray |
| Children | Sandip Ray |
| Nationality | Indian |
| Religion | Hinduism |
| Profession | Writer, Composer, Director |
Satyajit Ray First Indian to Receive an Oscar
1992 saw a decline in Satyajit Ray's health due to cardiac complications. Audrey Hepburn presented the legendary filmmaker with an Honorary Academy Award twenty-four days prior to his passing. Even though Ray was in a gravely ill state, he gave a speech of acceptance and dubbed it the greatest accomplishment of his filmmaking career. The filmmaker Satyajit Ray died on April 23, 1992, nine days before his 71st birthday. Satyajit Ray was the first Indian to receive an Oscar for Lifetime Achievement and he also received an Honorary Academy Award in 1992. 
Early Life and Education
Ray was a singleton whose father passed away in 1923. His grandfather was a writer and illustrator, and his father wrote and illustrated Bengali absurd verse. Ray's mother raised him in Calcutta (now Kolkata), where he grew up. He attended a government school, where he was primarily instructed in Bengali, and then attended the Presidency institution, the premier institution in Calcutta, where he was instructed in English. By 1940, when he graduated, he was proficient in both languages.
In 1940, his mother persuaded him to attend art school at Rabindranath Tagore's rural university located north of Calcutta, Santiniketan. There, Ray, whose interests had previously been exclusively urban and Western, was exposed to Indian and other Eastern art and acquired a deeper appreciation for both Eastern and Western culture, a combination that is evident in his films.
Career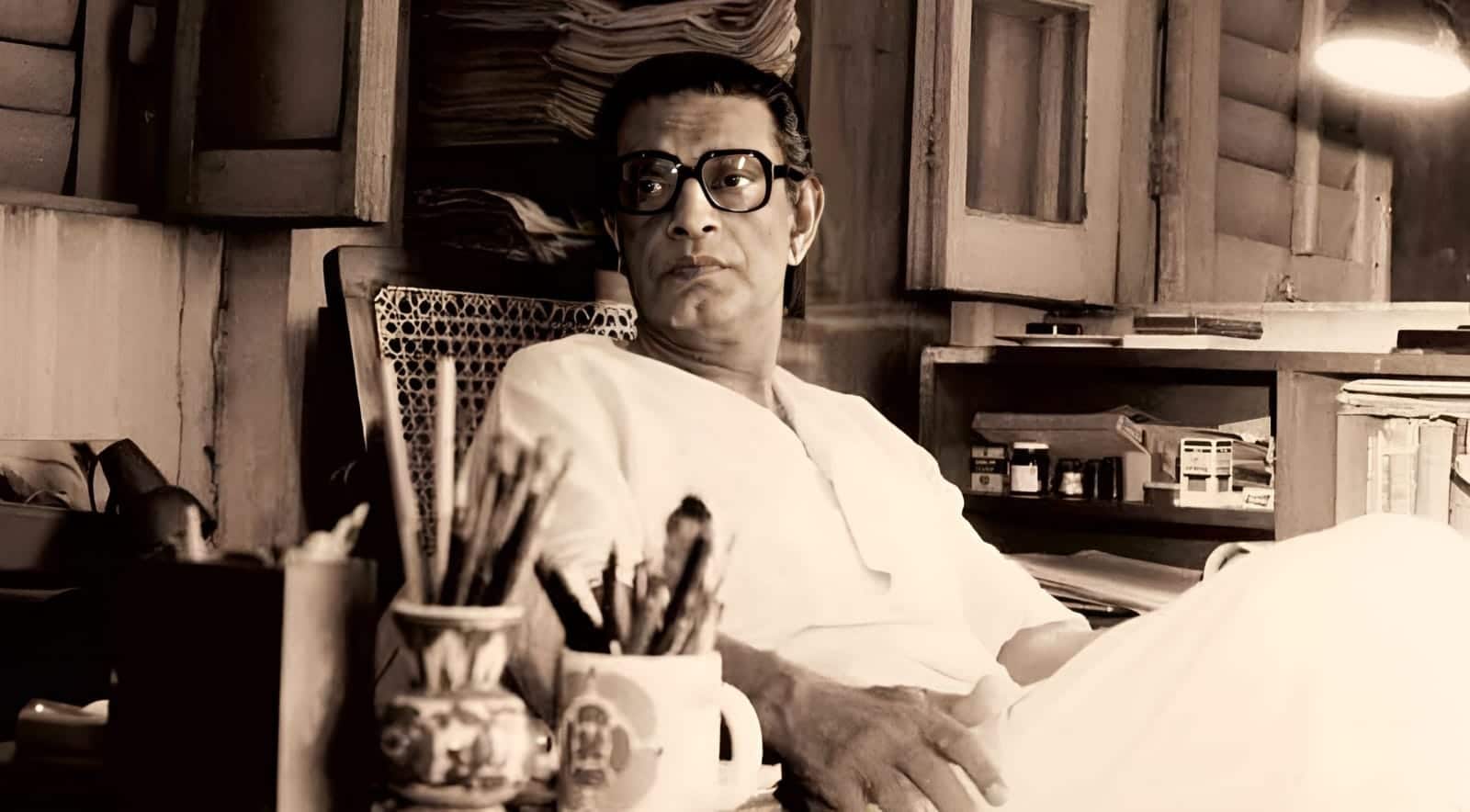 During a vacation in London, an encounter with French filmmaker Jean Renoir and a viewing of Vittorio De Sica's 1948 Italian neorealist film Bicycle Thieves drew him into independent filmmaking.
Ray directed 36 films, including feature films, documentaries, and shorts, and he also wrote numerous short stories and novels targeted primarily at children and adolescents. In 1978, Oxford University awarded him an honorary degree.
Ray's first film, Pather Panchali (1955), won eleven international honours, including the first Best Human Document award at the Cannes Film Festival in 1956. This film, Aparajito (1956), and Apur Sansar (The World of Apu) (1959) comprise the Apu Trilogy.
Ray received 32 Indian National Cinema Accolades, a Golden Lion, a Golden Bear, two Silver Bears, and numerous other honours at international film festivals and ceremonies, in addition to an Academy Honorary Award in 1992. The Indian government awarded him the Bharat Ratna, the nation's highest civilian honour, in 1992. 
Satyajit Ray's Major Films, Comedies, and Musicals
Ray's major films about Hindu orthodoxy and feudal values (and their potential clash with modern Western-inspired reforms) include Jalsaghar (1958; The Music Room), an impassioned evocation of a man's obsession with music; Devi (1960; The Goddess), in which the obsession is with a young girl's divine incarnation; Sadgati (1981; Deliverance), a powerful indictment of caste; and Kanchenjungha (1962), Ray's first Shatranj ke Khilari (1977; The Chess Players), Ray's first Hindi-language film with a relatively large budget, is an even more subtle examination of the Western influence on India. Set in Lucknow in 1856, just before the Indian Mutiny, it depicts with exquisite irony and pathos the collapse of the ruler Wajid Ali at the hands of the British.
The comedies Parash Pathar (1957; The Philosopher's Stone) and Goopy Gyne Bagha Byne (1969; The Adventures of Goopy and Bagha), based on a story by Ray's grandfather, are particularly humorous. Ray's compositions for the latter are among his most recognizable contributions to Bengali culture.
Read More: Sachin Tendulkar Biography and Interesting Facts
Personal Life & Legacy
In 1949, he married Bijoya Das, the woman he had loved for a long time. The couple was lucky enough to have a son, Sandip, who also went on to make movies.

In 1983, he had his first heart attack, which made his medical and health situation even worse. In 1992, he had serious problems with his heart from which he never fully recovered.

On April 23, 1992, he took his last breath.

Ray wasn't any less of a hero to Indian moviegoers, so his influence is everywhere in the country.

He is the founder of the Satyajit Ray Film and Study Collection and the Satyajit Ray Film and Television Institute.

In his honour, the London Film Festival created the Satyajit Ray Award to honour new directors who have taken Ray's work, art, and vision and made it their own.
Work as a Writer and Illustrator
The filmmaker also established a parallel career in Bengal as a writer and illustrator, primarily for children. His grandfather founded the children's magazine Sandesh in 1913, and he edited it until his demise in 1992. Ray was the author of numerous short stories and novellas, and writing became his primary source of income rather than filmmaking. His works have been published in Europe, the United States, and elsewhere. Our Films, Their Films (1976) is a compilation of Ray's cinema-related writings. His other works include the 1982 memoir Childhood Days (Yakhana chota chilama).
Adaptations of Works by Rabindranath Tagore
Some of Ray's finest films were based on Tagore's novels and other works; he was the director's primary creative influence. Charulata (1964; The Lonely Wife), a tragic love triangle set in an affluent Bengali family influenced by the West in 1879, is perhaps Ray's most accomplished film. Teen Kanya (1961; "Three Daughters," English-language title Two Daughters) is a diverse trilogy of short films about women, whereas Ghare Baire (1984; The Home and the World) is a sombre account of Bengal's first revolutionary movement during the years 1907–1908, during British rule.
10 Books by Satyajit Ray Everyone Should Read
The Complete Adventures of Feluda

The Incredible Adventures of Professor Shonku

My Years with Apu: A Memoir

Childhood Days

Indigo

Our Films, Their Films

Twenty Stories

Deep Focus

Speaking of Films

Feluda Samagra
Awards & Achievements
He won 32 National Film Awards and many foreign awards, such as the Silver Bear, Golden Lion, and Golden Bear, over the course of his life.

He was given the Golden Lion Honorary Award in 1982. At the Cannes Film Festival that same year, he was given the "Hommage to Satyajit Ray" Award.

He is the second movie star, after Charlie Chaplin, to get an honours doctorate from Oxford.

In 1985, he won the prestigious Dadasaheb Phalke Award. Two years later, he won the Legion of Honor, which is France's most important award.

In 1992, the Indian government gave him the "Bharat Ratna," which is the highest civilian award. The Academy of Motion Picture Arts and Sciences gave him an Honorary Oscar for Lifetime Achievement in the same year he died, just days before he died.
Awards for Films
Pather Panchali (Song of the Little Road), 1955

President's Gold & Silver Medals, New Delhi, 1955

Best Human Document, Cannes 1956

Diploma Of Merit, Edinbugh, 1956

Vatican Award, Rome, 1956

Golden Carbao, Manila, 1956

Best Film and Direction, San Francisco, 1957

Selznik Golden Laurel, Berlin, 1957

Best Film, Vancouver, 1958

Critics' Award – Best Film, Stratford, (Canada), 1958

Best Foreign Film, New York, 1959

Kinema Jumpo Award: Best Foreign Film, Tokyo 1966

Bodil Award: Best Non-European Film of the Year, Denmark, 1966 and more
National Awards
Best Director Chiriyakhana 1967

Best Director Jana Aranya 1975

Best Music Direction Ashani Sanket 1973

Best Music Direction Heerak Rajar Deshe 1980

Best Feature Film in Bengali Ashani Sanket 1973

Best Feature Film in Bengali Heerak Rajar Deshe 1980

All India Certificate of Merit for the Second Best Feature Film

Abhijan 1962

All India Certificate of Merit for the Third Best Feature Film

Mahanagar 1963

Special Jury Award Sadgati 1981
Filmfare Awards
Critics Award Best Film Shatranj Ke Khilari 1978
Personal Awards
Padmashree, India, 1958

Padmabhushan, India, 1965

Magasaysay Award, Manila, 1967

Star of Yugoslavia, 1971

Doctor of Letters, Delhi University, 1973

D. Litt., Royal College of Arts, London, 1974

Padmabibhushan, India, 1976

D. Litt., Oxford University, 1978

Special Award, Berlin Film Festival, 1978

Deshikottam, Visva-Bharati University, India, 1978

Special Award, Moscow Film Festival, 1979

D. Litt., Burdwan University, India, 1980

D. Litt., Jadavpur University, India, 1980

Doctorate, Benaras Hindu University, India, 1981

D. Litt. , North Bengal University, India, 1981

Hommage à Satyajit Ray, Canes Film Festival, 1982

Special Golden Lion of St. Mark, Venice Film Festival, 1982

Vidyasagar Award, Govt. of West Bengal, 1982

Fellowship, The British Film Institute, 1983

D. Litt., Calcutta University, India, 1985

Dadasaheb Phalke Award, India, 1985

Soviet Land Nehru Award, 1985

Fellowship, Sangeet Natak Academy, India, 1986

Légion d'Honneur, France, 1987

D. Litt., Rabindra Bharati University, India, 1987

Oscar for Lifetime Achievement, USA, 1992

Bharatratna, India, 1992
Satyajit Ray's Best Quotes
Cinema's characteristic forte is its ability to capture and communicate the intimacies of the human mind. ~Satyajit Ray

The conception of background music is changing. You use less and less of it these days. ~Satyajit Ray

My films play only in Bengal, and my audience is the educated middle class in the cities and small towns. They also play in Bombay, Madras and Delhi where there is a Bengali population. ~Satyajit Ray

The only solutions that are ever worth anything are the solutions that people find themselves. ~Satyajit Ray

When I write an original story I write about people I know first-hand and situations I'm familiar with. I don't write stories about the nineteenth century. ~Satyajit Ray
Conclusion
Satyajit Ray was a Bengali motion-picture director, writer, and illustrator who brought Indian cinema to world recognition with Pather Panchali (1955) and its two sequels, known as the Apu Trilogy. His films span a wide range of moods, milieus, periods, and genres, with comedies, tragedies, romances, musicals, and detective stories treating all classes of Bengali society. His films focus on thought and feeling, rather than action and plot.