Happy Birthday 'Sachin'! Tendulkar Turned 50 Today
Listen to the Podcast:
World Cricket legend Sachin Tendulkar turned 50 on April 24, 2023 (Monday). Happy Birthday, Sachin Tendulkar, The Greatest of ALL TIME (G.O.A.T) of the 21st Century! 
Some call him the 'Groom of Cricket' and in the eyes of others, he is the 'God of Cricket' himself. Many people may object to the word 'God', but He really is. If cricket is a religion in India, God will be Sachin. When he plays it means a sea of people in the stadium. Australian legend Matthew Hayden once said, 'I have seen God. He bats at number four for India. Where is Sachin different from the rest? Why does his world pair have so much influence? Why are so many surprises around him? According to Andy Flower, 'There are two types of batters in the world. One is Sachin Tendulkar. Two, everyone else.'If you sit down to write the history of this game of bat-ball, his name must be placed in the top row. The Indian batting genius set the world record for the highest fifty during his career. This time Sachin Ramesh Tendulkar scored fifty in the innings of his life. His half-century is spring today (April 24). 100 centuries, 50 of life after 200 Tests.
Sachin Tendulkar is known around the world but his full name is Sachin Ramesh Tendulkar. Sachin was born on April 24, 1973, in Maharashtra, Mumbai. His father is Ramesh Tendulkar and his mother is Rajni Tendulkar. It is said that Ramesh named Sachin after the famous Indian music composer Sachin Devvarman.
Sachin Tendulkar, also known as the "God of cricket," is arguably the game's finest batter ever. He has become an inspiration to millions of individuals throughout India and the world. People fawned over him for over two decades due to his immense aptitude, commitment, and enthusiasm for the game. In many respects, he served as a source of inspiration for an aspirational India in the 1990s and 2000s.
Sachin Ramesh Tendulkar was born on April 24, 1973. He is regarded as the greatest batsman in the history of modern cricket. Often referred to as the 'Little Master' or 'Master Blaster.' Tendulkar was awarded the Arjuna Award in 1994 and the Rajiv Gandhi Khel Ratna Award, India's highest sporting honour, in 1997. But there's more. He received the Padma Shri and Padma Vibhushan awards in 1999 and 2008, respectively.
Tendulkar was also a member of the Indian team that won the 2011 Cricket World Cup, his sixth appearance in the tournament. The Prime Minister's Office announced that he would receive the Bharat Ratna after his final match on November 16, 2013.
Sachin Tendulkar Celebrates 50th Birthday at Wankhede Stadium Before 2 Days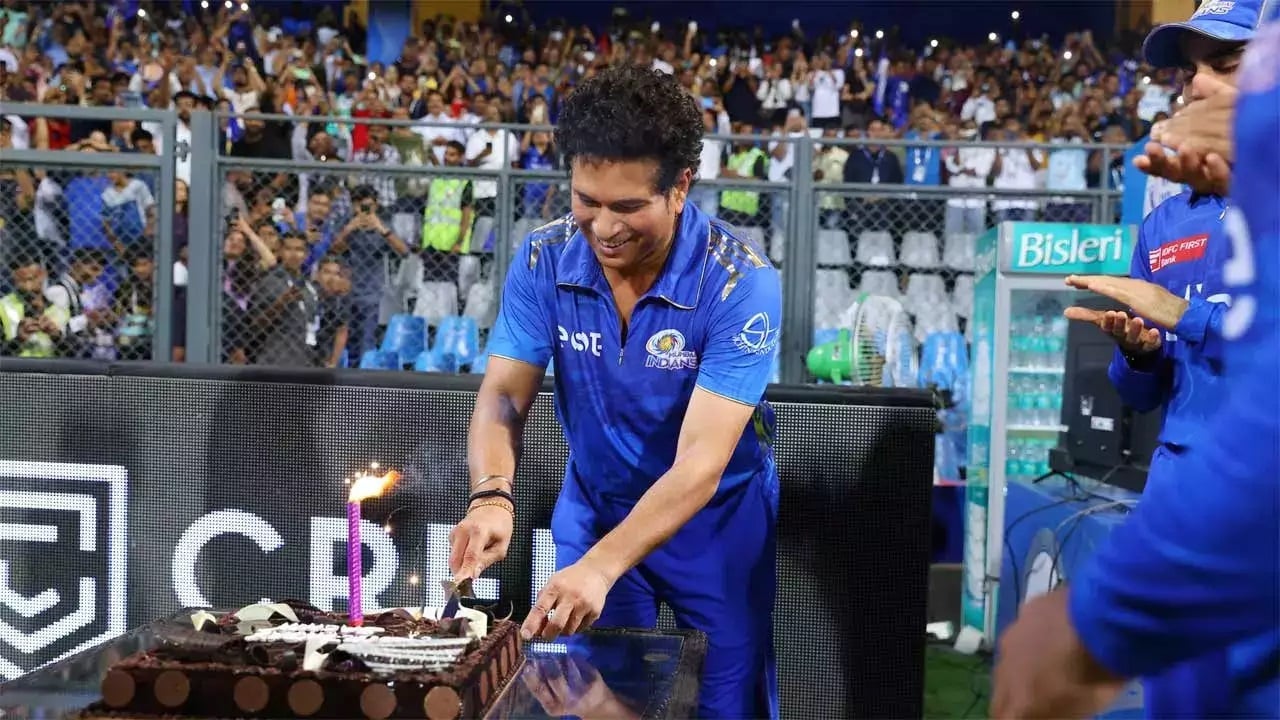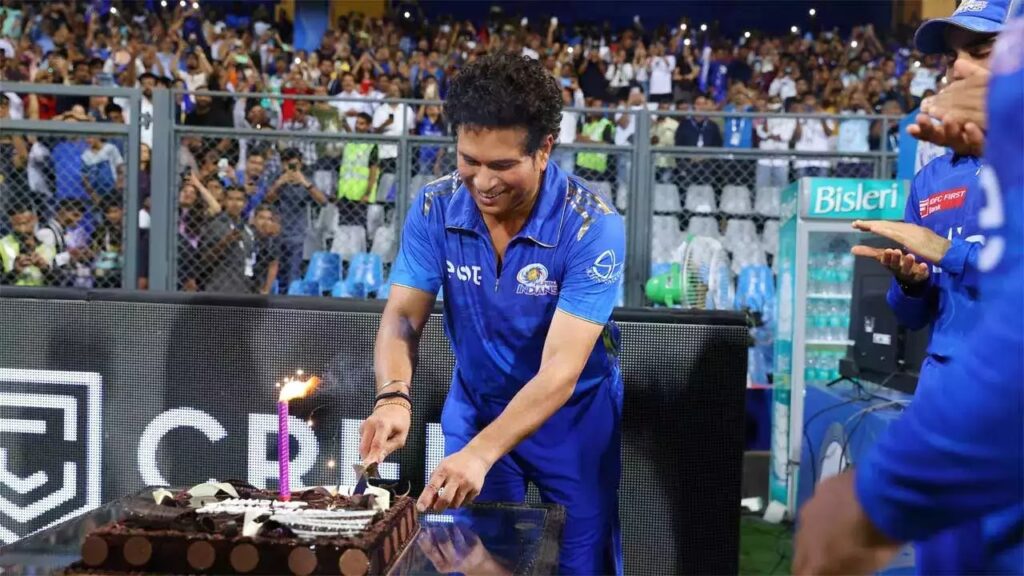 Sachin Tendulkar's 50th birthday was commemorated two days early on Saturday at his home stadium, Wankhede Stadium, during an Indian Premier League match between Mumbai Indians and Punjab Kings.
During the second strategic break of the first innings, Tendulkar cut a cake near the Mumbai Indians' pavilion. He had previously stated that reaching 50 was his "slowest half-century."
The Mumbai Indians franchise, for whom Tendulkar played all six of his IPL seasons (2008-2013), made preparations for the occasion. Tendulkar facial masks were distributed to over 30,000 spectators at the Wankhede Stadium.
The legendary batsman wore jersey number 10 for India and Mumbai Indians, and after the tenth over of Punjab Kings' innings, the stadium echoed with the familiar refrain of "Sachin… Sachin." 
Sachin Tweeted to Fans on His Birthday Morning 
Tea time: 50 Not Out! pic.twitter.com/WzfK88EZcN

— Sachin Tendulkar (@sachin_rt) April 24, 2023
Sachin Tendulkar Biography
| | |
| --- | --- |
|   Real Name |   Sachin Ramesh Tendulkar |
|   Nickname |   Sachin Tendulkar |
|   Date of Birth and Place |   April 24, 1973, Mumbai |
|   Nationality |   Indian |
|   Height  |   1.65 m |
|   Spouse |   Anjali Tendulkar |
|   Number of kids |   2 |
|   Name of children |   Arjun Tendulkar and Sara Tendulkar |
|   Source of wealth |   Cricketer |
|   Net worth |   $170 million |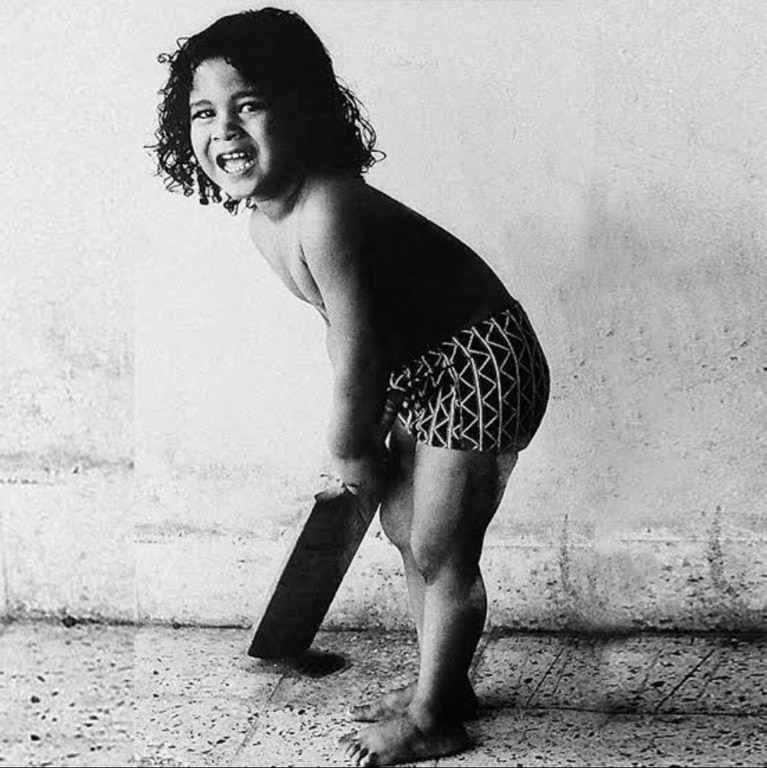 Sachin Tendulkar's Early Life
Sachin Tendulkar was born to Ramesh and Rajni Tendulkar in Bombay. His mother worked in the insurance industry, while his father was a poet and novelist in Marathi. There are two half-brothers and one half-sister in his family. Sachin Tendulkar concluded his secondary education at Sharadashram Vidyamandir. He was a child prodigy in sports during his academic years and also played club cricket for the Kanga Cricket League.
Career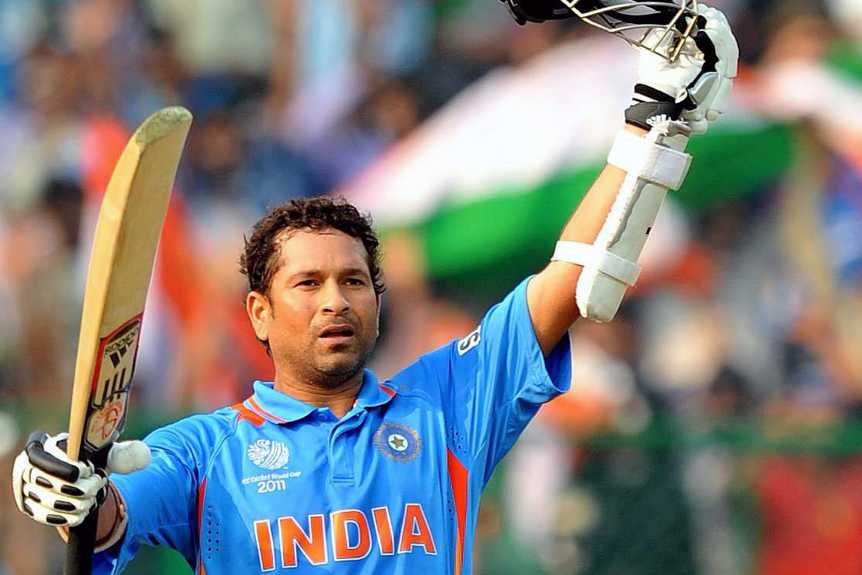 Sachin Tendulkar's career began on the domestic level, representing Bombay in the Ranji Trophy, where he rapidly established himself as one of the game's best players.
In 1992, he briefly represented Yorkshire, becoming the first player born outside the United Kingdom to do so.
Sachin Tendulkar's meteoric rise in the international arena saw him become the World Cup's leading scorer in 1996 and assume the captaincy the same year.
With a reputation comparable to that of legendary players such as Virat Kohli, he competed in the 2003 Cricket World Cup for the national team in the early 2000s.
In 2012, while competing against Bangladesh in the Asia Cup, his performances on the field during the 2000s and early 2010s led to his 100th international century.
Following his retirement in 2012, his entrepreneurial endeavors saw him establish two world-class venues in Mumbai, competing with some of the most expensive restaurants.
Sachin Tendulkar's Net Worth
Sachin Tendulkar's estimated net worth in 2023 is approximately $170 million. His net worth is comprised of his income from cricket, brand endorsements, and various business endeavors.
Sachin Tendulkar was one of the highest-paid cricketers in the world during his career. In addition to Coca-Cola, Adidas, and BMW, among others, he earned a considerable sum of money through his endorsements with numerous brands.
Sachin Tendulkar has continued to be involved in numerous commercial ventures following his retirement from cricket. He has invested in multiple companies, including the technology start-up Smartron, as well as the fitness-related S Drive and Sach.
In addition to his commercial endeavors, Sachin Tendulkar is involved in numerous charitable endeavors. The Sachin Tendulkar Foundation aims to provide welfare and education to underprivileged children in India.
Sachin Tendulkar's immense success as a cricketer and his entrepreneurial zeal is reflected in his net worth.
Personal Life
Tendulkar married Anjali Mehta, a pediatrician of Gujarati descent, in 1995, after first meeting her in 1990. Tendulkar, a devout Hindu and devotee of Ganesha follow the spiritual teachings of Puttaparthi's guru Sathya Sai Baba. Over 36 million of his followers are informed of his most recent media appearances via his incredibly popular Instagram account.
Birthday Wishes for Sachin Tendulkar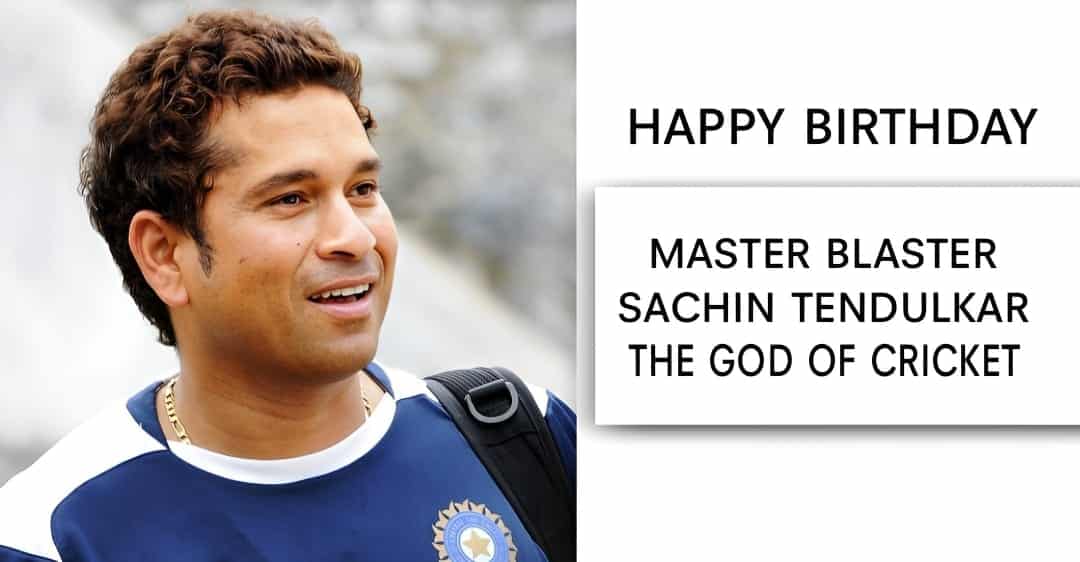 Sach is Truth , Sach is Life , Sach is the Answer, Sach is the Way , Sach is It.

Happy Birthday to an inspiration , role-model and a true friend. #HappyBirthdaySachin @sachin_rt pic.twitter.com/EBx3LST7Vf

— VVS Laxman (@VVSLaxman281) April 24, 2023
It's a privilege to have played with you and learned from you @sachin_rt paaji, Have a wonderful birthday and a great year ahead! – Cheteshwar Pujara
The legend of legends, he has always been there as a teammate, a friend, a mentor and an elder brother! To our very own GOAT, wishing you a very happy 50th Master and here's looking forward to the next 50! – Yuvraj Singh
Maidaan par jo aapne kaha , uska ulta hi kiya, toh aaj aapke iconic 50th birthday par toh aapko Shirshasana karke wish karna hi that. Wish you a very happy birthday @sachin_rt. Paaji , aap jiyo hazaaron saal , Saal ke din ho ek crore – Virendra Shewag
Happy 50th birthday @sachin_rt paji! Your passion, skill, and dedication to the game have inspired us all. It's been an honour to play alongside you and learn from you. Wishing you health, happiness, and many more years of greatness! #Sachin50 #CricketLegend #happybirthdaysachintendulkar – Suresh Raina
Happy Birthday, Big Boss!

A half century in life. Add the 100 in your profession at the highest level. 150 batting and how. Awesome. Wishing you a wonderful celebration and an amazing year. God bless @sachin_rt #SachinTendulkar 🇮🇳🙏 pic.twitter.com/CAs9TqhEh9

— Ravi Shastri (@RaviShastriOfc) April 24, 2023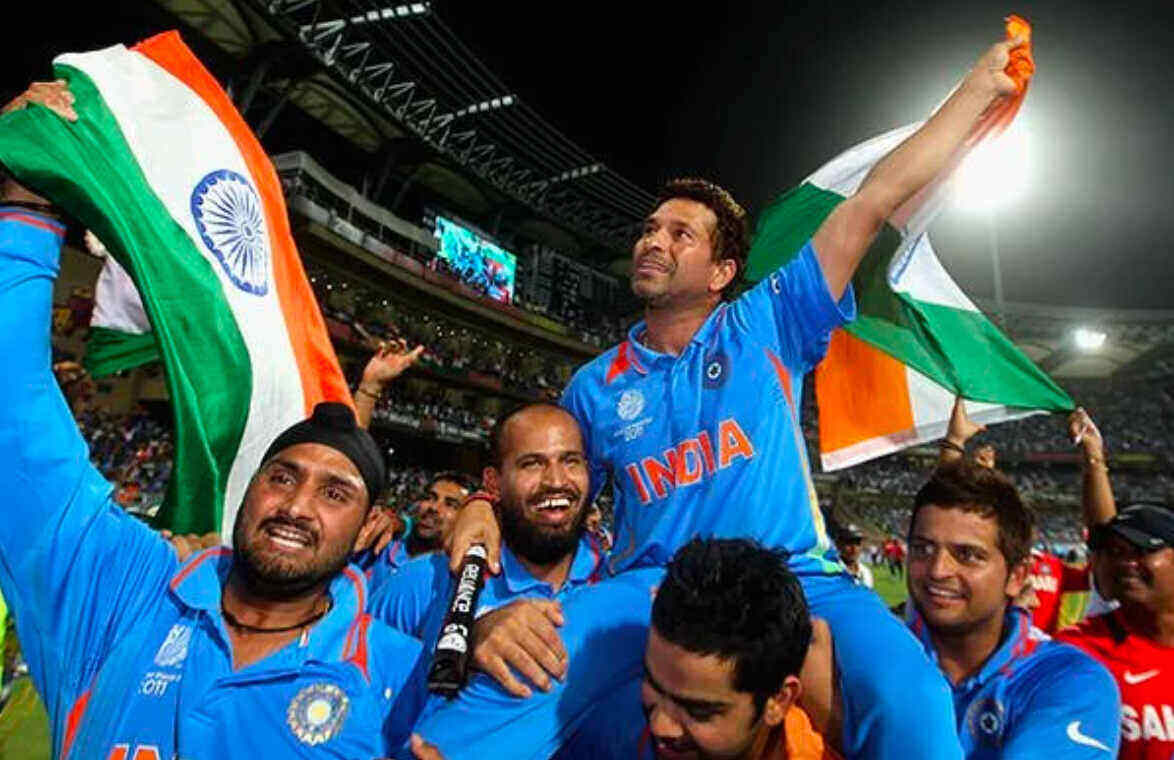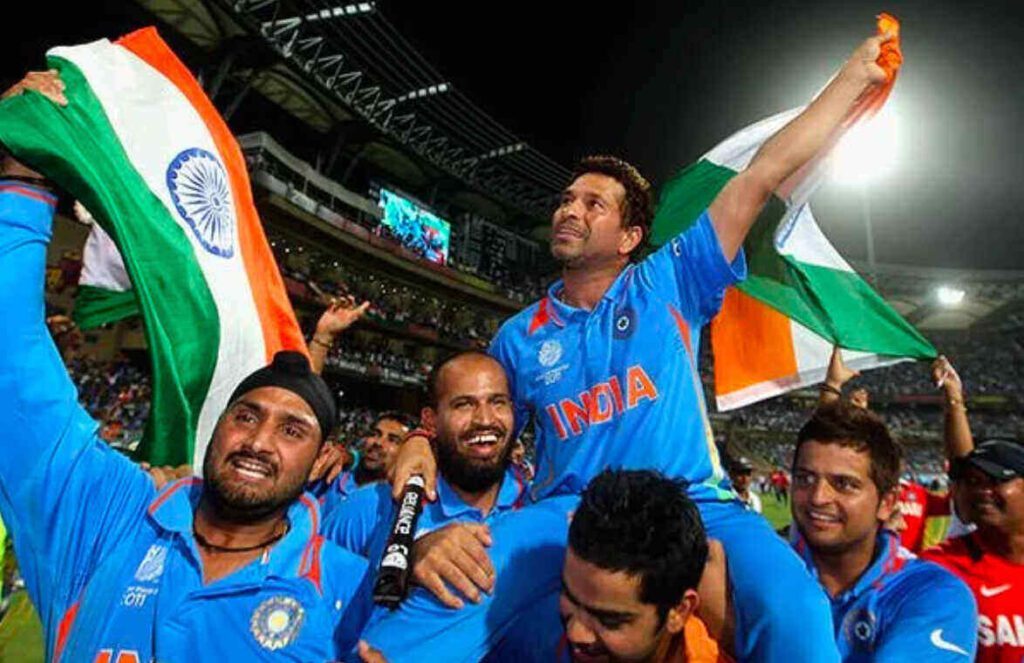 Top 12 Records of Sachin Tendulkar
Most matches in career: Sachin Tendulkar played the most Test matches in cricket history with 200.
Most runs in career: Sachin Tendulkar scored 15,921 runs during his Test tenure, the most of any batsman in history.
Most hundreds in a career: Sachin Tendulkar achieved 51 Test centuries in his career, the most of any batsman in history. He is the only batsman with 100 international hundreds.
Most nineties in career: Sachin Tendulkar was dismissed in the nineties ten times during his Test tenure, the most of any batsman in history.
Most fours in career: Sachin Tendulkar has struck 2,058 fours in Test matches, more than any other batsman in history.
Fastest to 15000 runs: The fastest batsman to achieve 15,000 runs, Sachin Tendulkar reached 15,000 runs in Test matches in just 300 innings, the quickest in history.
5000 runs and 50 fielding dismissals record: Sachin Tendulkar, the first cricketer to reach this milestone, is the holder of the 5,000 runs and 50 fielding dismissals record.
Highest partnership for the tenth wicket: Sachin Tendulkar was involved in a record-setting 133-run partnership for the tenth wicket in Test matches, the highest in cricket history.
Longest careers: Sachin Tendulkar played Test cricket for 22 years and 91 days, making his career the longest in cricket history.
Most runs in a calendar year:  Sachin Tendulkar scored 1,894 runs in One-Day Internationals in 1998, more than any other batsman in a single calendar year.
Most hundreds in a calendar year: Sachin Tendulkar scored nine One-Day International centuries in 1998, more than any other batsman in a single calendar year.
Most fifties in career: Sachin Tendulkar achieved 145 One-Day International fifties in his career, the most of any batsman in history.
Some Achievements of Sachin Tendulkar:
1994: Awarded the Arjuna Award by the Government of India for his outstanding athletic achievements.
1997–1998: Rajiv Gandhi Khel Ratna, India's highest honour for athletic achievement.
1999: India bestows the Padma Shri, its fourth-highest civilian honour.
2001: Awarded the Maharashtra Bhushan Award, the state of Maharashtra's highest civilian honour.
Padma Vibhushan, India's second-highest civilian honour, is conferred in 2008.
2014: India's highest civilian distinction, the Bharat Ratna.
Sporting Achievements and Awards:
1997: Cricketer of the Year according to Wisden.
1998 and 2010: Wisden World's Best Cricketer.

2002 – In commemorating Tendulkar's feat of equalling Don Bradman's 29 centuries in Test Cricket, automotive company Ferrari invited him to its paddock in Silverstone on the eve of the British Grand Prix on 23 July, to receive a Ferrari 360 Modena from the F1 world champion Michael Schumacher.

2003 – Player of the tournament in the 2003 Cricket World Cup.

2004, 2007, 2010 – ICC World ODI XI.

2006-07 and 2009-10: Polly Umrigar Award for the best international cricketer.
2009, 2010, and 2011 were ICC World Test XI years.
2010: Outstanding Achievement in Sport and People's Choice Award at the London Asian Awards.
2010: Sir Garfield Sobers Trophy for the year's best cricketer.
LG People's Choice Award for 2010.
Indian Air Force has made an Honorary group commander in 2010.

2011 – Castrol Indian Cricketer of the Year award.

2012 – Wisden India Outstanding Achievement Award.

2012 – Appointment as an Honorary Member of the Order of Australia by the Australian government.
The Indian Postal Service issued a Tendulkar stamp in 2013, making him the second
Indian after Mother Teresa to have a stamp issued in their lifespan.
2014 – ESPNCricinfo Generational Cricketer of the Year
The Asian Awards Fellowship Award at the seventh Asian Awards in 2017.
Inducted into the ICC Cricket Hall of Fame in 2019.
2000–2020 – Laureus World Sports Award for the Best Sporting Moment
Sachin Tendulkar's Contributions to Charity and Humanity
In India, where caste, creed, sexual orientation, and racial differences are pervasive, it requires something extraordinary to bring people together. The sport of cricket is at the very top of the list, and Sachin Tendulkar, who has been labelled "the god of Indian cricket" by many, is unrivalled in this sport. During his 25 years in the sport, he captivated every cricket fan by infusing the audience with genuine passion whenever he walked the field. Less well-known, but no less remarkable, than Sachin Tendulkar's astounding achievements on the cricket field are his strong morals and profound interest in giving back to society.
When we consider the maestro's contributions to society outside the concert hall, we cannot help but admire him even more, not only for his talent but also for his integrity.
Batting for charity
In his illustrious career, Sachin has set a number of records. His century against Bangladesh at the Shere Bangla stadium in Mirpur was one of the most lauded performances of his career. In international cricket, no one has ever come close to equaling the 'century of hundreds' score. He commemorated his accomplishment by auctioning his bat and donating the proceeds to charity.
Daughter's big day
Sara, the daughter of Sachin, has her birthday celebrated annually in the slums of Mumbai. This low-key but meaningful event reflects Sachin's desire to contribute back to the community.
Awareness ads for free
According to a report, Sachin Tendulkar was contacted in 2011 for a Census awareness advertisement and filmed for nearly nine hours straight to get the piece just right. As if that were not enough, he also refused to accept payment for the endeavour. Tendulkar supported pro bono social marketing and several other awareness campaigns, including those against polio.
Top 15 Interesting Facts about Sachin Tendulkar
The 'Little Master's' father, Ramesh Tendulkar, was a devotee of the singer Sachin Dev Burman. So, on April 24, 1973, when the cricketer was born, he named Sachin Tendulkar.
Sachin Tendulkar is the first Indian cricketer in active status to be nominated to the Rajya Sabha.
In 1987, as an aspiring fast bowler (you read that correctly! ), 14-year-old Sachin Tendulkar was rejected by Dennis Lillee's MRF Pace Foundation.
Sachin Tendulkar, at the age of 19, became the earliest Indian to play county cricket.
Sachin was a ball bearer for the 1987 World Cup match between India and Zimbabwe at the Wankhede Stadium. He won the World Cup for India 24 years later at the same venue.
In 1988, Sachin Tendulkar was asked to play as a substitute for our arch-rivals Pakistan in an ODI practice match against India at the Brabourne Stadium.
Sachin's coach, Ramakant Achrekar, would reward him with a coin if he completed an entire practice without being dismissed. Sachin has thirteen of these!
Sachin became the wealthiest cricketer in the world in October 1995 when he signed a five-year contract with World Tel worth Rs 31.5 crore.
In his youth, Sachin Tendulkar was so ardent about cricket that he would sleep with his equipment.
His first automobile was a Maruti 800.
Sachin Tendulkar was the first batsman ever dismissed by a third umpire. In 1992, on the second day of the Durban Test, Tendulkar was taken short of the crease by a throw from Jonty Rhodes.
In the 2003 World Cup, Sachin received the Man of the Match award for scoring the most runs, 673 runs in 11 contests.
The first advertisement that Sachin appeared in was for a bandage.
The first company Sachin endorsed was Boost, a health drink manufacturer. Remember the master blaster saying, "Boost is our source of energy."
In his first test match, the English fast bowler Alan Mullally complained that Sachin Tendulkar was using a weapon that was wider than usual.
Conclusion:
Sachin Tendulkar, a legendary sportsman in India, possesses a unique pull and influence over the populace. Not only is he a prominent figure in the realm of cricket, but many people, particularly young people, look up to him. Due to his position, he is able to effectively convey the importance of improved health, hygiene, and sanitation to both children and their parents.
In addition to polio, sanitation, and hygiene, Tendulkar has supported the awareness of AIDS. His unwavering commitment to improving the lives of children has allowed him to connect with a wide range of individuals across the country and bring critical issues to their attention. With Tendulkar's help, UNICEF was able to substantially improve the hygiene habits of rural Indian children, bringing them health and happiness.
Subscribe to Our Latest Newsletter
To Read Our Exclusive Content, Sign up Now.
$5/Monthly, $50/Yearly