Radaar Review – A Comprehensive Social Media Management Tool
Listen to Podcast:
Are you looking for a way to handle all of your social media accounts from one place? If so, you need the Radaar review. Radaar is a platform that lets you effectively manage your social media accounts. It lets you see all of your social media messages and comments on one site. 
You don't have to use a lot of different platforms to talk to your audience. One tool can use to handle every platform. It also lets you keep an eye on your audience, gives you statistics based on different parts of your channels, plans your next post, makes links, and does a lot more.
I hope that learning about how Radar works will amaze you. Let me explain Radaar review and how you can use it to your advantage in more detail. Let's keep going and look at the tool in more depth.
About Radaar Review
RADAAR is a powerful social media management and collaboration platform designed for handling multiple brands. It allows organizations to track brand-relevant keywords, segment results as positive, negative, or neutral, and monitor audience preferences through its dashboard. With its intuitive interface, RADAAR review enables users to easily manage multiple accounts in one workspace, create custom reports and even store passwords securely. 
Additionally, the platform offers marketing assistance through its workflow automation tools which help to streamline the scheduling and publishing of content more efficiently. All this combines to make RADAAR an excellent choice for businesses looking for a well-designed, easy-to-use platform to handle their social media needs.
Interface of Radaar Review
The interface of RADAAR is designed for easy navigation and usability, making it a great choice for those who need to manage multiple social media accounts. It has an intuitive dashboard that allows users to quickly find information about their accounts, schedule posts, and track analytics. The interface also provides quick access to reports and password vaults so that users can easily keep their accounts secure.
Additionally, RADAAR review offers marketing assistance through its artificial intelligence-powered insights, which help guide users in the right direction when it comes to managing their accounts. All in all, the interface of RADAAR is well-designed and user-friendly, making it an ideal choice for those looking to simplify their social media management process.
Read More: Viddle Interact Review
How Does Radaar Work and What Makes it So Useful?
Radaar makes it easy and quick to make and organize content for social media. Everything is planned and approved before work begins on a project. It is a platform that helps you keep all of your social media activities in one place and in order.
Unlike traditional publishing tools, it gives you the freedom and power to decide how your site looks and feels and to manage all of your social media presence across all networks from one place. They put a lot of features in it that were only available on separate platforms before.
The fact that most of RADAAR's features are all in one place makes it a very powerful platform for managing and promoting social media.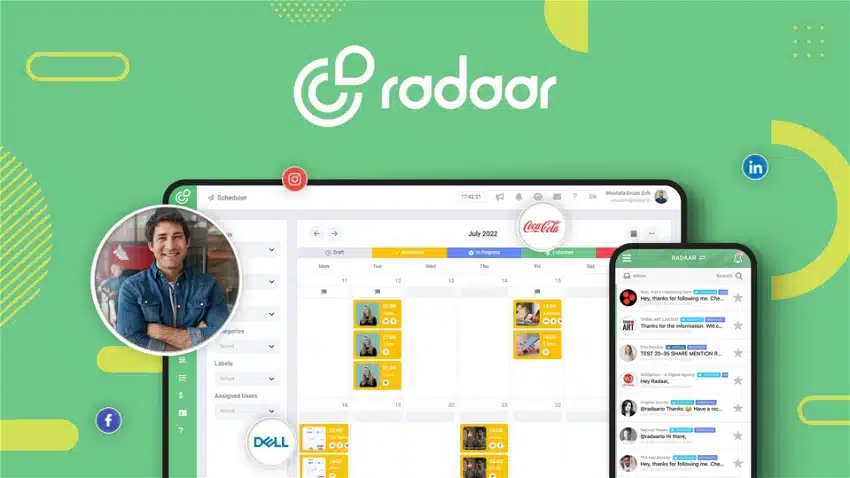 Radaar Review: Best Features
RADAAR offers users a wide range of features to help them manage their social media accounts. It provides a comprehensive dashboard for monitoring and managing multiple accounts, allowing users to see all their accounts in one place. The platform also offers URL shortening, password vault, and scheduling tools. 
Additionally, RADAAR's powerful reporting capabilities make it easy to track campaigns, analyze social media performance, and measure the success of content. With its intuitive interface and marketing assistance, RADAAR is an ideal solution for managing multiple social media accounts.
Manage All Accounts
RADAAR review, marketers can easily manage all their social media accounts in one place. RADAAR offers an intuitive dashboard to help marketers view and manage all their accounts in a single interface. This helps marketers save time, as they no longer have to switch between different accounts to post updates, respond to comments, and interact with followers.
Additionally, the RADAAR review also makes it easy for businesses to provide access to multiple people or teams by assigning each user access level and permissions. This ensures that each team member is able to access only the information they need while protecting sensitive data from unauthorized users.
Reports
RADAAR's reporting capabilities are top-notch and allow users to gain meaningful insights into their social media performance. The reports provide a comprehensive overview of key metrics such as impressions, reach, engagement, and more. This makes it easy to identify areas of improvement, track progress over time, and measure the impact of campaigns. Additionally, users have the ability to create custom reports that can be shared with clients or used internally for analysis. With RADAAR's reporting capabilities, marketers can get an accurate picture of their social media performance and make informed decisions for their business.
Password Vault
The Password Vault in RADAAR is an excellent feature for users to store their client passwords and keep them separate from their own. With the Password Vault, users can securely store and encrypt their passwords, so that only they have access to them.
Moreover, RADAAR offers added security measures such as two-factor authentication and secure sharing of passwords with other users. All these features ensure that the user's passwords are kept safe and secure. With the Password Vault, RADAAR offers users a secure and easy way to store and manage their passwords.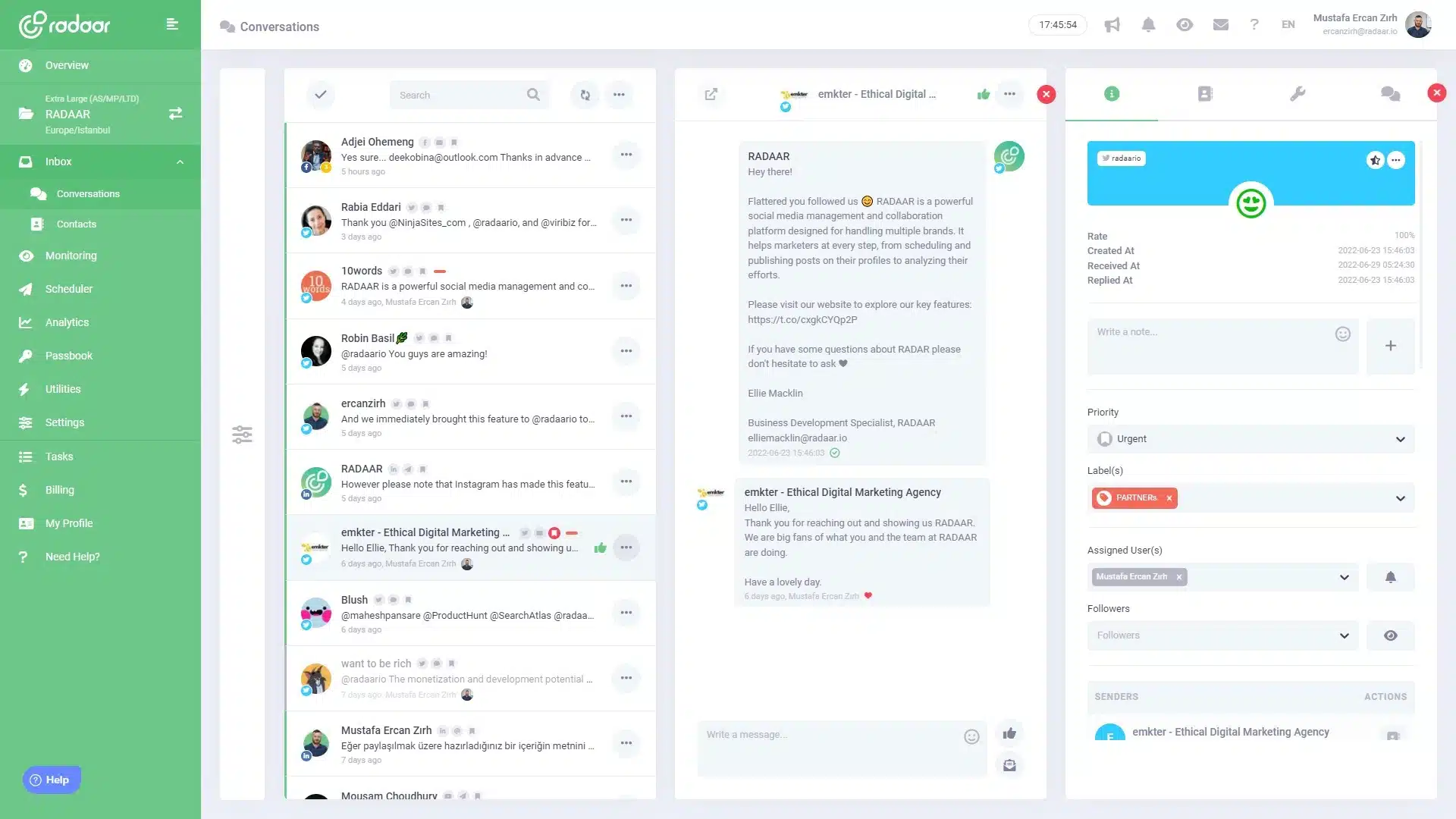 Marketing Assistance
RADAAR makes marketing assistance easier and more efficient, allowing marketers to create and manage content across multiple social media accounts in one place. The platform allows users to manage campaigns and track performance in real time, giving them an accurate picture of how their efforts are paying off. With RADAAR review, marketers can develop targeted strategies, measure the success of their campaigns, and optimize their efforts to get the best results.
Additionally, RADAAR offers automated scheduling capabilities to ensure posts are published at optimal times and with maximum reach. This ensures that businesses are able to maximize engagement and reach as many potential customers as possible.
Read Also: Tidycal Review
Well Designed
RADAAR's interface is well-designed and easy to use. Its features are intuitive and intuitively organized, making it easy to manage multiple accounts. It also provides a comprehensive dashboard that displays all marketing strategies and campaigns in one place. Furthermore, it has a comprehensive reporting system that provides detailed insight into performance over time. The platform also has a password vault to store all social media passwords securely, which is very useful for managing multiple accounts. Overall, the design of RADAAR makes it a great tool for managing multiple accounts and campaigns.
Easy to Use
Radaar is designed with ease of use in mind, making it simple for marketers to get up and running quickly. Its intuitive interface makes navigating through the platform a breeze, and its powerful social media scheduling feature allows users to quickly manage multiple accounts from one dashboard. The Password Vault also proves to be an invaluable tool, providing users with the ability to securely store passwords and share them with other team members as needed. With such a well-designed platform, marketers can easily monitor their campaigns and receive marketing assistance from RADAAR at every step of the way.
The URL Shortener
RADAAR's built-in URL shortener is a handy tool that helps users easily share links on social media. It rewrites long URLs into shorter ones, making them easier to remember and share. The URL shortener also integrates with Switchy, a third-party link shortening service, allowing users to track clicks, trends, and other analytics. This gives marketers an insight into how their campaigns are performing and helps them better understand their audience.
How to Get Started with Radaar
Getting started with RADAAR is easy and straightforward. To start using the social monitoring feature, you should first create a query. When you create a new query, it may take some time for the system to gather results. After the query is created, you can view the results in real time, allowing you to stay up-to-date on all of your brand's social media marketing.
You can also access detailed reports, helping you monitor the performance of your campaigns and identify trends. Additionally, the RADAAR review provides a password vault so that you can securely store client passwords separate from your own. With these features and more, RADAAR is an effective tool for managing multiple social media accounts at once.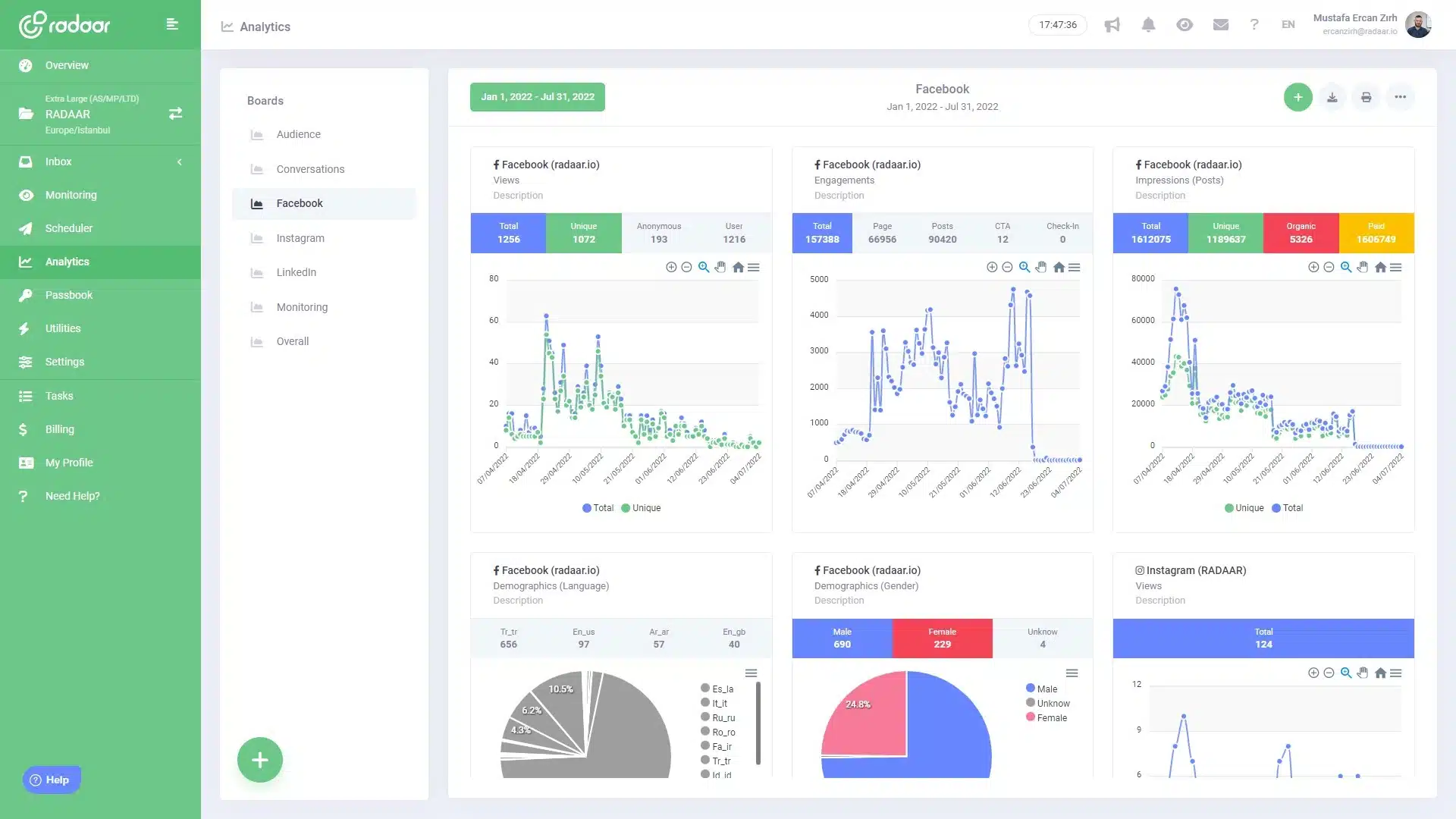 Radaar Review: Pricing and Plans
RADAAR is one of the least expensive ways for businesses, community groups, and individuals to manage their social media. This means that you can improve your social media presence without spending a lot of money.
There are three pricing plans to choose from: the Small Plan, the Medium Plan, and the Professional Plan. Each plan comes with a free trial of 14 days. You don't need a credit card, and you can stop at any time.
For $2.99 a month, the RADAAR starter plan gives you 3 social profiles and 60 posts. You can use the self-hosted version of RADAAR instead of the free trial version, which lets you shorten URLs, collaborate with clients, have 1 user, and keep data for 2 months.
For $9.99 per month, RADAAR's Medium plan lets you post to 6 social profiles and make as many posts as you want. It has a social inbox, analytics, and a password vault, as well as a URL shortener, client collaboration, five users, six months of storage, task management, and email support.
With RADAAR's Professional plan, you can set up 12 social profiles and make as many posts as you want. The plan includes three monitoring queries, ten users, and a 12-month data retention period, which is not available with other plans. These extra features are on top of what the other plans offer.
Also Read: Suitedash Review
Social Media Management & Collaboration Platform
RADAAR provides an excellent platform for managing multiple brands and allows marketers to collaborate at every step. Its cloud-based social media management tool is user-friendly and navigable, providing an intuitive dashboard to manage accounts. Furthermore, the URL shortener helps shorten links for easy sharing and the reports are fairly detailed and accurate.
RADAAR also provides a fast approval/rejection process which helps improve collaboration across stakeholders. User satisfaction with the platform is very high and there has been a positive press buzz surrounding it. Recent user trends suggest that more and more people are turning to RADAAR for their social media management needs.
Why Do You Need to Use Radaar?
It is a powerful platform that can be used to manage multiple brands, collaborate on social media as a group, and manage social media accounts. Marketers can post content on their profiles and also use it to track how well their efforts are working. RADAAR review has many features, such as a social media inbox, monitoring, and analytics.
You can use it to manage your social media accounts, whether you run a small business with only a few social media networks, an agency with multiple brands, or a large company with many different brands. It is perfect for community managers, agencies that specialize in social media and digital marketers, business owners who work for themselves or as freelancers, and anyone else who wants to engage followers, publish content, and measure performance in an effective and efficient way.
It lets you schedule posts on social media and respond to messages on social networking sites all in the same window. Using the passbook to work together as a group is a great way to get things done, especially if you need to use other apps.
You don't need to use a different link shortener because the website has one built in. It makes it easy to shorten URLs that lead to articles that are too long. There are Kanban boards, and at any given time, your team can have as many people as you want.
Radaar Review: User Satisfaction & Press Buzz
RADAAR's user satisfaction score of 94/100 is a testament to the platform's reliability. Customers have praised the platform for its ease of use and the ability to manage multiple accounts at once. 
Additionally, press buzz has given RADAAR a 38/100 score, highlighting that the platform is well-known in the industry. The recent user trends have been falling, but overall, RADAAR is still a popular choice in the social media management market.
Comparison to Other Platforms
RADAAR is an effective social media management platform. It provides users with a lower-cost alternative when compared to other platforms. It offers features such as scheduling, analytics, and reports that are much more expensive on other platforms. In addition, RADAAR provides users with the ability to collaborate on multiple brands, making it an ideal solution for marketers who need to manage multiple accounts.
The user-friendly interface makes it easy to navigate and manage your social media campaigns, while still providing powerful tools that can help you achieve your goals. Overall, RADAAR is a great choice for those looking for a cost-effective solution to manage their social media presence.
To Know More: Wave-Video Review
Pros and Cons of Radaar Review 
In this part of my Radar review, I'll talk about its pros and cons. That will help you find out more about this program. Also, you can make better business decisions.
Pros
Very clear and easy-to-use UI and UX.

It's easy to link up different platforms and make custom dashboards for different clients.

Raadar has just the right mix of features and prices.

Webhooks make it possible to schedule and publish content anywhere (not just on social media platforms).

Multiple payment support.

Webhook.

Support options (email/help desk, chat, and live support 24 hours a day, 7 days a week)

There is video training for every feature.

There is a free trial that lasts for 14 days.

You can use each feature as much as you want.
Cons
Google My Business doesn't work yet, but the Radar team will turn it on soon.

Can't post Instagram and Facebook stories from a desktop.

I think that Instagram only lets you post one picture because that's all it can handle.

You have to manually connect to each Pinterest board.
Radaar Review: Recent User Trends
Recent user trends suggest that RADAAR is becoming increasingly popular among social media managers, with more and more people turning to the platform to manage their brands. According to recent customer reviews, users are impressed with the platform and its features, such as its intuitive dashboard, easy-to-use interface, and its ability to generate detailed reports. These features have helped RADAAR become a go-to tool for social media managers looking for an effective way to manage multiple accounts simultaneously. 
Furthermore, the platform's URL shortener has been praised for its simplicity and effectiveness, allowing users to quickly share links without sacrificing link quality. With these features and consistent user satisfaction ratings, it's no wonder that RADAAR is quickly becoming one of the most popular social media management platforms available.
Radaar's Customer Service
Customer service these days often seems old-fashioned and quaint. Some days you feel like no one cares about you, and other days it seems like everyone is worried about you. Customer service is often what makes a company stand out from the rest. Lucky for us, RADAAR knows that.
RADAAR has a team of customer service experts who are always happy to help customers with any questions or problems they may have. You can get help from RADAAR's website without having to look through a lot of options.
At the bottom of the website, there is a link to the Help Center. If you click on the link, you'll take to the "contact us" page, where you can find out how to get in touch with the customer service team.
Conclusion
In conclusion, RADAAR is an excellent social media management platform for handling multiple accounts. Its intuitive interface, powerful features, and customization options make it ideal for managing any number of accounts and brands. Its marketing assistance helps users maximize their effectiveness, while the password vault and reports provide peace of mind in terms of security and tracking. Furthermore, its user-friendly design makes it simple to use for even the most novice users. Altogether, the RADAAR review has everything you need to manage your social media accounts with ease and effectiveness.
Frequently Asked Questions (FAQs) about Radaar Review
Why should I use RADAAR?
Whether you're a small business that only uses a few social media networks, an agency that handles multiple brands, or an enterprise company that needs everything. RADAAR will help you streamline your workflows, make social media management easier, and save time.
How is RADAAR different?
RADAAR is an all-in-one platform that keeps adding new features and has everything a social media marketer needs. It helps marketing teams save time and work well together. Compared to its competitors, it's powerful and still affordable.
Which post formats can use RADAAR?
RADAAR can handle all important post formats, such as single text, multiple texts, and video images. Limits depend on how each network's API is set up.
Can I export my conversations?
Yes. You can quickly export all messages that come in as CSV or Excel files.
What channels does RADAAR work with?
With RADAAR's social monitoring tools, you can now keep an eye on what people are talking about on Instagram, Twitter, news sites, and blog posts. Soon, you'll be able to keep up with people on Reddit, Quora, Stack Overflow, and YouTube.
Is there a usage limit?
No. You can open as many boards as you want and add as many widgets as you want.
Is the password manager safe?
RADAAR offers password management with zero knowledge. That means that you are the only one who can see all the information stored in RADAAR. The data is encrypted while it's being sent (using TLS) and while it's on the infrastructure. On your device, all encryption and decryption are done in real-time (AES-256).
What problems is RADAAR solving and how is that benefiting you?
Radaar solves the problem of how to handle and schedule social media. You can share your photos, videos, and reels on your social accounts with just one click.
Subscribe to Our Latest Newsletter
To Read Our Exclusive Content, Sign up Now.
$5/Monthly, $50/Yearly