iPhone 15 Pro Max Price In India: How Much Will It Cost?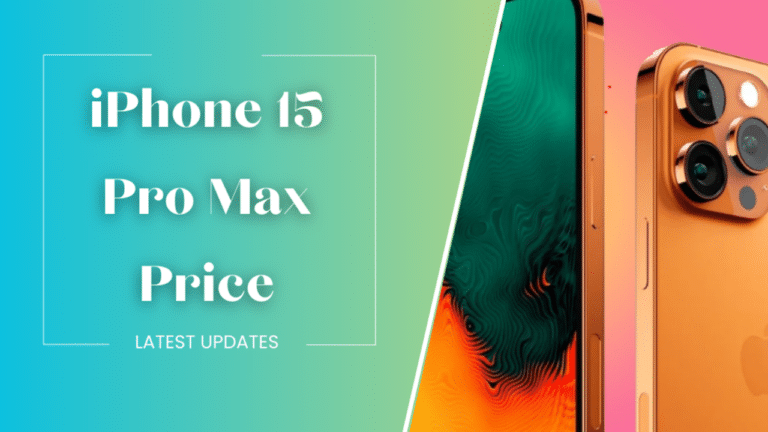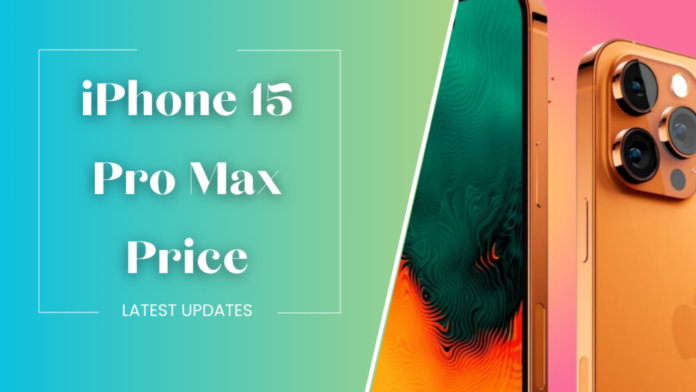 Cracking the latest iPhone 15 Pro Max price in India can be a mystery for many. The iPhone 15 Pro Max is rumored to launch in India after the Apple Wonderlust event on September 12, 2023. According to apple the starting price of the iPhone 15 Pro Max is ₹159900.00 in India.
This blog post will provide all you need to know about the new Apple phone and update you on its expected features included within its potential hefty price tag.
Read on to determine if it's worth upgrading or sticking with your current model!
Content Highlights
The iPhone 15 Pro Max was in September 13, 2023 and the starting price is $1,199 (₹159900.00 in India).

It will feature an edge-to-edge display and high storage options up to 1TB with improved cameras.

It is expected to be powered by the A17 Bionic processor with 6x cores, CPU & GPU clock speeds up to 3.7GHz, and 8GB RAM for faster performance under any conditions.

Improved battery life compared with its predecessor and potentially fast charging options could make this device one of the best phones available on the market when it launches
Apple iPhone 15 Pro Max Overview
The upcoming Apple iPhone 15 Pro Max is expected to bring some exciting features, including a new design, ultra-low latency cameras with advanced specs, and high storage options of up to 1TB.
Release date
The iPhone 15 Pro Max was released on September 13, 2023, marking another milestone in Apple's ongoing innovation and commitment to providing cutting-edge technology to its users. With its advanced features and capabilities, this release continues to redefine the smartphone experience for consumers around the world..
Design and display
The iPhone 15 Pro Max is expected to have a sleek design with an edge-to-edge display, similar to the iPhone 14 Pro Max. According to rumors, the 6.1-inch Super Retina XDR OLED display will feature a new color filter and higher peak brightness levels of up to 1200 nits compared to 800 nits on the iPhone 14 Pro Max.
Furthermore, it is rumored that the thickness of this screen will be 8.25mm while its predecessor was 7.85 mm thick–however, this has yet to be confirmed by Apple representatives so far.
Additionally, both standard and Pro models are said to have made changes for different Face ID sensors, which replaced the classic notch with Dynamic Island technology. These features are upgraded improvements from previous phones from Apple's legacy series.
Cameras
The iPhone 15 Pro Max is expected to take camera technology to the next level, with speculated rumors of a periscope zoom lens and dual wide and ultra-wide cameras. Reports suggest that it will be equipped with 48MP on its main, 12MP wide angle lens, 6-element lenses for lowlight photography, and an autofocus system supported by Focus Pixels.
All this amounts to a much-refined experience when capturing pictures or shooting videos in terms of clarity and dynamic range. The Pro Max has significant upgrades compared to the previous iPhones, which were limited in their outdated megapixel sensors, limiting them from better quality photos without compromising on details even at night shots or lowlight environments, along with faster-focusing ability under any environment due to focus pixels support.
Specs and A17 Bionic
The iPhone 15 Pro and iPhone 15 Pro Max are expected to be powered by the powerful A17 Bionic processor, built using a brand new 3nm process. This offers better performance than its predecessor, with its 6-core CPU and GPU offering clock speeds of up to 3.70 GHz.
This makes for smooth gaming experiences and faster processing throughout everyday use, and it can also handle intensive tasks like 4K video editing or heavy photography work without breaking a sweat.
With 8 GB of RAM, the efficiency of multitasking operations will also be at an all-time high; you won't find yourself stuck waiting for programs to load or flagging during resource-demanding projects.
The A17 chip provides enough power that no matter how much demand your phone receives, you'll always feel confident that it will keep up with anything you throw at it – from scrolling Twitter posts to intense gaming sessions – making sure you get more out of your device in everyday activities and longer battery life between charges.
Battery life and charging
The iPhone 15 Pro Max is rumored to have a battery capacity of 4,852 mAh, a 12% increase from the previous model. This can give it better battery life and performance than its predecessor.
Reports also suggest that Apple may be introducing new features related to charging with this phone. For example, faster wired, wireless, and reverse charging capabilities are possibilities.
It's still unclear how long the battery will last under normal usage or when performing certain activities such as playing games or streaming video. Still, reports suggest it should yield greater longevity due to the larger size than before.
Software
The latest version of the beloved iPhone 15 Pro Max will be powered by iOS 17. Users can expect to experience improved communication on FaceTime, more robust messaging with iMessage, and an overall better and smoother user experience when using a Phone.
With the new SharePlay feature in iOS 15.1, it is possible for FaceTime users to engage in shared experiences across multiple devices at once – making it easier than ever before for friends and family members to connect virtually.
Moreover, users should also keep up-to-date with the Apple Developer website as they provide essential information about upcoming iPhone technologies, events, and policies designed specifically for developers.
iPhone 15 Pro Max Price in India
Rumors suggest that the iPhone 15 Pro Max may come to India at a starting price of ₹159900.00 for the base model.
Speculated price
The iPhone 15 Pro Max is expected to be one of Apple's most expensive ever phones. Apple set the starting price tag of ₹159900.00 in India – higher than any previous iPhones.
Additionally, the $1,199 is price tag for the US market may rise over time as close to $2,000. This would make it significantly more costly than its predecessor, the iPhone 14 Pro Max, which sells at ₹ 1,39,900 in India.
The reasons behind such sky-high pricing could vary from improved features & specs like larger batteries and state-of-the-art cameras to enhanced storage capacity and advanced software updates on the new iOS v15 platform released by Apple recently, along with other possible features rumored for this much-anticipated release.
Comparison to previous models
The iPhone 15 Pro Max is anticipated to bring several upgrades compared to its predecessors. Here is a comparative analysis of the key specifications, including price, release date, design, display, camera capabilities, battery life, and software updates.
| Feature | iPhone 14 Pro Max | iPhone 15 Pro Max |
| --- | --- | --- |
| Display | 6.7-inch Super Retina XDR display | 6.7-inch Super Retina XDR display with ProMotion (120Hz refresh rate) |
| Processor | A15 Bionic chip | A17 Bionic chip |
| RAM | 6GB | 6GB or 8GB |
| Storage | 128GB, 256GB, 512GB, or 1TB | 128GB, 256GB, 512GB, 1TB, or 1TB |
| Rear cameras | 12MP wide, 12MP ultrawide, and 12MP telephoto cameras | 48MP wide, 12MP ultrawide, and 12MP telephoto cameras |
| Front Camera | 12MP TrueDepth camera | 12MP TrueDepth camera |
| Battery | 3,095mAh | 3,200mAh |
| Operating system | iOS 16 | iOS 17 |
| Release date | September 2022 | September 2023 |
Table: Comparison With the Previous Version
It's important to note that the iPhone 15 Pro Max specifics are currently speculative, and official details will be available upon the device's launch.
Latest News and Updates
Consumers can stay abreast of all the latest news and updates regarding the iPhone 15 Pro Max, such as rumored release date, features and specs, storage options, colors, and more.
Rumored release date
The release date for the much-anticipated iPhone 15 Pro Max is yet to be announced, but many anticipate it to arrive in fall 2023 at the earliest. Some reports have speculated a potential launch date of September 13th; however, Apple has not made any official announcements regarding its launch.
Also, rumors are floating around about an iPhone 15 Pro Max Ultra model that could drop before its predecessor, and if this happens, expect a late summer / early autumn 2021 launch.
With all these possibilities looming over consumers' heads, it's hard to get concrete advice on when exactly they should plan their purchase of the much-anticipated smartphone model.
Potential features and specifications
Rumored release date: 2023
Design changes include a USB-C port and titanium frames
Enhanced camera capabilities, including a periscope zoom lens, 48MP, and 12 MP wide & ultra-wide lenses
Powerful A17 Bionic chipset for faster performance
Improved battery life with support for fast charging options
iOS v15 with brand new features such as expandable widgets and improved privacy protection measures
Five color options are expected: White Silver, Graphite Grey, Blue Navy, Rose Gold, & Black Onyx,
Storage options
The iPhone 15 Pro models are speculated to have a baseline storage option of 256GB, with rumors suggesting that they may offer a maximum storage option of 2TB. Previous models normally began at 128GB for their base model, but many users found this amount too low for their needs.
Currently, available iPhone storage options come in sizes of 128GB, 256GB, and 512GB, with an additional 1TB option available for the Pro models; however, no official announcement has been made about what specific storage capacities will be included in the new iPhone 15 Pro Max yet. Whatever the possibilities turn out to be, though, it is sure to help improve users' phone experience significantly if these larger capacity options become available.
Colors
The upcoming iPhone 15 Pro Max is set to come in an exciting palette of colors and shades, with something sure to match any person's style. Customers can expect four standard color options for the new model: Midnight Black, Starlight Purple, Product Red, and a brand-new green shade.
Rumors also suggest that Apple may be introducing a unique "crimson" color option exclusive to the Pro variants of the device. Those seeking a brighter hue or more vibrant look could opt for the human-red tone expected for the regular iPhone 15 or possibly yellow available on both iPhones–15 Plus models.
Though some had suggested blue as one of the potential hues offered on these devices earlier this year, it appears that Apple is taking quite a different route, contrary to expectations. Instead of offering their classic blue limited edition only but with a distinctive gray undertone added for special intrigue, This gives customers looking out for something interesting and exciting enough reason to get creative!
Analyst Predictions
Analysts have speculated that the iPhone 15 Pro Max will start at a higher price than its predecessors, although precise pricing details are unavailable.
Expected starting price
Analyst predictions suggest that the starting price of the iPhone 15 Pro Max in India could be higher than its predecessor model, with some forecasts suggesting a possible increase of $100 to $200.
| Region/Country | iPhone 15 Price | iPhone 15 Pro Price | iPhone 15 Max Price | iPhone 15 Ultra Price |
| --- | --- | --- | --- | --- |
| United States | $799 | $999 | $1,199 | $1,299 |
| Canada | $999 | $1449 | $1,299 | $1,499 |
| United Kingdom | £799 | £999 | £1,199 | £1,249 |
| European Union | €899 | €1,099 | €1,199 | €1,399 |
| Australia | AU$1,199 | AU$1,399 | AU$1,499 | AU$1,699 |
| India | ₹79,990 | ₹134900.00 | ₹159900.00 | ₹1,29,990 |
| China | ¥6,499 | ¥7,999 | ¥8,999 | ¥10,499 |
| Japan | ¥98,800 | ¥118,800 | ¥128,800 | ¥148,800 |
| South Korea | ₩1,199,000 | ₩1,399,000 | ₩1,499,000 | ₩1,699,000 |
| Hong Kong | HK$7,499 | HK$9,499 | HK$10,499 | HK$12,499 |
| Singapore | SGD$1,249 | SGD$1,449 | SGD$1,549 | SGD$1,749 |
| Bangladesh | BDT 150,000 | BDT 180,000 | BDT 210,000 | BDT 245,000 |
Table: iPhone 15 Different Variant Expected Price for Different Regions
DigiTimes reported that depending on storage preferences, the cost for an iPhone 15 Pro might range from $1,099 to over $1,199, and even though these are all estimates, they give us a potential estimate of what we might expect to pay for this new device in India when it is released.
Related Read: 20 Best Phones You Can Buy in 2023
However, due to high levels of speculation at this stage and subjectivity surrounding analyst predictions, there is still uncertainty as to what final price will be announced for the iPhone 15 Pro Max in India.
Comparison to current models
The iPhone 15 Pro Max is predicted to bring several enhancements and updates over the current models, a factor that is speculated to result in a higher price point. Here's a comparative summary of the iPhone 15 Pro Max and the current models:
| Metrics | Current Models | iPhone 15 Pro Max |
| --- | --- | --- |
| Price | Varies by the model | The expected increase of $200 or Rs 20,000 in India |
| Release Date | Already available | Speculated release in September |
| Design | Stainless steel frame | Predicted to feature titanium frames |
| Display | Depends on the model | Details not yet available, potentially higher resolution or new display technology. |
| Cameras | Varies by the model | Rumored to have enhanced capabilities and higher megapixel counts |
| Battery Life | Varies by the model | Expected to offer longer battery life |
| Software | iOS 14 | Expected to run on iOS 15 |
This comparison indicates that the iPhone 15 Pro Max will come with improvements in several areas, from design to software, which might justify the predicted price hike.
iPhone 15 Pro Max: Where to Buy in India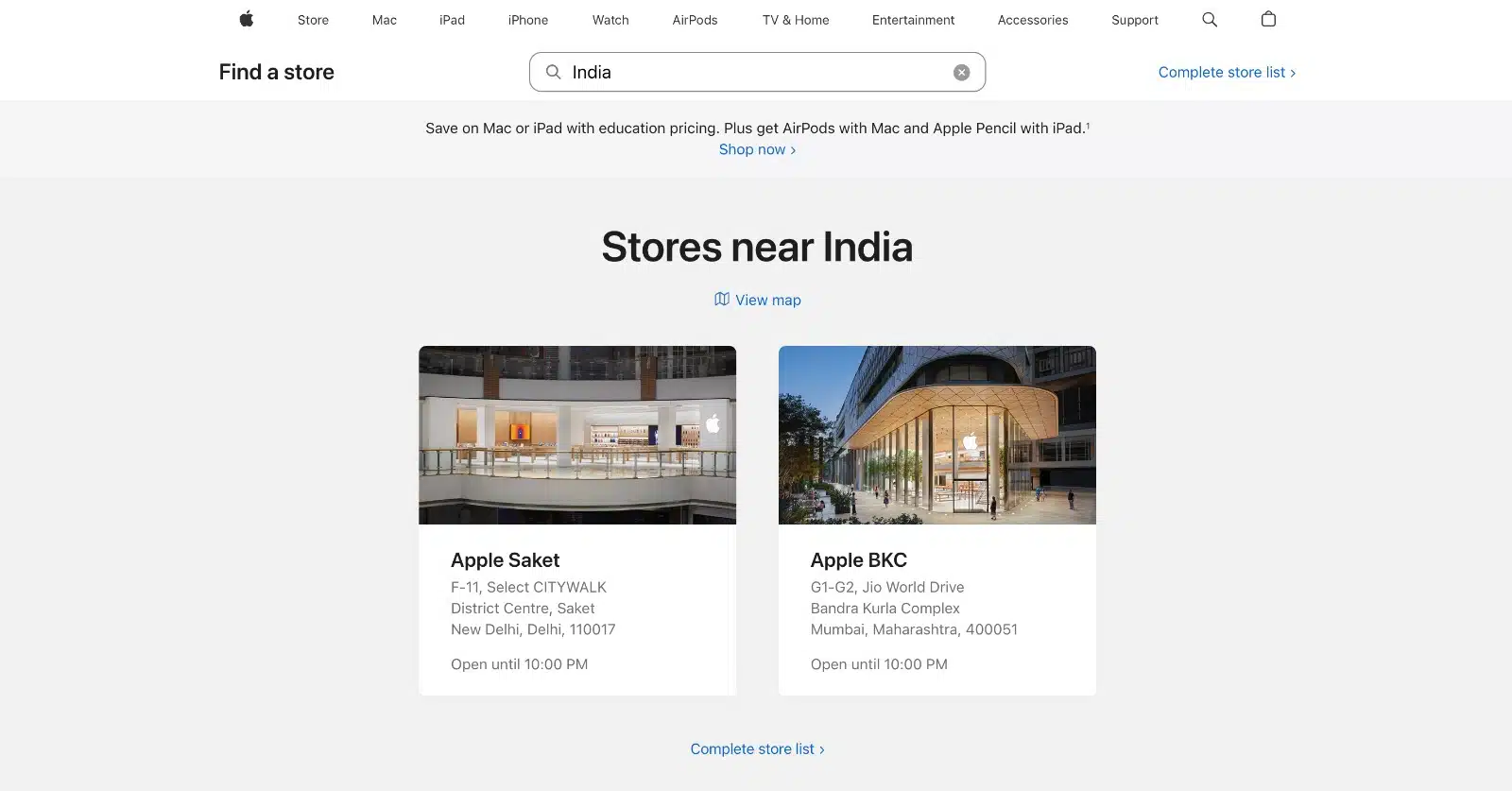 Apple Saket in New Delhi and Apple BKC in Mumbai are the two Apple-authorized stores in India. You can get the official iPhone 15 Pro Max from these stores when its available in the Indian market.
iPhone 15 Pro Max Features and Software
The iPhone 15 Pro Max is rumored to have enhanced 3D sensing capabilities, allowing users to unlock their device with only a glance.
Highlights of new features
An improved A17 Bionic chip with significantly faster performance and enhanced battery life.
Next-generation 5G connectivity.
Quad cameras feature a wide, ultra-wide, telephoto, and Time-of-Flight sensor for better depth sensing capabilities.
An enhanced OLED display with AL Planet ProMotion technology for smoother scrolling and an immersive gaming experience.
Upgraded stainless steel frames and durable ceramic glass make the device even more resistant to drops and scratches.
A revolutionary LiDAR scanner for improved light detection augmented reality applications, and night mode photography capabilities.
The return of Touch ID as the in-screen fingerprint reader is expected to be included with this model alongside Face ID unlock options and a secure password manager backed by Apple's strong encryption technology aimed at providing superior security and privacy features compared to previous iPhones.
iOS v15
iOS v15 is the iOS operating system that will be associated with Apple's upcoming iPhone 15 lineup, and many people are already speculating about its launch date. The new iOS version promises to bring many features and enhancements to the phone itself, such as enhanced camera capabilities, a newer A17 Bionic chip for better performance, improved battery life, and charging options.
Alongside these features, it also brings in the exciting SharePlay experience, which allows multiple users to share an immersive experience over FaceTime using their iPhones. It also boasts an updated design interface and various colors, making it alluring.
Such advancements make the iPhone 15 Pro Max one of the most sought-after models among smartphone enthusiasts flying high in global trends.
iPhone 15 Pro Max Design and Display
The iPhone 15 Pro Max is rumored to feature an all-new design, with its display boasting advanced HDR capabilities and a refresh rate of 120Hz.
Rumored design details
The iPhone 15 Pro Max is highly anticipated to introduce a completely new design compared to previous models, featuring slightly curved edges and thinner bezels. Additionally, many rumors suggest that the phone will have a more rounded-edge design than its predecessors and use titanium for the phone's body instead of aluminum or stainless steel.
This would create a sleek look and make the device more durable. Moreover, leaks have suggested that this new iPhone could come in several colors, including black, silver, gold, and rose gold finishes.
Furthermore, while there are no official confirmations about it yet, it is expected that the display size of the iPhone 15 Pro Max will remain similar to its predecessor's 6.1 inch Super Retina XDR OLED screen offering high-definition visuals with true tone technology features, including wide color gamut support from HDR content and an improved ambient light sensor ensuring better images even at night time.
Display Specifications
The iPhone 15 Pro Max is expected to have an upgraded and sleek Super Retina XDR OLED display that will measure around 6.1 inches across, with potential for a 'notchless' design and super-skinny bezels resulting in nearly full-screen access experience.
Rumors also suggest that the upcoming iPhone will use "Sensory Engine" technology for enhanced HDR (High Dynamic Range). The Sensory Engine technology is said to blend color tones ambitiously while significantly expanding the dynamic range and rendering rich details beyond what was possible with LCDs or existing OLED panels.
It also promises 2436 x 1125 pixels of resolution alongside Adaptive Frequency Bands, which lend themselves to refresh rates and greater power efficiency, thus providing longer battery life and comfortable refresh rate settings required for particular tasks.
To add even more interactivity through the touchscreen, Apple recently patented a 120Hz touch scanning system which brings built-in flexibility, enabling smoother scrolling, and generating smoother interaction when combined using Haptic Touch offered via a sensitive screen layer.
iPhone 15 Pro Max Cameras
Expected to offer a triple-lens main camera and up to 12 MP telephoto lens, the iPhone 15 Pro Max is a powerhouse in digital photography.
Enhanced camera capabilities
The iPhone 15 Pro Max is widely anticipated to feature camera improvements compared to its predecessor, the iPhone 14 Pro Max. Rumors suggest this device will have a periscope zoom lens, allowing for telephoto capabilities at greater distances.
Additionally, the wide and ultra-wide cameras on the phone are likely to have 48MP and 12MP resolutions, respectively. The previous models featured 12MP sensors on both these rear lenses.
Reports also point towards a LiDAR sensor being included in this model as well – a feature that first debuted on the iPad Pro 2020 range of devices, which allows for improved autofocus speed along with enhanced augmented reality (AR) features such as precise depth estimation for better photos and videos, especially under low light conditions.
Megapixel count
The iPhone 15 Pro Max will feature an upgraded 48-megapixel camera sensor, up from the 12-megapixel sensors of previous models. This could prove to improve image quality and overall camera performance significantly.
A higher megapixel count means more detailed images with better color accuracy, improved dynamic range, less noise or graininess, and increased low-light capability. This marks a big jump in image quality across Apple's flagship devices, as the standard iPhone 14 also features a similar upgrade to 48 megapixels.
The Pro Max variant stands out because it promises to have even higher resolution cameras thanks to its triple rear lens system, making it ideal for professional photographers and videographers looking for top-notch results on their phone cameras.
Battery Life and Charging
The new iPhone 15 Pro Max will have improved battery life, offering up to 10 hours of video playback and 18 hours of talk time. Explore the fast charging options available for this phone to keep it powered up quickly.
Estimated battery life
The iPhone 15 Pro is rumored to have a larger battery with a 3,650 mAh capacity than the previous model's 3,200mAh. According to Apple, this could give users up to 17 hours of video playback on a single charge, an improvement over earlier models.
The iPhone 15 Pro Max has been rumored to feature an even larger 4,852 mAh battery, allowing users more internet usage and gaming time away from their outlet. Both models are expected to benefit from the new A17 Bionic chip, allowing them more efficient power use and increasing battery life even further than what would be achievable with older chipsets.
With intelligent charging capabilities such as fast-charging and low power mode available in both devices, these phones can likely stay charged throughout any daily activity, no matter how long it lasts during those frantic days on the go.
Charging options
The iPhone 15 Pro Max is rumored to include various charging options. It is expected to have faster charging speeds that range up to 35W, allowing users to recharge the battery in just two hours. Wireless charging is another potential option, and it allows for hands-free convenience.
Other rumored features, such as "Reverse Charging," may also be included, which could allow you to wirelessly transfer power from your phone, providing enough juice for other USB-enabled devices while connected via Bluetooth. USB-C fast charging provides a faster way of recharging your device than wired lightning cables or wireless charge pads.
Finally, consumers should consider Magsafe connectors as they provide easy magnetic connections, offering quick alignment and 10W of power, potentially saving time when connecting accessories like headphones and docks.
Frequently Asked Questions (FAQs)
Check the answers below to learn more about India's iPhone 15 Pro Max price.
1. How much does the iPhone 15 Pro Max cost in India?
The iPhone 15 Pro Max costs ₹159900.00 in India (Starting).
2. What features are included in the new iPhone 15 Pro Max?
The iPhone 15 Pro Max includes features such as a 6-inch Super Retina XDR OLED display, A14 Bionic processor, and 5G connectivity support.
3. Is there any good deal for buying the iPhone 15 Pro Max?
Yes, you can purchase the phone bundled with certain accessories or on an installment plan to get some discounts and deals.
4. Where can I find updates about the latest models of iPhones?
You can stay updated about all the latest iPhone models by visiting the official Apple website or subscribing to their YouTube channel.
5. How long will it take to receive my order of an iPhone 15 pro max once purchased online?
It generally takes 3-4 business days for your delivery if you have ordered your phone online with standard shipping mode
Subscribe to Our Latest Newsletter
To Read Our Exclusive Content, Sign up Now.
$5/Monthly, $50/Yearly