iPhone 15: Expected Price in Bangladesh [Latest Updates]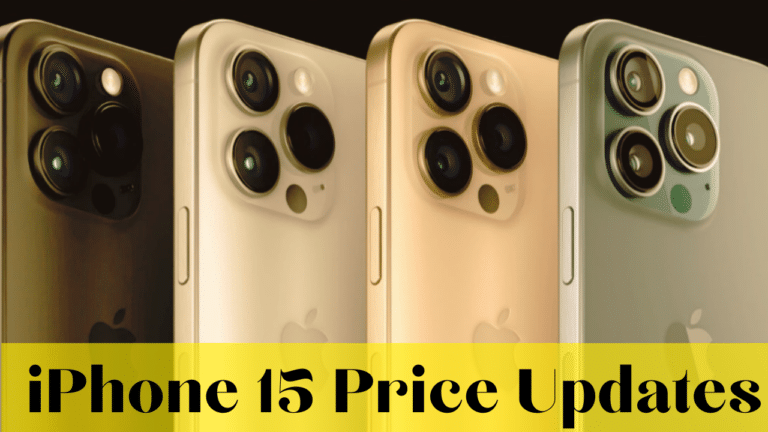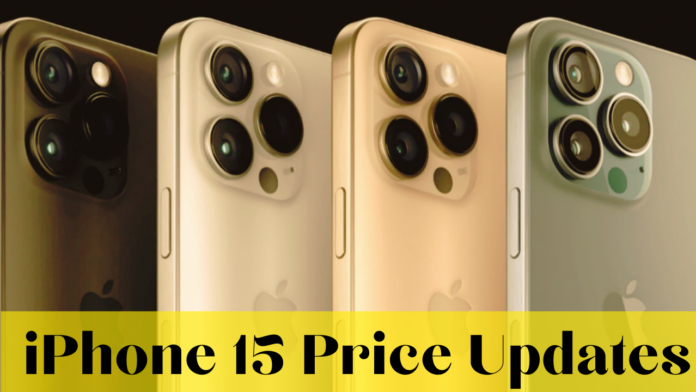 Wondering what the new iPhone 15 holds in store for phone enthusiasts? Here's a fascinating peek into it: rumors hint at an upgraded A17 Bionic chip, enhanced design features, and potentially significant price adjustments.
This blog post will be your comprehensive guide to everything we know about the latest iPhone 15 price in Bangladesh. Ready to embark on this technologically exciting journey? Let's delve right in!
Content Highlights
The iPhone 15 might have new features like an A17 Bionic chip, a USB-C port, and a completely different body made from titanium.
Rumors suggest advanced camera options in the Pro models. One is a periscope lens for high zoom levels.
It may come out on September 12th, 2023, with four storage sizes up to 2TB for the Pro models.
The expected price is about $1,099. Be ready to pay more money for these cool extras!
A Brief Overview of iPhone 15
Unveiling the iPhone 15, Apple continues to impress with its phone series. The anticipated model is set to come in varying designs —the regular iPhone 15 accentuated by a 6.1-inch display and dual rear cameras. In contrast, others like the iPhone 15 Pro and iPhone 15 Pro Max are expected to sport advanced features such as an A17 Bionic chip and additional RAM for superior performance.
Taking a departure from previous models, all four versions will bid farewell to Lightning ports, instead presenting a more ubiquitous USB-C port ensuring broader compatibility across devices.
One of the most noteworthy updates lies in Apple's choice of material. Opting for durability paired with less weight, they have replaced stainless steel, predominantly present on earlier models, with titanium on their newer Pro series' including both the iPhone 15 Pro and iPhone 15 Pro Max, rendering them lighter than ever before.
With these advancements at hand, it highlights how Apple keeps innovation at its forefront, always striving for perfection!
Latest Updates on iPhone 15
Stay tuned for the most recent updates and rumors surrounding the iPhone 15, one of Apple's highly anticipated releases. Speculation today covers everything from its potential launch date to exciting new features you can expect.
News and Rumors
The latest whispers are circling the web about the iPhone 15. Some say it may have a big surprise in store for us. Gossip tells of a model with an all-new action button and an eye-catching titanium body! Our ears also caught news of Pro models rolling out with larger batteries and exciting camera upgrades.
One standout feature might be the periscope zoom lens, which could offer a massive 6x optical zoom.
Chatter doesn't stop at design tweaks alone, though! The tech world is also buzzing over possible changes under the hood, like Apple's A17 Bionic chip powering the iPhone 15 Pro and Pro Max series and extra RAM.
What does this mean? We could see faster iPhones running more stuff simultaneously without slowing down or consuming battery life.
Predicted Release Date
The iPhone 15 will show up on September 12th, 2023. This date is the top pick for Apple lovers around the world. So, mark your calendars now! You'll soon have a chance to see what's new in this model.
The wait isn't long to get this cool phone in your hands!
Anticipated Name of iPhone 15
We are still waiting to hear what the iPhone 15 will be called. The new name is a well-kept secret right now. Apple has not told us anything yet. There have been leaks, but none ring true enough.
A few believe it might be named "iPhone 15". Others feel the phone could have "Pro" or "Max" in its name like past models. Some even think there may be an "Ultra" model this time.
As eager as we are, we'll need to wait for any news from Apple. They always surprise us with their product names!
Expected Price of iPhone 15
The iPhone 15 Pro may cost you more. You might need to shell out about $1,099 to own this future Apple gadget. That is a jump from the price of the iPhone 14 Pro. So, if you are considering getting the new iPhone 15 Pro, save now! It will not come cheap, but it's sure to pack many cool and advanced features that are well worth your money.
| Region/Country | iPhone 15 Price | iPhone 15 Pro Price | iPhone 15 Max Price | iPhone 15 Ultra Price |
| --- | --- | --- | --- | --- |
| United States | $799 | $999 | $1,099 | $1,299 |
| Canada | $999 | $1,199 | $1,299 | $1,499 |
| United Kingdom | £749 | £949 | £1,049 | £1,249 |
| European Union | €899 | €1,099 | €1,199 | €1,399 |
| Australia | AU$1,199 | AU$1,399 | AU$1,499 | AU$1,699 |
| India | ₹79,990 | ₹99,990 | ₹1,09,990 | ₹1,29,990 |
| China | ¥6,499 | ¥7,999 | ¥8,999 | ¥10,499 |
| Japan | ¥98,800 | ¥118,800 | ¥128,800 | ¥148,800 |
| South Korea | ₩1,199,000 | ₩1,399,000 | ₩1,499,000 | ₩1,699,000 |
| Hong Kong | HK$7,499 | HK$9,499 | HK$10,499 | HK$12,499 |
| Singapore | SGD$1,249 | SGD$1,449 | SGD$1,549 | SGD$1,749 |
| Bangladesh | BDT 150,000 | BDT 180,000 | BDT 210,000 | BDT 245,000 |
Table: iPhone 15 Different Variant Expected Price for Different Regions
Design Features of iPhone 15
The iPhone 15 may have new features such as a titanium body for increased durability, slimmer bezels for an edge-to-edge visual experience, and potentially replacing physical buttons with haptic versions for a sleeker interface.
Rumors also suggest that Apple could introduce a new action button ramping up the accessibility quotient of its device.
Titanium Body
The iPhone 15 Pro models will have a titanium body. This change makes the phone lighter. But, it can make the price higher compared to old iPhone versions. Titanium is strong and can keep your phone safe from harm.
It shines brightly, too, giving your phone a sleek look.
Related Read: iPhone 15 Sales
Slimmer Bezels
The iPhone 15 may have skinnier bezels than its older kin. This change could make the phone's size smaller. It can also lead to a better viewing time on screen. The eye-catching design is an added good thing about having slimline bezels!
Haptic vs. Physical Buttons
One of the notable design changes predicted for the iPhone 15 is the switch from physical to haptic feedback buttons. To give you a clearer understanding, let's compare these in the table below:
| Haptic Buttons | Physical Buttons |
| --- | --- |
| These buttons use haptic feedback technology. When you press them, you feel a vibration or movement that simulates a 'click.' | These are traditional buttons that move when you press them. They provide a tactile response, so you know you've pushed the button. |
| Haptic buttons are embedded in the phone's surface. This can make the phone's design sleeker and more streamlined. | Physical buttons protrude from the phone's surface. This can interrupt the phone's smooth design. |
| These buttons are generally more durable because there are no moving parts that can wear out or break. | Physical buttons can wear out over time and may require replacement. |
| They're more water and dust-resistant because they're sealed within the phone. | Physical buttons can be vulnerable to water and dust because they create openings in the phone's surface. |
Switching to haptic buttons could significantly improve the iPhone 15's durability and aesthetic appeal. However, some users might miss the tactile sensation of physical buttons.
Potential New Action Button
The new iPhone 15 might come with an Action Button. This is a major change for this phone model. The Pro models will probably use the Action Button instead of the mute switch that past iPhones had.
This Action Button could do many things. It can give you quick access to features like camera settings or help people needing special tools use their phones better. We don't know what it can do yet, but we are sure it will be useful!
Color Choices for iPhone 15
You have a lot to look forward to with the iPhone 15 colors. Apple might bring bold and rich shades for your favorite gadget. Here is what we know:
A dark red color option could make its debut.
Silver, gold, and graphite may be featured again.
Some new shades, like space gray or space black, could enter the scene.
Dark blue could be a choice for those who want something different.
The regular models might come in basic colors such as green, yellow, and pink.
Display Specifications of iPhone 15
The iPhone 15 will have a very clear, high-quality screen. The screen size for the smaller models will be 6.1 inches. Larger models like the Pro and Pro Max will boast a bigger 6.7-inch display.
Each iPhone 15 model has strong glass to protect your screen from harm or scratches. Enjoy vivid colors and sharp images on any of these options!
Storage Options for iPhone 15
There's big news about the iPhone 15 Pro models. They may have more space than ever before.
Apple might offer four storage options: 256GB, 512GB, 1TB, and a huge 2TB.
This change means more room for your files, apps, and media.
No matter what you need to store, you should have an option.
But keep in mind that with more space comes a bigger price tag.
The iPhone 15 Pro models show how much people want storage in their phones. People want plenty of room, and Apple is listening.
Camera Features of iPhone 15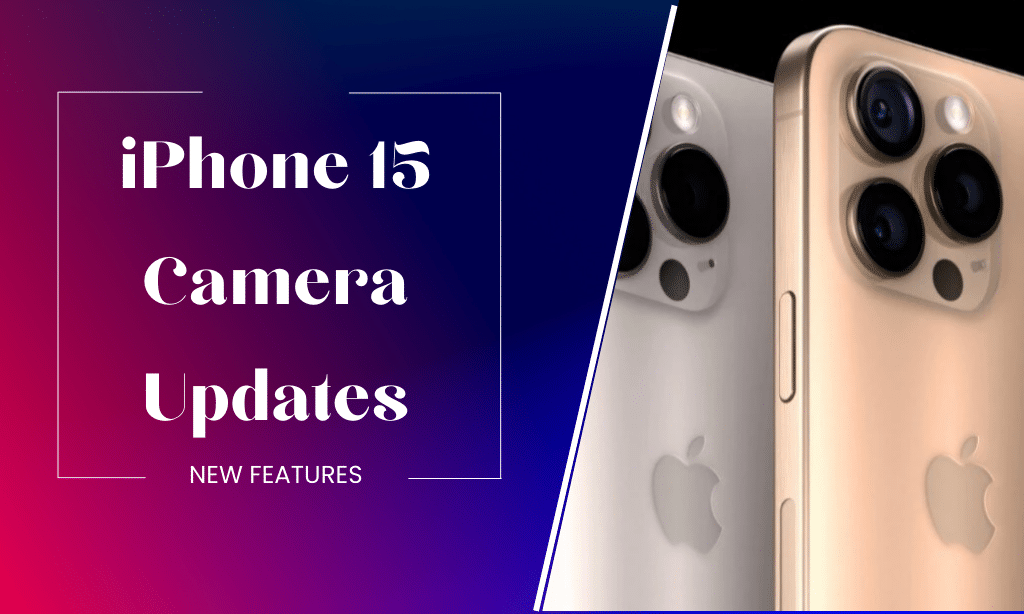 The iPhone 15 is anticipated to sport revolutionary camera features, including a periscope lens and other advanced elements, poised for an unrivaled photography experience. Explore what we can expect from the iPhone 15's transformative camera technology.
Periscope Camera Lens
The iPhone 15 Pro Max might get a new camera. It's called a periscope lens. This could make far-away things look close in your photos. The lens can zoom more than older iPhones. With this new part, the whole camera of the phone gets better.
It helps you take great shots from any place or distance!
Other Camera Features
You will get other cool camera features with the iPhone 15.
One camera can zoom in far. This will be on the Pro Max model. It will have a periscope lens.
Both the regular iPhone 15 models will get an upgrade for their main cameras. The new camera will have a 48MP sensor for better picture quality.
The pictures you take in low-light places will also look better. This is because of the improved 48-megapixel camera on the iPhone 15 and iPhone 15 Plus.
You can still find three cameras at the back of the iPhone 15 Pro. This setup lets you take different types of photos.
Processor and Specs for iPhone 15
The iPhone 15 is expected to be powered by the hyper-efficient A17 Bionic chip, promising unparalleled performance and swift processing speeds. But what other specs are rumored? Click here to unveil the incredible details!
A17 Processor
The iPhone 15 Pro models will be very fast. They will have a new A17 Bionic chip. This chip boosts the phone's speed by 15 percent. It also cuts how much power the phone uses by 30 percent.
The regular iPhone 15 models do not use this chip. They use an older one called the A16. But both chips ensure your phone works well and do not waste energy.
Other Specs
You can look forward to more than the A17 Bionic chip in the iPhone 15. Here are some other specs that make it a great pick:
All four models sport a USB – C port, not Lightning.
Weight loss is a bonus with Pro models made from titanium, not stainless steel.
The mute switch makes way for a new Action Button on Pro models.
Larger batteries mean longer use for every model from this line-up.
An improved main camera has a 48MP sensor for sharper pictures on the regular iPhone 15 models.
More RAM in the Pro models boosts speed and overall performance.
You May Find Interest: iPhone 15 Best Wallpaper Download
Connectivity Options on iPhone 15
Stay connected with the world via iPhone 15's advanced connectivity options, supporting Wi-Fi 6E and boasting 5G Compatibility. Wondering how these features would enhance your internet experience? Dive right in to discover more!
Wi-Fi 6E Support
The iPhone 15 will have Wi-Fi 6E support. This means faster and better web speeds for you. With Wi-Fi 6E, there's less jam on your network. It also gives a big lift to the phone's action.
But this could make the iPhone 15 cost more.
5G Compatibility
The iPhone 15 shows up with 5G support. You can use it on any 5G network around the world. All four models are fit for this – the iPhone 15, Pro, Plus, and Pro Max. This makes web browsing and streaming super fast.
Also, expect less buffering when watching videos or playing games online with a 5G network. Now you will get great speed even in crowded places! But keep in mind it all depends on where you live and which service provider you have.
iPhone 15 Battery and Charging Features
Speculations hint at a larger battery and quicker charging times in the iPhone 15 lineup. To truly understand what's coming, stay tuned for further updates.
Expected Battery Life
The iPhone 15 is said to have a sturdy battery. Its battery size could be larger than the previous models. For instance, the iPhone 15 Pro might get a big jump. It may sport a 3,650mAh battery that's about 14% bigger than the iPhone 14 Pro! Plus, all four types of this new phone are expected to have bigger batteries.
It means you can use your phone longer between charges.
Charging Speeds
The iPhone 15 will charge fast. Non-MagSafe parts can give it up to 15W power. The Pro models are even better! They can get as much as 35W from a wire. The USB-C cable that comes with the iPhone is nice too.
It might be half as long, at 1.5 meters.
Additional Anticipated Features and Software Updates
Let's spill the beans on more cool things about the iPhone 15.
Apple may swap the Lightning port for a USB-C one. It would make the iPhone 15 work better with other devices.
If rumors are right, there may be a new Action Button on iPhone 15 Pro models. This button could take the place of the mute switch.
The iPhone 15 series might officially use USB-C gear that fits Apple's Made for iPhone (MFi) rule.
The Pro models might power up using a USB-C plug and move files faster.
Should You Wait for the iPhone 15?
You may be eager to get the new iPhone 15. It has a lot of cool stuff! There's a fancy A17 Bionic chip in it. The Pro and Pro Max models also have more RAM. Plus, with its sharp camera lens, you will see the world through fresh eyes.
But don't rush just yet. New phones always cost a lot at first. Prices often drop after some months pass by.
Consider what features matter most to you before making your choice. If speed is key for you, or if you're big on photography, this phone could be worth the wait!
On the other hand, maybe your current phone works well enough now? You might want to keep using that one while waiting for prices to come down or until your old one needs replacing.
Frequently Asked Questions (FAQs)
You can check below if you still have queries about the iPhone 15 price in Bangladesh.
1. When is the iPhone 15 release date?
The iPhone 15 release date has not been set yet, but keep an eye out for updates.
2. How much will the iPhone 15 price be?
We can't say the exact iPhone 15 price right now. But we hope to have more info very soon.
3. What are some of the possible new features of iPhone 15?
Rumors hint at triple rear cameras with improved zoom, bigger screens, and enhanced battery life on the new iPhones.
4. Who makes iPhone displays, and will there be a change in this regard for iPhone 16?
LG Display usually makes screens for iPhones, but there might be changes when discussing future models like the iPhone 16 or Fold version.
5. What performance improvements can we expect with the iPhone's next-gen model?
IPhone's next-gen model may house an A16 chip, which could offer faster data transfer speeds powered by advanced nanometer technology, offering better performance than earlier versions.
6. Can you tell something about the color choices that Apple gives its users?
Apple often presents iPhones in various shades; Green, yellow, and pink color choices might pop up depending on market trends as it seeks to cater to a wide range of customer preferences.