Gravitec Review 2023 – One of the Best Web Push Notification Software
Listen to the Podcast:
Are you looking for a reliable, cost-effective way to monitor your website? Then check out Gravitec review – the leading website monitoring service. Gravitec is an award-winning push notification service that automates campaigns and brings more traffic to your website using the push notification feature. 
The push notification is a great idea, and I was surprised it hadn't been done before. It's a great way to reach out to your customer, ask for feedback, keep on top of your customers, and keep them informed of what's going on with your product. In this Gravitec review, we'll look at Gravitec's features, pricing, and more so you can decide if it's the right choice for your business.
What is Gravitec?
It automates sending notifications to users, allowing them to customize the look and feel of their notifications, timing, and content.
Gravitec is a web-based push notification tool that helps websites and businesses stay connected with their customers, increase engagement and conversions and keep their online presence alive.
With Gravitec review, businesses can easily migrate from one platform to another and access powerful analytics to understand the performance of their notifications. Additionally, it has various automation features that enable users to create automated campaigns triggered by user actions.
Read More: Radaar Review
Top Features of Gravitec
Gravitec offers numerous features to help you automate sending push alerts to your users. You can customize the messages and use their A/B testing feature to determine which messages yield the best results. You can also use their segmentation feature to target specific groups of users based on their preferences and behaviors.
Gravitec also allows you to track engagement and analyze user demographics, giving insight into your campaigns' performance. With Gravitec review, you can easily manage your campaigns and make changes as needed to maximize engagement and drive conversions.
Create A Campaign
The option to create a campaign is easy and works a lot like other push notification providers. You can make a push notification by setting the push notification's Title and Text. For URLs, you can either type them in by hand or use the Autofill option, which will try to get the link from your RSS feed automatically.
You can also add UTM parameters and choose whether the push notification should be sent immediately or at a particular time. There is also the Time To Live (TTL) option. So, if you only want your users to see your Black Friday offer for one day, they won't see your push notification after one day.
There is also a Quick Mode option. All you have to do is add the URL of your post or page. Gravitec will automatically pull the Page Title, Meta Descriptions, and Featured Image and use them as the Title, Text, and Push Notification icon for your push notification. You can make changes before sending the push notification, of course.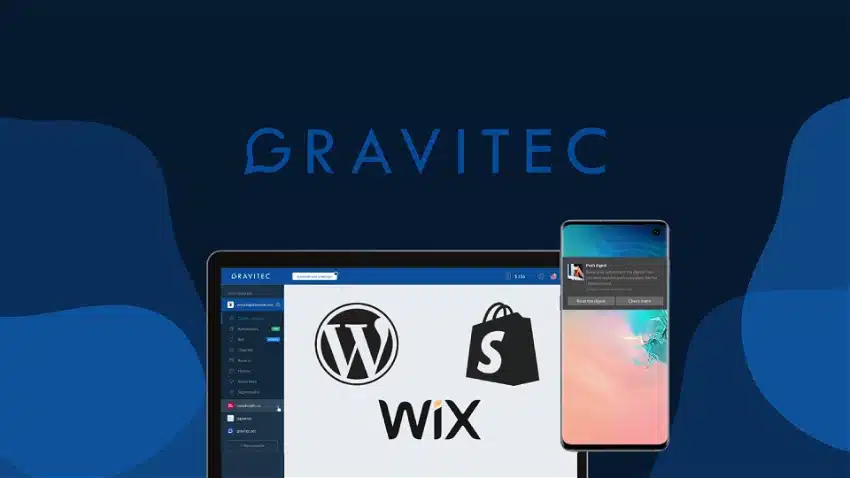 It Provides Automated News Delivery
Send breaking news and the most recent updates directly as push notifications from your RSS Feed. You can send your subscribers the most popular information at a particular time. It has a feature called "Smart Digest," which sends news and updates to your subscribers that they haven't seen yet.
It Lets Your Subscribers Communicate with You
With a push inbox, subscribers can see and read through all your notifications. Visitors to your site can always resubscribe to your notifications with just a button. Your subscribers can be pickier about the notifications they get and limit the number of them based on the categories they are in.
It Allows Customization for Your Permission Prompt
All you have to do is choose where and how the notification prompt will appear. You can make the quick look different on mobile and desktop and make the prompt work in multiple languages. Choose when and where you want your prompt to show up.
RSS
The RSS option shows you all the pages on your website, along with information like how many people have visited each page and whether or not you have sent a notification for that URL.
You can send a push notification for that page or post by clicking on the arrow in the Action column.
Permission Prompt
The Permission Prompt is an option you can change to fit your needs. You must choose where the prompt goes and set up different prompts for smartphones and desktops. By making your permissions available in multiple languages, you can reach a wider audience and choose when the prompt should appear.
Especially for New Subscribers
Gravitec lets you connect with new subscribers as best as possible and keep them interested in your new messages and campaigns. New subscribers are told about the Drip campaign, a series of emails to keep your new subscribers.
How Does Gravitec Work?
Gravitec is an automated push notification service that helps boost your business and better engage with customers. Through Gravitec review, companies can send personalized notifications to their customers' devices, informing them of new offers, discounts, and other news. The messages can be transmitted through web browsers, email, or text. Gravitec also provides businesses with various tools to track user engagement and performance.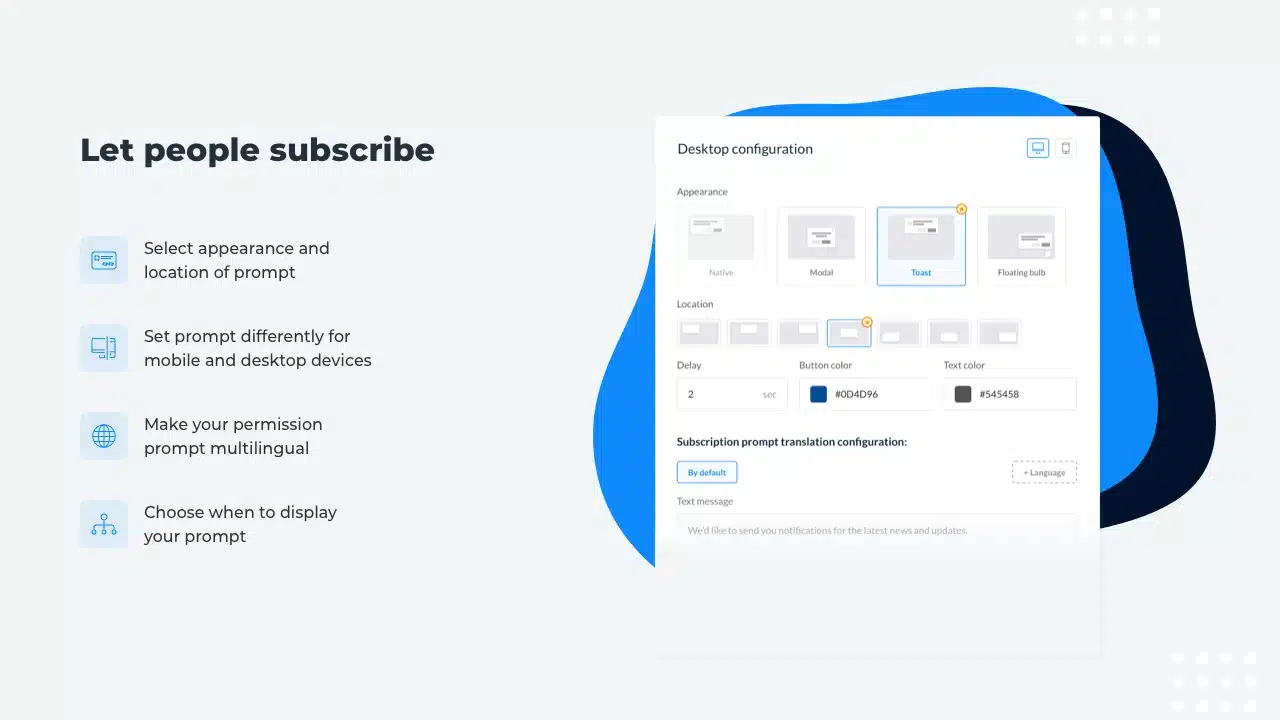 This allows companies to understand their customer's behavior better and tailor their notifications accordingly. Gravitec also offers automated campaigns and segmentation features that enable businesses to send tailored information to specific audiences. Additionally, the service provides user segmentation tools that allow companies to target specific customer groups with different messages. With these features, Gravitec helps businesses create more effective customer communication strategies.
How to Set Up Gravitec?
Setting up Gravitec is incredibly easy and fast. All you need to do is install and activate the WordPress website plugin, which only takes a few clicks. From there, you can configure the service in around 10 minutes or less. You can set up your automated push notifications quickly and have plenty of options to ensure they look great. Additionally, Gravitec offers an intuitive dashboard with helpful features and options. With Gravitec review, you can create unique campaigns in no time that will help you reach your audience and get them engaging with your content.
Benefits of Using Gravitec
Gravitec provides a host of benefits for its users, including improved user engagement, higher conversion rates, and, ultimately, better ROI. With Gravitec review, you can easily customize campaigns to target specific audiences and personalize messages to increase engagement and reach new customers. Additionally, the platform's automation features ensure that customers receive messages at the right time and with the right content. 
This helps you to avoid overwhelming your audience with too many notifications and ensures that the messages you send are relevant. Finally, the platform's analytics features allow you to track user activity and gain valuable insights into your customers' behavior. You can optimize your campaigns for maximum success by using these features.
Also Read: Mobile App Features for Business
Pricing and Plan
Gravitec offers two plans, a Free Plan and a Business Plan. The Free Plan is free for up to 10K subscribers, with no charge for additional notifications. Meanwhile, the Business Plan has unlimited push notifications and access to advanced features like automation and segmentation. Pricing starts at $99 per month and increases depending on the number of subscribers. However, the cost per subscriber decreases with each additional subscriber. This makes Gravitec an affordable option for businesses of all sizes.
Plan Free
Up to 10,000 people can sign up.

It's a plan for one person.

Any number of alerts

Not much automation

Integrations and features galore

It helps with technical issues.
Business Plan
Unlimited people sign up

Anyone can use it.

Any amount of automation

Any number of alerts

Integrations and features galore

Provides priority help

It has a calm API.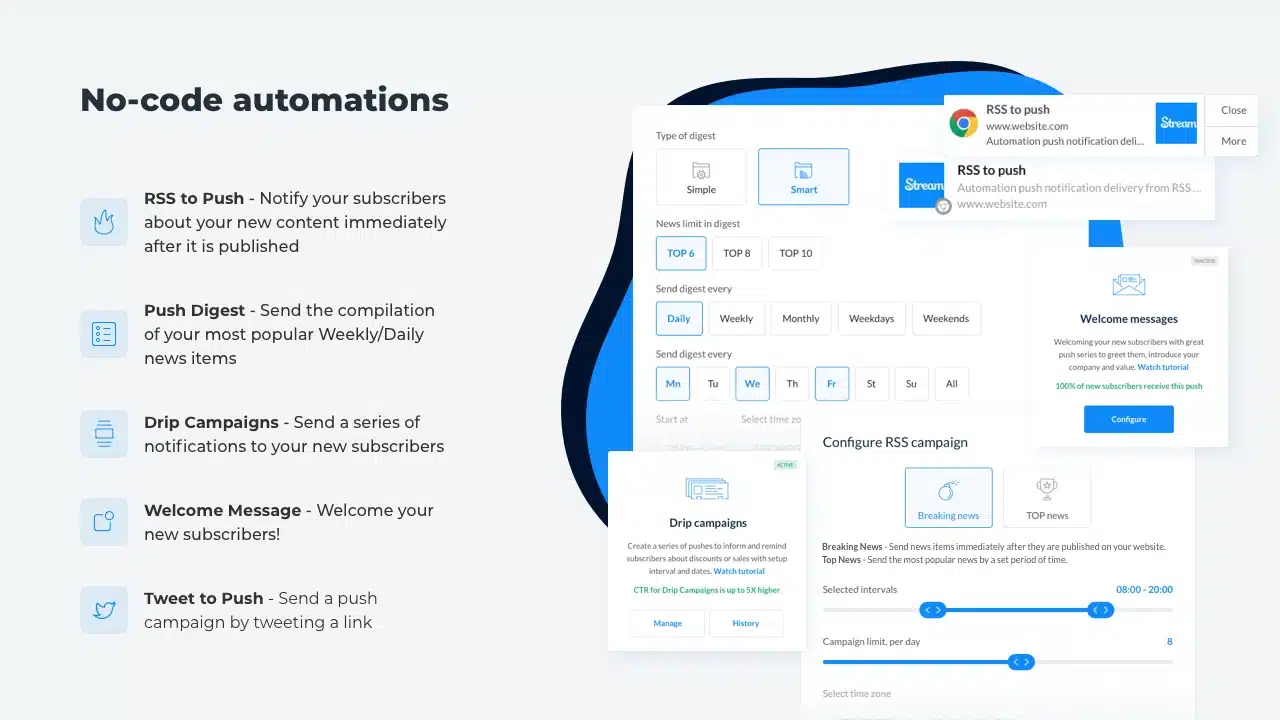 Gravitec Automation Features
Gravitec's automation features make it one of the most intuitive and powerful push notification services on the market. With its automated news delivery, you can easily create campaigns and send notifications to any device with just a few clicks. You can also personalize your notifications with Gravitec's advanced segmentation options, allowing you to target specific users or segments of users with tailored messages.
Additionally, Gravitec review will enable you to set up triggers for automated messages, ensuring your customers receive the most up-to-date information. With its comprehensive automation features, Gravitec makes it easy for developers to keep their customers informed and engaged.
How to Create Automated Push Notifications with Gravitec?
Creating automated push notifications with Gravitec is a breeze. With just a few clicks, you can set up an automated push campaign to send messages to your subscribers. You can also create drip campaigns, allowing you to send multiple notifications over time. Additionally, Gravitec review offers automated news delivery, daily and weekly news digests, and detailed analytics to help you track the performance of your campaigns. These features make Gravitec an ideal choice for businesses seeking to increase reach and engagement.
Gravitec vs Other Push Notification Tools
Gravitec is one of the top-rated push notification services on the market, with an average rating of 4.7 from users. It's also one of the most affordable options, with a lifetime deal making it an even better value. Gravitec is designed to automate content for platforms like blogs, eCommerce, and software.
Gravitec stands out due to its automation features and personalization capabilities compared to other push notification tools. It also offers different pricing plans that make it affordable for businesses of all sizes. Additionally, setting up Gravitec is relatively easy and requires minimal technical knowledge.
Advantages of Using Gravitec for Automated News Delivery
Gravitec offers numerous advantages for automated news delivery. It is a web-based platform that makes sending push notifications to any device easy. The intuitive user interface allows users to easily create and manage campaigns, while the powerful analytics feature provides insights into user engagement.
Additionally, Gravitec review offers various customization options, allowing users to tailor their campaigns to fit their needs. With its advanced segmentation capabilities, users can target audiences with the right message at the right time. With Gravitec's automated push notifications, marketers can reach their target audiences quickly and efficiently, making it an ideal solution for keeping users informed and engaged.
Is Gravitec Worth It?
Gravitec is worth it for those looking to increase traffic, conversions, and engagement with their website and app. It offers powerful features like automated push notifications and an easy-to-use interface for setting up campaigns. The results have impressed many customers, with reported increases in conversion rates and user engagement.
Gravitec review also provides excellent customer service, making it a great choice for those looking for a reliable push notification provider. With its competitive pricing, Gravitec is worth considering for any business looking to get the most out of its push notification campaigns.
You can Read: Mobile Trading Apps
Pros and Cons of Gravitec
Pros
Lifetime Subscriptions for free

Guaranteed Sign-ups

There are no costs for the features.

A quicker and simpler way to get more customers.

It is easy to set up and use RSS automation.
Cons
The reports are pretty simple.

You can't split things up on the subscription page.
Conclusion
In conclusion, Gravitec is an excellent choice for a comprehensive push notification and marketing automation solution. It offers an impressive range of features, is easy to set up, and is affordable. Furthermore, it provides an array of automation features that can help streamline your workflow and save time.
If you are looking for a reliable tool to manage your push notifications and marketing campaigns, then Gravitec is worth considering. Additionally, if you need help with the setup or have questions about the software, contact their training advisors at 1-800-755-8455.
Frequently Asked Questions (FAQs) about Gravitec Review
What is a Web Push Notification?
Web push notifications are short messages sent from a website to people who have signed up for them through their browsers. These messages are also called "browser push notifications." Messages are used to talk to subscribers right away. A notification on a subscriber's device appears on top of all open windows, but only if their browser is active. Web push works on both mobile phones and desktop computers.
Is Gravitec a good Push notification provider?
Gravitec is one of the best push notification providers I tried out. Setting it up is simple, and the features are great.
Is Gravitec a reliable Push notification provider?
Gravitec is very reliable, yes. Their team works all the time to improve the tool.
Is Gravitec Systems an excellent company to work for?
Gravitec Systems has an overall rating of.0 Average Rating out of 5 is 100% lower than the average rating for all companies on CareerBliss. This is based on the anonymous reviews of over 2 Gravitec Systems employees. 50% of people at Gravitec Systems would recommend it to someone else.
Who can use browser push notifications?
Push notifications work on almost all browsers but only for HTTPS websites. Gravitec lets websites that use HTTP and HTTPS subdomains use web push. So, any website can use push technology and send notifications to its subscribers.
Subscribe to Our Latest Newsletter
To Read Our Exclusive Content, Sign up Now.
$5/Monthly, $50/Yearly