Flexclip Review – Is It the Best Video Editor for Professional Task in 2023?
Listen to Podcast:
Are you looking for Flexclip Review? It is new video editing software to create captivating content. FlexClip is here to make your life easier! In this Flexclip Review 2023, we'll take a look at the features and benefits of using FlexClip in 2023. Plus, we'll compare it to other popular video editing software to help you decide if it's the right choice for you.
For a long time, making and editing videos has been one of the jobs that require the most thought. It was hard to find good publishers because there weren't many places to get industry-specific training, and the software that was out there was hard to use and very expensive.
All of this has changed, though, in the past few years, mostly because of the rise of video editors with easier interfaces and more elegant features to help users change their work. This is true of FlexClip, which is the best online video editor for both beginners and experts. In this FlexClip review, I'll show you what it can do and how it can help you.
What is FlexClip?
FlexClip is a good online video editor for people who are just starting out. With this software, you can quickly make videos that look great. FlexClip editor is all about making it easy to be creative. It has a huge library of stock footage and hundreds of video templates.
Slideshows, video essays, invitations, vlogs, ads, and promotional videos can be made by anyone. With the features of FlexClip, you are good to go. And to top it all off, it's free software for editing videos. But for this FlexClip review, I signed up for a Business Plan so I could try out all of its extra features.
Read More: Klickxcopy Review
Overview of Flexclip Review 
FlexClip is an online video editor that makes it easy for anyone to create professional-looking videos in minutes. It has powerful video editing tools, including cropping, splitting, text, recording, music, watermarking, and more. With no learning curve and high-quality videos, FlexClip is an ideal choice for those who are looking for an easy and efficient way to create videos.
It is available on Amazon, and users can purchase it for a reasonable price. With FlexClip, users can create stunning videos quickly and easily, making it the perfect choice for video marketing and content marketing. That is why customers' opinion about Flexclip review is good.
Read Also: Memberowls Review
Flexclip Review and Its Features
With the new opacity feature in Flexclip review, When it comes to features, Flexclip has a lot to offer. The video editor includes powerful tools such as cropping, splitting, text, recording, music, watermarking, and more. It also provides users with high-quality video from its wide range of high-resolution media libraries. With these features, you'll be able to create professional-looking videos in minutes, without needing any prior knowledge or experience in video editing.

Video Editing Tools
The software for editing videos has different sections for different kinds of editing.
FlexClip Video Maker
A storyboard is a workflow, and linear video editing is used. You can bring files in from your computer, hard drive, or memory card. You can also use FlexClip's impressive media library to find content.
The process of editing videos with FlexClip is quick and easy. You can add things like text, shapes, transitions, and other special effects after production with simple controls like drag-and-drop and one-click. Changing the speed, lighting, and orientation of a video is easy because you can change these things very quickly. The controls for slow-motion and fast-forward are especially impressive.
Once you're done, click "Export" in FlexClip, and your video will be ready to download in a few minutes.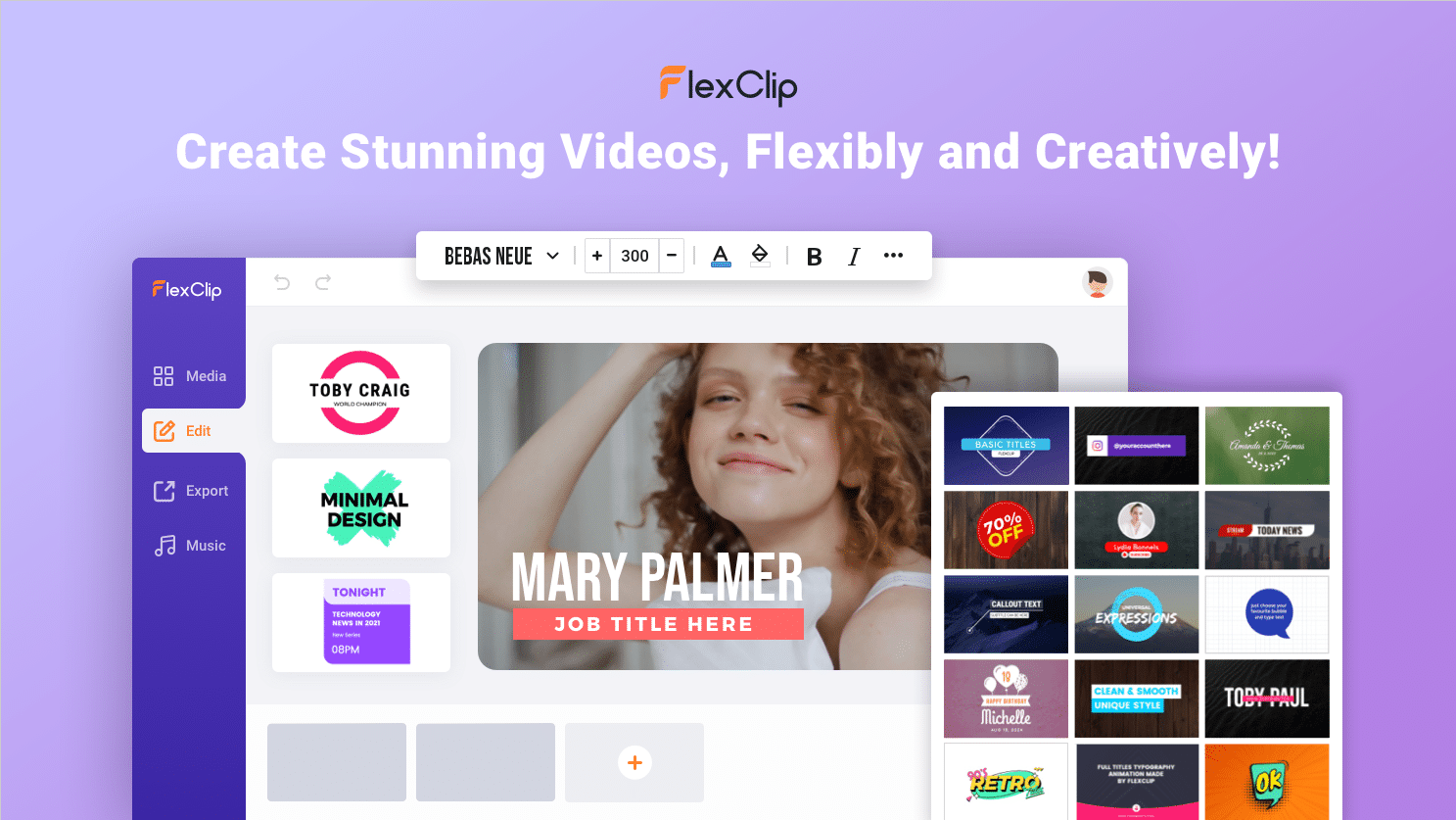 FlexClip Video Trimmer
You can cut out parts of your video with FlexClip by just dragging your cursor. You can be creative with the software by using a jump cut, an axial cut, a cutaway, a match cut, a smash cut, a parallel cut, or a cross-cut.
FlexClip Video Merger
Like many other FlexClip reviews, I love the video merger. Merging videos has never been easier. You can upload your videos or pictures at once, put them in order, and you're done!
To Know More: Stoodaio Review
FlexClip Video Converter
Changing the format of a video file is not the only part of converting it. The FlexClip video enhancer is a way to figure out how to change the size of a video or its resolution. It lets you choose from custom sizes made for phones, tablets, and computer screens, and you can also change the way they look.
You can also use this tool to lower the resolution of a digital video or photo that is too big.
Even though it has a few limitations, FlexClip lets you edit, convert, or compress videos with files from other programs. You can upload and export different types of video and image files, such as MP4, MOV, WAV, M4V, WEBM, JPEG, and PNG.
Free Royalty Library
Like many other FlexClip reviews, I love the large library of content. Don't worry if you don't have enough footage for your project. There are thousands of free videos, photos, and songs on FlexClip that you can add to your storyboard. They don't cost anything to use, so you can use them in marketing and advertising videos without worrying about copyright.
Youtubers also like the dedicated music catalog on FlexClip because it has popular background music and is updated often.
Voice and Screen Recorder
The FlexClip Screen Recorder Tool is great for showing off new software or making videos to teach people how to use it. As the name suggests, it records what you do on your screen and adds it as a video to your storyboard.
Other reviews of the FlexClip video maker were right: it lets you edit and record at the same time, so you can talk while you're filming or add voiceovers.
You can Read: Writerzen Review
Motion Graphics
Like many other FlexClip reviews, FlexClip has what you need if you want to spice up your video with special effects.
Unlike non-linear editing systems, FlexClip only takes one click to add video choreography. The presets and controls for motion effects in FlexClip make it possible to add moving text, shapes, and icons. Slideshows and video presentations are great ways to use the built-in transition effects.
Easy of Use
This program makes editing videos very easy, even for people who have never done it before. I can confirm that, even though I have never used it before.
The navigation is smooth, easy to use, and up-to-date as a whole. I didn't have to look for the tools and controls for long because they were easy to use. Even though the ready-made templates saved me from having to do the work myself, I liked the "video from scratch" option.
The video library is organized i nto categories, which makes it easy to find what you want. The reviews of FlexClip were right: it is an editor that is easy to learn and use.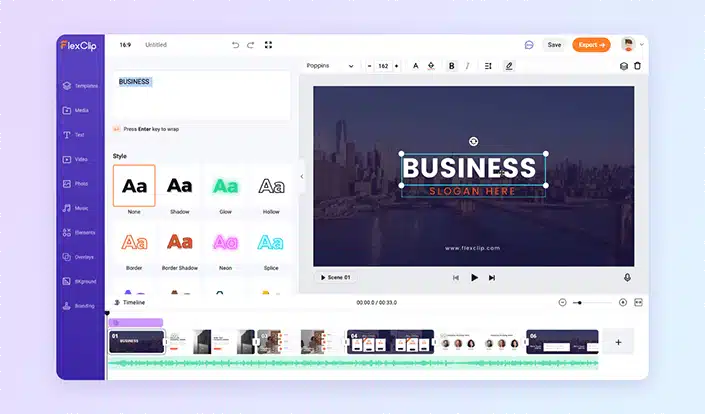 You Can Also Read: Mspy Review
How Does FlexClip Work?
With the new opacity feature in Flexclip review, you will find out everything that you need to know. You don't have to spend hours learning how to use the FlexClip video editing program. Even if you've never used a video editor before, it's easy to get a full handle on. Let's do it as a group.
Step 1: Open the Website
Since the tool is web-based, you have to open the website before you can use it. You don't have to register. But if you sign up for an account, you can use more of the site's features.
You can easily sign up for a FlexClip account by using your email address. You can also use your Google or Facebook account to get right into FlexClip.
Step 2: Choose a Template
There are two ways to get into FlexClip once you've signed up and logged in. On the upper homepage, there are two options: "Create by Templates" and "Start from Scratch." The first is to directly change the template, and the second is a full platform for editing videos.
If you are new to editing videos, you should start with "Create by Templates." If not, you should start over. To start, I will choose a template.
After clicking "Create by Templates," you can see thousands of templates in different categories, such as business, promo & sales, slideshow, intro/outro, coronavirus, YouTube, Facebook, etc. Pick one and change it to make it your own.
Step 3: Customize the Layout
Once you're on the page with the editing tools, you only need to know a few key things:
The part on the left: Sorting the different kinds of materials. Template, Media, Text, Overlays, Elements, Background, Music, Watermark, and More are listed from top to bottom. You can make any changes you want.
You can write either static or moving text on your video using the website. Then  You can also add music to the site using the audio desk. Or you can find the music on your computer and upload it. You can also add your own logo to the video clip and control it during the presentation.
After editing a video, you can add some effects or transitions to make it look better. For example, you can change the lighting, contrast, brightness, and shade of the video.
Next to the left part: there will be a library of materials that are organized by type.
Main screen: The current editing result is shown on the main screen, which is the largest screen.
Bottom: The video editor's storyboard is at the bottom. Think of it as a page from a PowerPoint presentation.
I use the picture and the text from this material. It's really as easy as putting on a show. If the original material isn't enough, you can search through the huge library of material to find more.
Step 4: Preview and Output
After adding text and pictures to the layouts of the original, you can preview it right away. If you like what you see, you can then output the video.
You can choose the video quality when you output, and as I said in the pricing section above, you have to pay for 720p and higher.
You can also choose to save a video as a GIF file and change its resolution and frames per second (FPS) if you want to.
FlexClip Review – FlexClip Price
You can buy this video editor program through FlexClip for the best price, or even for free. You can also choose to pay a low fee once a month, once a year, or for life. 
The free version is different from the paid version. There are limits on the number of projects that can be saved and edited more than once, the quality of the video that can be made, and the number of materials that can be used.
Free Plan:
The only video quality is 480P.

Each video can only use one stock video at no extra cost.

You can save up to 12 video projects on your account.

The video shouldn't be longer than a minute.
Basic Plan:
You can download 720P videos.

Each video can only use one stock video at no extra cost.

Save 50 video projects so you can work on them later.

The video shouldn't be longer than 3 minutes.

As a watermark, you can put your own logo on the video.

Without a FlexClip.com watermark on your video.
Plus Plan:
Download videos in 480P, 720P, and 1080P.

Each video can use 5 stock videos that don't cost anything to use.

You can store up to 200 video projects to edit later.

10 minutes is how long the video is.

As a watermark, you can put your own logo on the video.

Without a FlexClip.com watermark on your video.
Plan for Business:
Download videos in 480P, 720P, and 1080P.

Each video can use 5 stock videos that don't cost anything to use.

You can store up to 1000 video projects to edit later.

The video shouldn't be longer than 30 minutes.

As a watermark, you can put your own logo on the video.

Without a FlexClip.com watermark on your video.

You can go straight to AppSumo Store to find the Lifetime version of the program, which gives us everything for life. The price of the life deal is only $49.00. Get it before you can't!
Flexclip Review 2023 – Pros and Cons
In this part of the Flexclip review, We are going talk about some benefits and work processes.
Pros 
The drag-and-drop feature of FlexClip lets you take care of everything.

There are more than 1,000 pre-made video templates for different types of businesses, as well as royalty-free images and audio tracks.

FlexClip works with all popular file types, including MOV, WEBM, M4V, MP4, AAC, FLAC, M4A, MP3, and so on.

You can add text, captions, logos, music, filters, transition effects, and a lot more.

It's free to record the screen and voiceover.

Screen Recorder, Slideshow Maker, Video Converter, and Video Compressor are some other free tools that can be used.
Cons
The free version has a limited number of features.

It takes a while to send the videos abroad.

If you're a professional video editor, you can't work with other people.
FlexClip Review of Users
When it comes to users' Flexclip reviews, FlexClip has earned a great reputation among its users. Most of the reviews are positive, with users praising the ease of use, powerful editing tools, high-quality video output, and no software download requirement. Many users also appreciate the affordability of the plans and the helpful customer service team. With all these features, it's no wonder why FlexClip has quickly become a popular choice among video editors. If you're looking for an online video editor, be sure to check out FlexClip and see for yourself why it's worth the investment.
Also Read: Creaitor AI Review
What Kind of Videos Can You Make Using FlexClip?
If you don't have any of your own shots but need to make a video, FlexClip has a lot of shots and stock images that are related to your content.
For example, you can use the free stock templates, images, high-quality videos, and music on the site to make a video to market your real estate business. It's easy to make educational videos, videos that explain something, corporate and promotional videos, and tutorials.
With this site, you can make almost any kind of video. You can make cute videos of your baby, wedding and travel videos, photography videos, and even music videos with a simple drag-and-drop function.
Is FlexClip Safe?
PearlMountain made FlexClip, an online program that you can use. They have also made a lot of software for editing and designing images and multimedia.
They work with big companies like Microsoft, Google, YouTube, etc. And those companies trust them.
They also have a high score on Trustpilot websites, with a score of 4.5/5.0. So far, more than 3 million people all over the world have used them. And almost 400,000 have signed up for their service.
Flexclip Reviews Conclusion
In conclusion of Flexclip review, FlexClip is an excellent tool for anyone looking to create professional-looking videos quickly and easily. With a wide range of features, a high-quality media library, and intuitive editing tools, it is an excellent choice for both beginners and experienced video creators. The pricing is also affordable and the customer support is helpful. If you are looking for an easy-to-use video editor, FlexClip is definitely worth considering.
Frequently Asked Questions ( FAQs) about Flexclip Review 
Does FlexClip cost money?
Flexclip is free for 480p SD downloads, one stock video per project, and up to 12 projects in total. The Basic plan costs $8.99 a month or $4.99 a month if you pay for it all at once. It gives you access to 720p HD downloads, 5 stock videos per project, and a limit of 50 projects.
Is FlexClip completely free?
FlexClip is a free, easy-to-use, and powerful web-based video maker that lets you make marketing videos and family stories in minutes.
Is FlexClip safe to use?
FlexClip is a safe online app for editing videos that can be used by anyone. It doesn't need any downloads (except for the final products). So, there's no way you could get a virus or other malware while using it.
Is FlexClip a good editing app?
But FlexClip is a great choice for new editors and freelancers. This is a much better choice than free video editors like Windows Movie Maker if you're looking for basic editing software. You get more tools to work with, simple templates, and a huge amount of content that doesn't cost you anything.
How do you use FlexClip for free?
You don't have to download anything, sign up, or pay to use all of FlexClip's features. Click the button that says "Create a Video" to start making a free video.
How long can FlexClip videos be?
Note that the FlexClip watermark is on the free version. It only lets you make videos that are a total of one minute long and no more than twelve projects.
How do I remove the FlexClip watermark?
Drag and drop your video into the Media section and apply it to the storyboard. Click the ZOOM icon and move the slider to crop the video until the watermark disappears.
What is FlexClip used for?
FlexClip is a simple, powerful, and flexible video maker that lets you make marketing videos and family stories in minutes.
Can I edit a video online for free?
Kapwing is the best free online video editor app because every month, millions of people use it to make videos. Kapwing works with a wide range of file formats, such as MP4, MOV, AVI, 3GP, and many more. Inside the Studio, creators can record video clips, add voiceovers, and look for images.
Subscribe to Our Latest Newsletter
To Read Our Exclusive Content, Sign up Now.
$5/Monthly, $50/Yearly