FIFA World Cup 2022: Canada Faces a Tricky Group F in their Second-ever World Cup Appearance
Canada's 36-year World Cup drought ended when they stormed through the CONCACAF qualifying stage and topped their group. However, the group stage draw of Qatar hasn't been so kind, as Belgium, Croatia, and Morocco await the youthful squad from the Great White North. 
Following three decades of absence from the coveted World Cup competition, Canadian fans will finally have the opportunity to support their country at this year's tournament in Qatar. This speaks volumes to the country's head coach, John Herdman. 
John Herdman
Herdman, a native of the United Kingdom, has pioneered coaching on an international front in Canada. Since his time in North America, he's taken the Canadian men's and women's teams to the finals of the World Cup.
Under his guidance, the women's team reached the quarterfinals of the World Cup in 2015, winning two bronze medals in the process. He additionally won the Pan American Championship in Mexico four years prior. 
Since arriving on the men's national team in 2018, Herdman boasts a 70%-win percentage during his 43-game tenure as the country's manager. 
When questioned about his priorities leading up to the FIFA World Cup, Herdman said: "One of the internal priorities has been scouting our opponents and looking at ways we can hopefully close the qualitative gap that, underdogs, we'll need to deal with. There's also a lot of work going into looking at the group's mindset and how we tweak the culture to bring another level of performance out of them and put in place a tactical blueprint that gives us a chance to compete. 
"For the players, there's work to put in for them to do well at this World Cup, and I'm already seeing them put that in. They know a gap to close but also an opportunity to create something special, a personal best. As a staff, we want to create an environment that allows those players to reach those new levels – because that's what it's going to take."  
Entering Qatar as one of the biggest underdogs is no surprise for Herdman. Still, he believes that mindset is crucial for entering the World Cup as an unlikely successor. 
"Well, for me, the mindset will always undermine the structure and skillset, so it has to be the most important part of this," Herdman said. "We can have an excellent tactical blueprint, do months and months of scouting on these top teams, but if the mindset is incorrect, it will undermine all of that. That's why we've put a considerable focus on that area, and we need to be careful about that underdog mentality because underpinning that is the implication you're not good enough. 
"We've tried to flip that and looked to unpack the David-v-Goliath concept because there's no doubt we're going to face two of the giants of world football. We can't play those games conventionally, match up the way most normal teams might – we've got to look to be different and find that X factor. To do that, we wanted to look at all the reasons why David was favored to win that battle and then look at how we could be favorites in these matches – to think differently. 
"Some of the players might answer that David-v-Goliath question we asked them with a smile. But they are clear that we've already been on a unique journey, and there are some areas that we believe put us in a perfect position to be successful and push deep in this tournament." 
World Cup 2022 Group F: Canadian Hope
Herdman undoubtedly drew the short straw as his squad will go up against two teams that finished second and third at the 2018 World Cup, Croatia, and Belgium. These perennial dark horses excelled in Russia, but there could be hope for Canada as critics believe the golden generation of both Croatia and Belgium is reaching its climax. We should also consider Morocco, who own superstar defender Achraf Hakimi. 
When making predictions from all of Qatar's betting markets, Canada's odds to win World Cup 2022 have received a massive price from the bookmakers due to their group. Should the Canadians excel and make it through Group F, their pricing will dramatically increase for the Round of 16.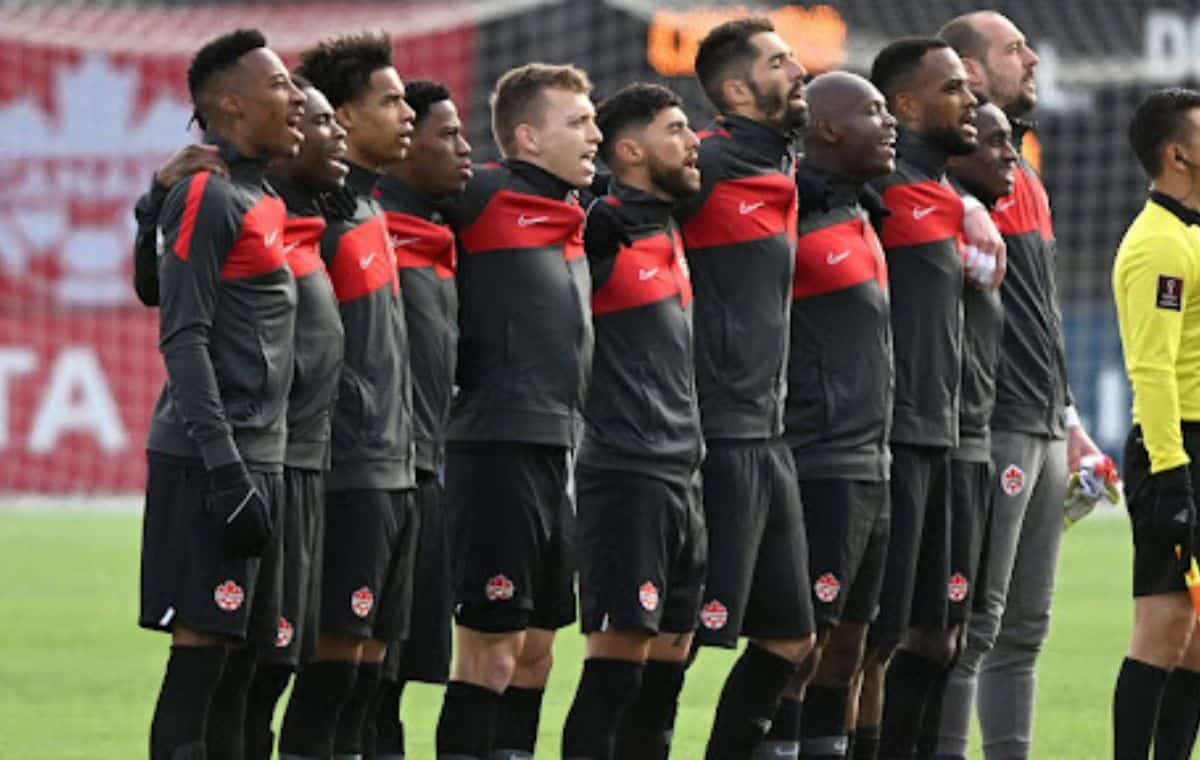 That said, sports bettors shouldn't be hesitant in Canada's chance of qualifying from their group. Despite placing 41st in the official FIFA rankings, they ran through the competition in CONCACAF qualification. Their rising star Alphonso Davies boasts the talent to be a leading man in Qatar. 
Canada's Leading Man
Davies, 21, will protect the Canadian backline like a brick wall, as he's done for German giants Bayern Munich since joining the Bundesliga club in 2019. He was named the Bundesliga Rookie of the Season and was also a part of the Munich squad that won the continental treble (UEFA Champions League, League title, and DFB-Pokal). 
He became the youngest player to appear for the Canadian men's national team in 2017. And despite being used primarily as a defender, he scored two goals in the CONCACAF Gold Cup in 2021, making him the youngest player to score for the Canadian squad. He was awarded the 2021 CONCACAF Men's Player of the Year.
With an ability to switch full-back and forward on the wing, he's been a consistent starter for both club and country. Group F will present the youngster with new challenges at an international level, but nothing he hasn't been prepared for while playing at such a big club like Bayern. 
Canada will play an exhibition game with their World Cup squad on Nov.17 versus Japan in Dubai. 
The Canadian national team begins their 2022 World Cup venture against Belgium on November 23 in Al Rayyan, Qatar, then Croatia on November 27, also in Al Rayyan. The Great White North concludes their World Cup group stage against Morocco on Dec.1 in Doha.
Subscribe to Our Latest Newsletter
To Read Our Exclusive Content, Sign up Now.
$5/Monthly, $50/Yearly