70 Best Things to Do in Kuala Lumpur – From Skyscrapers to Hidden Gems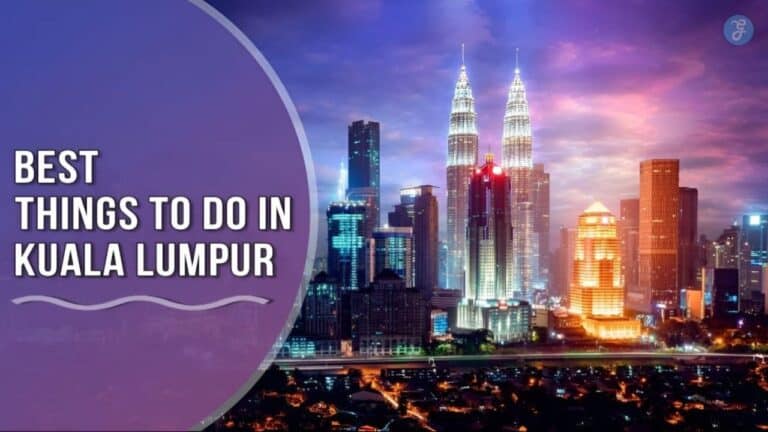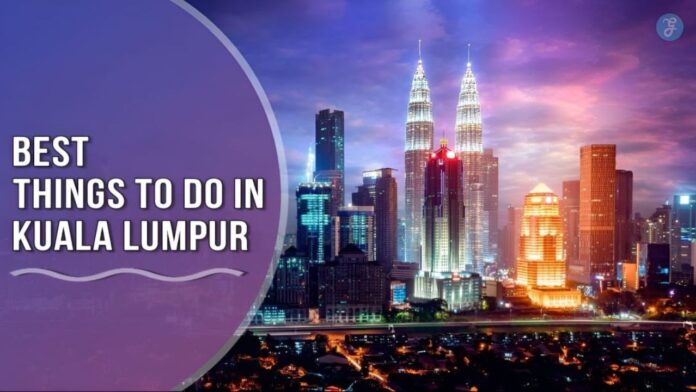 So, your next tour is in Kuala Lumpur, and you're looking for the best things to do in Kuala Lumpur. No worries, welcome to the bustling metropolis of Kuala Lumpur, where vibrant cultures, towering skyscrapers, and mouthwatering cuisine collide. 
This dynamic city offers many unforgettable experiences that will leave you awe-inspiring and craving more. Read on and learn about the best things you can do in Kuala Lumpur.
70 Best Things to Do in Kuala Lumpur
Kuala Lumpur, where history and culture do a lively tango, making it the life of the party! Kuala Lumpur is like a treasure trove of experiences, where you can marvel at towering skyscrapers that seem to touch the clouds and then transport yourself back in time by visiting ancient temples. It's a city that effortlessly blends the old and the new, giving you a taste of both worlds.
Whether you're a history buff, a culture vulture, a shopaholic, or a foodie, Kuala Lumpur has got you covered. It's like a buffet of awesomeness where you can feast on everything you love. Behold a curated collection of the crème de la crème activities to partake in within this bustling metropolis.
1. Discover 14 Diverse Garden Types at Perdana Botanical Garden
Located in Kuala Lumpur, Perdana Botanical Garden, also known as the Lake Gardens, offers a serene escape for nature enthusiasts and those seeking tranquility away from the bustling city. Immerse yourself in the beauty of 14 different garden areas, each with its own unique charm. Explore the Hibiscus Garden, dedicated to the country's national flower, with a stunning waterfall.
If you adore orchids, don't miss the Orchid Garden. Enjoy a romantic picnic by the lake and Cycade Island, and expand your knowledge about unusual fruits at the Lesser Fruit Tree Collection. To make the most of your visit, consider taking a segway tour to cover every corner of the botanical gardens. Be sure to explore the Sunken Gardens, Forest Tree Collection, and Herbarium.
2. Marvel at the Panoramic Views From Kuala Lumpur Tower
Situated in Kuala Lumpur, the Kuala Lumpur Tower, or KL Tower, is not only the World Base-jump Centre but also offers breathtaking city vistas from a height of 276 meters. Besides adrenaline-pumping activities and stunning views, the tower has more to offer. Nestled within the Bukit Nanas Forest Reserve, you can venture into the original rainforest via a canopy walk.
The tower also houses a small aquarium showcasing exotic fish and a mini zoo. Take an elevator ride to the Skydeck, where you can capture memorable photos in a transparent glass box that seemingly suspends you above the entire city. For a 360-degree view of Kuala Lumpur, head to the Observation Deck, a few floors below the Skydeck. Conclude your visit with a magical dinner at the revolving restaurant ATMOSPHERE 360. Remember to arrive early to avoid large crowds.
Related Read: 6 Best Travel Destinations Around the World
3. Experience Local Shop for Souvenirs at the Iconic Central Market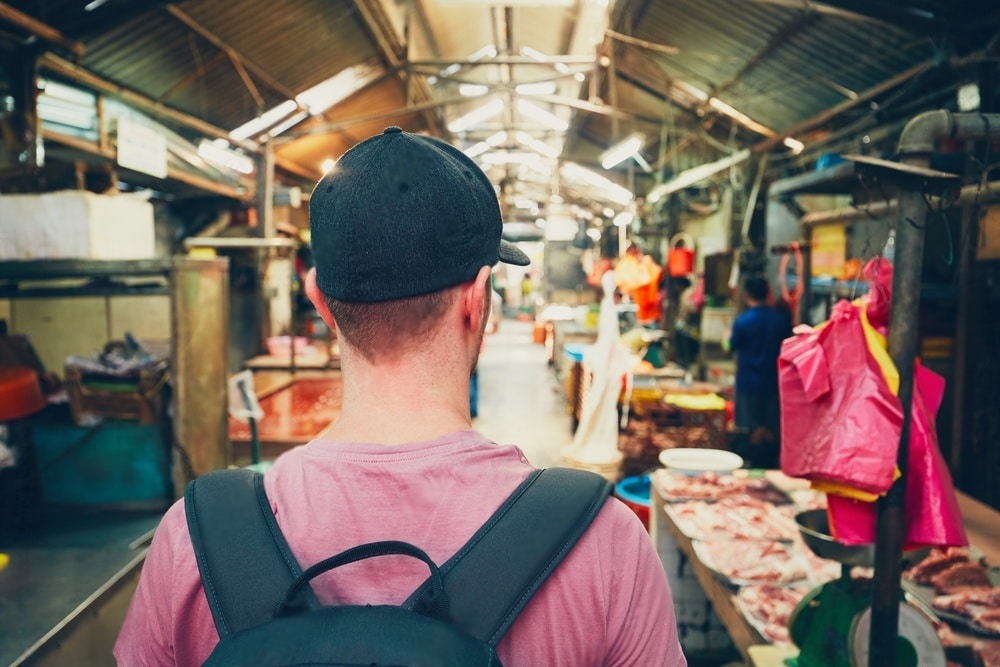 Central Market, located near Petaling Street in Kuala Lumpur, has been a prominent market since its establishment in 1888 as a wet market. Relocated in the 1980s, it continues to serve customers with its unique offerings. The market is not overwhelmingly large, making it perfect for spending a few hours exploring its two levels filled with small shops and carts. What sets Central Market apart is the availability of hidden gems and handicrafts that you won't find in other street markets.
Indulge in shopping for crystals, powerful gemstones, ancient brass ornaments, bags, and purses made from Batik fabrics. On level one, you'll find a gallery, and along the way, you can pick up perfumes, handmade soaps, and flower-pressed jewels. The upper level is adorned with colorful clothing shops and a vibrant food court.
4. Traverse the World's Highest Two-Story Bridge at Petronas Twin Towers
The Petronas Twin Towers are the tallest globally in Kuala Lumpur, reaching 450 meters. While their impressive architecture is visible from the ground, don't miss the opportunity to ascend 88 floors to take in breathtaking views of Kuala Lumpur from above. Visit the Observation Deck on the 86th floor for panoramic scenes that stretch beyond the clouds, and explore the informative Digital Display on the 83rd floor.
The renowned Skybridge connects the two towers on levels 41 and 42, offering a unique experience. Afterward, indulge in some shopping at Suria KLCC Shopping Centre, located on the basement level of the Petronas Twin Towers. Don't forget to utilize the telescope available at the Observation Deck.
5. Marvel at the Magnificent Architecture of the Federal Territory Mosque
Located in Kuala Lumpur, the Federal Territory Mosque, while still actively used for worship, attracts many visitors captivated by its beauty and architectural splendor. Explore the mosque's curved archways, intricate entrances, and multi-tiered structure. The serene water pond surrounding the mosque creates enchanting reflections on its floors.
The striking blue domes are particularly noteworthy, especially when illuminated at night. With a capacity to accommodate up to 17,000 worshippers, the mosque exudes a regal ambiance, providing an excellent backdrop for memorable photos.
6. Ascend the 272 Steps at Batu Caves
Batu Caves, situated in Malaysia, offers a mesmerizing experience from the moment you arrive. Admire the towering 42-meter golden statue of Lord Murugan and ascend the rainbow-colored steps that lead to ancient caves. Along the way, they encounter the statue of a Vedic god and encounter mischievous local monkeys. Most tourists visit the four main limestone enclaves within the caves.
Discover captivating paintings depicting Hindu gods inside the Ramayana Cave, or venture into the Dark Cave, an exploration-worthy spot shrouded in darkness. While on-site visitor information may be limited, consider booking a guided city tour from Kuala Lumpur for an educational and enlightening experience at Batu Caves.
7. Retreat From Urban Life and Explore the Scenic Hills of Genting Highlands
Escape to the refreshing climate and picturesque views of Genting Highlands in Malaysia for a delightful day trip away from Kuala Lumpur. While the town within Genting is known for its resort city ambiance, including casinos and shopping malls, the surrounding areas offer a touch of magic.
Stay in a cozy homestay or a glasshouse villa and awaken to breathtaking sea-of-clouds vistas. Explore nearby traditional villages and indulge in the region's local culinary delights. Take a cable car ride up the mountain peaks to capture the best aerial views of Genting Highlands—don't forget your camera!
8. Marvel at the Architectural Grandeur of Dataran Merdeka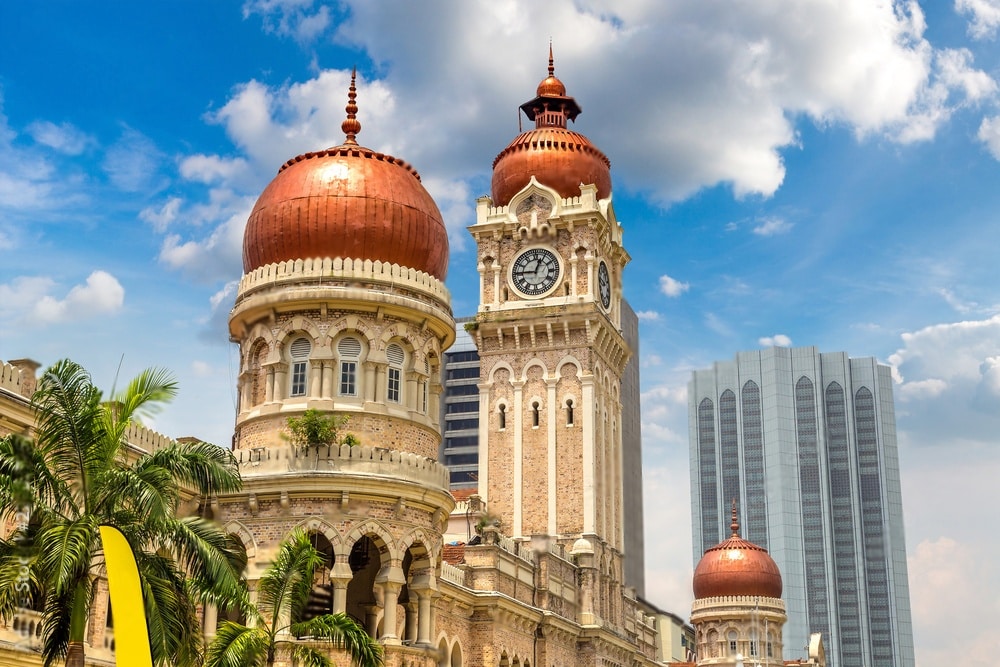 Dataran Merdeka, located in Kuala Lumpur, is home to the Sultan Abdul Samad Building, a structure steeped in historical significance dating back to Malaysia's time under British rule. It wasn't until 1957 that the country gained its independence. Dataran Merdeka serves as a focal point for festive Independence Day celebrations, attracting locals and travelers.
The architecture is a fascinating blend of colonial and traditional design elements. Explore Kuala Lumpur's own version of "Big Ben," featuring a brass-domed tower clock. Wander through the light brick hallways and ascend spiral staircases. The building is bathed in warm red lights as the sun sets, evoking a castle-like ambiance.
9. Take Some Time to Relax and Rejuvenate at Klcc Park
Located in Kuala Lumpur, KLCC Park is a great place for a picnic. You can unwind on the soft green grassy banks or find a seat near the water-feature fountain, which illuminates beautifully at night. As you enjoy the park, you'll have a stunning view of the Petronas Twin Towers, especially captivating when lit up in the evenings.
If you prefer to exercise, there is a designated jogging pathway for your convenience, especially after the scorching Malaysian sun has set. For those traveling with children, a kid's playground is available, and you can also find the As Syakirin Mosque, also known as the KLCC Mosque, within the park.
10. Immerse Yourself in the Vibrant Atmosphere of Chinatown
Chinatown in Kuala Lumpur is a bustling neighborhood filled with energy and life. You can explore the area around Petaling Street and Central Market, indulging in delicious food and shopping until you are satisfied. As you wander the streets, you'll see captivating street art showcasing Kuala Lumpur's artistic side. The neighborhood is adorned with red lanterns, and you can visit Chinese shophouses to find souvenirs, herbs, and traditional remedies.
Don't miss the chance to visit the Chan See Shu Yuen, Guan Di, and Sri Maha Mariamman temples, or take a break and enjoy a cup of tea at a charming boutique cafe. Joining a walking tour is a great way to experience Chinatown, with knowledgeable guides who can explain and translate as you visit various hawker stalls. Chinatown is also a convenient area to find accommodation and is close to many other attractions in the city.
11. Experience a Royal Ambiance at the National Palace (Istana Negara)
The National Palace in Kuala Lumpur provides a regal experience. In the early 1990s, the impressive grounds were not initially occupied by the royal family but belonged to a wealthy Chinese tycoon involved in the tin trade. It wasn't until 1957 that the royal family took over the site and called it their home until 2011.
Today, the National Palace has been converted into the Royal Museum, where visitors can explore the gardens and hallways, as well as the different rooms of the palace. Many city tours include a stop at the National Palace to visit the museum and admire its grandeur.
Related Read: 10 Most Romantic Cities in the World
12. Visit the Stunning Pink Mosque in Putrajaya
Putrajaya is a city worth exploring, located just a one-hour drive from Kuala Lumpur. It was developed on former marshland and has transformed into Malaysia's modernized and environmentally sustainable capital, often called the "Green City." The lush natural environment consists of wetlands, offering opportunities for a boat tour on Putrajaya Lake and visiting famous attractions like the Iron Mosque.
With its glowing-pink exteriors, the iconic Putra Mosque is a must-see destination renowned worldwide. Putrajaya also boasts nature parks such as Taman Botani Putrajaya, outdoor activities like flyboarding, and a skate park.
13. Encounter Diverse Animals and Habitats at Farm in the City
At Farm In The City in Kuala Lumpur, you can get up close and personal with various animals. The conservation park is designed to resemble a traditional Malaysian village known as a 'kampung' and is divided into different areas that serve as homes for different species. You can feed the Giant Tortoises, interact with birds inside the free-flight bird aviary, or explore the Reptiles Cavern if you are fascinated with lizards and snakes.
For something adorable, the Pet Village is filled with bunnies and guinea pigs. The park also features a tropical fruit orchard, a veggie farm showcasing local produce, a jungle walk, and even a traditional Longkang Fishing Village.
14. Delve Into Malaysia's Rich Cultural Past at the Islamic Arts Museum
Situated in Kuala Lumpur, the Islamic Arts Museum Malaysia offers a fascinating glimpse into Malaysia's cultural heritage. Unlike many museums, the building is modern, bright, and white, allowing the artifacts and collectibles to shine. As you enter, an upside-down dome greets you, and outside the building, there is a beautifully engraved blue qubba.
The museum houses more than 12 galleries, including the Textile Gallery, Architecture Gallery, India Gallery, China Gallery, and Jewellery Gallery, among others. In addition to the permanent displays, rotating exhibitions change every few months, ensuring there is always something new to discover.
15. Enjoy a Day of Thrills and Water Fun at Sunway Lagoon Theme Park
To escape the heat, head to Sunway Lagoon Theme Park in Kuala Lumpur, where you can spend a fun-filled day riding on exhilarating water slides and attractions. This unique park features six different areas to explore, including Water Park and Amusement Park. Experience the thrill of riding the Vuvuzela, the world's largest vortex ride, or catch some waves at the man-made Surf Beach.
Fun World offers games and entertainment for all ages, and you can meet and greet your favorite Nickelodeon characters. For adrenaline junkies, the X Park offers bungee jumping and go-karting, while the Scream Park guarantees live-action thrills. Sunway Lagoon Theme Park has something for everyone.
16. Discover the Beauty and Cultural Significance of Thean Hou Temple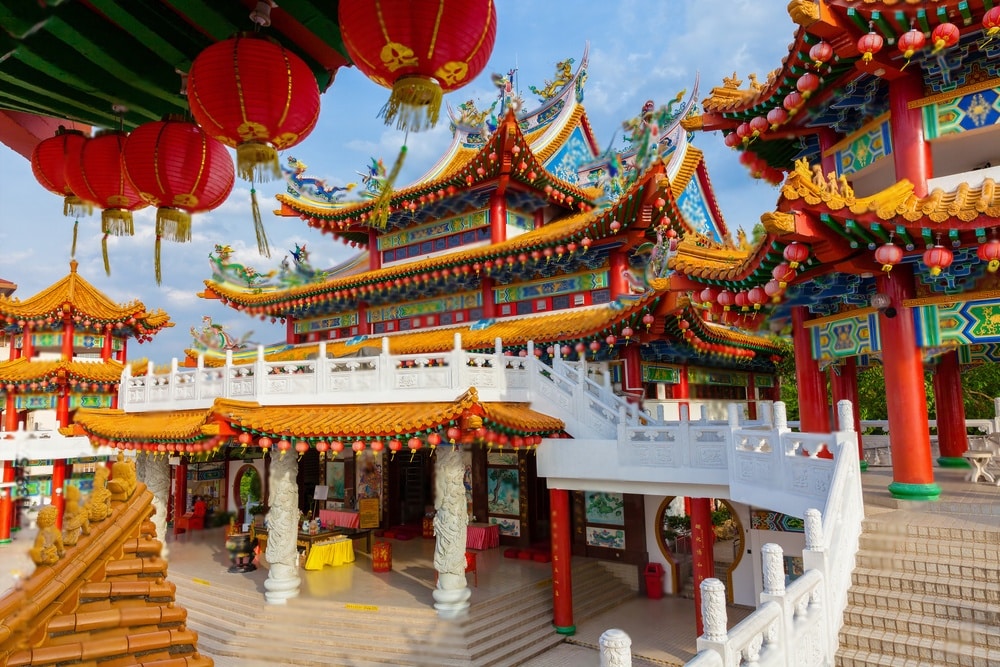 Prepare to be amazed by the breathtaking six-tiered design of Thean Hou Temple. Each level of this Chinese temple features curved bright red rooftops, known as swallowtail roofs, adorned with intricate statues, including the protective Naga snake.
While the temple follows Chinese architectural traditions, it hosts activities and celebrations for followers of Buddhism, Taoism, and Mazu culture. Explore the top floor's main hall and take a leisurely stroll through the Zodiac Statue Park and Yixin Garden. Thean Hou Temple is a magnificent testament to both artistry and spirituality.
17. Experience the Enchanting Fireflies of Kuala Selangor up Close
Located at the meeting point of a river and the sea, Kuala Selangor offers a captivating blend of oceanic and riverside vibes. Immerse yourself in nature by exploring the local parks, taking a refreshing dip at the beaches, and visiting the various temples in the area, such as the Monkey God Temple.
A day trip to Kuala Selangor also provides an opportunity to venture through the scenic rice paddies of Sekinchan and indulge in the abundance of seafood available in this region. The highlight of the experience comes at nightfall when you embark on a boat trip along the Kuala River's mangrove areas to witness the mesmerizing sight of hundreds of fireflies illuminating the riverbanks.
18. Marvel at the Diverse Bird Species in Flight at Kl Bird Park
The KL Bird Park, also known as Taman Burung Kuala Lumpur, is a must-visit destination for bird enthusiasts. This park is home to over 200 bird species, allowing visitors to marvel at their beauty and observe their natural behaviors. Divided into zones, the first three zones are massive free-flight aviaries designed to resemble the birds' natural habitats, providing ample space for them to roam.
You can enjoy daily bird shows and feeding sessions featuring various species, from ostriches to eagles. KL Bird Park offers a unique opportunity to connect with the avian world and appreciate the wonders of nature.
19. Discover the Modern National Mosque of Malaysia
The National Mosque of Malaysia, known as Masjid Negara, is renowned for its striking architecture, attracting visitors beyond worshipers. Built-in the 1960s, the mosque drew inspiration from Turkey, India, and Saudi Arabia for its design. After renovations in 1987, the mosque now showcases a more contemporary style.
Notable features include a 73-meter high minaret resembling a closed umbrella and a 16-pointed blue star-shaped roof resembling an open umbrella when viewed from above. The National Mosque offers a blend of cultural and architectural beauty.
20. Indulge in a Multicultural Food Tour
One of the highlights of visiting Kuala Lumpur is experiencing its diverse cuisine, which reflects the city's cultural variety. From curries to dim sum, there is a wide array of dishes to try. Local favorites include nasi lemak (coconut rice) and Ikan Bakar (grilled fish). Kuala Lumpur offers various food options, including night markets, food courts, and bustling hawker stalls.
Instead of taking taxis, consider joining a Vespa scooter food tour to explore different locations and sample culinary delights. Don't miss Jalan Alor, the renowned street food destination with enticing aromas and local delicacies.
21. Step Into the Oldest Hindu Temple: Sri Maha Mariamman Temple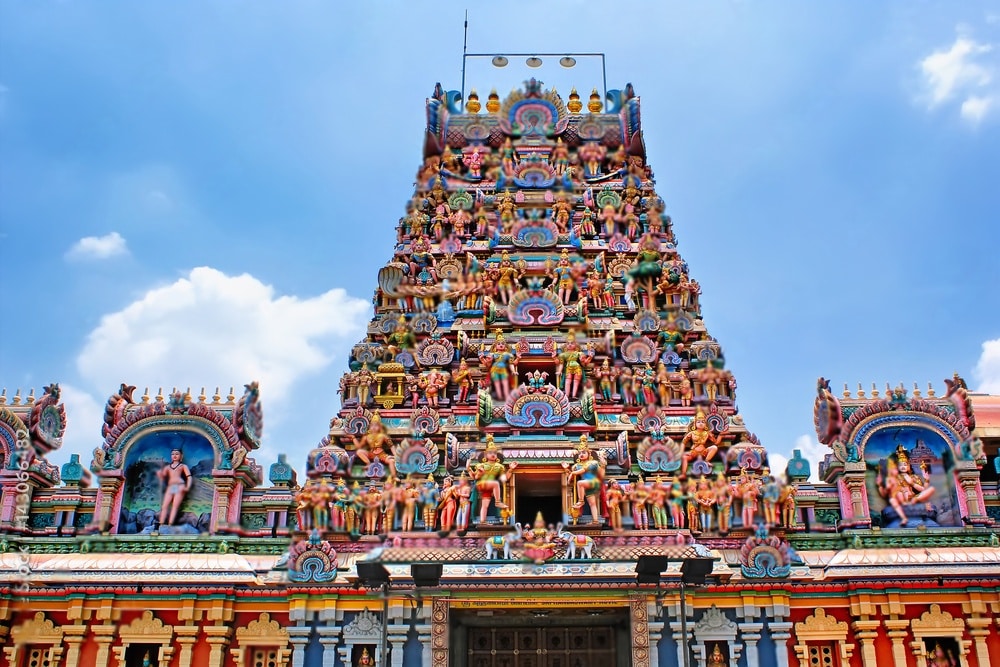 Situated in Chinatown, the Sri Maha Mariamman Temple captures attention with its vibrant gopuram (tower entrance) adorned with statues of 228 Hindu deities. Although the temple grounds are not extensive, it is a captivating place to visit.
Built-in 1873, the temple exhibits South Indian design influences. Inside, you can offer prayers, meditate, or explore the intricately designed statues and captivating murals. Make sure to have your camera ready to capture the temple's beauty.
22. Experience Delectable Street Food on Petaling Street
Petaling Street, located in the heart of Chinatown, boasts a vibrant street market. It is recommended to allocate a few hours to explore, eat, and shop here fully. You can enter Petaling Street from either end and begin your shopping adventure.
Don't miss the dumpling soup from a local street vendor near the top entrance—once you taste it, you'll want more. The flea market offers many items, including cashmere scarves, trendy sunglasses, cosmetics, perfumes, smoking accessories, shoes, clothing, bags, toys, and more.
23. Discover the City Through a Convenient Hop-on, Hop-off Bus Tour
Instead of multiple taxi rides, consider a hop-on hop-off bus tour as an affordable and convenient way to explore the city. Whether you choose the daytime or evening option, each tour offers a unique experience and showcases different aspects of the city.
Relax on the comfortable double-decker bus as you traverse the streets, enjoying the local scenery and attractions. Popular stops typically include iconic landmarks like the Petronas Twin Towers, Aquaria KLCC, and Chinatown. With the flexibility of hopping on and off at designated stops, you can easily visit the must-see attractions of Kuala Lumpur.
24. Witness the Record-Breaking Warisan Merdeka Tower
Although the Merdeka Tower is still under construction, it is set to become the second-tallest building in the world upon completion. It will be Malaysia's tallest building with 118 levels and a towering height of 679 meters. The tower's spire, the tallest part of the structure, has already been completed. Named "Merdeka," meaning "freedom" in Malay, the tower is scheduled to open to the public by the end of 2022.
25. Experience the Mesmerizing Light Spectacle at Lake Symphony
Kuala Lumpur is famously known as the "Garden City of Lights," the mesmerizing light displays can be seen throughout the city, including at Lake Symphony. Lake Symphony features a captivating water-light show in front of the Suria KLCC shopping center entrance.
The display showcases over 150 unique light animations synchronized with musical sounds. Best of all, this delightful experience is free, and the shows take place daily. It's a must-see attraction where you can enjoy the magical combination of water, light, and music.
26. Shop to Your Heart's Content at Pavilion Kuala Lumpur
Pavilion Kuala Lumpur is an award-winning mall with over 700 retail stores and restaurants, making it a shopping paradise. You'll find a wide range of options from boutique shops to renowned brand-name outlets to suit your needs. Explore fashion brands like Michael Kors and Prada, browse beauty products at Yves Saint Laurent Beaute, or indulge in tech gadgets at Gadget Hub.
There are options for the kids, such as CottonOn Kids for wardrobe updates or Karafu for collectible plushie toys. After a day of shopping, you can relax at the salon or explore the art museum, and plenty of dining options are available to satisfy your cravings.
27. Transport Yourself to a French-Inspired Village at Bukit Tinggi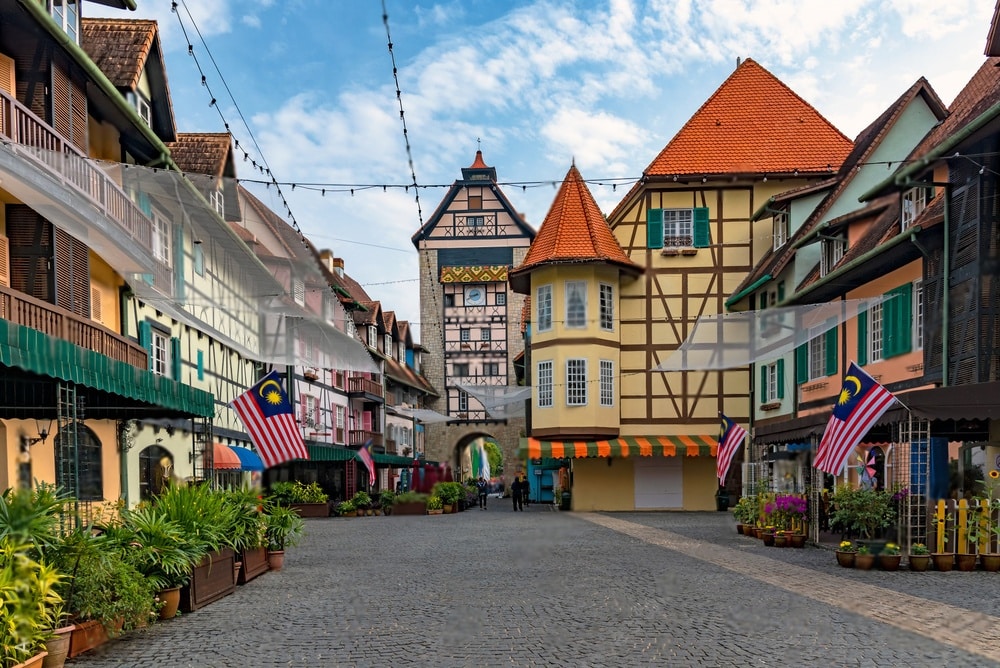 Embark on a day trip to Bukit Tinggi, also known as Berjaya Hills, near the Genting Highlands region. A visit to Colmar Tropicale, a themed village, is a must. This man-made resort town replicates a village from the French countryside, allowing you to experience a taste of France in Malaysia.
Don't miss the chance to explore the Japanese Gardens as well. Bukit Tinggi offers a unique opportunity to "travel" through multiple countries in one day and immerse yourself in different cultural experiences.
28. Enhance Your Culinary Skills With a Local Cooking Class
Kuala Lumpur celebrates various cultures, and the diverse food scene reflects this. Participate in a cooking class to learn how to recreate authentic Malaysian dishes and take the recipes home with you. The experience typically starts with a visit to a local fresh market, where you'll discover and select ingredients.
Some cooking classes even take place at homes with their own farms, providing the opportunity to handpick fresh produce. Enjoy the satisfaction of creating delicious dishes while immersing yourself in the local culinary traditions.
29. Marvel at the Colorful World of Kuala Lumpur Butterfly Park
Step into a magical forest world at the Kuala Lumpur Butterfly Park, home to over 5,000 butterflies. You'll encounter butterflies of different shapes, colors, patterns, and sizes among ferns, flowers, and lush greenery. If you're lucky, some may even land on your outstretched hands.
The Butterfly Park is located within the Lake Gardens, also known as Perdana Botanical Garden, but it has a separate entrance for direct access. To avoid waiting in lines, it's recommended to pre-purchase your Kuala Lumpur Butterfly Park tickets in advance.
30. Experience the Charm of Morocco at Masjid Al Bukhari
As you approach Masjid Al Bukhari, the ornate blue rooftop domes will catch your eye against the sky. The surrounding tall tropical palm trees and a beautiful blue star-polygon-shaped pool in the garden create an atmosphere reminiscent of Morocco or Dubai. Take your time to wander the peaceful grounds and capture some photographs of the intriguing architecture. Masjid Al Bukhari offers a delightful escape that transports you to a different world.
31. Immerse Yourself in Nature at Templer Park
Escape the city and venture just outside Kuala Lumpur to experience the natural beauty of Templer Park. Located a 30-minute drive away, this nature park is renowned for its hiking trails surrounded by indigenous flora, fauna, and refreshing river streams.
With trails suitable for all levels of hikers, you can explore the park at your own pace. For a challenge, try the Bukit Unyang trail, recommended for experienced hikers and trail runners. Templer Park offers a tranquil retreat amid Malaysia's rainforests.
32. Step Back in Time at the National Museum of Malaysia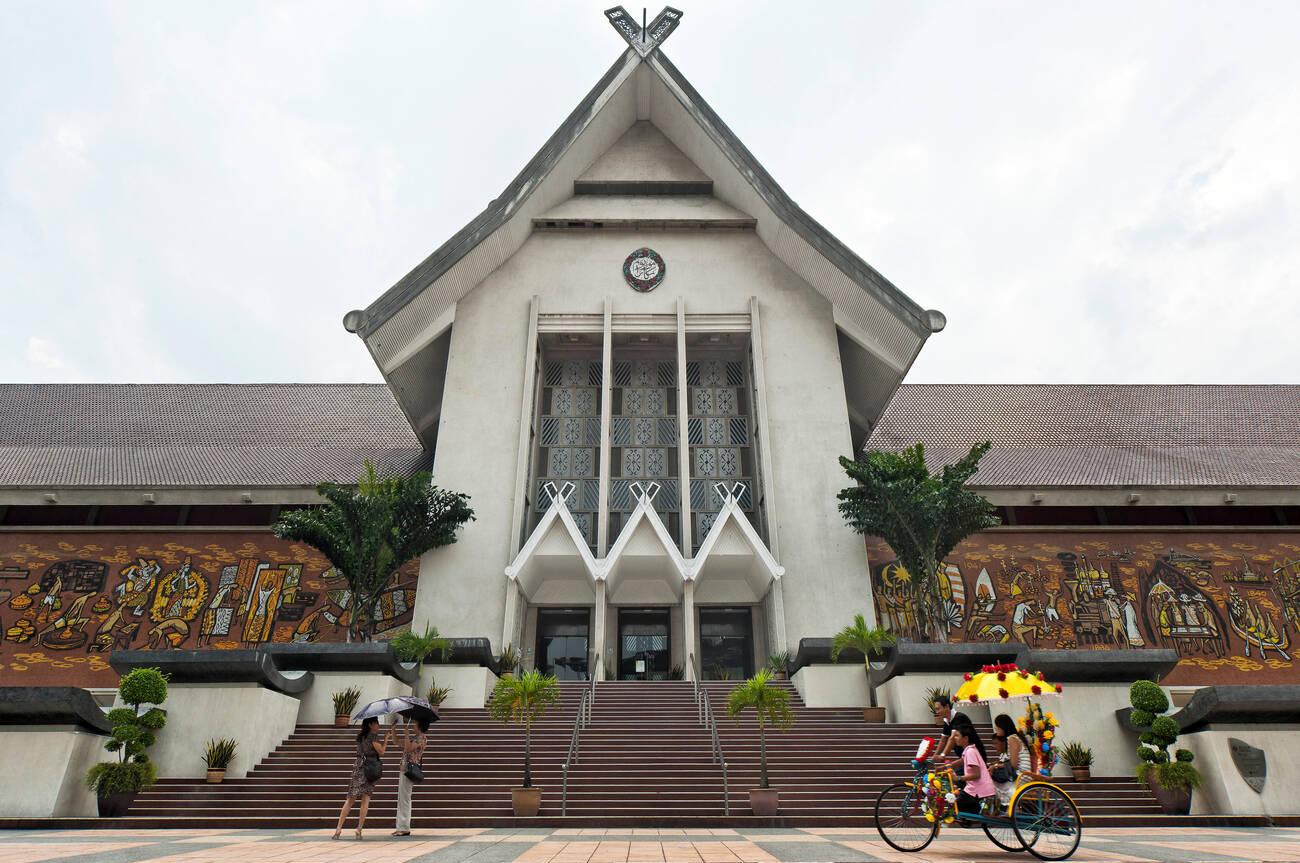 Also known as Muzium Negara, the National Museum of Malaysia provides an opportunity to delve into the country's history and explore forgotten eras. The museum features four fascinating permanent exhibitions spread across three levels. The Prehistoric Gallery delves into the ancient past of the Malay Archipelago, while the Malaysia Today Gallery focuses on more recent history, including the road to independence.
The remaining two galleries cover the Malay Kingdoms and the Colonial Era, showcasing maps, ancient texts, sculptures, scrolls, traditional clothing, and various other artifacts from the past.
33. Let the Little Ones Unleash Their Imagination at Kidzania Kuala Lumpur
KidZania Kuala Lumpur offers a world of excitement and learning for children. This interactive theme park allows kids to engage in role-playing activities, giving them a taste of various professions and life skills. With over 70 different activities, children can experience real-world adult scenarios, chores, and everyday life lessons. KidZania provides a fun and educational environment where children can explore their interests and gain valuable insights for their future.
34. Explore the Fascinating Underwater World at Aquaria Klcc
Discover the wonders of the marine world at Aquaria KLCC, located beneath Kuala Lumpur's Convention Centre. This enchanting aquarium is a perfect destination for families and couples alike. Immerse yourself in exhibits that showcase the native marine species found in Malaysian waters.
As you stroll through the underwater tunnel, be mesmerized by Sand Tiger Sharks and graceful Green Turtles swimming overhead. From the Evolution Zone to the Shipwreck, Deep Forest, Living Ocean, and more, Aquaria KLCC offers a diverse and captivating journey through different aquatic environments.
35. Experience the Unique Attractions of 99 Wonderland Park
Known as one of the most distinctive recreational landmarks in Kuala Lumpur, 99 Wonderland Park offers a mix of attractions, rides, and photo opportunities. Explore the Magical Bridge, which illuminates at night, or stroll along the Boardwalk above the lake, where you can spot wildlife nearby.
With an open-zoo concept, you may encounter peacocks and ducks as you wander. Don't miss the 12 Zodiac Walkway with animal statues representing the different zodiac signs. 99 Wonderland Park promises an unconventional and memorable experience.
36. Encounter Orangutans at Orang Utan Island
Experience the wonders of Orang Utan Island, a rehabilitation initiative built alongside a lake. This sanctuary allows orangutans to live freely in a spacious environment, swinging from tree to tree. Visitors can walk through a confined walkway within the animals' sanctuary, observing them up close and feeding them fruit if they come near. A 15-minute boat ride across the lake is required to reach Orang Utan Island. Witnessing these incredible primates in a natural setting is a fantastic opportunity.
37. Discover the Delights of Taman Negara National Park
Taman Negara National Park offers nature enthusiasts a paradise just a short distance from Kuala Lumpur. Venture into the ancient rainforest, estimated to be 130 million years old. Don't miss the opportunity to walk along the world's longest rainforest canopy walkway and spend a night amidst the trees.
Popular activities in the park include fishing, boat cruises, bird watching, rock climbing, rapid shooting, jungle trekking, exploring caves, and visiting Kg. Orang Asli, an Aborigine settlement. Taman Negara National Park offers diverse experiences for those seeking to immerse themselves in nature.
38. Visit the Iconic Sultan Abdul Samad Jamek Mosque
The Sultan Abdul Samad Jamek Mosque is not only an architectural marvel but also holds historical significance as it stands at the confluence of the Klang and Gombak Rivers, considered the birthplace of Malaysia. Built using light bricks, it was the first mosque in Malaysia to adopt this construction method.
The mosque showcases traditional Moorish features in its design. Known as Masjid Jamek, it is a prominent landmark in Kuala Lumpur, offering a glimpse into the country's heritage and the importance of the rivers in its history.
39. Relax Amidst Nature at Kl Forest Eco Park
While most rainforests require venturing outside the city, KL Forest Eco Park is the only natural rainforest in Kuala Lumpur. Take a stroll along the canopy walkway surrounded by lush trees and rejuvenate yourself after a day of city sightseeing. The walkway features birdwatching/view towers and provides fantastic photo opportunities. If you're up for trekking, explore one of the nature trails, such as the Jelutong trail.
40. Explore the World of Textiles at the National Textiles Museum
Located within the Sultan Abdul Samad Building at Independence Day Square, the National Textiles Museum invites you to wander through its four exhibition rooms. Discover the diverse textiles used throughout Malaysia's history to create fabrics, tools, and works of art. The Pohon Budi Gallery showcases textiles from prehistoric eras, including traditional silk and cotton clothes. Delve into the colorful origins of Batik fabrics and design at the Pelangi Gallery.
You May Find Interest: 6 Historical Sites Should Be on Your Bucket List
41. Experience the Iconic Kuala Lumpur Railway Station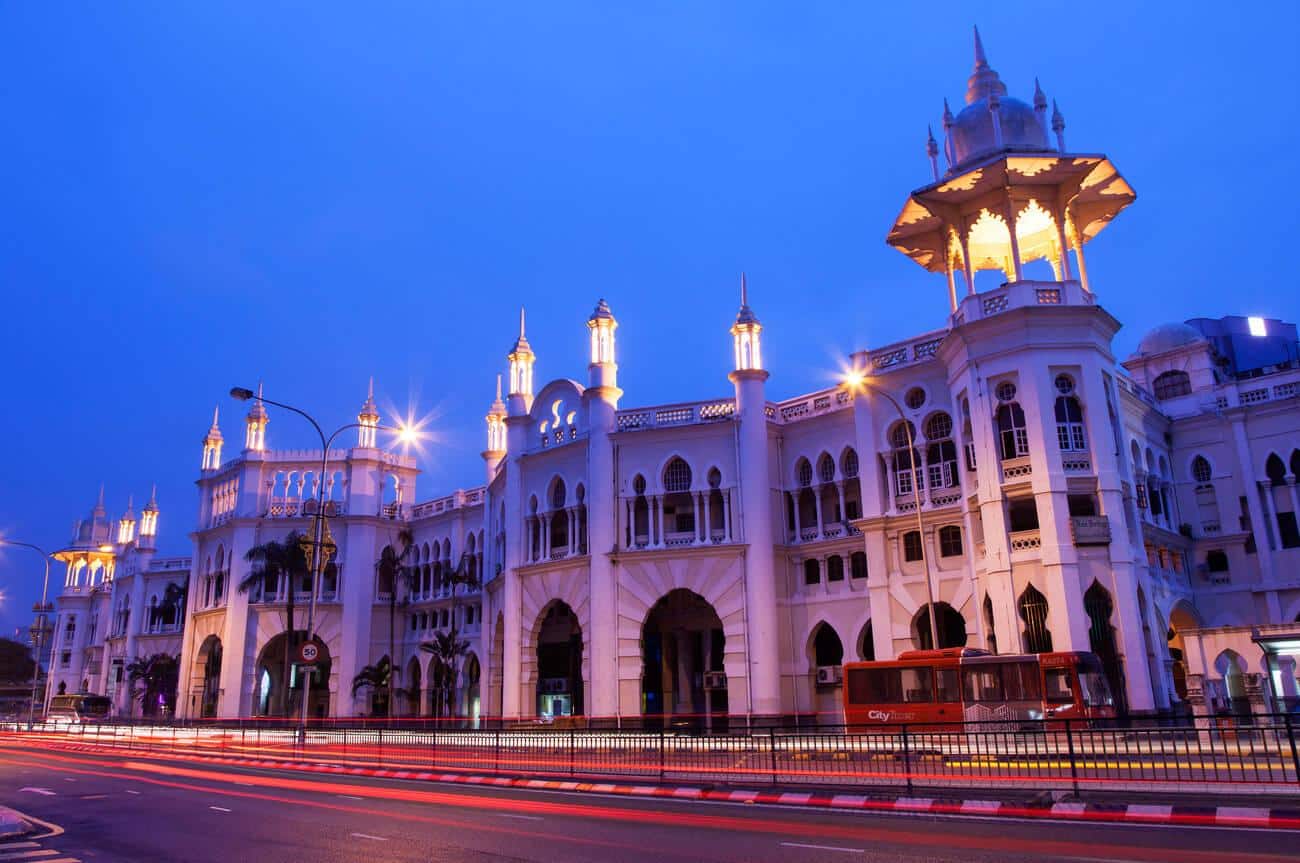 While still in operation for daily train commutes, the Kuala Lumpur Railway Station is famous for its stunning exterior. Built-in 1901 during British colonial rule, the building combines colonial, Mughal, and Moorish architectural elements. Capture some original photos outside the station and explore its captivating design. Visit the KTM Mini Museum, which displays early train tickets and carriage items.
42. Enjoy a Day at Taman Tasik Titiwangsa, City's Great Urban Parks
If your accommodation doesn't offer fitness facilities, head to Taman Tasik Titiwangsa for your workout. Rent a bike and cycle along the lake's pathways, play tennis on the on-site courts, or go for a jog on dedicated running tracks while enjoying views of the Twin Towers. Kids can have fun at the playground, and you can have a family picnic under the shade of large trees. Don't miss the Remote Control car track, a unique feature that both children and adults will enjoy.
43. Immerse Yourself in the Vibrant Atmosphere of Little India
Located just a short drive from popular areas like Chinatown, Little India in Kuala Lumpur captivates with its colorful scenes, friendly faces, and enticing aromas. Explore the shops offering a wide range of goods and products imported from India and Sri Lanka and those produced by the local Indian communities.
Discover traditional clothing such as bright saris and harem pants, shop for beauty products and Ayurvedic medicine, and browse souvenirs and artworks depicting deities and gods. Little India is a feast for the senses.
44. Explore Cultural Exhibitions and Artwork at Kuala Lumpur City Gallery
Step into the Kuala Lumpur City Gallery and be treated to a bird's-eye view of the entire city. Admire a 3D scaled-down model of Kuala Lumpur while enjoying an informative presentation. Browse through old maps and photographs that offer a glimpse into the city's past, and don't forget to visit the gift shop for unique souvenirs. If you're interested, you can even witness the creation of 3D models in the workshop area.
45. Marvel at the Breathtaking Blue Mosque
A 20-minute drive outside Kuala Lumpur will lead you to the Selangor district, where you'll find one of Southeast Asia's largest mosques. Known as Masjid Sultan Salahuddin Abdul Aziz Shah or the Blue Mosque, its striking blue and silver checkered dome and towering minarets make it a prominent landmark.
With a height of 142 meters, the tips of the Blue Mosque can be seen from various parts of Selangor. Capture the beauty of its stained-glass windows with a memorable photograph.
46. Seek Fortune at Sin Sze Si Ya Temple
Sin Sze Si Ya Temple, a Chinese temple near Central Market in Chinatown, is renowned for its fortune-telling reader. Many locals, particularly students seeking academic success, visit the temple to have their fortunes read.
Adorned with elaborate wood carvings and vibrant red lanterns, the temple carries various superstitions, including the belief that circling the main altar can bring good fortune. Experience the cultural ambiance of this temple, easily accessible on foot from Chinatown and Petaling Street.
47. Experience Endless Fun at Berjaya Times Square Theme Park
Berjaya Times Square Theme Park is a haven of excitement, catering to visitors of all ages. Divided into two areas, Galaxy Station offers thrilling rides for adults and older teens, while the Fantasy Garden is perfect for young children.
Enjoy loops on the indoor inverted rollercoaster, brave the Spinning Orbit, ride through the Fantasy Garden on the fantasy train or design your own avatar and interact with it. Don't miss the Hall of Dreams at the Cosmo Theatre. Berjaya Times Square Theme Park guarantees a memorable time.
48. Discover the City on a Bike Tour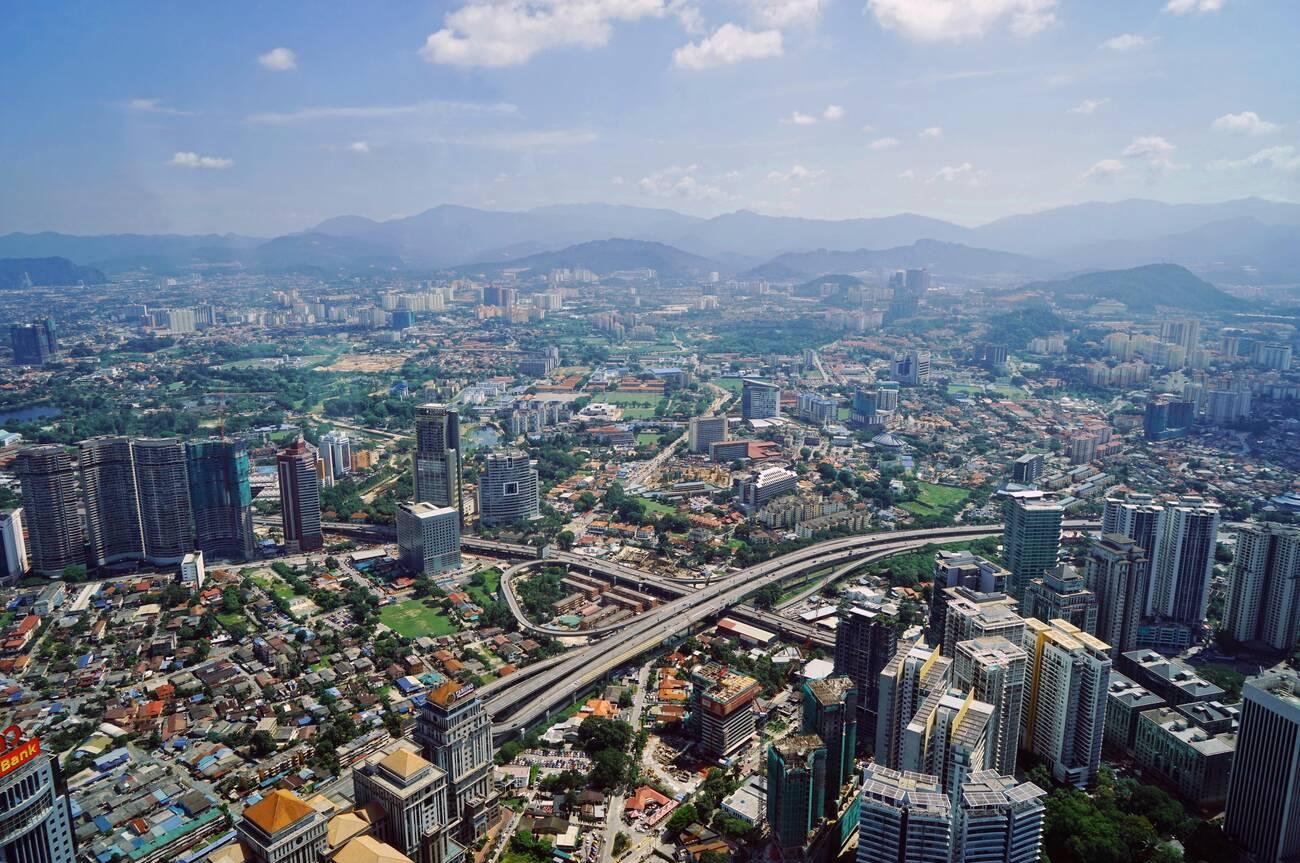 Embark on a bike tour for a unique and active way to explore Kuala Lumpur's renowned attractions. Visit Independence Square, Central Market, the Botanical Garden, KL Tower, and the Sultan Abdul Samad Building while pedaling through the city streets. Bike tours are available at various times, including evening options.
Compare different tours to ensure they cover the specific landmarks you wish to see. Enjoy the sights, exercise, and create lasting memories with a bike tour in Kuala Lumpur.
Planning a special moment? Take your loved one on a romantic hot-air balloon ride across the beautiful Malaysian skyline. Admire the landscapes and districts surrounding Kuala Lumpur from a breathtaking perspective, floating above lush green scenes.
After your scenic flight, celebrate with a glass of champagne and indulge in breakfast at a nearby hotel. Hot air balloon rides are not limited to couples and can accommodate small groups. The entire experience, including the 45-minute flight, lasts approximately three hours, creating a truly memorable experience.
50. Expand Your Knowledge at Petrosains
Petrosains, The Discovery Centre in Kuala Lumpur, offers an exciting and educational experience for science enthusiasts of all ages. Immerse yourself in the world of carbon and its environmental impact through interactive exhibits and displays. The center's futuristic design features halls illuminated by mesmerizing geometric LED lights, and you can even encounter a life-sized moving dinosaur replica.
Attend a Science Show to witness captivating demonstrations or participate in interactive stations. Topics covered include space exploration, future energy, and combustion.
51. Encounter Adorable Pandas at Zoo Negara Malaysia
Since its establishment in 1963, Zoo Negara Malaysia has become home to over 476 diverse species of reptiles, mammals, and more. Located just outside the city, the zoo provides a natural and spacious environment for the animals. Explore the expansive 110-acre grounds and spot magnificent creatures like giraffes and tigers in their grassland habitats. The zoo is divided into different areas, including the Mammal Kingdom, Savannah Walk, Bird Aviary, and even a Bee Museum. Prepare for a delightful day filled with wildlife encounters.
52. Experience White River Rafting on the Kampar River
Embark on an exhilarating white river rafting adventure down the Kampar River. Approximately 2.5 hours from Kuala Lumpur, this thrilling activity takes place in Perak, near the capital city of Ipoh. Immerse yourself in nature's beauty as you navigate gushing rapids and swift streams.
Before setting off, you'll receive a demonstration and essential information about the river. Then, embark on a 7-kilometer journey, tackling nine exciting rapids. Get ready for an adrenaline-pumping experience surrounded by the pristine wilderness.
53. Improve Your Golf Skills at Various Golf Courses
Kuala Lumpur and its surrounding areas boast numerous golf courses for enthusiasts. Tee off at the prestigious Kuala Lumpur Golf & Country Club, offering not one but two exceptional courses. For a memorable experience, visit the award-winning Kota Permai Golf & Country Club across 170 acres of picturesque grounds.
Families can head to Kelab Darul Ehsan, which features water features and a practice range to hit golf balls into the lake. Other notable options include the Bukit Jalil Golf & Country Resort, designed by Max Wexler. If you prefer a golfing resort experience, consider Amverton Cove & Island Resort or Bangi Golf Resort. Enjoy a golfing getaway in the beautiful surroundings of Kuala Lumpur.
54. Experience Rock Climbing at Bukit Takun
Bukit Takun, located within Templer Park, offers a thrilling rock climbing experience in Kuala Lumpur. This massive 300-meter-high monolith has attracted climbing enthusiasts since the 1980s when the first routes were established. With around 32 different rock routes, it's a popular destination for climbers of all levels.
Whether you prefer climbing the rock face or descending the monolith through abseiling, Bukit Takun provides a challenging and rewarding adventure.
55. Marvel at the National Monument, a Tribute to Fallen Soldiers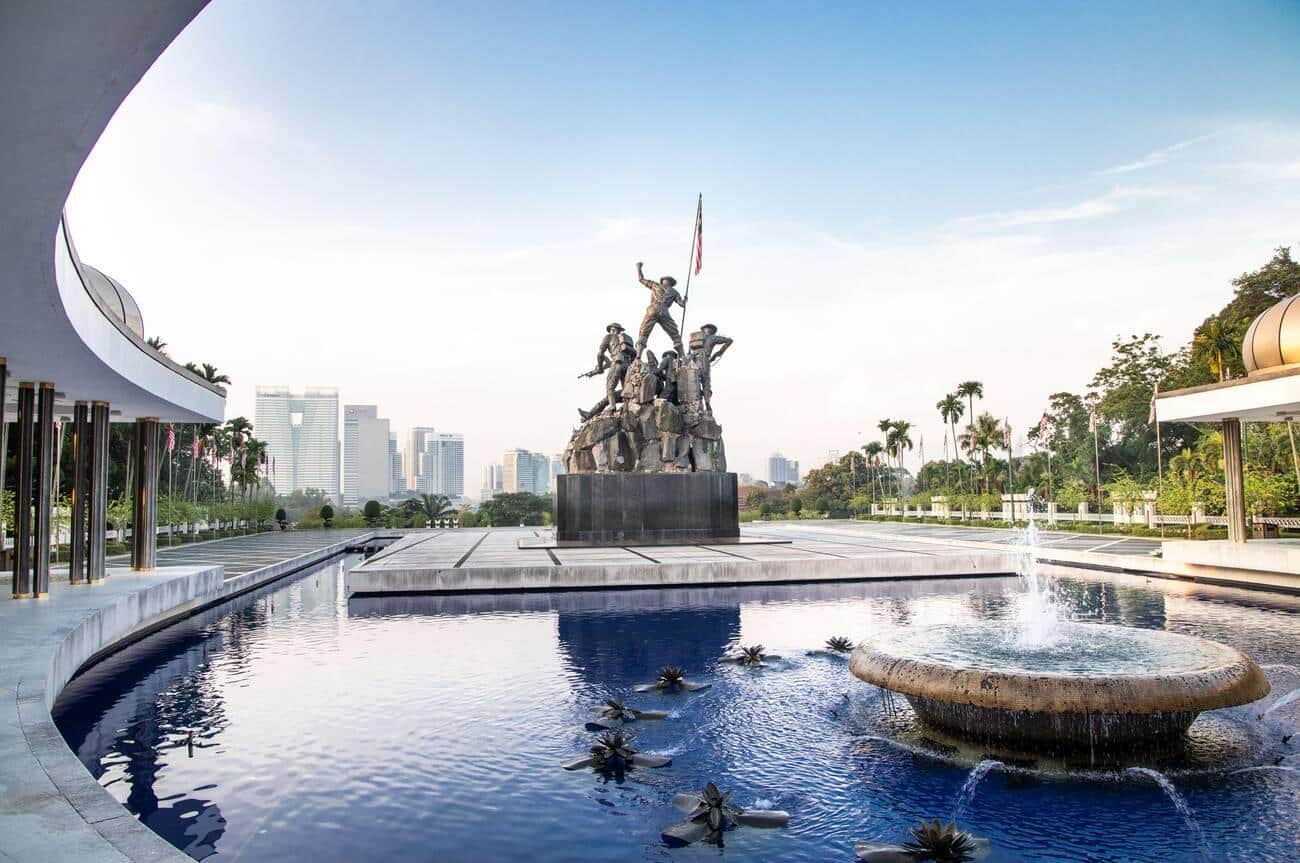 The National Monument, also known as Tugu Negara, is a poignant tribute to the fallen soldiers who sacrificed their lives during World War II and the fight for Malaysia's independence.
Located in Kuala Lumpur, this iconic monument features seven bronze statues representing different qualities demonstrated during that time, including strength, unity, sacrifice, and courage. The National Monument is a symbol of Malaysia's resilience and serves as a reminder of its historic struggles and triumphs.
56. Capture Stunning Photos on a Kuala Lumpur Instagram Tour
Unleash your inner photographer and explore the most Instagrammable spots in Kuala Lumpur with an Instagram tour. These tours take you to hidden gems and locations that will make your photos stand out. Whether you're a street art enthusiast or want to capture the city's vibrant colors, various Instagram tours are available. Choose a private tour for a more personalized experience, and let the beauty of Kuala Lumpur enhance your social media feed.
57. Embark on a Quad Tour and Venture Into the Jungle
If you're looking for a thrilling way to explore the natural landscapes surrounding Kuala Lumpur, consider a quad tour. Hop on an ATV (All-Terrain Vehicle) and traverse the rivers, rainforests, and mountains on a 4×4 adventure. Popular destinations for quad tours include Kemensah village near Selangor, where you can ride through the jungle and take a refreshing dip in a seven-tier waterfall. Alternatively, head to Janda Baik village in Bentong for an exhilarating ride through dense tropical forests and a chance to cool off in the river.
58. Experience an Upside-Down World at the Kl Upside-Down House
Step into a whimsical world of illusion at the KL Upside Down House. Inspired by Enid Blyton's "Faraway Tree" series, this unique museum attraction features rooms designed to create the illusion that everything is upside down. Explore the different themed rooms where gravity seems to have taken a delightful twist. It's a fun and interactive experience that will leave you with amazing photos and a sense of wonder.
59. Challenge Your Wits in an Escape Room
Put your problem-solving skills to the test by trying an escape room experience in Kuala Lumpur. Gather your friends or family and enter a locked room where you must solve puzzles and decipher clues to find your way out within a specified time limit. These interactive games require teamwork, logical thinking, and quick decision-making. Choose from various themes and difficulty levels, and prepare for an immersive and thrilling adventure that will keep you on your toes.
60. Explore the Vibrant Golden Triangle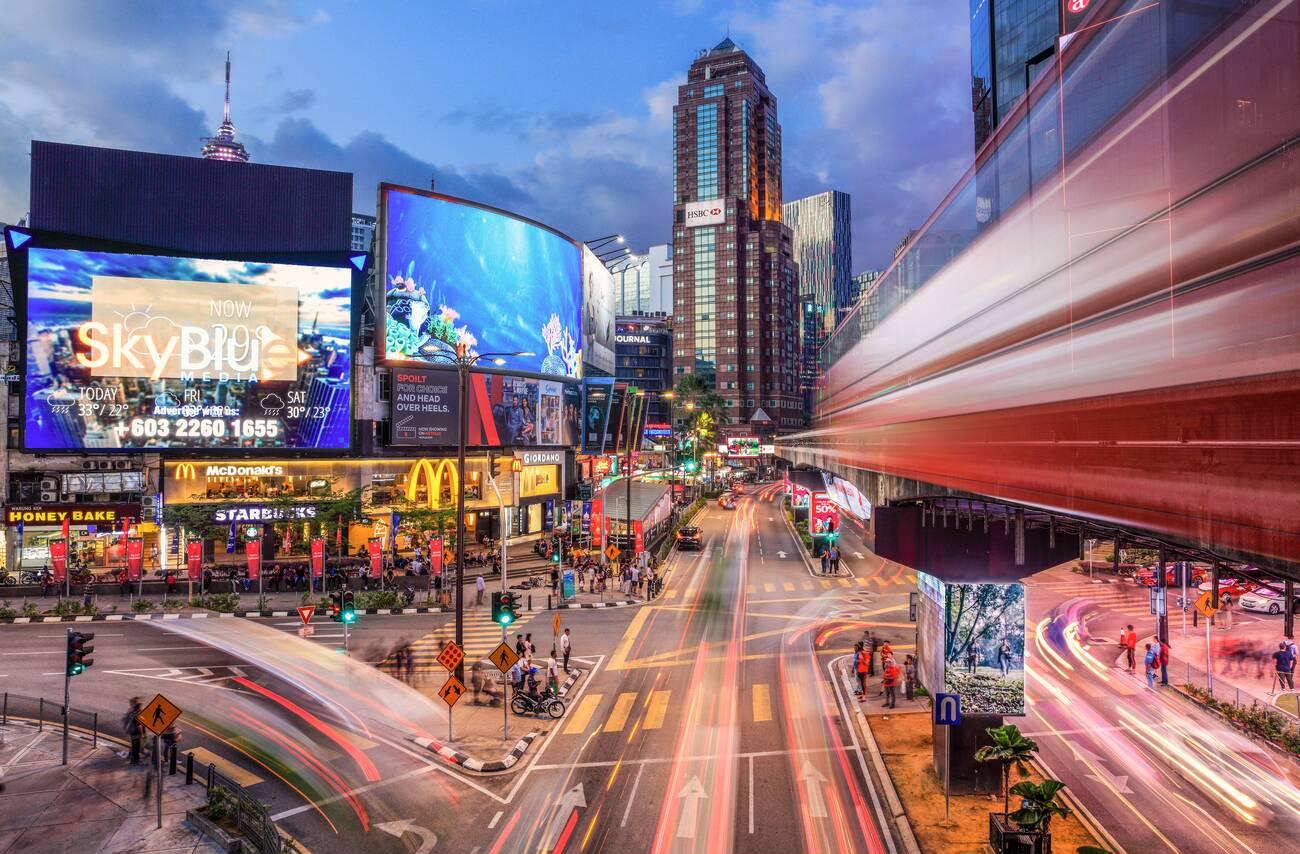 The Golden Triangle, encompassing Jalan Imbi, Jalan Sultan Ismail, and Jalan Raja Chulan streets, is the bustling heart of Kuala Lumpur's central business district. This vibrant area has numerous malls, boutique shops, restaurants, and cafes. It is also home to iconic skyscrapers like the Petronas Twin Towers and the Suria KLCC shopping mall.
The Golden Triangle comes alive as night falls with its vibrant nightlife scene. Visit Bukit Bintang Street for lively festivities, enjoy drinks at rooftop bars, or dance the night away at one of the district's popular nightclubs. Dress up and immerse yourself in the glitz and glamour of the Golden Triangle.
61. Soar Above Water With the Thrilling Flyboard Experience
In Kuala Lumpur, you can enjoy exciting water activities without an ocean. Flyboarding offers a unique experience where you're propelled into the air by high-pressure water jets. Unlike surfing or wakeboarding, you don't need exceptional balance for this activity, though it can be an advantage. With modern technology, you'll strap into a board and boots, ride a guided jet ski, and take flight above the water. You can even perform tricks on the water and in the air, making it a thrilling and memorable adventure.
62. Experience the Thrill of Indoor Skydiving at Windlab
For those seeking the excitement of skydiving without jumping from a plane, Windlab Indoor Skydiving is the perfect alternative. Located within 1 Utama shopping mall, this unique attraction allows you to experience the sensation of skydiving in a cylindrical glass chamber. Using vertical wind tunnels, you'll feel the force of gravity as air speeds reach up to 250 km/h. Perform stunts and tumble turns while defying gravity and enjoying a safe, controlled indoor skydiving experience.
63. Explore the Bank Negara Malaysia Museum and Art Gallery
The Bank Negara Malaysia Museum and Art Gallery offer a captivating experience for art enthusiasts and those interested in finance. Designed to make the world of finance more accessible, the museum showcases beautiful architecture and exhibition displays.
With six permanent galleries, including the Children's Gallery, Economics Gallery, and Art Gallery, visitors can explore various aspects of economics, Islamic finance, numismatics, and more. Don't miss the museum's stunning spiral staircase, which provides a perfect photo opportunity.
64. Discover the Thai-Inspired Chetawan Buddhist Temple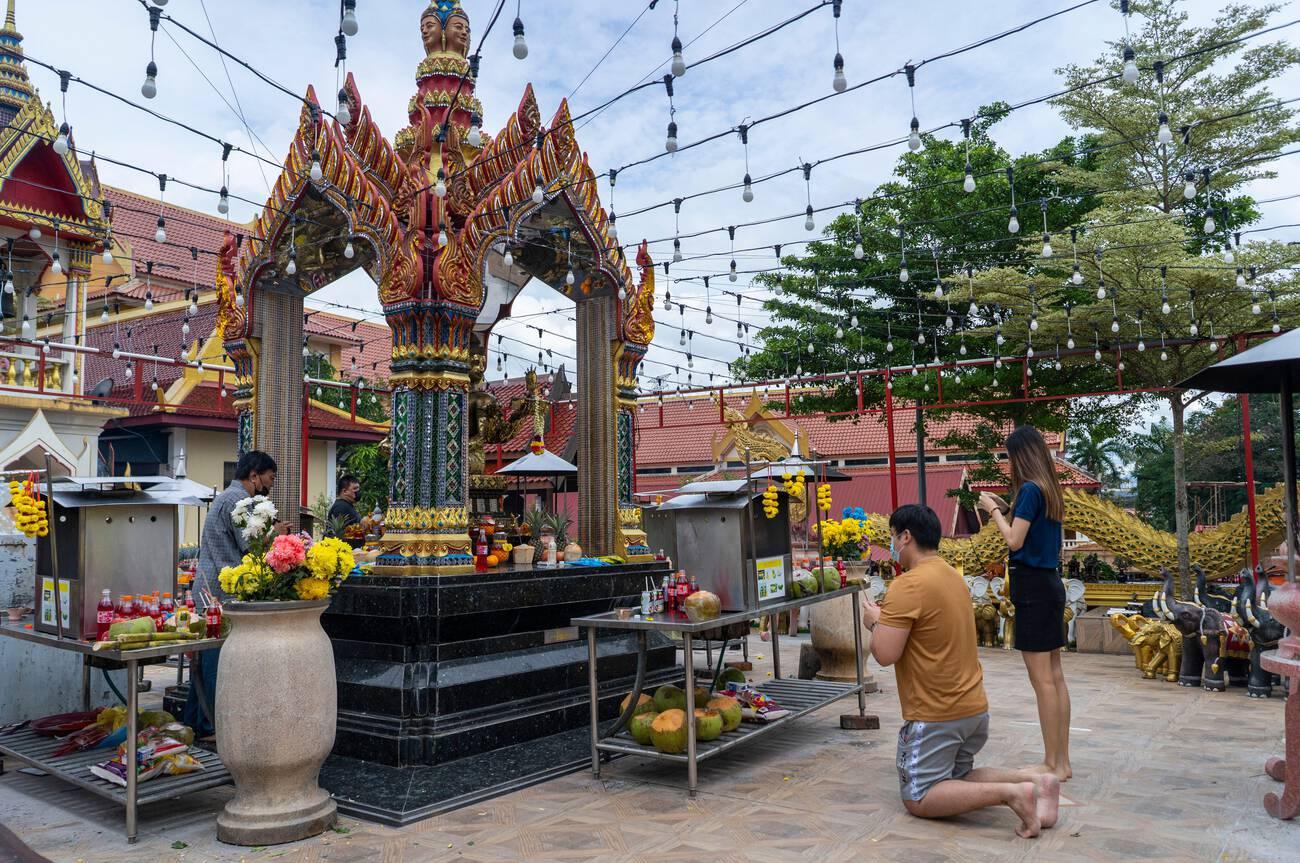 Experience a taste of Thailand in Kuala Lumpur at the Chetawan Buddhist Temple. This temple, which opened in 1957 with the blessing of the Thai king at the time, features intricate architecture reminiscent of traditional Thai Buddhist temples.
Marvel at the gleaming stupas and golden standing Buddhas within the temple. Take a moment for quiet reflection and meditation, and you may even have the chance to interact with Thai Buddhist monks who reside there.
Read More: Tips to Prioritize Travel in 2023
65. Chase Waterfalls at Kanching Recreational Forest
Escape the city and venture to Kanching Recreational Forest, located north of Kuala Lumpur. This nature park is home to the enchanting Kanching Rainforest Waterfall, consisting of seven tiers. While the first three tiers are the most popular and easily accessible, further tiers require more climbing and trekking. It's a great spot for a picnic, and the serene surroundings offer a refreshing retreat into nature's beauty.
66. Visit the Secret Garden at 1 Utama
Make your way to 1 Utama, the seventh largest shopping center in the world, for a memorable day trip. Located in Selangor, just 45 minutes from Kuala Lumpur, this mall offers an extensive selection of shops catering to all budgets and styles.
After shopping, take a break at the food court or let the kids burn off some energy at Playtime Kids or Sports N' Play. For tranquility, explore 1 Utama's Secret Garden, where over 500 species of flora and fauna create a serene oasis amidst the bustling mall.
67. End Your Day at One of Kuala Lumpur's Best Rooftop Bars
With its impressive skyline, Kuala Lumpur has numerous rooftop bars offering breathtaking views. Elevate your experience by visiting one of these urban rooftops as the sun sets. For a 360° view of Kuala Lumpur, head to the Heli Lounge Bar, which transforms from a fully functional helipad during the day into an incredible bar at night.
Sip your favorite drink while enjoying the panoramic vistas of the city. The rooftop bar scene in Kuala Lumpur offers a variety of options to suit different tastes and preferences.
68. Experience the Thrill of Indoor Trampoline Parks
Head to one of Kuala Lumpur's indoor trampoline parks for a fun and energetic activity. These parks offer a variety of activities, including trampoline jumping, dodgeball, slam dunk zones, and foam pits. Bounce, flip, and jump through a sea of trampolines, perfect for kids and adults. It's a fantastic way to release energy, enjoy friendly competition, and experience the joy of defying gravity in a safe and controlled environment.
Bottomline 
That's everything you should have learned about  – the best things to do in Kuala Lumpur.
In conclusion, Kuala Lumpur offers an extraordinary blend of culture, adventure, shopping, and natural beauty. With its diverse activities and attractions, this captivating city guarantees a memorable experience for every visitor. Whether you're a history buff, an adventure enthusiast, a food lover, or a nature seeker, Kuala Lumpur is a destination that will leave you wanting to come back for more.
Subscribe to Our Latest Newsletter
To Read Our Exclusive Content, Sign up Now.
$5/Monthly, $50/Yearly