Wordle Multiplayer Mode: Play With Your Friends [Complete Guide]
Listen to the Podcast:
Wordle is the game of the moment in which everyone can and wants to participate. As we already know, this multimedia game combines luck and ingenuity. It consists of finding out a five-letter word without any initial clue. You only have six attempts. This word changes daily. But Wordle multiplayer game is not available yet, and you need to follow some tricks to play with your friends.
The downside of the game is that you can only play it once a day, anyone with the same board can participate, and it doesn't allow you to schedule a game with a specific friend. However, today we will teach you how to create your own Wordle and play it with your friends in Wordle multiplayer mode.
How to Create Your Custom Wordle?
When we talk about creating our own Wordle, we mean using an application that allows us to create game assignments that we can share with whomever we choose. Increase word length. Decide if we use the dictionary or not, that is, customize our game.
For this, we are going to use the Custom Wordle website, a variety of Wordle, which improves the original game due to its characteristics:
You can choose the language with five modalities: Spanish, English, French, Hindi, or German.
Choose the length of the word.
Share with family and friends. The page offers a link you can send by mail or social networks.
It can be played several times a day. There is no game limit.
To use it is very simple:
Open the game's website.
Select the language we will use or the option of No Dictionary.
Click on the button that says: Make your own Wordle. Write the desired word.
Then we click the Generate Link button, and the link we can copy and send to our friends appears.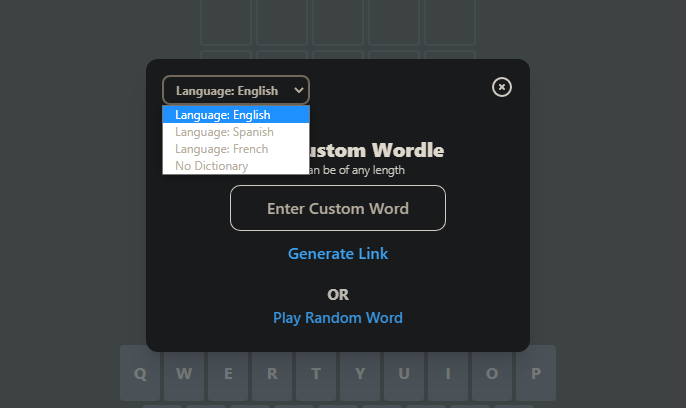 What Aspects Should I Take into Account to Create My Wordle?
When creating a Wordle, we must consider the interests or expectations of those who will guess the word.
We must not use very long, far-fetched, or invented terms. They will be impossible to guess, and the player will feel frustrated or disappointed. The idea is to use hard-to-find words, not impossible-to-play games.
You May Find Interest: How to Find Where You Died in Minecraft?
'No Dictionary' Function
When we use the No Dictionary option, we can include any word in search attempts, even if it doesn't exist.
Word Length
With Custom Wordle, you can generate your word of any length.
How to Generate a Wordle Link to Send to Your Friends?
It is essential to clarify that Wordle is not a downloadable game. To play it, we must go directly to its website.
Playing with Wordle is very simple; it is about guessing a hidden word of five letters in a maximum of six attempts without any clues.
You only have the indications generated after each attempt, according to the game's rules to guide you.
If a letter appears in a green box, it indicates that the letter is in the word and that it is in the correct position.
If the letter is in a yellow box, it indicates that it appears in the word but is not in the correct place.
And if it appears in a gray box, the letter is not in the word.
The exciting thing about this game is that you can only enter it once daily, and there is a different word every day. Also, it will only allow you to share the link with your friends once you have won the game.
Once you have obtained the hidden word, the system opens a window with the information on the percentage of the game. Also, a box appears with the Sharing tab.
By clicking Share. The system sends you the link to the clipboard, which you can copy to send to friends and family via the social network of your choice.
Wordle Multiplayer: Add Your Friends to Wordle
Officially it is not possible to play Wordle with our friends. To do this, you must use third-party Wordle multiplayer apps.
The steps to follow are those:
Enter your website and select the Play Game option.
Next, you must touch the Share game.
Then send the invite link to the person.
The person you want to play with must enter the link, and the system will automatically take them to the page where they will start the game.
It is necessary to clarify that Wordle multiplayer apps/software keep the same Wordle rules, with some variations. To play it at a multiplayer level.
Each player must be connected from a different computer or mobile with an Internet connection.
The interface varies slightly, as two boxes are presented, yours and your opponent's.
All games are timed.
There are no limits on the number of words per day.
Don't get left behind, get hooked on Wordle, exercise your brain daily looking for that hidden word, and have fun with online games from your computer or mobile.
Subscribe to Our Latest Newsletter
To Read Our Exclusive Content, Sign up Now.
$5/Monthly, $50/Yearly