How to Style a Mid-Century Modern Living Room?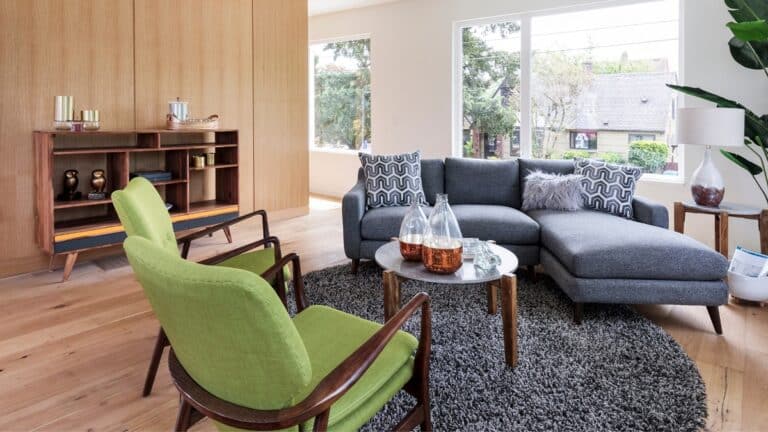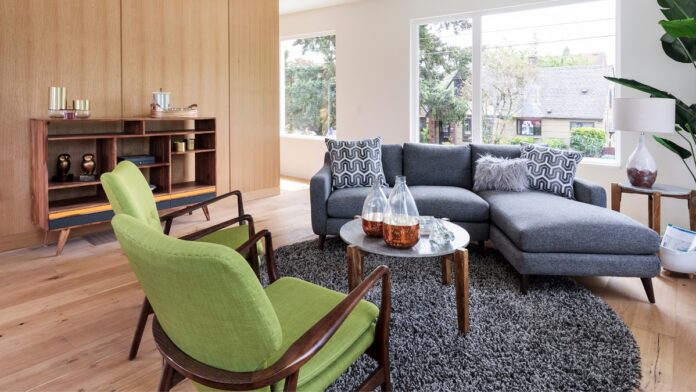 Listen to the Podcast:
If mid-century modern is your style, you're in luck because it's trending right now. This 1950s-inspired design concept is all about taking advantage of vintage, simple pieces that make a statement. There are several tenets of this design concept that you can embrace to create the perfect living room. It helps if you first have a better idea of what the MCM design trend entails.
The main elements of mid-century modern design include:
Muted tones
Clean lines
Vibrant colors and statement pieces
Mixing manmade and natural materials
Graphic shapes and décor
Integrated indoor/outdoor themes
With the end of World War II, many Germans emigrated to America, including a slew of designers and related professionals. They brought their modern, Bauhaus-inspired ideas with them, creating a trend toward retro-futuristic designs that emphasized functionality, clean lines, and bold statement pieces. This trend remained popular until the 1980s when other styles came along.
Tips for Success with Mid-Century Modern Living Room Design
As mentioned, there are a lot of tips and tenets of this design concept that you can use to create your perfect space.
Choose statement pieces
The mid-century modern design in any room is built around a few statement furniture pieces. These pieces can be purchased for the space after the design is created or they can be the inspiration for your new design if you've already acquired them. Perhaps you've got the perfect bold, comfy armchair or you love the look of that retro mid-century modern TV stand—start there and then work your way out to the rest of the design.
Since most of the space is going to be neutral (more on that next), the statement pieces in the room need to really make an impact and reflect your personal design aesthetic. You can then use the other elements of the design to highlight and complement whatever piece(s) you want people to focus on.
MCM design also favors low-profile furniture like sofas with lower backs, tables that sit closer to the floor, and so forth. This type of streamlined design enhances the look of the space and creates the illusion of more room, which can help in several ways.
Keep things natural and neutral (mostly)
Mid-century modern design is all about pops of color. You can't have that if the entire room is a bright, bold space competing for attention. Ground MCM designs with natural elements like large windows overlooking the outdoors, potted plants (or fake ones for those with less-than-green thumbs), and neutral colors that allow the rest of the design to pop, as it should.
This doesn't mean painting the room, adding white trim, and calling it a day. That's actually a far cry from mid-century modern. Instead, you should choose neutral tones and warm colors that are inspired by the retro color palette.
Experiment with colors and graphic designs
If mid-century modernism is your vibe, then you'll want to play around with colors that can highlight your unique personality and create a focal point for the space. Look for retro color palettes that include popular colors like butter yellow, sage green, and various shades of turquoise and blue. Since the goal is to keep the overall space a bit muted, the use of color should be for highlights, statement pieces, and accents around the room.
Try out different colors and see what you like. Search the Internet to get inspired by other mid-century modern color palettes and designs. Remember that the retro-futuristic look and graphic designs featuring geometric shapes are what make this design trend stand out. Popular shapes include:
Kidney-bean shaped items
Ovals
Rectangles
Sunburst designs
Circles
Ask the experts
One of the best things that you can do to get the perfect design is to hire someone who can assist you. An interior designer will be able to discuss your ideas and the design concepts that you like, and then create a space that is uniquely yours. They understand all the tenets of mid-century modernism and how to create spaces that stand out and make a statement. They also don't cost as much as you might think.
You can get a lot of input and insight for free, but there's also something to be said about spending a little of your budget on professional design. Designers know how to take your wants and needs and create the perfect living room, no matter what you have in mind.
Don't forget the staples
In mid-century modern design, there are some elements that simply cannot be overlooked. Low chairs, vintage coffee, end tables, and even a modern sectional combined with a vintage side table and credenza are common examples of popular styles and items that you can incorporate into your space. Focus on wooden furniture and wood accents.
You can also use furniture to create the illusion of more space, develop a symmetrical design, and showcase your personal style. What are the things you love most about mid-century modernism? Add those to your design must-haves right away.
Start Your Design Renovation Right Away
There's no better time than now to start a new renovation project like updating your living room to a mid-century modern design. With the tips above, you'll find that it's easy to create your perfect space, no matter what you have in mind. While you're looking around online for inspiration, don't forget to head to Spoken, where you'll find the lowest prices on home décor of every kind.
We have compiled all the home items you'll ever need, including thousands of mid-century modern-inspired pieces, and everywhere that you'll find those items for sale online. This ensures that you get the highest-quality furniture and furnishings at the lowest cost, each and every time. Spoken takes the guesswork and effort out of online shopping so you can spend more time designing and enjoying your new living area.
If you're ready to turn your living room into a whole new space inspired by mid-century modern design, you can get started right away!