Samaresh Majumdar – A Doyen of Bengali Literature
Listen to the Podcast:
Samaresh Majumdar, a Bengali writer from West Bengal, India, was born on March 10, 1942. Majumdar is famous for his Animesh book series, with the second book in the series, Kalbela, winning the Sahitya Akademi Award in 1984. Additionally, he is noted for inventing the detective character Arjun, who was the main character in the 2013 movie Arjun – Kalimpong E Sitaharan. The film Buno Haansh, which was released on August 15, 2014, is based on his book of the same title, which was published in Pujabarshiki Anondolok.
Samaresh Majumdar was a famous Indian-Bengali novelist. Keep reading this blog post to know his biography, literary works, famous books, and Awards.
Samaresh Majumdar Biography
| | |
| --- | --- |
| Name | Samaresh Majumdar |
| Date of Birth | 10 March 1942 |
| Father's name | Satyajit Singh Majithia |
| Mother's Name | Tunku Puan Zanariah |
| Birthplace | Jalpaiguri, West Bengal, India |
| Education | Scottish Church College, University of Calcutta |
| Nationality | Indian |
| Died | 8 May 2023 |
Samaresh Majumdar was born on 10 March 1942, and he spent his infancy in the Duars tea gardens. His elementary education was at Jalpaiguri District School. He received his undergraduate and graduate degrees in Bengali from Scottish Church College, Kolkata, and Calcutta University, respectively. Professionally, he was affiliated with the leading publishing company, Ananda Bazar Prakashana.
Samaresh Majumdar held Group Theatre in high regard. His first story, Antaratma, was intended to be adapted for the stage. As a result, he began his literary career as a playwright. The story was eventually published in 1967 in the Bengali magazine Desh. His first novel, titled Dour, was published in Desh in 1976.
Samaresh attempted various forms of creative writing, including short stories, travelogues, and children's fiction, with equal skill and brilliance.
Read More: Rabindra Jayanti 2023
Samaresh Majumdar's Literary Works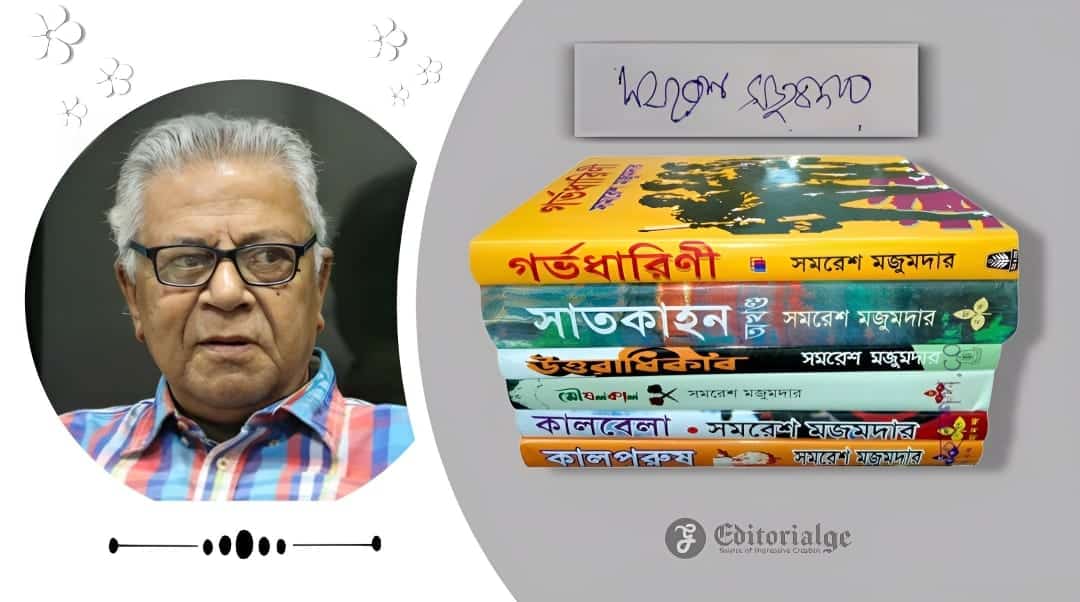 Samaresh Majumdar was passionate about Group Theatre. His first story, Antaratma, was intended to be performed as a play; however, it was published in 1967 in the Bengali magazine Desh. In 1976, his debut novel Dour (Run) was published in Desh. Samaresh Majumdar, a prolific author who has excelled in various disciplines, has written short stories, novels, travelogues, and children's fiction.
The renowned literary works of this Bengali author include the following:
Dour – Samaresh Majumdar's first novel was released in 1976.
Uttaradhikar – This is the story of Animesh, a boy who grows up in the tea fields of North Bengal and then becomes a young man. This is the first book in the trilogy Animesh.
Kalbela – In this novel, the protagonist, Animesh, arrives in Calcutta and struggles to adapt to its culture, politics, and society. He is handicapped and marries a Bangladeshi woman named Madhabilata after falling in love with her. In 1984, Samaresh Majumdar received the prestigious Sahitya Academy Award for his work Kalbela.
Kalpurush  – This novel, the conclusion of the Animesh trilogy, examines the conflict of Arko, the son of Animesh and Madhabilata, who struggles to reconcile his parents' idealism with the consumerism of the present.
Arjun is another science fiction detective created by Samaresh Majumdar who, despite being written for younger readers, is appreciated by all age groups.
Buno Hans is the story of an ambitious young man who migrates to Thailand and later attempts to establish himself in Canada. Everything about him and his lady love brings the tale to life in front of the readers' eyes.
Samaresh Majumdar's other works are Sharonagoto, Saat Kahon I and II, and Tero Parbon. Other books written by the famous literary personality include Swapner Bazar, Ujaan Ganga, Tirtha Jaatri, Victoriar Bagaan, Aat Kuthuri Noy Darja, Attiyoswajan, Anuraag, Cinemawallah, Derdin, Ekmukhi Rudraksha, Garbha Dharini, and Ekadosh Aswarohi. Samaresh Majumdar is the author of around sixty novels and over one hundred short tales that have made an unforgettable mark on the minds of thousands of Bengali readers.
Famous Books
KALBELA

Combo of Nodir Dhare Bas

Bipul Nikat

Kulakundalini

Panchti Rahasya Uponyash

SATKAHAN

Teen Bhubaner Pare

Uttaradhikar

Teendharia

Moushalkal

Aay Sukh Jaay Sukh

Chayataru

Chhayti Romantic Upanyas

Arjun Samagra

Garbhadharini

Dour

Kaalbela

Kalpurush

Mousholkal

Garbhodharini

Aattiyoswajan

Ani

Harinbari

Janajajok

Boro Paap Hey

Ujangonga

Lokkhir Pachali

Showar

Unish Bish

Shatkahon

Aabash

Shoronagoto

Ferari

Din Jay Rat Jay

Bondinibash

Buno Haansh

Nikotkotha

Sroddhanjali

Anuprobesh

Kulokundolini

Ora ebong oder maayera

Haaramir haatbaksho
Works for Younger 
Rotnogorbha

Kalapahar

Barofe Payer Chap

Arjun Ebaar Kolkata e

Macsaheber Natni

Arjun Beriye Elo

Ghumghumer Senbari

Carvalhor Baxo

Arjun @ bip bip dotcom

Yeatir Atmio

Ekmukhi Rudrakha

Keo Bojhe Na

Khutimari Range

Khunkharapi

Kalimpong e Sitaharan

Chandigarh e Gandogol

Lighter

Dwitiyo Lighter

Tingchuk Monerstery r Hire

Hangorer Pete Hire

Jutoy Rokter Daag

Derdin

Dracullar Sondhane Arjun

Joyontir Jongole

Teen Jaliyat Ebong Ek Mithyebadi

Dindupure Ratdupur

Nababganjer Narakhadak

Phule Bisher Gondho

Bishalyakarani

Manush Pachar

Lobonhrod Londobhondo

Samannandan Yamnandan

Sitahoron Rohosyo

Hisebe Bhul Chilo

Mushkil Asan

Dasbangsho Dhangsho

Arjun Samagra (1-5)
Notable Characters
Animesh and Madhabilata (Uttaradhikar, Kaalbela, Kalpurush and Mousholkaal)

Arjun – the sleuth cum science fiction character. The first movie based upon the early adventures of Arjun is Arjun — Kalimpong E Sitaharan, released on 3 May 2013.

Dipaboli, a striking main character of Saatkahon

Arka – son of Animesh; in Kalpurush and Moushalkal
Awards
Banga Bibhushan Samman – 2018 awarded by the Government of West Bengal

Sera Bangali – 2018

Bankim Puroshkar – 2009 for Kolikataye Nobokumar

Sahitya Akademi Award – 1984 for Kalbela

Ananda Purashkar – 1982

Bengal Film Journalists' Association Award, Dishari, and Chalachchitra Prasar Samity – Best Script Writer – 1982
Death
Bengali author from India's West Bengal Samaresh Majumdar died on May 8, 2023, at 5:45 p.m. in Kolkata, after being hospitalized for COPD problems. According to his hospital REPORTS, the reason for his death was Chronic Obstructive Pulmonary Disease (COPD). He passed away at the age of 81.
Conclusion
Samaresh Majumdar was a prolific writer who produced many notable works during his lifetime. He is considered to be one of the greatest authors of the 20th century in Bengali literature. His works have been praised for their poetic and lyrical qualities, as well as their message of social justice. He has left a legacy that will continue to be appreciated for many years to come.