Imran Khan Kept Pakistan's Record Intact
From that Liaquat Ali Khan to today's Imran Khan, no Prime Minister of Pakistan has so far completed his tenure in power. No other country in the world has this record.
Pakistan's first Prime Minister Liaquat Ali Khan was assassinated. Several prime ministers have been ousted by the army. Pakistan's army has always been a big player in politics. Sometimes the country's dominant army has repeatedly interfered in politics by declaring the government dissolved, sometimes by dismissing it, or sometimes by issuing a military law.
Some, such as Pakistan's fourth Prime Minister Chaudhry Mohammad Ali, or the fifth Prime Minister Hussein Shahid Suhrawardy, have resigned before the end of their term.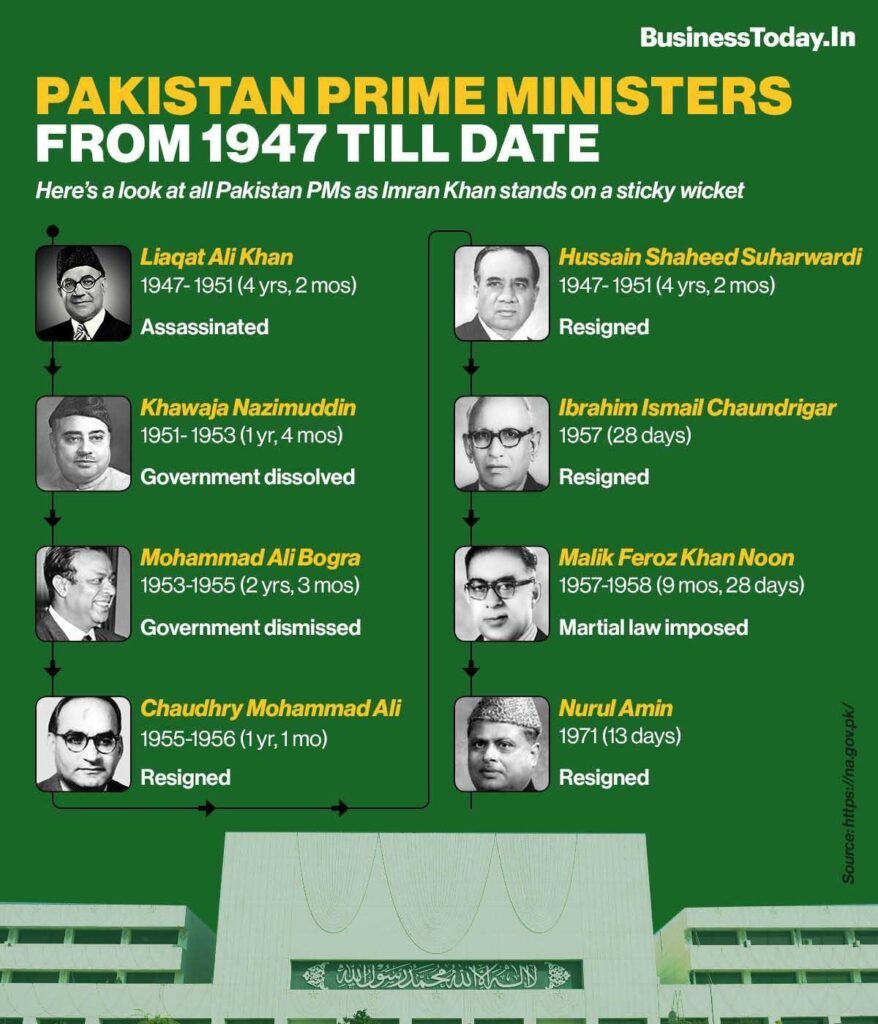 Like the army, the intervention of the Supreme Court of Pakistan also changed the fate of some of the country's prime ministers who had to give up power. Pakistan's Supreme Court disqualified three prime ministers from 2008 to 2017.
Pakistan's most unfortunate prime minister is probably Nawaz Sharif. Although he took over as prime minister three times, he could not complete his term even once. The first time the president dismissed him, the second time the army law was imposed, and the third time the Supreme Court disqualified him.
One of the main players in this scenario is Nawaz Sharif's brother Shahbaz Sharif. On March 28, Pakistan's opposition leader Shahbaz Sharif moved a no-confidence motion in parliament against Prime Minister Imran Khan. After a lot of drama, the vote was scheduled to take place on Sunday. However, the no-confidence motion against Imran khan was rejected in parliament.
The opposition claimed that the signs of Imran's loss in the polls were clear. Imran, on the other hand, alleged that attempts were being made to overthrow him in a foreign conspiracy. The accusations are directed at the United States.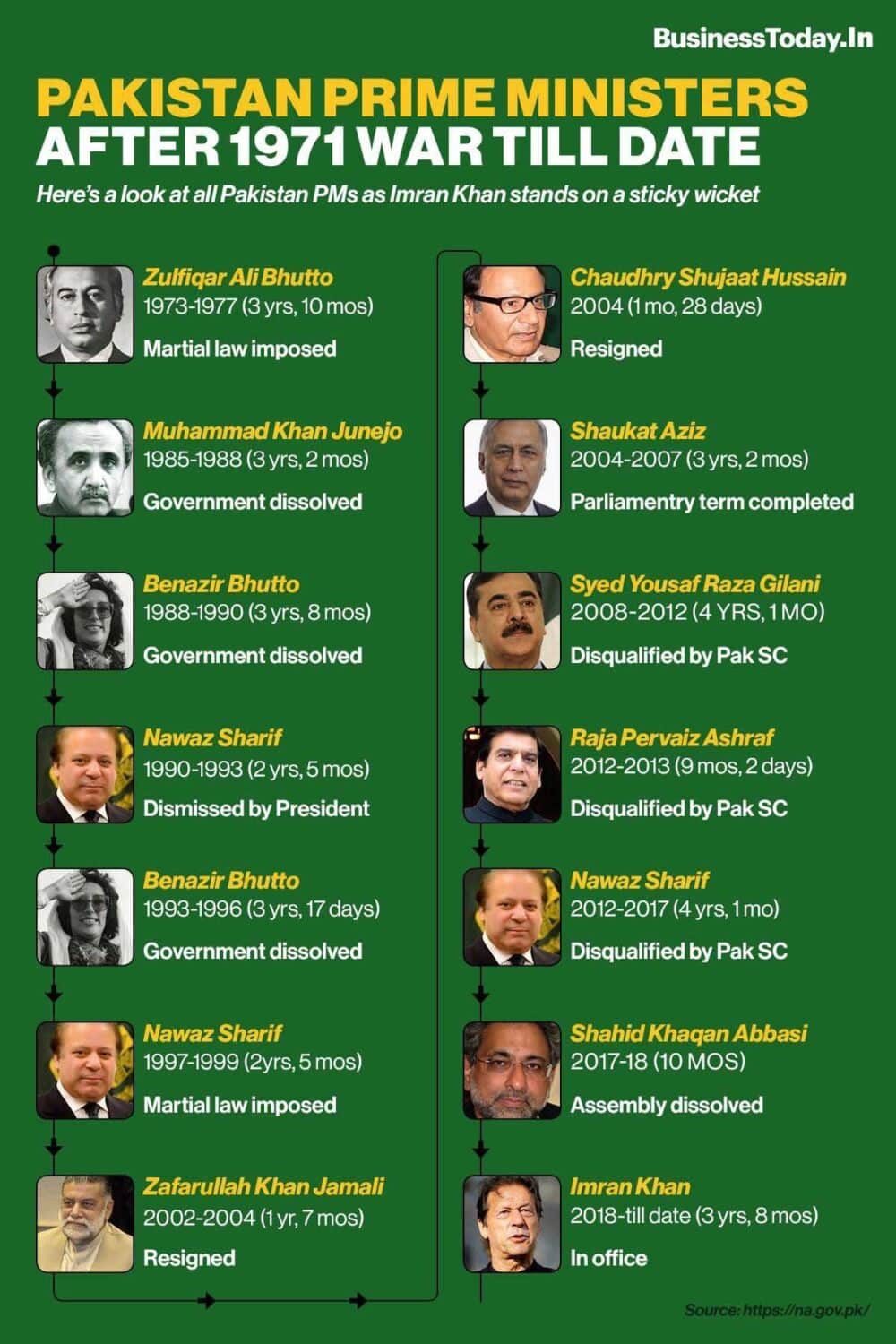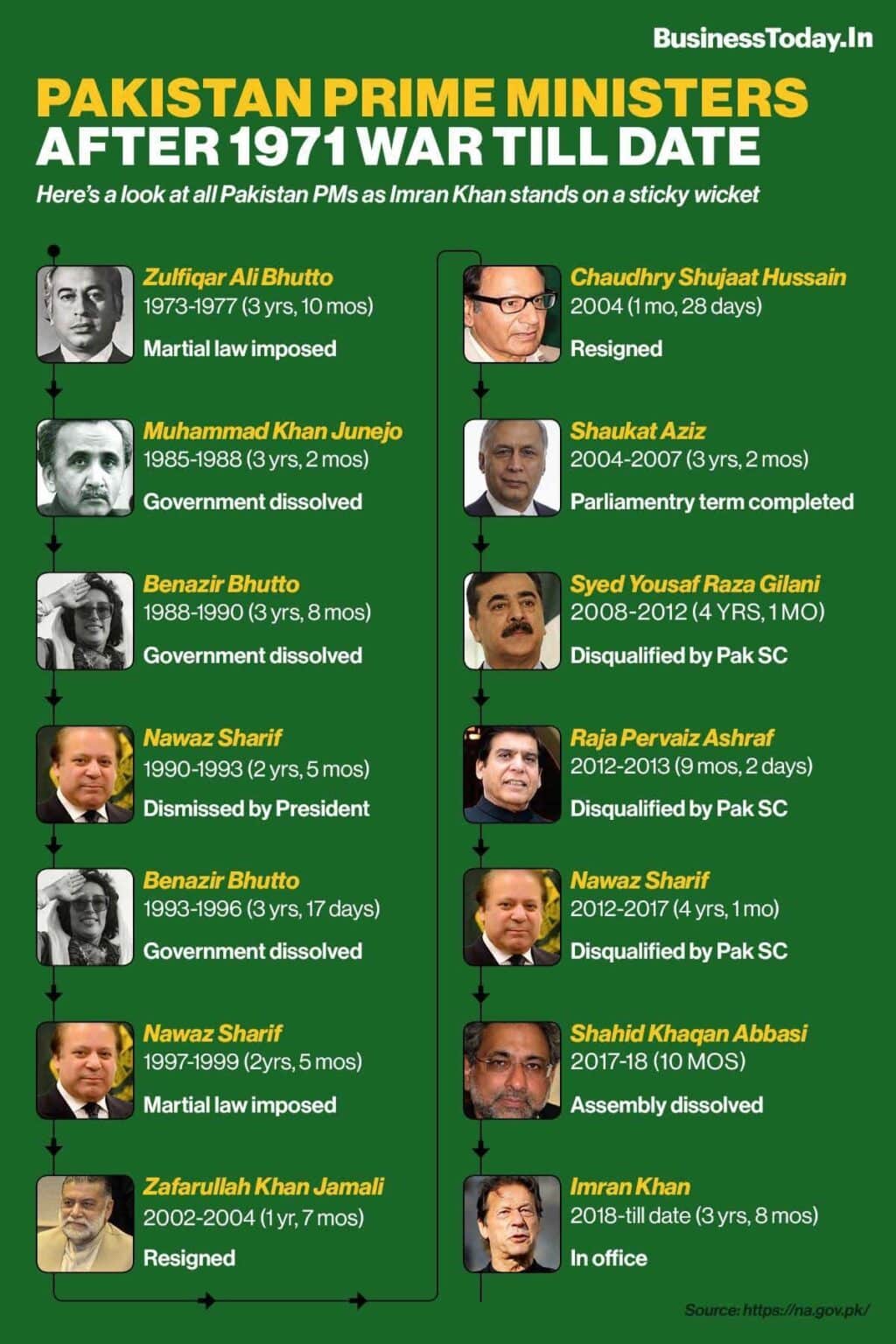 Responding to Imran's call after the no-confidence motion was rejected, President Arif Alvi dissolved the current legislature.
According to the constitution, a caretaker government will now be formed after the president dissolves parliament, which will hold the next election within 90 days.
Imran Khan was the 22nd Prime Minister of Pakistan. If the no-confidence motion against him had not been rejected in parliament and if he had lost the vote, he would have been the first Prime Minister of Pakistan to lose power after losing the no-confidence vote. But deputy speaker Qasim Suri saved Imran from setting this record of disrespect.
Since its independence in 1947, Pakistan has seen 22 Prime Ministers so far. Among them was a woman prime minister, Benazir Bhutto. Benazir, daughter of former Pakistan Prime Minister Zulfikar Ali Bhutto, was in power for the first term from 1988 to 1990. After three years and eight months in office, his government was dissolved. Benazir came to power for a second term in 1993. He was also able to serve for three years and 17 days. For the second time, his government was dissolved.
Subscribe to Our Latest Newsletter
To Read Our Exclusive Content, Sign up Now.
$5/Monthly, $50/Yearly