A Guide to Paint-by-Numbers: The Process, Inspiration, and Where to Buy Them
Paint-by-numbers is a painting kit that breaks the process of creating an artwork down into easy, manageable steps. Each step is numbered and corresponds to a specific color of paint.
Since the beginning of civilization, people have been expressing their creativity through art — from cave drawings to contemporary paintings. Art allows us to document our lives, tell stories, and emotions through different mediums.
The invention of all paint by numbers was revolutionary in that it provided an outlet for many people to express themselves artistically. It democratized art by making it accessible to anyone, regardless of skill level or background.
It is a relaxing way to create beautiful works of art on your own. They're perfect for anyone, whether you've painted before or not. If you're unsure how they work, this guide will give you all the information you need to get started.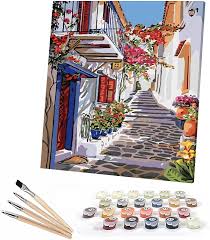 An Introduction to Paint-by-Numbers
Paint-by-numbers is a great way to learn to paint and get creative without having to know anything about art. Paint-by-number kits are widely available, from simple children's projects to sophisticated works suitable for adults. The basic concept is simple: a picture is divided into shapes, each of which is numbered to correspond with a particular paint color. The artist fills in the shapes with the correct color, creating an image by following the numbers.
You can easily find a paint-by-number kit that suits your interests, whether it's animals, plants, flowers, or historical scenes and figures. Some kits may also include multiple canvases so you can create more than one masterpiece at once or choose from different designs depending on your mood.
Paint-by-numbers kits have been found to have therapeutic benefits, especially for people with depression or anxiety. The simple act of coloring helps individuals relax, unwind, and focus their minds on something productive instead of dwelling on their stressors.
The  Process of Paint-by-Numbers
The paint-by-number process is a fun and creative activity that people of all ages can enjoy.
Find a paint-by-number kit with a design that you like. Most kits come with numbered canvas, paints, and brushes. Depending on the design you choose, you might need additional materials like glitter or glue to finish your masterpiece.
Fill in the solid colors first. The numbered areas are usually grouped together by color, so you can easily fill in large areas of color at once.
Add in highlights and lowlights with the lighter and darker variations of each color once they're dry.
If your painting includes any text or images, either follow the number guide or use paint pens to fill them in once everything is dry.
Seal your painting with a layer of craft varnish if desired to preserve it for years to come.
How Does a Paint-by-Numbers Kit Work?
There's something so satisfying about creating art. Whether you're a seasoned painter or just starting out, a paint-by-number kit is an approachable way to create something that's uniquely yours.
But what are paint-by-numbers kits exactly? And why are they so popular?
In this guide, we'll provide the answers to these questions and more, including how to choose a paint-by-numbers kit, where to find them, and how to use them.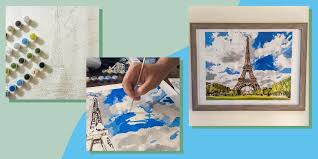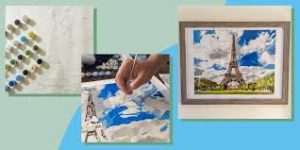 Paint by Numbers for Adults
Paint by numbers is a fun and relaxing way to create artwork. With the help of numbered lines, you will gradually transform a blank canvas into your very own masterpiece.
Paint by numbers for adults is a popular way to channel your creativity and have a stress-free time. As you follow the numbers, you're creating a work of art that can be displayed in your home or given as a gift.
It's a great activity that's both creative and relaxing. Many adults are making the switch to painting by numbers because they're much easier to follow than traditional painting kits.
The adult paint-by-number kits come with a much higher level of sophistication and more intricate designs.
Painting by Numbers Inspiration
Painting by numbers has had a resurgence in popularity in recent years. The relaxing practice of filling in numbered areas with paint to create a picture has become an acclaimed form of art therapy and mindfulness.
The process has been described as a "painting boot camp" for aspiring artists. It provides a fast track to understanding composition, color theory, and design, and it can help increase your artistic confidence.
Painting by numbers is also just plain fun! It's easy to learn, very relaxing, and you can display your finished work or give it as a gift to someone special.
Paint by numbers kits is perfect for beginners who want to learn the basics of painting without needing to learn the fundamentals of color theory or shading techniques. Even experienced artists may find paint by numbers kits a fun challenge and source of inspiration.
There are many reasons why people choose to paint by numbers. The most common reason is that they want to create an art piece that they can call their own. However, there are many other reasons as well. For instance, if you have a child who loves drawing and coloring, then having a paint by numbers kit would be perfect for them. They will enjoy it and will be able to express themselves creatively in ways that they would not be able to otherwise.
Where to Buy Paint-By-Numbers Kits Online
Paint-by-number kits are available in a huge variety of themes, from landscapes to abstract paintings and everything in between. The basic idea is to follow the color guide and paint the numbered sections of the canvas in the corresponding color. These paintings are a great way to practice and learn some basic painting techniques. They're also a relaxing, no-pressure hobby and a great way to spend time with family or friends.
If you're interested in getting some paint-by-numbers kits for yourself or your kids, we've got you covered. Here are the best places to buy paint-by-numbers kits online:
paintbynumbersdiy.com
epicpaintbynumbers.com
addictedpaintbynumbers.com
All of these kits include everything you need to get started, including a canvas, painting palette, and paintbrush. Painting by numbers is just like coloring with a twist — there are so many options to choose from!