Best Gravity Water Filter 2023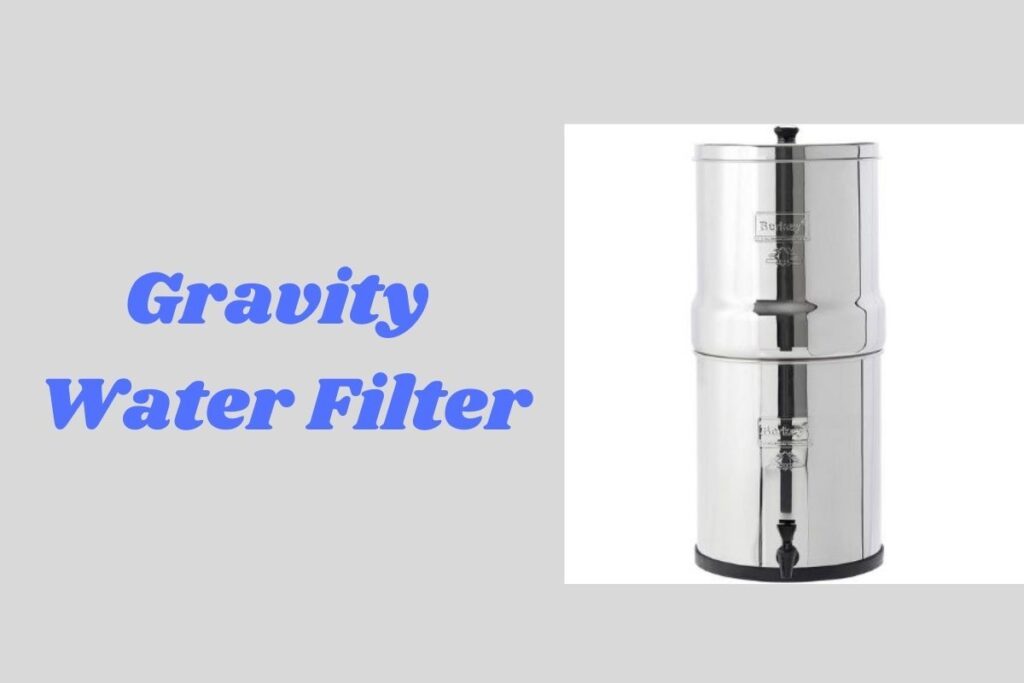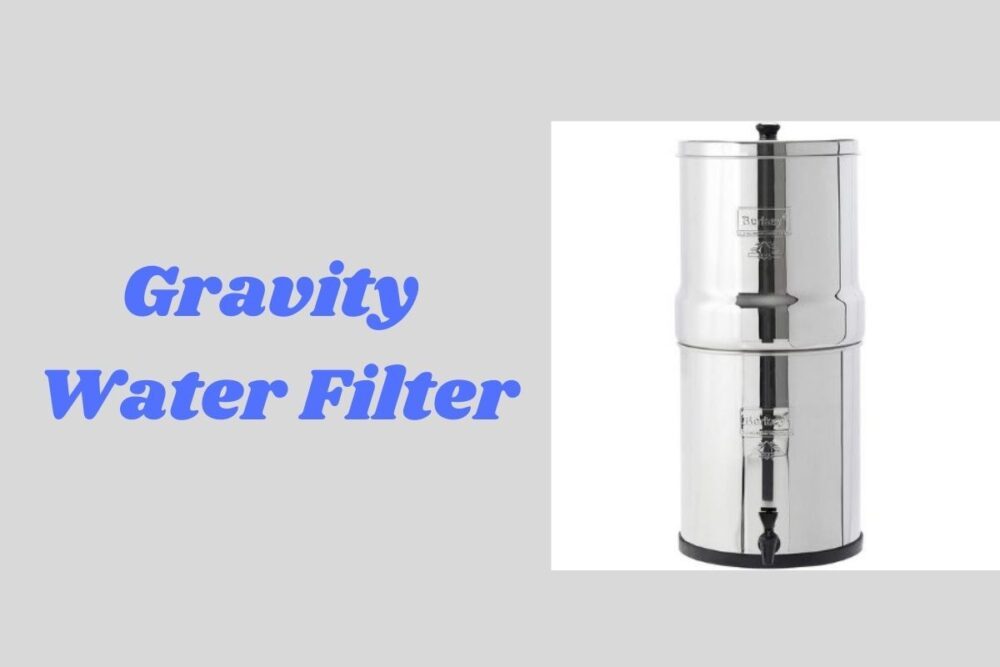 A gravity water filter is an incredible feat of engineering. It allows you to use gravity to filter tainted or polluted water. It operates without the need for power or plumbing. Simply pour your unpurified water into the top chamber of the device, and by the time it leaves the second chamber below, it will have been transformed into clean, filtered water.
Gravity water filters are a terrific addition to your kitchen or camping pack since they instantly provide you with clean, delicious-tasting water. The best gravity water filters on the market are listed below.
Big Berkey Gravity-Fed Water Filter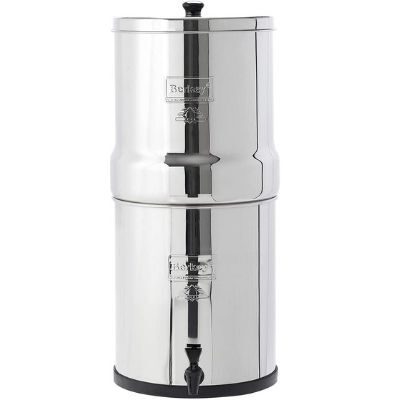 The Big Berkey is one of the most popular gravity-fed countertop water filters on the market today. While it's $50 to $100 more expensive than its competitors, you're paying for the brand's reputation — Big Berkey has a long history of producing high-quality countertop filters.
The Big Berkey with two filters, known as Black Berkey Elements, costs somewhat less than the Big Berkey with four filters, which costs $110. While increasing the number of filters in the chamber will not increase filtration quality, it will speed up the process, doubling filtration speed and the overall lifespan of each filter, which will only have to exert half the effort each time.
The Big Berkey's Black Berkey filter components can decrease more than 200 pollutants in water, including chlorine, pesticides, VOCs, and herbicides, as well as parasites, cysts, viruses, and bacteria, as well as heavy metals and nitrates like lead and mercury.
ProOne Big+ Brush Stainless-Steel Gravity Water Filter System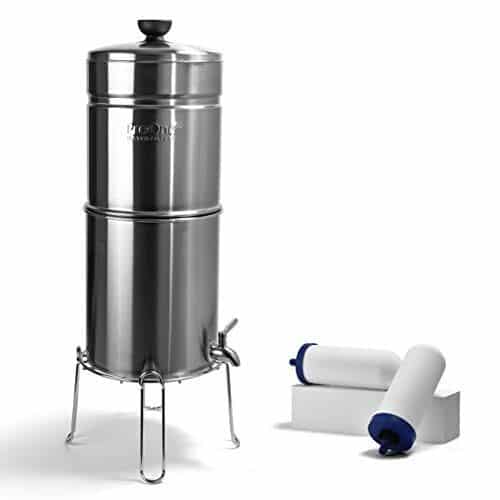 The two chambers are made of brushed stainless steel, which is both sturdy and easy to clean, ensuring that your equipment stays in good working order.
At 28.75″ tall when fully assembled on the wire-framed stand, it will tower over your other appliances. Consider it the focal point of your kitchen, and you'll gravitate toward it for your hydration requirements.
For extra peace of mind, the device comes with two 7″ filters that have been independently tested and NSF certified. The activated carbon layer removes over 200 impurities, including pesticides, chlorine, and heavy metals, as well as fluoride, making the ProOne Big+ stand out among rivals.
Travel Berkey Gravity-Fed Water Filter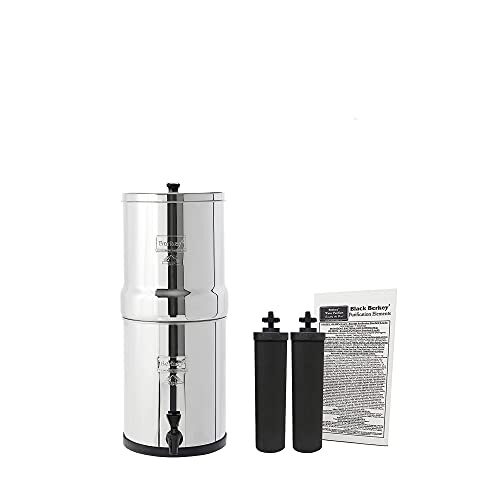 When Berkey says "travel," they simply mean "take the road." The stainless steel upper and lower chambers are 18″ tall when combined. However, owing to the Travel Berkey's simple setup and compact design, you can rapidly outfit any hotel room or vacation home with a water filtration system.
Then, from the lower chamber, you'll have 1.5 gallons of freshly filtered water on hand.
The stainless steel chambers are rust-proof and easy to clean, and the rubber and metal components are of good quality. Berkey is one of the most well-known water filtration companies.
Two Berkey Black range filters are included with the device. More than 99.999 per cent of viruses and 99.9999 per cent of dangerous bacteria are removed by these long-life filters.
Heavy metals like mercury and lead are also removed by the filters. Unfortunately, fluoride filtration isn't common, so if you're concerned about this pollutant, you'll have to spend money on extra filters.
Alexapure Pro Stainless Steel Water Filtration System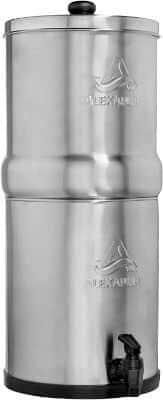 The Alexapure is a 5,000-gallon gravity-fed water filtering system made of stainless steel. Bacteria, lead, viruses, cysts, fluoride, and TCP are among the 200+ pollutants that it eliminates.
Pour water into the top chamber of the Alexapure, wait for it to filter down to the bottom chamber, and then switch on the dispenser to fill your glass or bottle. Because the Alexapure does not require energy to function, you may use it in any scenario, even if your power is out.
The Alexapure can carry up to 8.5 litres (or 2.25 gallons) of water at a time, which is plenty for a family of four. The filter cartridges themselves are simple to install and do not require priming, which is convenient if you want to get your system up and running quickly. You may also add three more filters to speed up the filtration process.
Platypus GravityWorks High-Capacity Water Filter System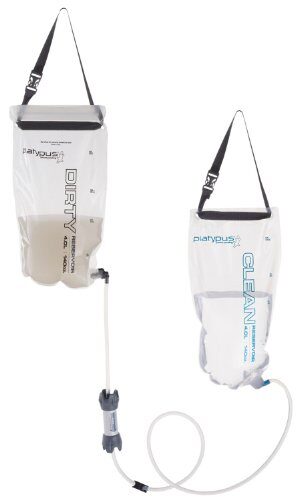 Freshwater will not be in short supply at camp, with models ranging from 4 to 6 litres (roughly 1 and 1.5 gallons) and a flow rate of 1.75 litres (0.46 gallons) per minute.
Among our hanging bag options, this gravity filter system is unique in that it includes a lower reservoir for clean water. That means you can plug it in and let the water filter in the background, leaving you with clean drinking water.
A hollow fibre (HF) membrane is used in Platypus filter technology. This is aimed against the bugs and germs that contaminate wilderness water.
The GravityWorks HF membrane eliminates 99.9999 per cent of bacteria and 99.9% of protozoa, including giardia, cryptosporidium, E. coli, salmonella, and other health concerns including cholera.
Conclusion
While selecting the greatest gravity water filter might be difficult, understanding what to look for in one can spare you the trouble and sorrow of making the wrong choice. Any of the units we've looked at in this guide would be a good fit if you plan on getting the gravity water filter for camping.