Electric Scooter vs Electric Skateboard: Which is the Best?
Electric scooter vs electric skateboard seem to be similar and they are both easy to use and portable. They're both small, quick, and save a lot of energy. It's not surprising that many people compare them.
But which one is the better one? Even though neither choice is wrong, there are some things you should think about before picking one over the other. Read on to find out the pros and cons of each ride, which will help you make a better, more informed decision.
Electric Scooters
Electric scooters are like a grown-up version of your favourite kick scooter from when you were a kid. Now, these rides have bigger and better tires, a computer system, and an electric motor. Because of this, electric scooters move faster and pick up speed more quickly.
Plus, they have better features that make the ride feel better. Some electric scooters have lights and suspension built-in. The best thing about them is that you don't have to work as hard to ride them as you do with regular scooters.
Electric Skateboards
Electric skateboards are made the same way as electric scooters: they are based on traditional push skateboards. But now you don't even have to push off because they have wireless controls that let you go faster than ever before.
Also, you don't need a license to ride an electric skateboard because it is considered a personal transporter. So, it's pretty easy for young riders to use, too.
Should you get an electric skateboard or an electric scooter? Find out what your best choice is by reading this article — Electric scooter vs Electric skateboard.
Electric scooter vs Electric skateboard
Price
Electric scooters are getting cheaper to buy because more and more companies are getting into the market. The best cheap electric scooters cost less than $500, £400, or about $700 AU, which is less than even the cheapest e-bikes.
Electric skateboards, on the other hand, are not cheap. The Onewheel XR is one of the best-known and most popular electric skateboards. It costs $1,800 in the United States, £1,750 in the United Kingdom, and AU $2,700 in Australia. For that price, you could buy three and a half electric scooters. Not all e-skateboards are as expensive as this one, but even the least expensive ones cost around $800/£700/AU$1,000.
Speed
Most electric scooters and skateboards have top speeds that aren't very fast. Electric scooters usually can't go faster than 15.5mph (25km/h), the same as electric bikes, to keep their users (and pedestrians) safe. Most rentable e-scooters in the UK and Europe also use a technology called geofencing that slows the scooter down even more in certain areas (like parks) to make sure the roads are as safe as possible from speeding scooters.
Less rules apply to electric skateboards, so in theory, they could be used to go faster. Some electric skateboards can go as fast as 45 km/h (28 mph), which is faster than the Onewheel XR mentioned above.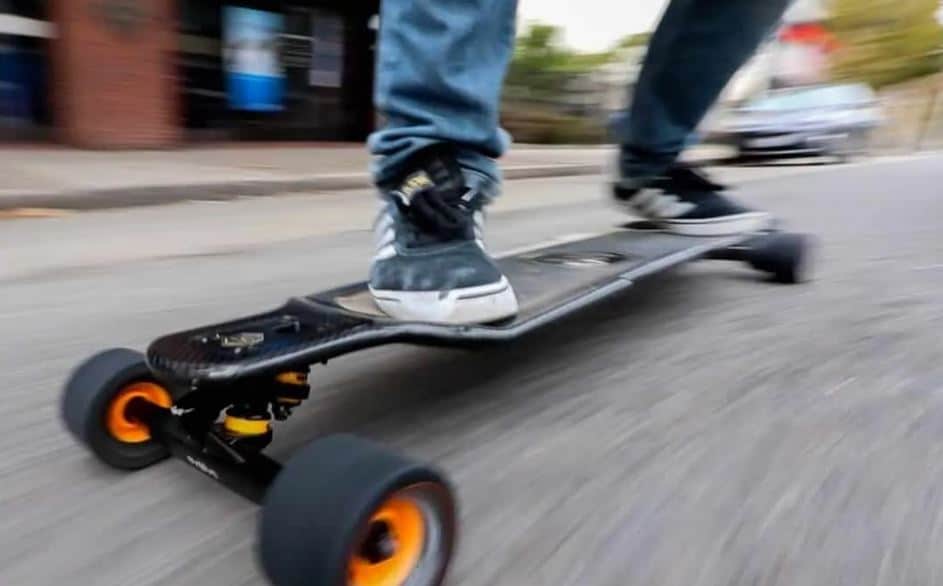 Safety 
Electric skateboards and e-scooters are not the safest way to get from one place to another. Even though they can't go very fast, both can go pretty fast for how light they are. People who rode electric scooters before have had accidents, and some even died when they rode into car doors. Safety is the most important thing when riding these types of motorized transportation. But early pilot tests have shown that they might be safer than regular pedal bikes.
The advantage of electric scooters is that they have handlebars, which make steering easier and safer. Plus, it helps stabilize the body and keep your weight in check. This makes them safer to ride than e-skateboards, which handle about the same as regular skateboards (by leaning in the direction you want to turn).
Weight and Mobility
Personal transporters are fun because they are easy to take with you wherever you go. When it comes to weight, it's easy to see that the electric skateboards are the clear winner. But don't disregard scooters yet!
An electric skateboard usually weighs between 7 kg and 15 kg. It depends a lot on the parts on the board, like the motor, battery, trucks, and so on. Even the kind of wheels it has can make a big difference in how much it weighs.
Because they are small and light, it's easy to see that electric skateboards are also easy to carry around. When not in use, you can easily pick them up or even put them on a backpack.
On the other hand, electric scooters tend to be heavier because their frames are bigger and their parts are heavier. A light scooter can weigh anywhere between 10 kg and 19 kg. But if you want a thrill scooter, which can weigh up to 50 kg, they can get heavier than that.
Even though they are heavier, electric scooters are still very easy to move around. Most electric scooters can be folded up and moved around on wheels when they are not in use. So they are easy to put away under desks and in trunks. Most models are light enough to carry up a flight of stairs without much trouble. 
Even though both are portable, electric skateboards are better in terms of weight and how easy they are to carry.
Commuting
Even though being portable is a big part of making commutes easy, it's not the only thing you should think about. If you want an electric vehicle for your daily commute, you should also think about its range and how comfortable it is to ride.
Ask yourself the following questions to help you decide:
Can a single charge of your ride take you as far as you need to go?
Can you bring it up to buses and trains?
Can you easily store it (like under a desk)?
Can you ride it all the way to where you want to go?
If your answers lean more toward one side than the other, that's your answer. But in general, most commuters prefer electric scooters because they are more comfortable to ride for the whole trip. When going a long way, it's much easier to stay balanced on a scooter because you can hold on to the handles (or even get a seat attachment).
Electric scooter vs electric skateboard: Verdict
Electric scooters and skateboards are growing in popularity as part of a new wave of "micro-mobility" vehicles. Commuters are interested in this kind of transportation because it's a quick and easy way to get around town, which makes sense. Not only that, but using e-scooters and e-skateboards reduces your carbon footprint a lot. At the very least, they are better for the environment than driving a car for short trips.
The winner of the "electric scooter vs. electric skateboard" debate is clear: electric scooters are safer and cheaper to buy. Most countries don't have clear laws about them, which makes them a less appealing choice than electric bikes. Getting around might be easiest with the best cheap electric bike, depending on where you live.
Apart from this, if you are interested, you can also read Entertainment, Numerology, Tech, and Health-related articles here: Blonde Trailer,  Fastest VPN for PC, WPC18, Highest Paid CEO in India 2022, Highest paid athletes 2022, My5 TV Activate, Kissmanga, WPC16, Highest Paid CEO 2022, Grey's Anatomy Season 19, WPC15, Alexa.com Alternatives, 
The Resident Season 6, Kraven The Hunter, One Punch Man season 3, The Resident Season 5, Yellowstone season 5, Ozark season 4 part 2, How to Remove Bookmarks on Mac, Outer Banks Season 4, How to block a website on Chrome, How to watch NFL games for free, DesireMovies, How to watch NFL games without cable, How to unlock iPhone, How to cancel ESPN+, How to turn on Bluetooth on Windows 10, Outer Banks Season 3, 
6streams, 4Anime, Moviesflix, 123MKV, MasterAnime, Buffstreams, GoMovies, VIPLeague, How to Play Music in Discord, Vampires Diaries Season 9, Homeland Season 9, Brent Rivera Net Worth, PDFDrive, SmallPDF, Knightfall Season 3, Crackstream, Kung Fu Panda 4, 1616 Angel Number, 333 Angel Number, 
666 Angel Number, 777 Angel Number, 444 angel number, Bruno Mars net worth, KissAnime, Jim Carrey net worth, Bollyshare, Afdah, Prabhas Wife Name, Project Free TV, Kissasian, Mangago, Kickassanime, Moviezwap, Jio Rockers, Dramacool, M4uHD, Hip Dips, M4ufree, Fiverr English Test Answers, NBAstreamsXYZ, Highest Paid CEO, The 100 season 8, and F95Zone. 
Thanks for your time. Keep reading!
Subscribe to Our Latest Newsletter
To Read Our Exclusive Content, Sign up Now.
$5/Monthly, $50/Yearly