How Evolution of CAD Brought Changes to Sheet Metal Parts Drawings
About half a century ago, all technical drawings in the world were produced using paper and pencil. It largely depended on the visualization skills, knowledge, and experience of drafters and designers available on hand. Production of parts depended on the personal knowledge and skills of vendors and those on the shop floors. And a single change or mistake meant restarting from scratch with time, effort, and materials go to waste.
Today, the evolution of CAD has fundamentally changed the approach to technical shop drawings. Gone are the days of forming the desired shape using hand-drawn sketches as a base, and manually marking with a punch on sheet metal, the method used before the 1970s. 
CAD has successfully replaced the art of manual marking on sheet metal parts, and the stress of keeping in mind and manually applying the complex mathematics behind forming the metal. 
Right from 2D CAD drawings to 3D CAD metadata part model, CAD has accelerated the designing of sheet metal parts in manufacturing. It allows manufacturers to accurately customize metal parts at speeds unreachable without CAD.  
Challenges with manual sheet metal drawings
Sheet metal designs require many mathematical formulations to have accurate forming, as both bendings and also cutting have to be considered. Features like notch, dimple, louver, hole, slots, lance, and others need high-level detailing in drawings and vary from metal to metal.
Drafters have to understand and carefully depict these requirements in drawings, especially for measurements, sections, scales, material, and process notes to create a foolproof design. It calls for a close collaboration between all stakeholders.
Sheet metal part drawings when drafted manually leads to:
Iterative process and conflicting situations among stakeholders
Inaccuracies in interpretation at shop floor and vendor levels
Small errors in drawings magnify during fabrication
Lost time in revisions and creating similar parts over and over
Sheet metal industry and practice before CAD
Standardized industrial fabrication of sheet metal did not start until the 1700s. With the invention of the first industrial hydraulic press, by Joseph Bramah, sheet metal fabrication spread quickly across industries ranging from aero defense, automotive, building construction, furniture, medical, process equipment and others. With this, skilled workers who could use hydraulic press brakes and rolling mills to form sheet metal found widespread employment.
The next important milestone in the sheet metal industry came with the invention of laser cutting in 1967 by the British, almost two centuries after the hydraulic press. Manufacturers could now cut metal sheets more precisely. But they still depended on shop drawings made by hand.
Emergence of CAD drafting from 2D to 3D and beyond
CAD technology is not something that was invented yesterday. It has been in existence since the last 1950s and early 1960s with the invention of PRONTO by Dr. Patrick Hanratty, known as the father of CAD. The most radical changes happened as computers penetrated the industries which included:
DAC-1 (Design Augmented by Computer) in 1964 at GM and IBM
Sketchpad at MIT in 1967
A light oen and CRT monitors in X-Y plane
GUI (graphical user interface)
The last one, GUI, today, has become an indispensable element of modern CAD systems used on desktops and laptops.
These CAD programs could generate 2D vector drawings along with some level of 3D model based on wireframe using primitives, solid and surface, allowing rotation in three dimensions, viewing the object from the desired angle, and looking inside out.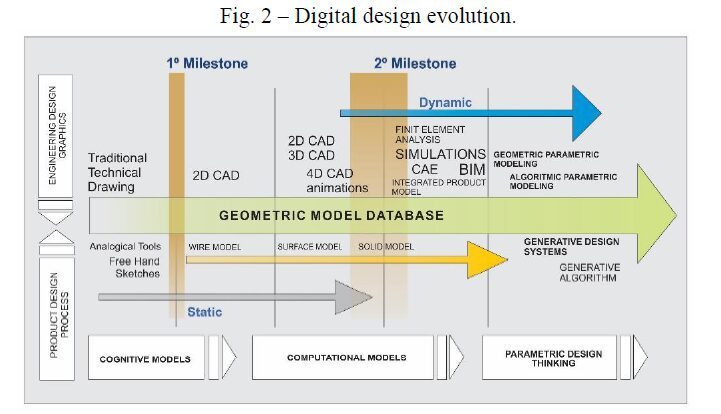 Figure 2 diagram aims to synthesize that historical evolution showing two milestones. The first one is the transition from the practice of drawing by hand to the first CAD system.
Industries then started reducing paper-based drawings and began using these CAD programs to generate 2d drawings which were not associated with any 3D model. Some new programs also had mathematical modeling capabilities. CATIA by Dassault, NX by Siemens, NURBS, Microstation from Bentley, Pro/Engineer by PTC, and AutoCAD by Autodesk were noticeable CAD programs from 1980 to 1990.
Still, to create these digital drawings, manufacturers depended on the skills of drafters and designers, their visualization, and their ability to adopt these first-generation CAD programs.
From the 1990s to 2000, As consumer demand started moving from mass production to greater productization, CAD became an essential tool to increase efficiency while developing product life cycles. In this decade, CAD programs became more efficient in 3D CAD modeling and could offer parametric designs using top-down and bottom-up approaches. All had more or less similar offerings of feature-based solid modeling, sketching, model trees, NURBS, and constraint management with user-friendly GUI. They introduced sheet metal-specific modules to fulfill industry demand.
Modern design programs are now capable of having two-way associated drawings with 3D CAD parametric models. Designers and drafters can rapidly produce models while considering manufacturing aspects (DFM) of sheet metal part drawings with material-specific K factor, flat patterns, and allowable GD&T. Modern programs can recognize features like bends, holes, notches, etc. and feed this information for integrated manufacturing and programming to CNC machines. SolidWorks and Solid Edge were pioneering software during these times along with AutoCAD, Inventor, CATIA, and Pro/Engineer.
Now CAD was no more used solely for 2D drafting of physical components. By using a 3D model for validation on strength and dynamics analysis, advanced rendering, and animation, engineers could visualize a product for an extended design. CAD thus became an essential tool for engineers to visualize and analyze 3D models on-screen, save and use drawings for future editing, and conduct faster product development.
From 2000 TO 2020 and after is a journey of growing digitalization, automation, personalization, mass customization, and collaboration. Between 2000 and 2015, many manufacturers adopted design automation for a connected approach to workflows with PLM, MES, and ERP. Design automation allows shortening of product design cycles from order to manufacturing. With the added facility of visual configuration, sheet metal manufacturers can now connect with consumers on any web platform that provides ETO or CTO offerings with 360-degree visualization. A visual configurator auto-generates BOMs and highly detailed shop drawings for 100% accurate manufacturing.
Today's CAD software is equipped with AI-enabled technologies and provides accelerated design and development. It seamlessly connects with business systems and manufacturing systems for a true real-time experience. Today's programs provide generative intuitive designs and auto-generate sheet metal features and drawings, reducing the pressing need for highly skilled designers and drafters to be constantly in attendance.
Embedding of metadata in 3D models with MBD (Model-based Definition) designs reduces the workload of designers and drafters to remember and apply on each part drawings from different stakeholders in the manufacturing chain. Sheet metal industries today are observing a drastic reduction in sheet metal part development from months to hours with help of connected workflows and virtual product development.
Conclusion
For the sheet metal industry, the use of CAD programs has brought about a sea change. With the use of CAD drafting, the efficiency, accuracy, and productivity of designers and drafters have improved exponentially, while optimization and profitability have increased in manufacture.
Today, CAD rules the core of every sheet metal manufacturing company leaving behind the drawing board and opening the way to Industry 4.0.
About Author
Amit Panchal, Engineering Design Manager at Hitech CADD Services, specializes in delivering technically sustainable solutions to ensure quality sheet metal fabrication of building products. He explores CAD design development techniques to meet international quality standards across commercial, industrial and residential verticals of building products manufacturing.
Subscribe to Our Latest Newsletter
To Read Our Exclusive Content, Sign up Now.
$5/Monthly, $50/Yearly