50 Best Free AI Voice Generators in 2023 for Professional Voiceover
Listen to the Podcast:
Every aspect of existence is being transformed by artificial intelligence. Now that we have vast data to train with and cutting-edge hardware, it is possible to create fascinating, human-like AI models and experiences for anyone. In this article, we'll look at the Best Free AI Voice Generators in 2023.
Due to developments in machine learning and natural language processing, creating speech generators with artificial intelligence that sound human is now possible. It has numerous uses, including speech synthesis for individuals with speech impairments, voice-enabled devices, virtual assistants, Internet voice, IVR recordings, etc. Here are a few best free AI voice generators you should investigate.
What Are AI Voice Generators?
One of the most popular applications of artificial intelligence voice synthesis technology is voice generators. Voice generators may create lifelike reproductions of human voices using recorded speech samples to generate new, synthetic speech.
This technology has numerous potential uses, including voice-controlled assistants, audiobook recordings, computer-generated characters in video games, and voice-overs. Numerous voice generators are on the market but they are not all created equal. Certain voice generators are more realistic than others; some are better at impersonating particular dialects and accents.
The finest voice generators allow users to create realistic approximations of any voice they can conceive with a high degree of customization.
What Are the Benefits of Using an AI Voice Generator?
Creating the voiceover for a video or slideshow or recording an audiobook, speech, or lecture has traditionally been time-consuming and resource-intensive.
From the voice talent to the recording location/soundproof studio, to the recording and editing equipment, to diligently attempting to get the audio to sound excellent AND be in sync with the images… It is a procedure. And it demands considerable skill and time.
The greatest advantage of employing an AI voice generator to create a high-quality voiceover is the time and money you can save!
Using AI voice generators, you may increase your productivity by 40%. They are making it simpler and more convenient for everyone to generate a high-quality voice recording without specialized knowledge or equipment!
Read More: AI Image Generator
Other advantages of employing an AI voice generator include the following:
Accessibility:

Artificial intelligence speech generators are simple to learn, making them accessible to anybody, regardless of technological expertise.

Communicate with users with language-based challenges and visual impairments:

Audible Web material enables communication with users with language-based challenges and visual impairments.

Offer an alternative learning style:

If you provide online classes, AI speech generators can assist you in providing an alternative learning method. Some distant students prefer listening to reading, and you can facilitate this.

Lower costs for producing voiceovers:

You can reduce expenses such as recording equipment, studio staff, and talent recruitment and compensation.

Multilingual functions:

AI voice generators enable you to communicate with users from all over the world. Videos can include automated subtitles and voiceovers in multiple languages.
Now that you know the benefits of using AI voice generators, let's investigate their capabilities.
How to Choose the Best AI Voice Generators?
With an abundance of skilled free AI voice generators and AI voice-over software on the market, selecting the appropriate solution boils down to a few important factors.
You desire artificial intelligence speech generators that are commensurate with your goals. This necessitates sorting through the possibilities and filtering for the most appropriate tool.
The niche (education, entertainment, business, etc.)

your price-to-value range

your company structure (do your work individually, as part of a team, enterprise, etc.)
Some top artificial intelligence speech generators include other services, such as video editing and collaboration. If the only thing that counts to you is supplying narration for your creatives, then you should opt for artificial intelligence voice generators with a simple, clean interface.
As a team or company member, you may desire a platform consolidating all connected responsibilities in a single location. A more robust AI-powered voice software with extra features should be utilized in the latter scenario.
50 Best Free AI Voice Generators in 2023
Murf.AI

Play.ht

Lovo.ai

Speechify

Speechelo

Synthesys.io

Synthesys AI

Dragon Home

Spik.ai

Resemble.ai

Sonantic

Clipchamp

Voicera

Natural Reader

Listnr

Replica

Woord

Typecast AI Voice Generator

Streams Speak.AI

Clipchamp AI Voice Generator

Voicera AI Voice Generator

ReplicaStudios

BigSpeak

Uberduck AI

CereWave AI

Descript AI

NaturalReader

Resemble AI

WellSaid

Synthesia

Notevibes

Rephrase AI

Designs AI Speechmaker

ReadSpeaker AI

Voice AI

Respeecher

FakeYou

Amazon Polly

Online generator.com

Voicebooking.com

Wideo

Animaker Voice

MagicMic Ai

VoiceMod

Voice.ai

Voice generator.io

Replica Studios

Listnr.tech

VoxBox

FlexClip

FineVoice

Google Cloud Text-to-Speech

Deepsync

MicMonster

SpeechVid
10 Best Free AI Voice Generators in 2023 with Details
1. Murf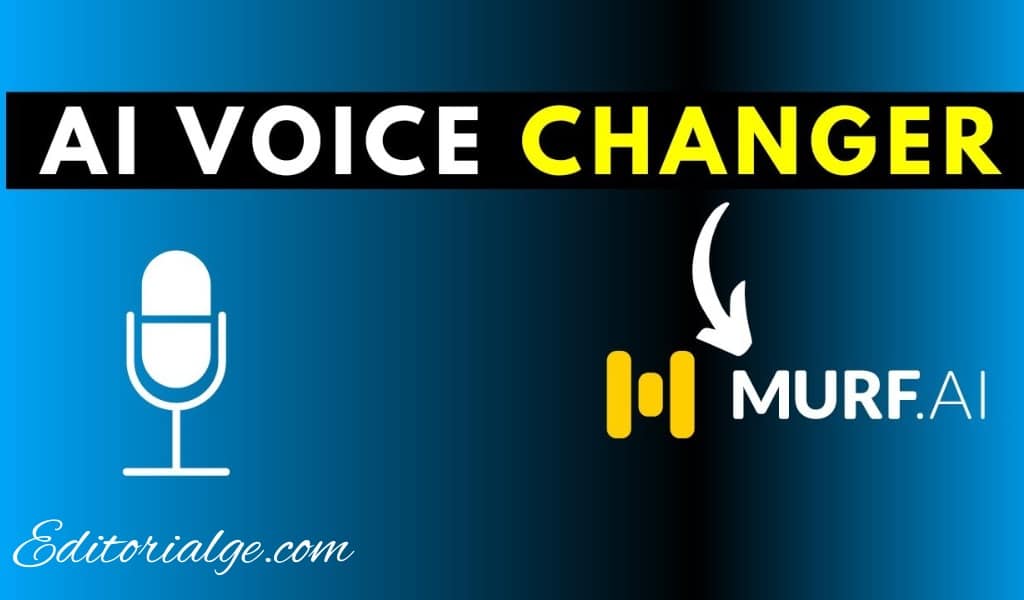 Murf is a highly customizable text-to-speech voice generator that enables the creation of studio-quality voiceovers for various professional applications. The platform offers a big voice library with more than 115 distinct voices in 15 languages.
Its artificial intelligence can replicate your voice in the correct tone, recognizing every punctuation mark and exclamation point you supply. Users can alter the AI voices' pitch, punctuation, and emphasis to convey their message.
It also includes an integrated grammar checker, which enables you to write proofread scripts that will only enhance your voice-over work.
2. Play.ht
Play.ht is a web-based voice generator that enables the synthesys of high-quality text-to-speech. The platform is incredibly user-friendly due to its straightforward user interface. On the homepage, there is a text box where you may enter your text and select the language, gender, voice style, and conversion speed to complete the task.
The platform has 570 distinct AI voices, supports more than 60 languages, and can be used for business and personal purposes. It includes both free and paid versions. The free version is fairly decent. However, the available voice styles are limited. Moreover, you can download your created speech in MP3 and WAV formats.
3. Lovo.ai
Lovo.ai is an excellent option for individuals seeking high-quality AI-generated speech. The software is user-friendly and yields high-quality output.
The customization capabilities provided by Lovo.ai allow users to generate synthetic voices that sound natural and lifelike. Moreover, the software is continuously updated with new features and enhancements. Thus, Lovo.ai is a wonderful option for those searching for an AI voice generator!
4. Speechify
Speechify is a program we admire due to its capacity to convert text into natural-sounding speech in any format. This web-based platform can convert any PDF, email, document, or article into an audio file that may be listened to instead of read. You can also modify the reading pace, allowing you to listen to the converted audio between 5 and 9 times faster than normal.
You can choose from over 30 male and female voices that sound natural. Also, the program is clever enough to recognize more than fifteen distinct languages. Its strongest feature is Speechify's ability to turn scanned written text into audible audio.
5. Synthesys AI
Synthesys is an artificial intelligence (AI) speech and video generator capable of rapidly producing creative material such as audiobooks, product tutorials, advertising, marketing ads, animations, and gaming content. It provides over 30 male and female voices in over 66 languages. This great voice generator powered by artificial intelligence replaces robotic and odd-sounding voices with natural-sounding ones. The Synthesys AI Video Generator enables users to generate high-resolution text-to-video presentations for specific use cases.
6. Sonantic
Sonantic is an intuitive AI voice generator immensely popular in the entertainment industry due to its capacity to generate expressive AI voices that sound lifelike. You can quickly modify the tone of your generated speech to reflect a range of human emotions, including anger, grief, and happiness. You can enhance or reduce the emotional intensity by toggling between three unique settings.
The software can swiftly convert text into speech. Sonantic enables production directors to obtain high-quality voice-over work for their projects within minutes. In addition to controlling the pitch and tempo of voice-over work, the platform gives customers complete control over all voice performance factors.
7. Listnr
The AI Voice Generator on Listnr enables users to generate Text-to-Speech (TTS) audio with some of the top AI voices. Downloading text-to-speech conversions in MP3 or WAV format is simple for users. In addition, it enables users to generate their own audio player embed code, which they can add to their blogs to create an audio version. It is also an excellent podcast production, administration, and publication tool. It creates Artificial voices using cutting-edge Speech Synthesis and Deep learning techniques.
8. ReplicaStudios
ReplicaStudios is one of the newest tools on this list, and some of its features are still in testing. Still, it's also one of the most complicated AI voice generators, and it's designed for gaming, the metaverse, and narration/movie speech.
It offers features specializing in voiceovers for the metaverse, video games, and films. The application has extensive customization options, and the more you use it, the more you can train its algorithm to capture your intended pronunciation and delivery.
We opted to add ReplicaeStudios among our top picks due to the comparative complexity of this software to others. This is great for its target niches, including gaming, the metaverse, and movies.
9. Notevibes
Notevibes is one of the greatest online free AI voice generators, allowing users to translate text into up to 201 natural-sounding voices. After the audio has been converted, the files can be downloaded in MP3 or WAV format. You may employ professional voices for your sales campaigns, instructional videos, and educational films.
Notevibes has a resourceful editor with a clean and user-friendly interface. Using their powerful editor, you may include pauses in the middle of text conversion, modify the tempo and pitch of your AI voices, add emphasis, and regulate the volume.
10. Typecast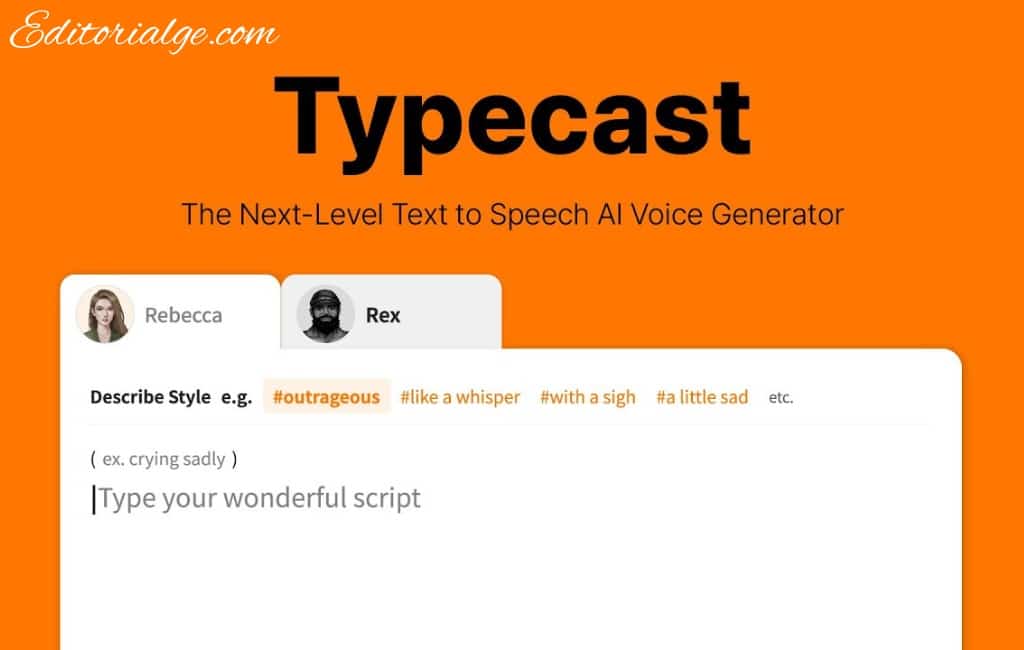 Typecast is a unique but remarkable web tool that performs valuable tasks using a robust AI-based algorithm. It translates text to speech and generates movies with many characters and customisation options for creating audiobooks.
It synchronizes the TTS-generated audio and video well. Several built-in realistic expressions and clips can make the videos appear more natural. Also, the audio customization options are quite adaptable. You can control the duration of pauses between and within sentences. This tool is incredibly simple; no technical or mental proficiency is required. It is free to use on mobile and desktop devices.
Read Also: Best Free AI Content Detector Tool 2023
What Can AI Voice Generators Do?
AI voice generators transform the text into speech automatically. We utilize these tools to generate automated voiceovers for explainer videos, video commercials, and podcasts.
In this analysis, we compared how the finest AI voice generators produced voiceovers and the number of features each program offers for these tasks.
The following are the most prevalent aspects of the best free AI voice generators:
A vast media library with an abundance of skilled voices.

Track the performance of your audio files relative to those of others using audio analytics.

Instruments for editing and refining voice tones and audio sounds.

Support for audio and text input facilitates usability.

Vocal emotions and innumerable dialects and accents.

Producing excellent voiceovers for your videos requires a significant amount of work. Not to mention talent recruitment and audio recording!
AI speech generators make this process significantly more manageable. Using a single platform, you can produce voiceovers from an infinite number of templates while customizing the tone and accent of your audio to connect with your audience and complement your video content.
How do I Create a Voice Recording with an AI Voice Generator?
You must first enter the text into the app or website of the generator. Remember this: some free AI speech generators restrict the quantity of text you can submit.
Then, you can begin to adjust the parameters. The synthetic voice's pitch, rate, and accent can typically be modified. In addition, you can select the delivery method for the recording (e.g., as an MP3 file). Although these capabilities depend on your selected platform, they are fairly standard.
To create a voice recording, press the Create button. And ensure that you save or download your recording to utilize it later.
Why Use AI Voice Generators?
Realistic-sounding artificial intelligence voice generators are incredibly useful in various scenarios.
Sometimes time is limited, and you need to produce voiceovers quickly.

If you lack the self-assurance or equipment to record high-quality voiceover audio.

They are also a time- and cost-efficient alternative to employing a human voice actor to produce a voiceover for you.

AI voice generators also eliminate the middleman when collaborating with voice actors; no more back-and-forth edits.
Whether you use them for advertisements, podcasts, online courses, or something else, AI voiceovers are excellent for creating content that keeps your audience engaged.
According to MIT Technology Review, AI voiceovers are more lifelike than ever, and "AI voices have become especially popular among corporations seeking to maintain a consistent sound throughout millions of customer encounters."
Conclusion
With the AI speech generators featured in this article, you may take your video gaming or content creation to the next level.
In addition to allowing you to explore hundreds of voice filters and sound effects via a user-friendly interface, these AI voice modification tools let you alter your voice in real time across several platforms. Each possibility merits a trial.
Frequently Asked Questions (FAQs) about Best Free AI Voice Generators in 2023
Can AI generate voices?
Indeed, AI or Artificial Intelligence can develop a range of natural and diverse voices. Numerous modern tools employ voice actors whose voices are collected and maintained utilizing AI.
These voices are authorized to utter whatever you command. You only need to provide the tool with text. The AI will process the text and produce a natural-sounding, high-quality voice.
What is a voice overlay?
Voice overlay, sometimes called Voice-Over, is frequently utilised in cinema and animation works.
Using a prerecorded voice is not part of television, radio, and other media narrative. It is a method typically relegated to entertainment, particularly the narration of animated characters.
Can AI copy your voice?
The sophistication of AI speech generators is rising, and some companies claim that their AI can imitate your voice. While the technology is still in its infancy, it is not difficult to envision a future where AI-generated sounds are indistinguishable from human voices!
Can I create my own AI voice?
AI voice generators are tools that enable the creation of custom AI voices. Numerous AI speech generators are available, and each has advantages and disadvantages. Some AI voice generators are superior at making natural-sounding voices, while others are superior at creating realistic sounds. Eventually, the AI voice generator you use will depend on your exact requirements. Nonetheless, all AI voice generators are capable of producing AI voice audio files of good quality. If you want to create your artificial intelligence voice, consider using a voice generator.
Can AI voices talk like a human?
AI can talk like a human. Artificial Intelligence (AI) voice generators are created using human voiceover artists' recordings. These artificial intelligence voice generators can generate speech that closely resembles human voices. Unfortunately, AI cannot yet precisely mimic human speech.
What do YouTubers use for text-to-speech?
YouTubers employ a variety of artificial intelligence voice generators for their text-to-speech software (TSS). Popular choices include Play.ht, Listnr, Murf, ReplicaStudios, and BigSpeak. YouTubers utilize these Software tools for narration, voiceovers, explanation videos, and more. You can find examples of the voices made by AI voice generators and TSS in the review.
Can AI voice generators sing?
Certain AI voice generators can produce realistic-sounding singing voices, although their progress is still in its infancy. To yet, monophonic (one-note) singing has yielded the best results.
Do AI voice generators support multiple languages?
A significant portion of these platforms supports various languages. However, the number of supported languages varies amongst generators. Play.ht and Speechmaker offer the most languages among the reviewed platforms.
Subscribe to Our Latest Newsletter
To Read Our Exclusive Content, Sign up Now.
$5/Monthly, $50/Yearly